China is one of the best places to source products for your business. And that's an undebatable fact. Known as the "World's Factory," China offers the most affordable products globally. Thanks to their low labor cost, you can buy cheap yet good quality products for your business. In fact, your favorite brands, such as Apple, Nike, Sony, Microsoft, and P&G, have manufacturing facilities in China. If these big brands have confidence in China for their products, why don't you?
If you're interested in importing products from China, you can ask a sourcing agent for help. A sourcing agent in China is an individual contractor or a company that helps you find the leading manufacturers or suppliers of the products you want to buy. Think of them as your business representatives in the country. They make it possible for you to source and acquire products from China without you being there in person.
But with thousands of Chinese sourcing agents out there, how can you find a reliable sourcing agent? To help you out, this article will provide tips on finding the best sourcing agent in China for your business.
Top Tips and Considerations When Choosing Sourcing Agents in China
As mentioned earlier, there are several sourcing agents in China. While having plenty of options is good, this makes it harder for you to find a committed and trustworthy sourcing agent. To avoid teaming up with the wrong sourcing agent, here are some things you need to consider:
1. Check the sourcing agent's credentials
First of all, consider working with a registered and licensed sourcing agent like MySourcify. Although you're free to collaborate with informal sourcing agents, working with licensed agents is generally safer as they offer more transparency and legal protection. 
To verify the sourcing agent's credentials, you may ask them where you can see their business permit, trade license, and other certifications.
2. Determine the sourcing agent's experience
There's nothing wrong with partnering with a sourcing agent with limited experience in the field. Remember, every skilled sourcing agent starts at zero. However, it's better to let experienced professionals handle the sourcing job to minimize import issues.
But what level of experience qualifies as truly experienced? For a safer option, work with sourcing agents with at least 5 years of experience. Within this timeframe, they have already acquired the necessary expertise in identifying and negotiating with manufacturers and suppliers in China, as well as building a solid network.
To determine the sourcing agent's experience, visit their website and head to their "About" page. Most often, sourcing agents in China indicate their years of experience in the field. At MySourcify, we've been in the business for over 11 years.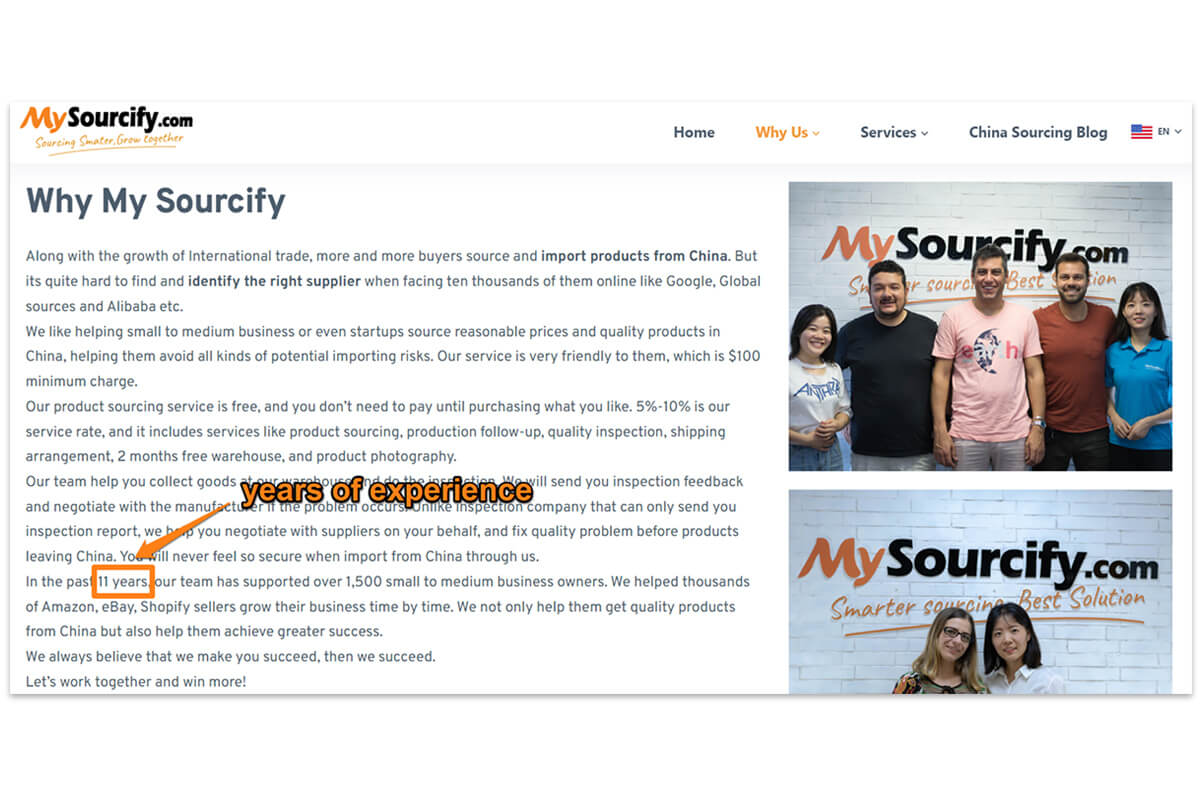 3. Read reviews or watch video testimonials about the sourcing agent.
Aside from choosing a sourcing agent in China with several years of experience, it's also crucial to determine what their clients think about their service. Unfortunately, some experienced sourcing agents fall short of providing quality customer support and timely communication despite their years of experience.
To find out if your potential sourcing agent has a roster of happy customers, you can read reviews on their Google My Business profile, Facebook page, or website. Better yet, watch their customer's video testimonials, as these are more authentic than written reviews.
At MySourcify, we've collected video testimonials from our clients worldwide to show that we're an authentic team of sourcing agents in China. Check out our video testimonials here: MySourcify Video Testimonials.
4. Assess the sourcing agent's language and communication proficiency
Sourcing companies in China mostly serve Western countries, so their team often consists of Chinese sourcing agents adept in Mandarin and English. Assessing the language and communication proficiency of sourcing agents is of critical importance. If you choose agents who only rely on translation tools, this can lead to misunderstandings.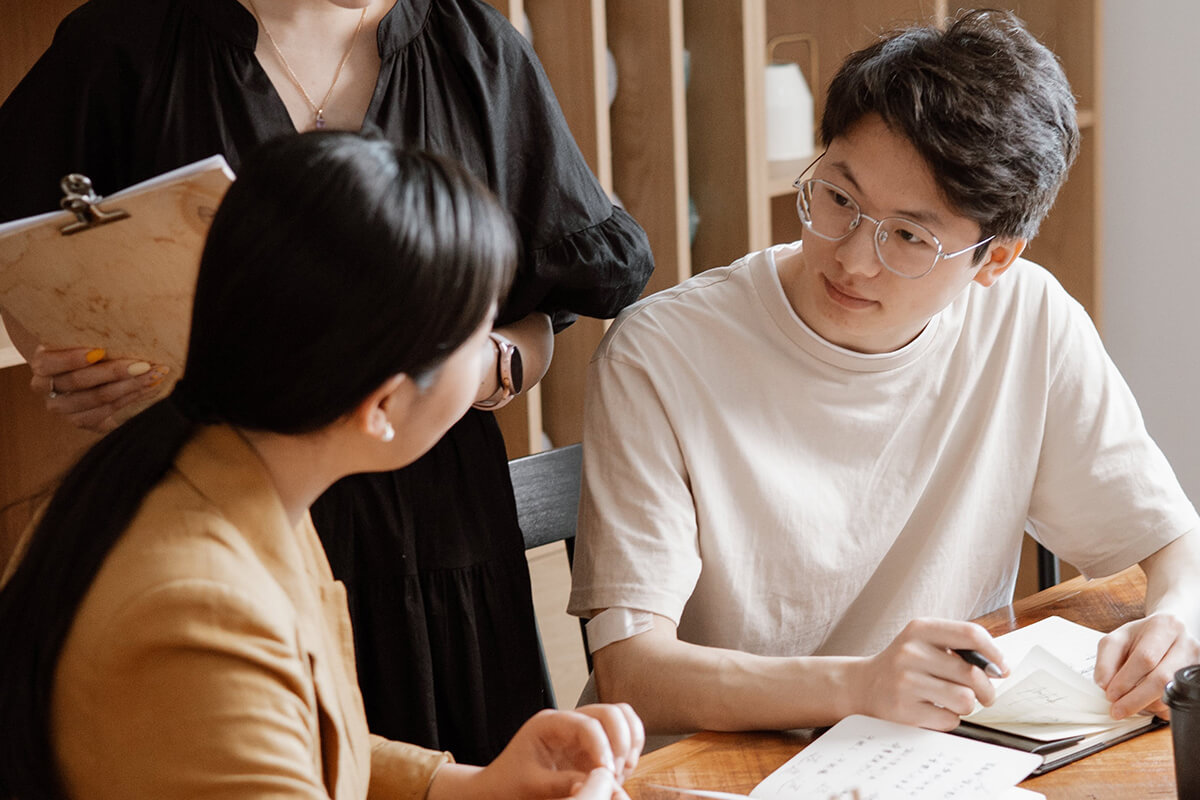 For easier communication, choose a sourcing agent who speaks or writes near-native English. You can determine their proficiency by checking how they respond to their emails, how they've written their website pages or blogs, and how they post on their social media channels. Of course, since English isn't their first language, you might spot a few nuances here and there. But the important thing is that you understand them well enough.
Here at MySourcify, we have Chinese sourcing agents capable of communicating in English. We also have French and Spanish-speaking agents, allowing us to serve different territories overseas.
5. Team up with an all-inclusive sourcing agent
To avoid mishaps concerning your product import in China, work with sourcing agents who provide all-inclusive services. Some sourcing agents only specialize in locating the suppliers of specific products but may lack expertise in the export process. As a result, they often outsource the exporting process, which can be more costly.
But if you collaborate with a sourcing agent who handles everything from product sourcing to the exporting of goods, you'll save more time and money. Just like MySourcify's 5-Step Service, we manage all the (1) product sourcing, (2) sample confirming, (3) production follow-up, (4) quality inspection, and (5) shipping.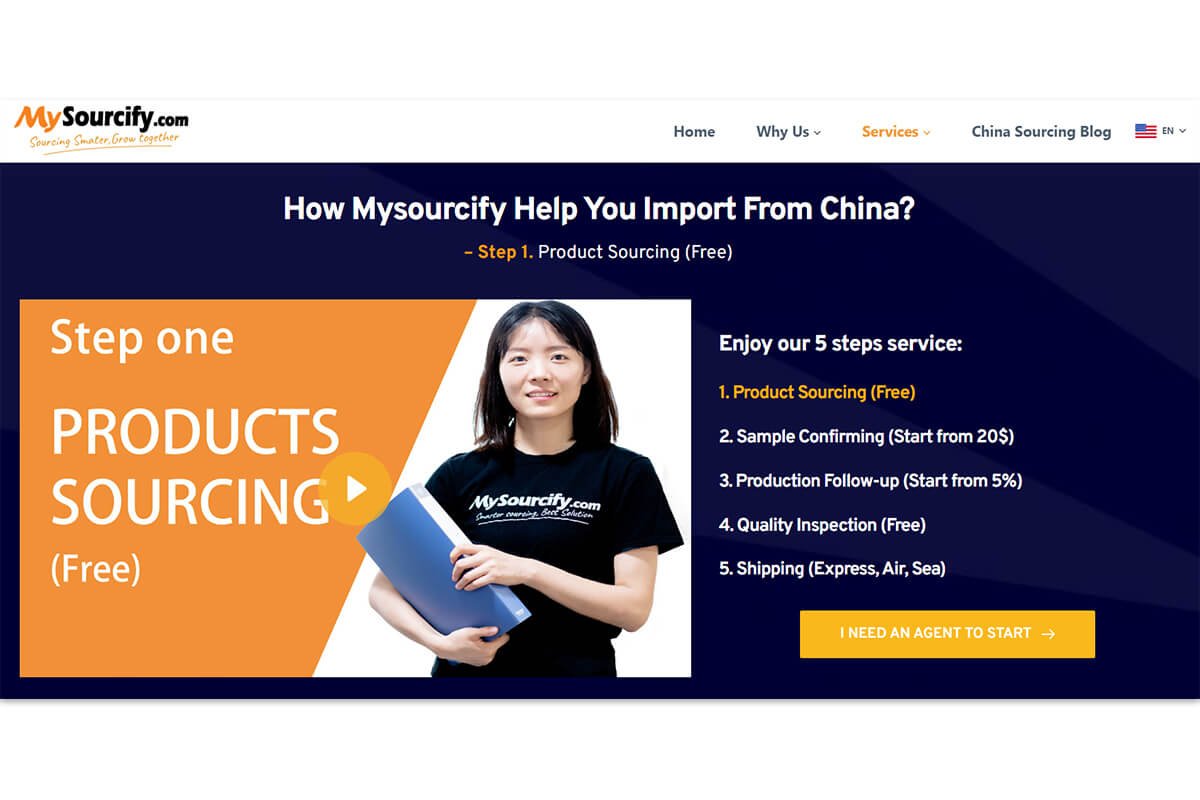 6. Work with a Chinese local sourcing agent
The sourcing agents based in China aren't only Chinese locals. There are foreign agents, too! But to secure better deals, work with Chinese local sourcing agents. Foreign agents usually don't speak Mandarin, limiting their ability to negotiate well with Chinese manufacturers and suppliers. Moreover, Chinese local sourcing agents have a deeper understanding of Chinese culture and business practices, allowing them to share insights foreign agents might not have. At MySourcify, our company is comprised of Chinese local sourcing agents who are equipped with excellent multilingual skills and negotiation skills. And with the company's more than 11 years of experience, our sourcing agents have also gained familiarity with international business perspectives.
7. Select someone who's transparent about their fees and processes
If you don't have any prior experience importing from China, it's better to choose a sourcing agent who's transparent about their fees. This is because some agents tend to exploit or raise their prices when dealing with clients with little knowledge about the sourcing process, while others surprise you with hidden fees.
In addition to selecting an agent who's upfront about their pricing, choose someone who provides adequate information about their processes — from product sourcing to shipment. This allows you to better understand the sourcing and import processes so you can make informed decisions when issues arise. Knowing all the fees and processes minimizes your risk of hidden costs and helps build trust between you and your agent. That's why MySourcify always remains transparent about our prices and procedures. Feel free to check our starting prices anytime here. Meanwhile, if you want to grasp how our product sourcing and shipping process works, explore our 5-Step Service here.
8. Choose a sourcing agent with a solid network of suppliers
Now, there are no sourcing agents in China who will simply hand over their list of suppliers for you to assess the strength of their supplier network. However, you can discern this information through their years of experience and the number of businesses they have assisted, usually shown on their company website, portfolio, or testimonials.
At MySourcify, we've helped more than 1,500 small to medium-sized businesses. Over the years, we've built strong relationships among our suppliers. And notably, the majority of our suppliers, who excel in offering the most competitive prices, are not typically accessible online or at trade shows.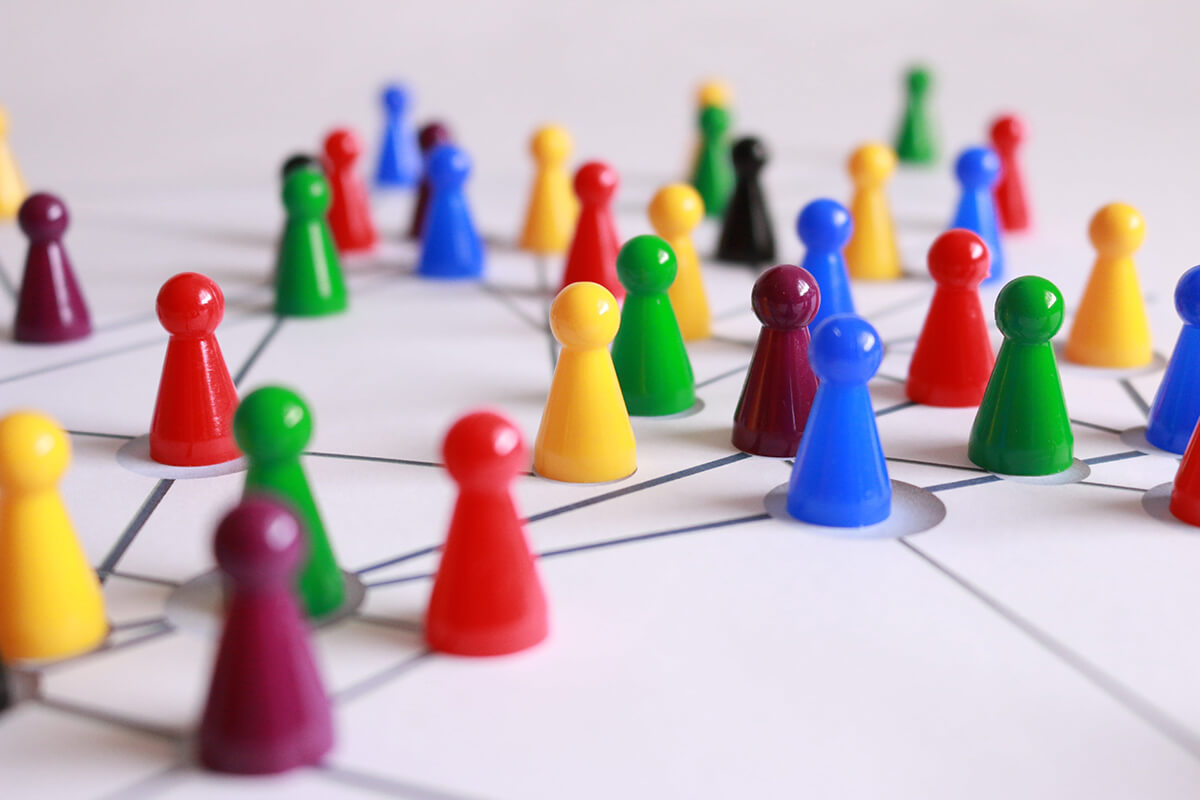 9. Opt for a sourcing agent with a reputation for effective conflict handling
Not all sourcing agents provide the same quality of customer support, especially when problems arise. The issues commonly encountered by clients are payment processing concerns, product availability, quality control, and shipping delays.
The only way to learn a sourcing agent's conflict resolution skills is through interviewing them thoroughly. Ask them how they handle specific problems and take note of their proposed alternative solutions. If their proposed solutions align with your requirements, consider partnering with them.
At MySourcify, we always strive to solve every problem before it even occurs. And the key here is communication. We regularly communicate with our clients, manufacturers, suppliers, and logistic partners to prevent issues.
10. Identify the sourcing agent's base of operations
The location of the sourcing agent is also one of the things you need to consider when finding a reliable sourcing agent. China is a big country consisting of several industrial areas, each with its distinct specialization in various products. For example, if you need electronic products for your business, then team up with a sourcing company based in Shenzhen, Guangdong Province, since it's referred to as China's Silicon Valley.
Selecting a sourcing agent with an office near your preferred manufacturers or suppliers can help keep the costs of your products and transportation low. Furthermore, the agent will be able to resolve matters more quickly in case of issues.
MySourcify is based in Yiwu. It's an internationally famous trade city located in East China's Zhejiang Province, wherein you can find the country's most popular wholesale markets, such as Yiwu, 1688, and the e-commerce giant Alibaba. So, if you're looking for products to sell for your Amazon and Shopify stores, choose a sourcing company based in Zhejiang. Nevertheless, we also source products from other China provinces as well.
Ways to Find a Sourcing Agent in China
Now that you've picked up a few tips on finding a dependable sourcing agent, the next thing to wonder is, where can you find them? Here are some ways on how to find Chinese sourcing agents online: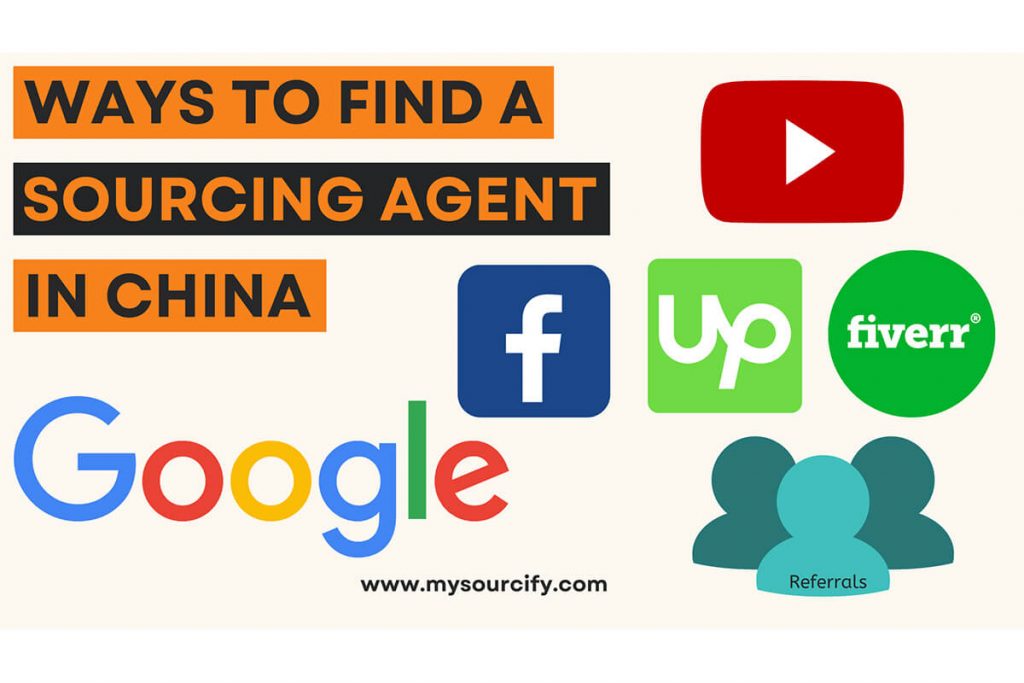 1. Google
The fastest way to acquire a list of sourcing agents is on Google. Simply type "sourcing agent in China" in the search box, and you can read blog posts about the top sourcing agents.
2. YouTube
Although YouTube is primarily a video-sharing platform, it also functions as a search engine for finding videos. Typing in variations of "sourcing agent in China" allows you to discover various videos from sourcing agents. However, please note that not all sourcing agents have YouTube channels.
3. Facebook Groups
There are also Chinese sourcing agents who are active in Facebook groups. Simply search for "sourcing agent in China," Facebook will present you with a list of groups about product sourcing and import.
4. Freelance Websites
You can also find sourcing agents offering their services on freelance websites like Fiverr and Upwork. However, most agents here are based outside of China, so expect that they might charge higher fees.
5. Referrals
The most reliable way to find a sourcing agent in China is through referrals. If you have a family, friend, or acquaintance with an e-commerce store and are sourcing products from China, ask their sourcing agent. Your friends will be more than willing to share their agent with you, especially if your business won't directly compete with them.
Frequently Asked Questions (FAQs)
1. What is a sourcing agent in China?
A sourcing agent, in general, is someone who helps you find the manufacturers or suppliers of products in a particular area. So, if you're looking for the assistance of a sourcing agent in China, they will serve as your on-ground partner when negotiating with Chinese suppliers. Aside from product sourcing, a sourcing agent's services may include sending product samples, production follow-up, product quality inspection, and shipment.
2. Is it necessary to work with a sourcing agent in China, or can I handle it on my own?
It isn't necessary. However, working with a sourcing agent in China will offer you greater convenience. If you try to source products yourself, finding Chinese suppliers providing the best deals and prices can take a long time. Moreover, it'll be difficult for you to negotiate, especially if you don't speak Mandarin. But with the help of experienced Chinese sourcing agents, you can expedite all the negotiating and shipping processes.
3. Do sourcing agents in China charge a high service fee?
The service fee of Chinese sourcing agents varies and depends on several factors, such as service scope, volume, client location, customization requests, and more. But usually, the fees are on the "affordable" side. We cannot speak for other sourcing agents, but here at MySourcify, we only charge a 5-10% service fee. You can learn more about our pricing here: MySourcify Pricing.
Summary
If you're looking for a reliable sourcing agent in China, keep all our tips in mind. Working with a trustworthy and dependable sourcing agent makes your life easier. You'll only need to wait for your products to arrive at your doorstep.
You don't need to deal with the complexities of price negotiations with suppliers and the intricacies of import/export regulations. All of these challenges will be eliminated as long as you work with a sourcing agent. This then allows you to focus what matters more on your business, such as marketing and sales, customer engagement, and business growth. MySourcify aims to streamline the product sourcing process and make it as convenient as possible for our new clients. To get started, simply fill out this form so we can immediately assign you one of our experienced agents.