These days, people tend to source and purchase online. Therefore, Alibaba.com, one of the biggest Chinese wholesale websites, has been quite popular. But is Alibaba safe? And how to buy from Alibaba safely? To explain these questions, let's move on to the first chapter: What is Alibaba? How does it work?
Chapter 1: Is Alibaba Legit?
Of curse Alibaba is a legit and trusted website and a leading B2B platform. With nearly 22 years of developing and improving, Alibaba has been rather a mature wholesale websites for buyers to source from. And Alibaba provides services that secure both buyers' and suppliers' rights and property. In other words, people can safely source and buy from Alibaba, which makes it a trustworthy wholesale website.
Chapter 2: What is Alibaba? How does it work?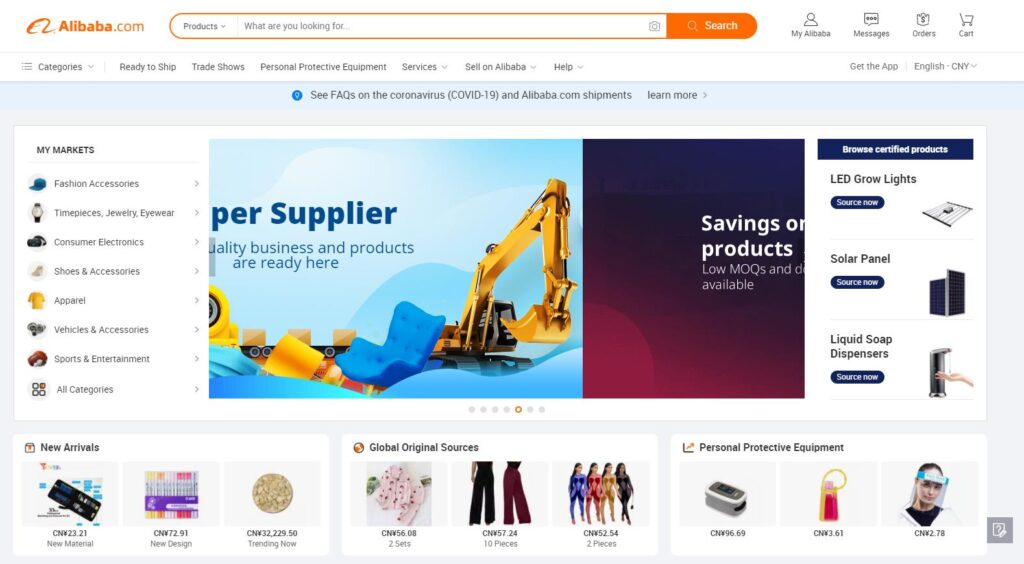 2.1 What is Alibaba?
Alibaba is a Chinese wholesale website where you can find numerous suppliers and manufacturers for products of all categories. To some extent, Alibaba is considered the largest e-commerce site in the world. Alibaba is quite an ideal starting place if you start with small amounts of investment, as it is quite friendly with small and medium-sized companies to start their career. On Alibaba, you can:
Buy Products At A Wholesale Price–Products on Alibaba can be relatively low than retail. And the profit gap in between will shock you.
Comprehensive Category of Products–You can find almost all products you can think of here available on Alibaba.
Custom or Develop Products–You can customize your brand and logo on the products you want or do ODM.
Speak Directly with Manufacturers–On Alibaba, you will see there are quite a lot of manufacturers, which give you the chance to take care of every step of your business, including designing, inspecting, shipping, and so on.
2.2: How does it work?
Alibaba is a B2B marketplace, which is quite different from Amazon and eBay. It focuses more on giving companies access to the large-scale purchase they need to sell dozens of products at once all over the world.
On Alibaba's home page, you will see several buttons linking to different functions of the website: Ready to Ship, Trade Shows, Personal Protective Equipment, Services, Sell on Alibaba, and Help.
Ready to Ship: This page is all about products that are on stock and ready to ship. If you need your products ship to you at no time, you can directly try to search for products on this page.
Trade Shows: You can see the current online trade shows here. And you can check out the popular exhibitor videos here, which gives you a more vivid and close look at the products you are interested.
Personal Protective Equipment: This sector is special set for COVID-19, where you can directly purchase masks, protective cloth, face shield, goggles, gloves, hand sanitizers and wipes, alcohol pad and swab, and medical devices.
Services: Its services include Trade Assurance, Pay Later, Payment Terms: Net-60, Quality Assurance, and Letter of Credit. All its services can cover every step of your business on import from China, like payment assurance, quality inspections, and supplier research.
Sell on Alibaba: This sector is for people who want to sell their products on Alibaba. It provides a step guide for both starters and experienced sells on how to start their shops on Alibaba.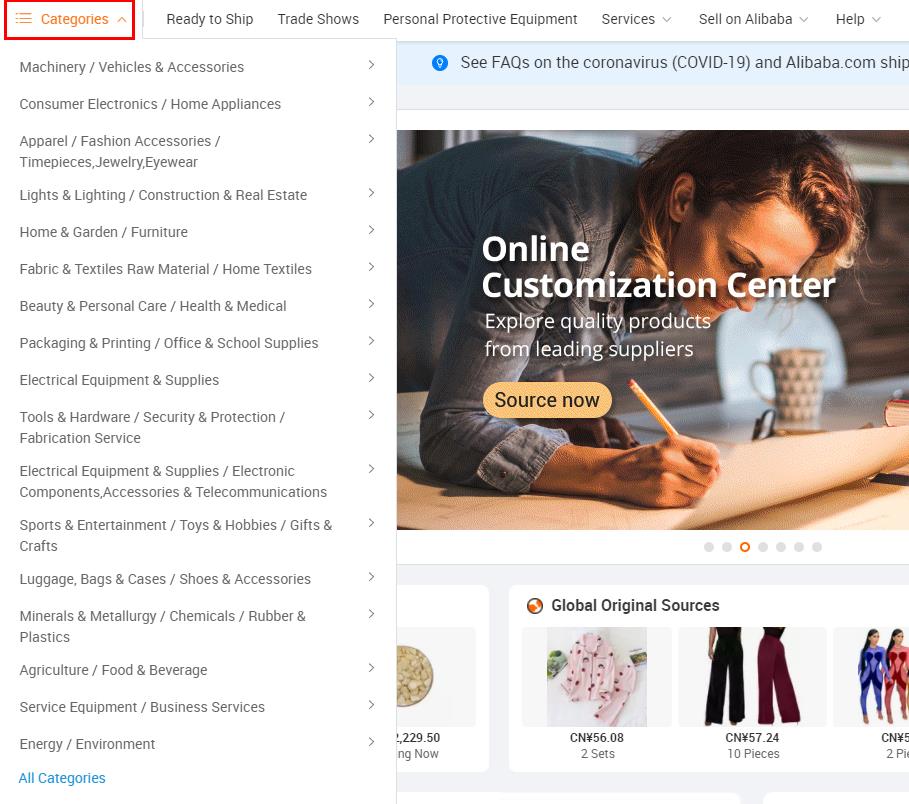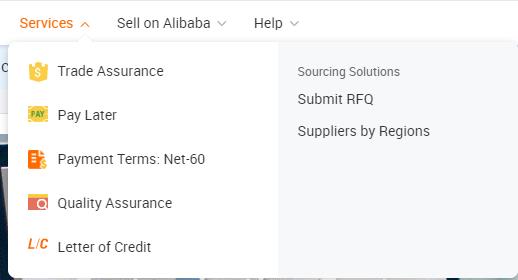 Chapter 3: Alibaba VS AliExpress VS 1688.com
Alibaba, AliExpress, and 1688.com are both Chinese wholesale websites made up of third-party sellers, where you can source a relatively comprehensive category of products. The main difference between Alibaba and AliExpress is the way to purchase products.
Alibaba is more suitable for buyers who are to purchase a large number of products for wholesale at a relatively low price.
While AliExpress allows buyers to buy single items in a small amount, which is more friendly for new starters to start with a lower investment like dropshipping.
1688.com is like the Chinese version of Alibaba, and they provide a fantastic price on all kinds of merchandise. The difference within Alibaba and Aliexpress is 1688.com only has a Chinese version and exclusively focuses on the domestic market.
| | | | |
| --- | --- | --- | --- |
| | Alibaba.com | AliExpress | 1688.com |
| Pricing | Extremely low & negotiable(B2B only) | Slightly higher & non-negotiable(B2C or Dropshipping friendly) | Supply to both Alibaba and Aliexpress(Only Domestic) |
| MOQ requirements | Mostly high, usually start from 100 pcs | Start from 1 pc with tier price | Start from 1 pc with tier price |
| Financing | Net-60, Trade Assurance | none | none |
| Business model | B2B | B2C, B2B | B2C, B2B |
| Buyer protection | Limited | Full | Full |
| Private label products | Yes | limited | limited |
| Production Time | 5-60 days | 0-30 days | 0-30 days |
| Language of use | Multiple-Lang | Multiple-Lang | Chinese Only |
| Shipping cost | Depends on QTY | Typically free | Typically free |
Form from: Alibaba VS AliExpress VS 1688.com at a Glance
Chapter 4: Is Alibaba safe to buy from?
4.1 Is Alibaba Safe?
Usually speaking, Alibaba is entirely safe and legit, providing several assurance services for buyers to ensure their purchasing safety. Most suppliers and manufacturers on Alibaba are reputable and trustworthy. As we've mentioned in the first chapter, Alibaba provides buyers with Trade Assurance, Quality Assurance, and Letter of Credit to keep most of the transactions secure on Alibaba.
However, this can not 100% protect your purchase on Alibaba. There are some scammers on Alibaba, just like eBay, Amazon, and other online marketplaces. Don't worry, and we've listed some useful tips for you to avoid pits in the following content.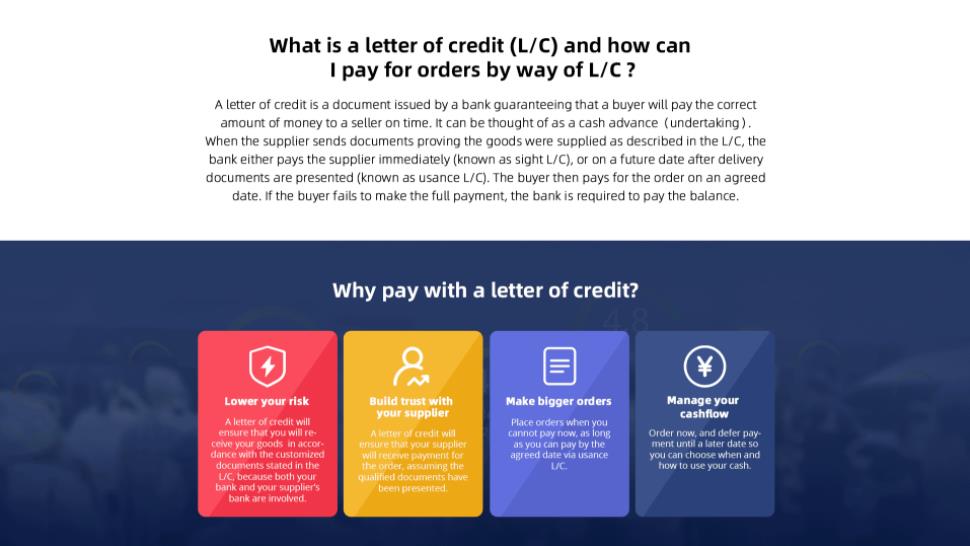 4.2: Alibaba Review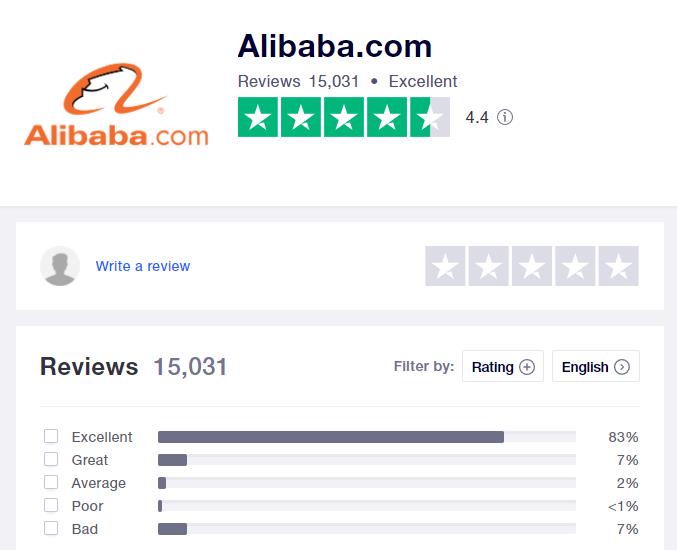 Whether it is safe to buy from Alibaba, let the statistics speak for Alibaba. We went on Trust Pilot to check Alibaba Review, and here is what customers who have used this platform said about this website.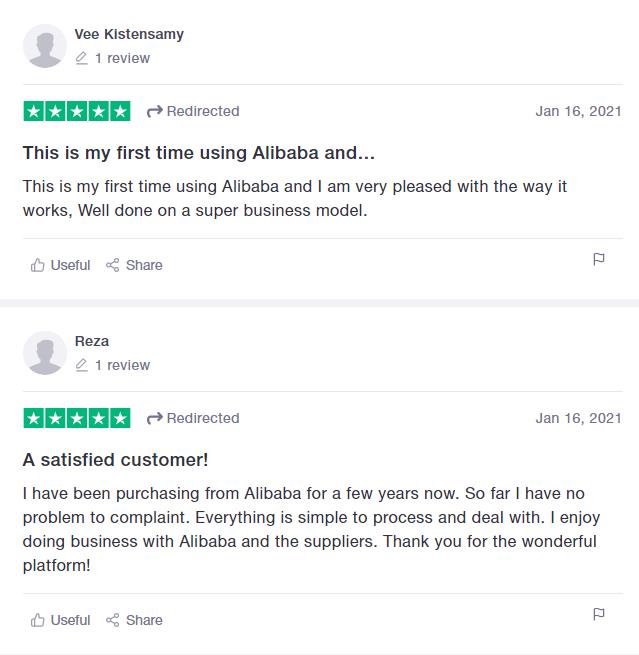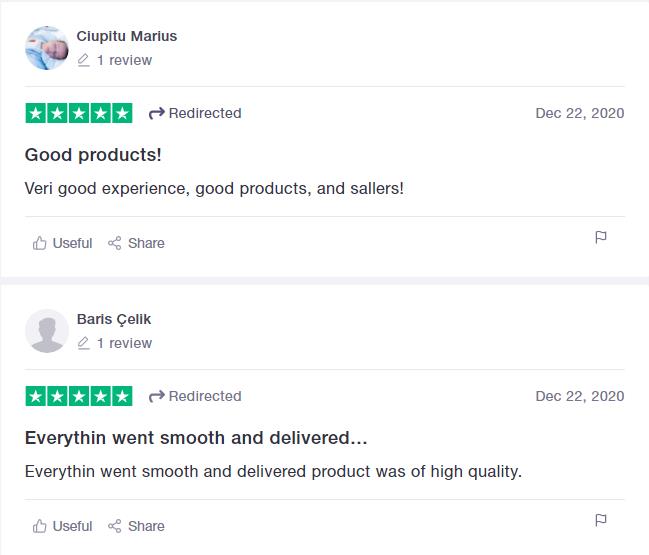 Chapter 5: How to Verify Suppliers to prevent a Scammer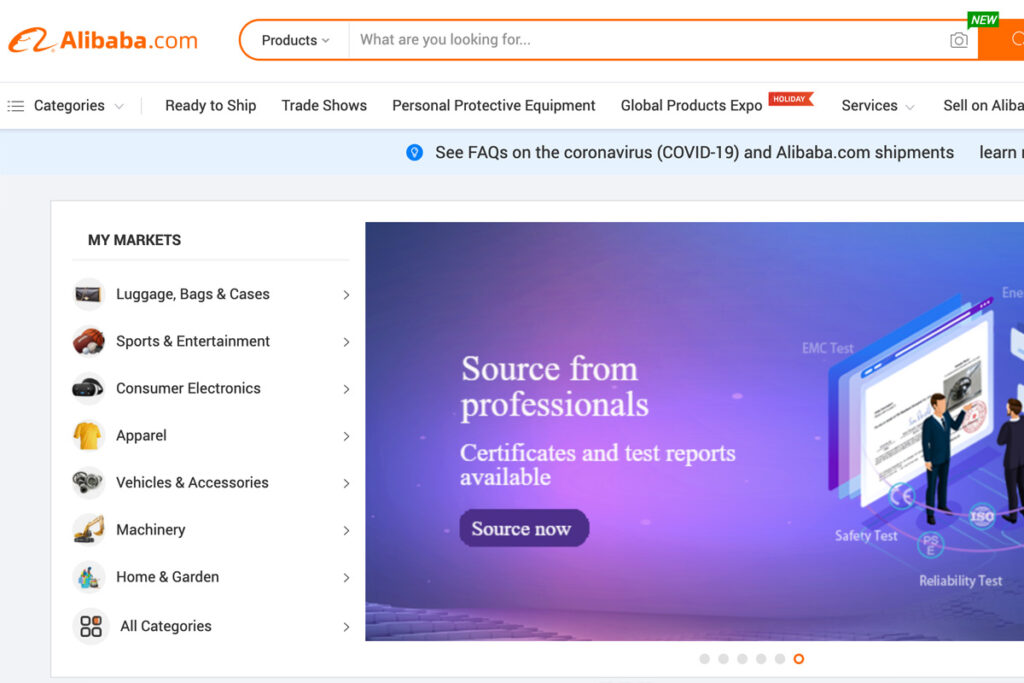 Verifying suppliers is the essential step before you place an order. Of course, Alibaba has its verification on suppliers. However, when you're new to using Alibaba.com, it will take you a lot of energy to sourcing the right one through thousands of suppliers.
Once you are familiar with the 15 tips or the following step, you will save tons of time and keep you from Scammer.
5.1 Choose Golden Suppliers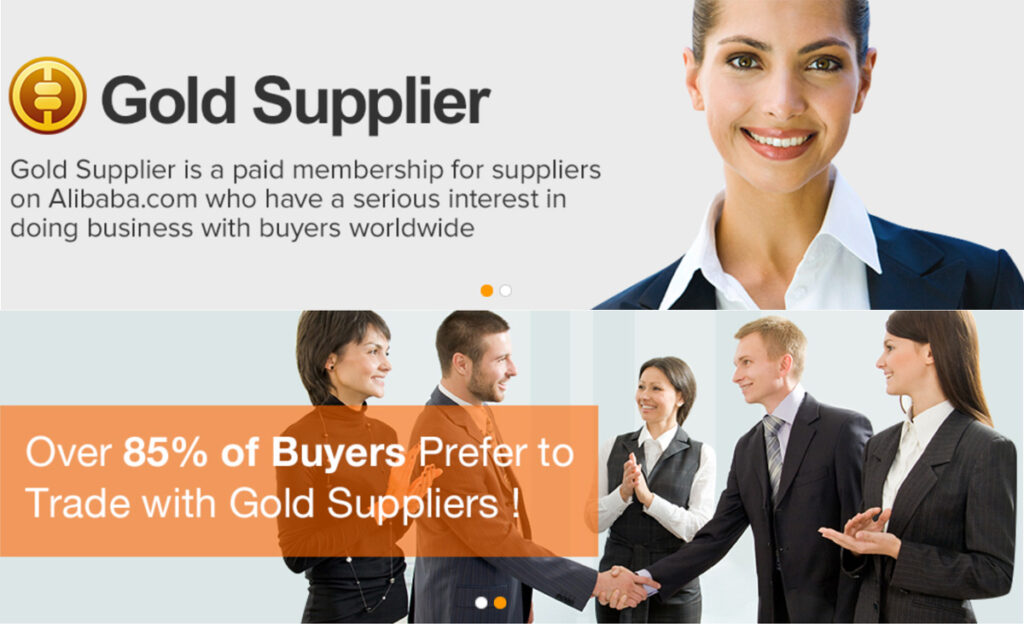 All Gold Suppliers in China must pass Alibaba Onsite Check while those from other countries and regions must pass Alibaba's A&V Check. Alibaba's supplier verification service short for A&V check, which means suppliers need to spend a significant expense on it(29,800RMB per year, around 4,500 USD in 2021).
Gold Supplier can be quite the right choice. Simultaneously, a scammer won't spend so much on this to scam you. As a result, most of them use a free account. In that case, if you choose the Golden supplier for more than three years, 99.9% of you are not dealing with a scammer.
Stick with Gold Supplier is the Gold rule to prevent from a scammer, the number of years a member has been a Gold Supplier on Alibaba.com is displayed along with the logo and updated every year, e.g. 1 or 7, so the number means how many years they have dedicated in their niche.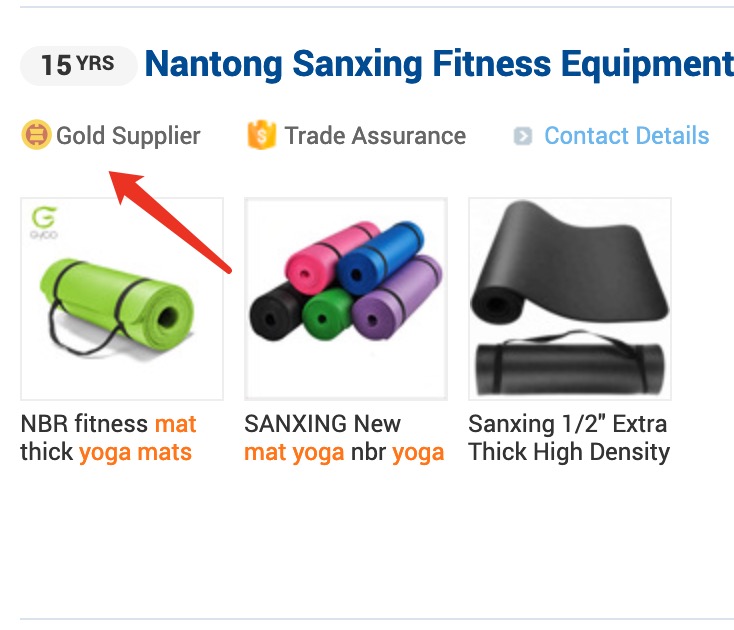 Of course, the Gold Supplier didn't mean 100% safe. Sometimes the scammer acquired or rent a Gold Supplier account from who quite business. If the supplier offers a fantastic offer or Brande products and uses unsecured payment terms asking for upfront payment, in high probability, they are cheaters, we'll go through more in the following sections.
In this case, you need to pay great attention to supplier's profiles, especially the company's location. Sometimes, you may find some Chinese suppliers' accounts with a location in the US or Canada. Or some companies' names in one city during their address in another.
The below photo shows there is a lot of Alibaba Gold supplier for sell or rent.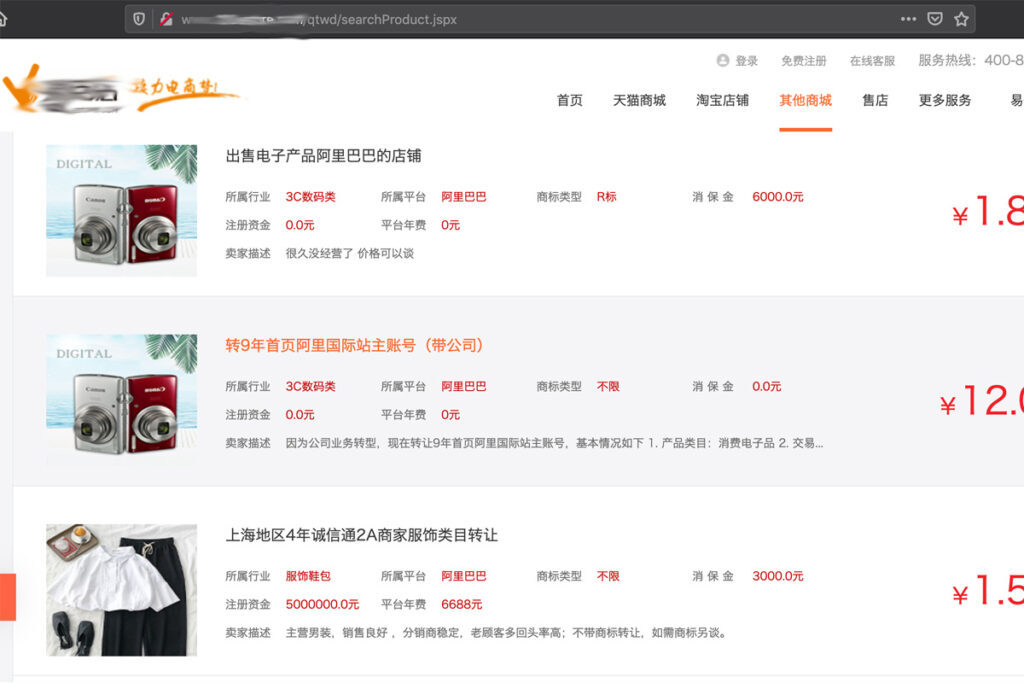 5.2 Choose Verified Suppliers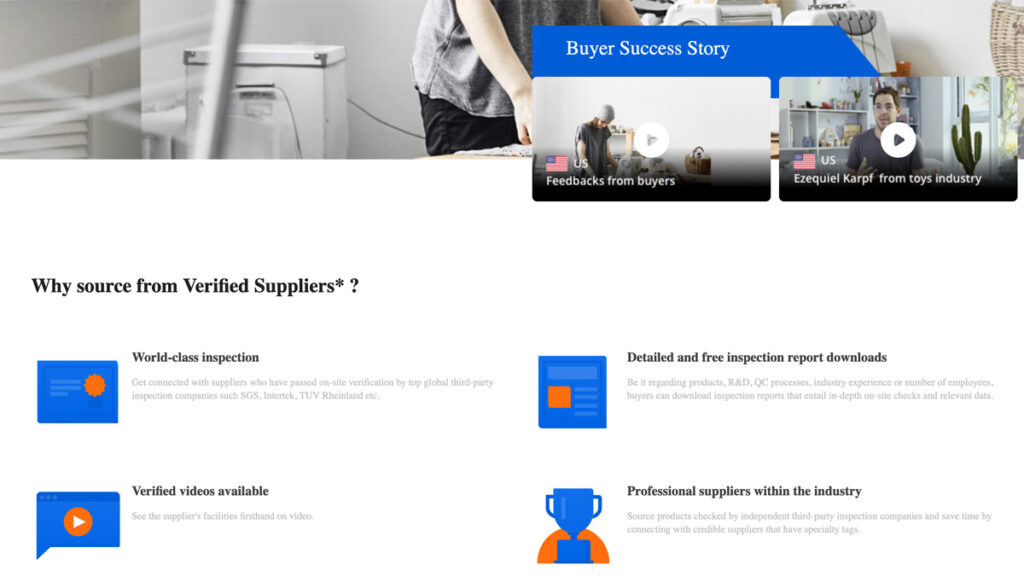 You can choose the Verified Supplier when you search for specific products. Currently, almost half of the Golden Supplier is Verified. If your niche is popular, then you can stick on trade with a verified Supplier. They'll convince you for sure.
"Verified Supplier" means the seller is assessed, certified, or inspected by certain groups, like SGS, TÜV Rheinland, etc. They check things like below:
Basic profile
Company overview
R&D capabilities
Production capabilities
Quality control capabilities
After-sales service capabilities
The below is the comparison of the Golden Supplier and Verified Supplier: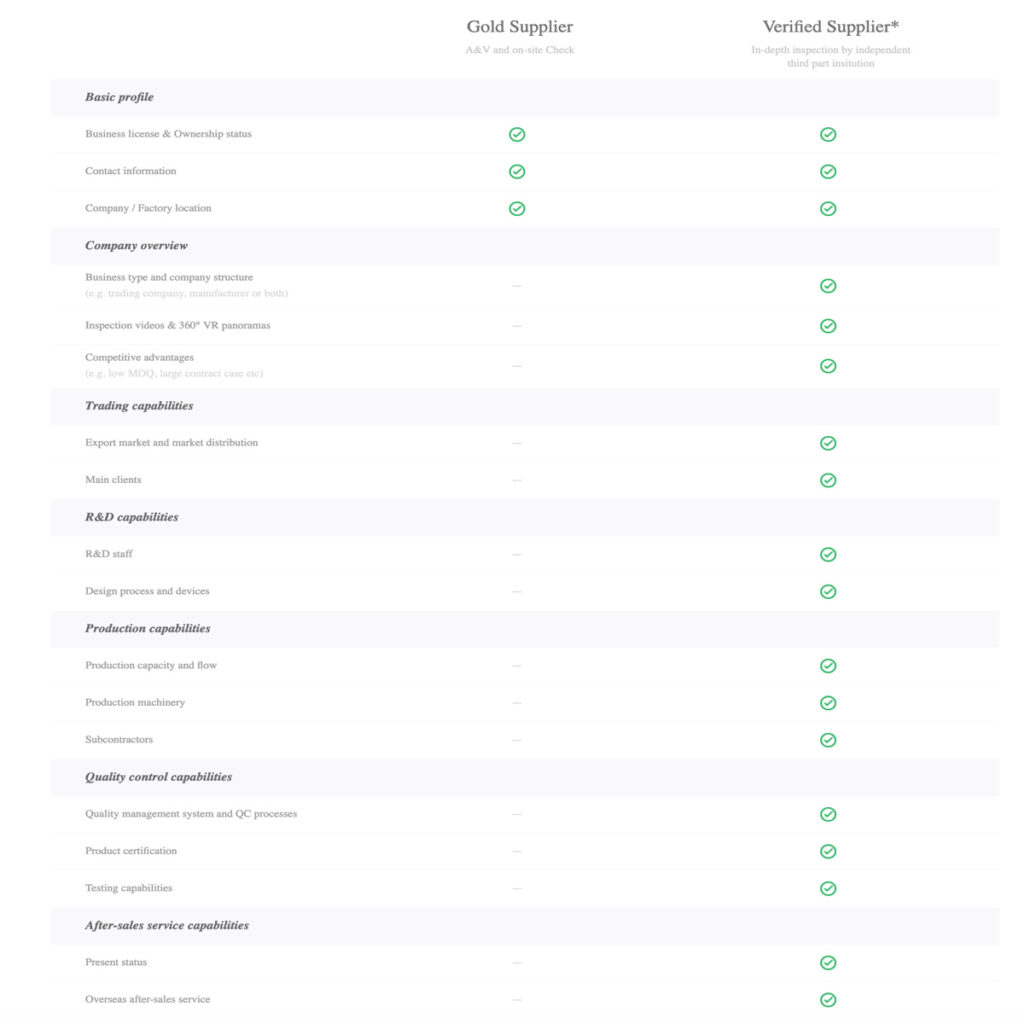 On the picture, you'll find that the verified Supplier paid the Golden Supplier membership annual fee and spent a lot of time and money on photos, videos, certificates, and all the trust issues. When you research suppliers, put it on the filter will find the well-organized Supplier more straightforward. You can quickly figure out the scammer and the bad suppliers.
5.3 Choose Trade Assurance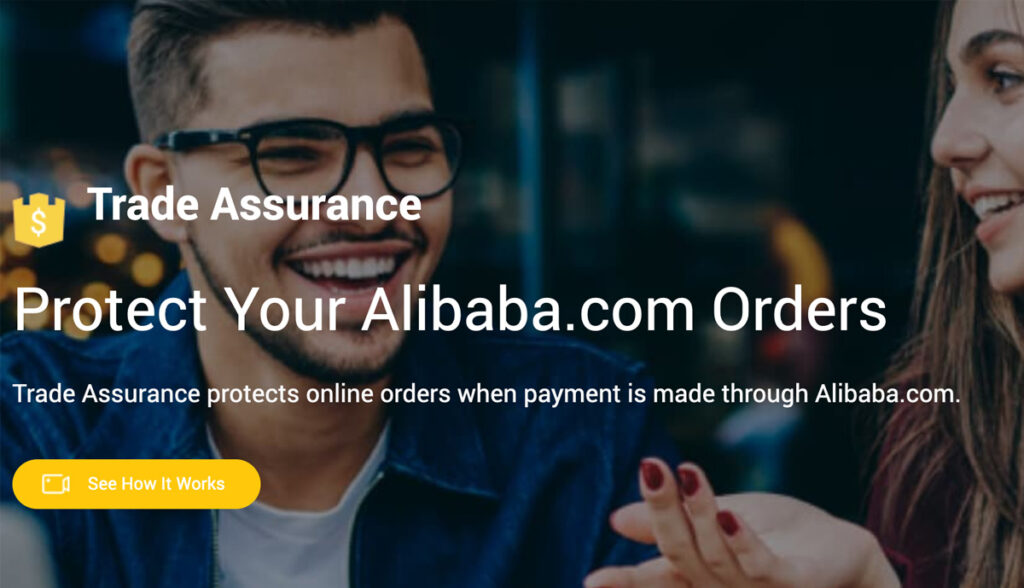 "Trade Assurance" means the supplier supports this free service that protects your orders from payment to delivery. Suppose either Product Quality or Ship Date varies from what you and the supplier had agreed to in the Trade Assurance online order. In that case, Alibaba will help you reach a satisfactory outcome, including getting your money back.
Nowadays, most of the supplier they support Trade Assurance, that means Multiple payment methods are supported, including Pay Later, a financing option for qualified U.S. buyers, so you have the flexibility in choosing how to pay.
Keep in mind; you should place the order and pay through Alibaba, then your order will be covered. Alibaba will provide on-time shipment and quality protection when you put your mouse on the logo Trade Assurance, show's amount of the supplier Assurance limit. The higher, the better.
5.4 Check Review and Rating
Review and rating of the supplier can show whether this supplier is trustworthy. Its rating shows how other buyers comments on this seller, how they respond to buyers, and how many transactions these products have made. And it will give you a supplier index, like the star-rating. A five-star supplier must be an ideal one to work with.
But it's all depends on your needs for the products and suppliers. The product review shows what people say about the product, whether there is a problem with it, and how the seller offers it. And you can use all this additional information to your advantage. The ratings and reviews system will be a useful tool for buyers.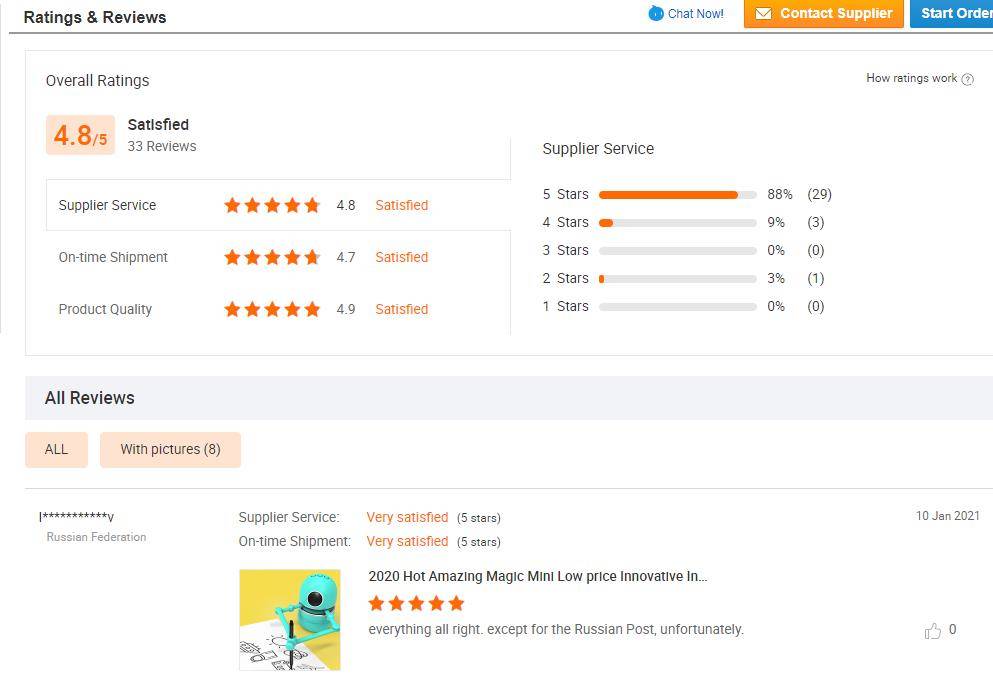 5.5 Check Supplier Online Performance Index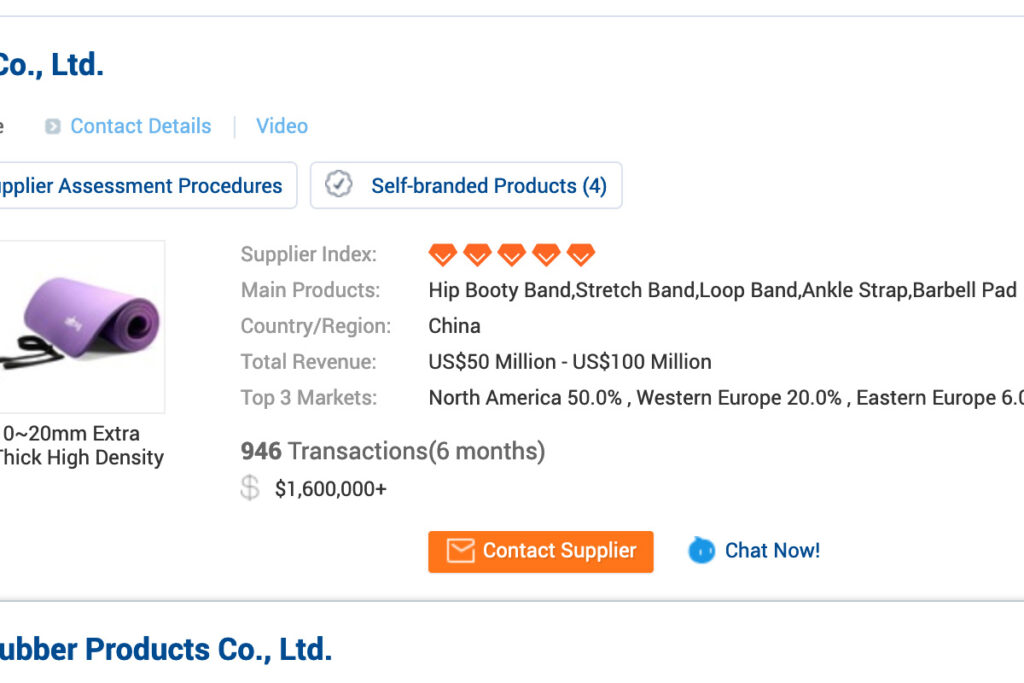 Supplier Online Performance Index(SOPI) is a data-driven index that presents suppliers' business performance on Alibaba.com. Their performance is measured in terms of presentation quality, product popularity, transaction volume, and service quality, and the lowest score of the above four indicators is taken as the SOPI.
Furthermore, the SOPI can be classified into six levels (0-5), with five as the highest. Level-0 suppliers are represented by a grey diamond icon, while the rest have corresponding diamond indicators in orange.
Actually, the SOPI is the upgrade of Transaction History and other metrics, and it's more accurate to measure the performance of the supplier. Though not all the orders go through online, it shows that have high SOPI is a more established supplier.
5.6 Check the Company Profile
Checking the companies profile helps to secure your purchasing. You can know better about its trade capacity, production capacity, and R&D capacity. And in its profile page, you may find whether this supplier has passed the Supplier Assessment.
A Supplier Assessment basically means that a third party has checked out the company and its factory. A supplier with such an assessment is much more reliable than those who haven't.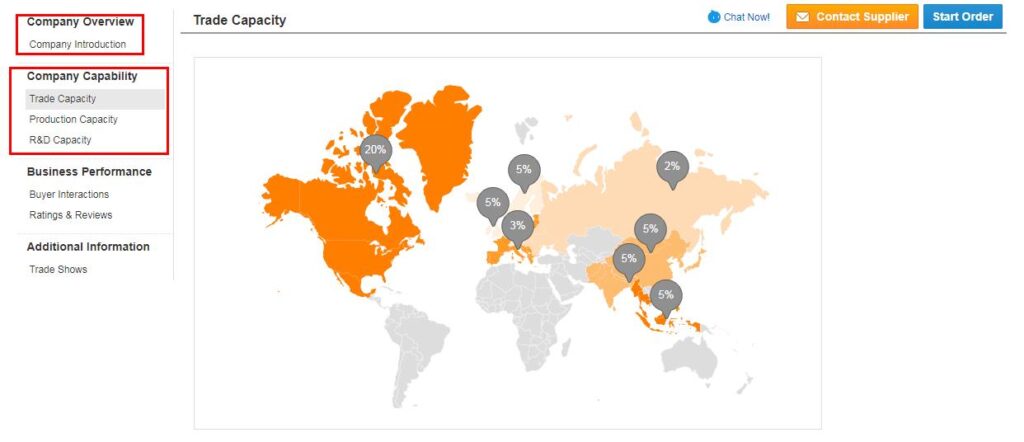 5.7 Manufacturers VS Traders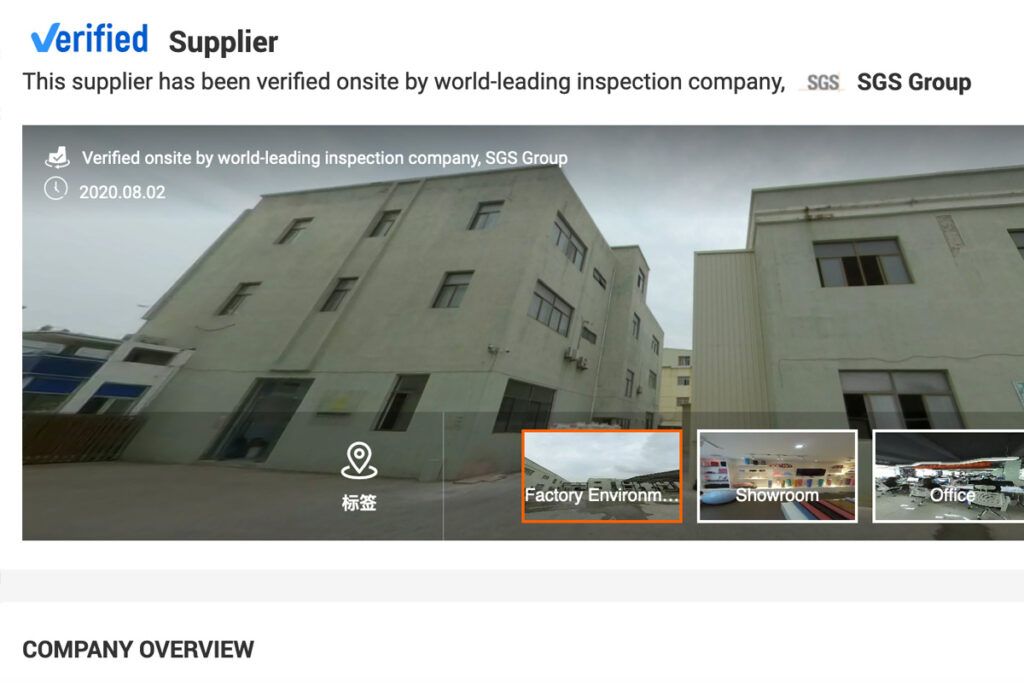 Just check the Business Type under the company overview page; it will show Manufacturer, Trading Company, or both. Nowadays, people automatically think that the manufacturer is competitive at pricing while a trader is better at dealing with importing from China. It's totally untrue.
We have many cases a manufacturer quotes a higher price with a higher MOQ, and a trading company quotes a lower price with a low MOQ. So don't only sticky on the manufacturer. Just take more measurements on other metrics to choose the right one to deal with.
5.8 Manufacturer Certificates
Many suppliers show their certificates of factory or products (CE, ISO, SGS, FDA, etc.). That's good proof you are choosing a genuine supplier. And be aware that before you import from China, you should be careful with the certificates, it's better to hire a broker agent or ask the custom what kind of certificates a required when you do custom clearance.
Warning! Some suppliers use fake certificates and some illegal organization. During the Covid 19, a lot of buyers suffering from fake certificates when they import surgical masks or KN95 masks from China. The best way to avoid it is to check the organization legit and then check the certificate. For, eg. The FDA certification verification, it's simple as it has one single official website: https://www.accessdata.fda.gov/scripts/cdrh/cfdocs/cfRL/rl.cfm
5.9 Check Manufacturer Video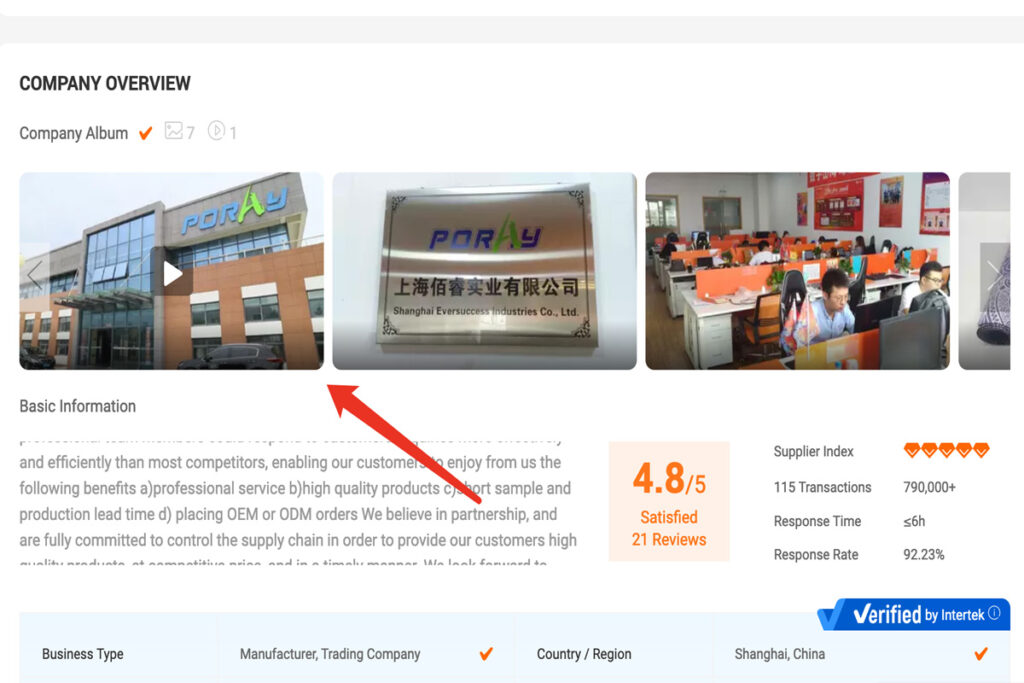 If there is a video on the company profile page, take a good look. Alibaba usually generates it with the help of the supplier. The supplier only needs to provide some video materials and photos. While checking the video, pay attention to the LOGO, whether the office and the manufacturer match, and whether the product brand on the production line is the right one on their website.
A trading company's video may not have a production workshop, or a production workshop is only part of it. It is not as confident as a real factory to provide plenty of photos and videos. Of course, not all companies with production workshop videos are manufacturers because some trading companies can also borrow these resources. So while choosing Alibaba's suppliers, you usually cannot just focus on one or two signs as mentioned above. Using SOPI data-driven symbols may be more accurate.
5.10 Check Company website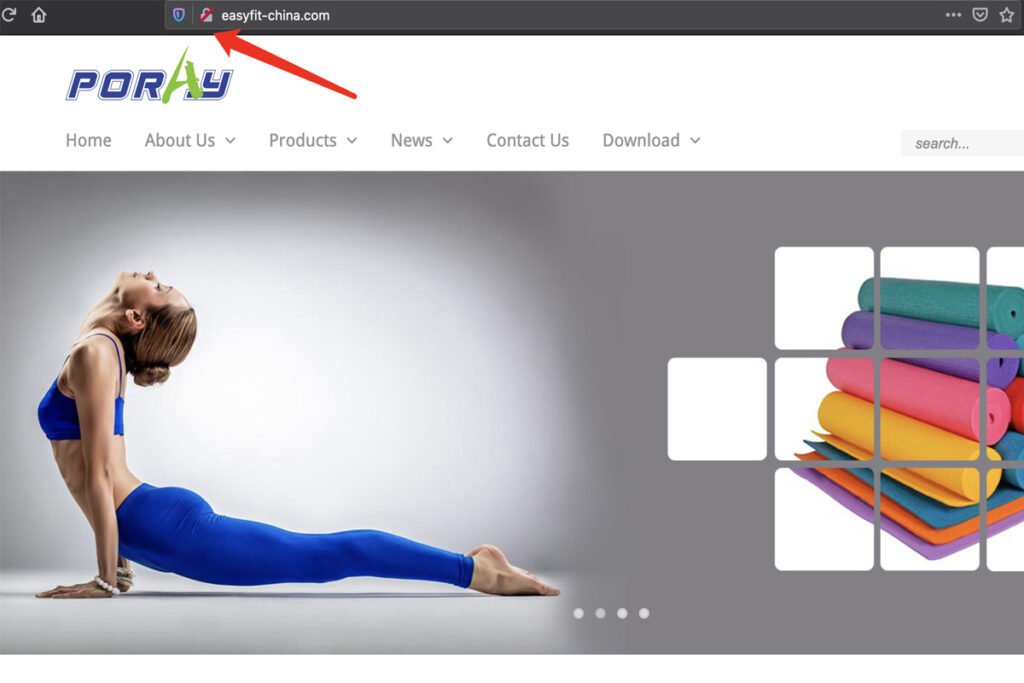 The supplier knows that a company website is essential for their business. Still, most Chinese suppliers' websites are fundamental, even didn't use the secure connection as in the pictures above, very few of them have a fashion website and even live chat. You can use domain tools to check the domain information to check how long they were hosting this website.
If you can not find their website on the Alibaba page, you can search their full company name on Google, you'll find their website, or sometimes you can see their store on Global-sources, Made-in-China, and Aliexpress, etc. Those will also help you to learn more about this supplier.
5.11 Check trade shows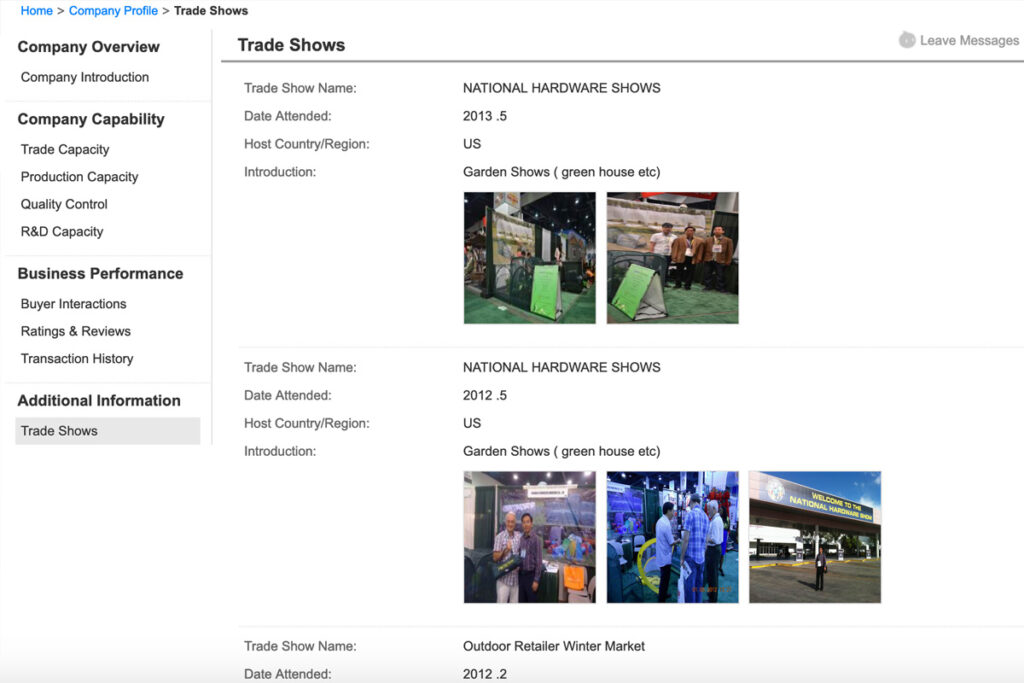 Check the Additional information on the Alibaba profile page. Obviously, the Scammers did not attend any trade shows, just run short term. If you find the trade shows listed for the future date or just a few months ago, it's a good sign that you are dealing with a reputable supplier.
However, you should move one step ahead; you can easily verify this information on the trade shows Official website. Like in China, the most popular trade show is Canton fair and East China fair. But for 2020 and 2021, they start an online trade show due to the Covid 19.
5.12 Secure payment
If the suppliers only accept T/T payment, Western Union and MoneyGram, STOP! Any payment that goes offline without any protection would be very risky unless you are familiar with that supplier or know them for years. Payment is quite a big issue in the whole process of importing from China. And we have other articles talking about payment where you can refer to.
Methods on How to Send Money to China
Is it still SAFE to send money to China?
If just for sample orders, we recommend Alipay, PayPal. Also, you can use Western Union or TransferWise to save time.
5.13 Check Qixin scores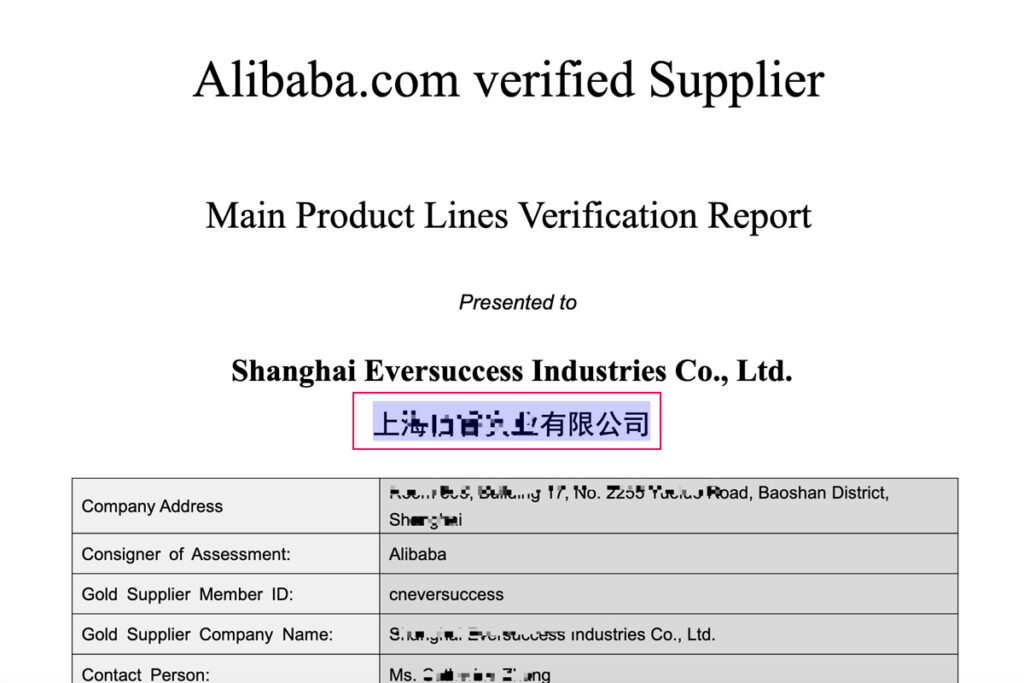 That's the newest trick to prevent disaster. Qixinbao is a Chinese reputation verification system, and You can find out if they are bankrupt, have committed a crime, have a record of administrative penalty, etc.
Just download the Factory inspection reports, and on the top, you'll see the company name in Chinese as above in the picture and then search it on the Qinxinbao website. You'll get the results like the below, the reputation scores, the company's risk, its tax record, and any uncommon changes. And if you can not use it properly, ask your Chinese friends or an agent to help you. I'm sure you never want to deal with a supplier who bankrupts.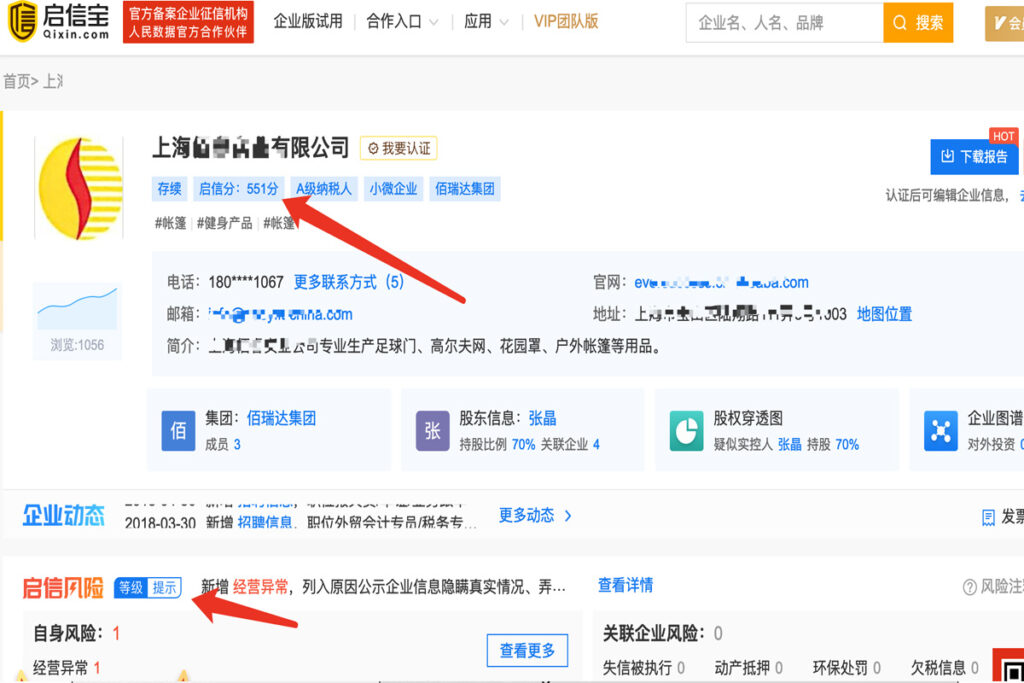 5.14 Check Bank details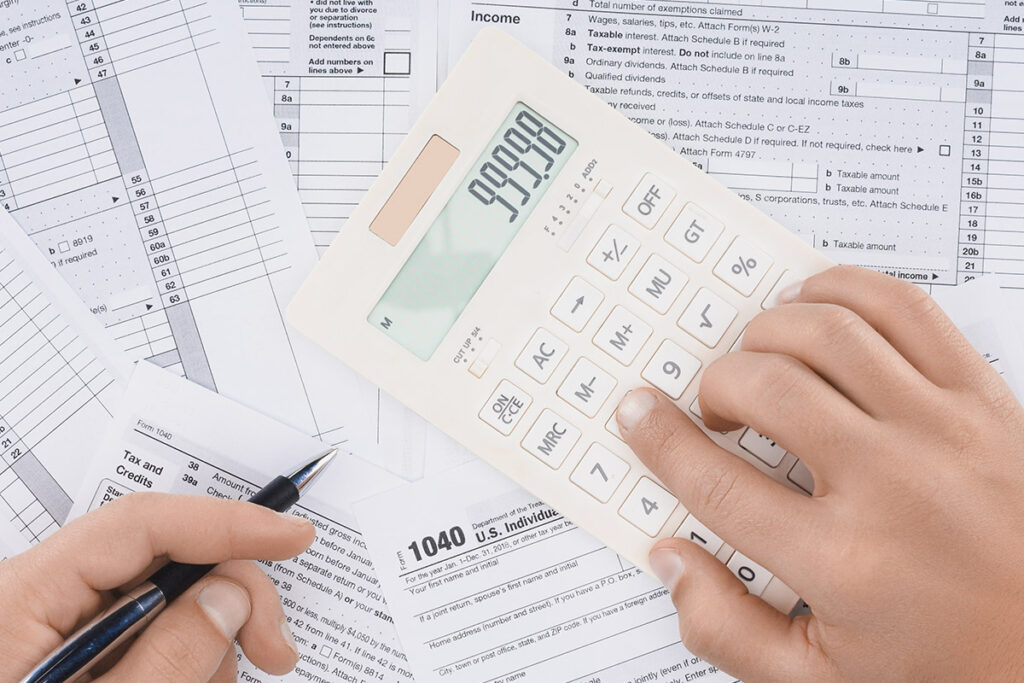 Most suppliers on Alibaba will accept these payment methods Alipay, PayPal and credit cards, and Trade Assurance. If you send by T/T payment, always double-check the company name, address, and bank info. It should be the same as on the Alibaba profile page. Never send money to a personal or a boss's account.
Suppliers do have sister companies receive money. In that case, you should ask questions or use Qinxinbao to figure it out.
Chapter 6: Case Study on Alibaba Scams
Alibaba is the biggest online marketplace that you can find numerous products at a competitive price. Alibaba is safe and legit but still has a few scammer or bad suppliers, and here are some cases below.
Case 1: Fake Branded Products
Does Alibaba sell fake products? The answer is no, but some Scammer will do. They would then sell such fake products on Alibaba, AliExpress, eBay at a relatively low price. For example, when you search "GG" instead of GUCCI, you will see many products under this keyword. A "Gucci" belt sold at $10. And sometimes, they would make a subtle change on the products, like changing the letter, making GUCCI into CUCCI, to fool buyers.
The manufacturing industry in China is really powerful. There are no branded products available on Alibaba. However, be careful of those fake branded products. Fake products can be quite identical to genuine ones at almost all factors, like logo, pattern, and even materials. You can barely tell the difference.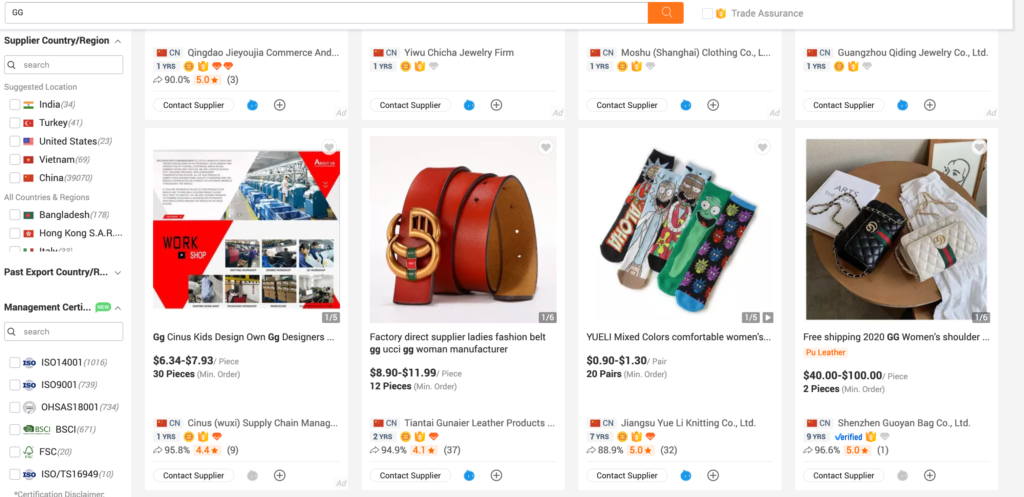 It is very very important that you don't buy branded products or licensed products on Alibaba. Therefore, most licensed products or branded products are not available on Alibaba. Therefore, if the supplier claims to offer such products, you will probably get scammed.
Case 2: Products Received is not Products Ordered
This kind of scam is most likely to happen. Some suppliers will offer you a relatively low price than other suppliers to get your order. However, when you receive your order, you will find that the products you received are not what you ordered or are products at a high defective rate because suppliers need to sacrifice quality for such low prices. Therefore, before you place an order of a large amount, place a sample order to test if the supplier is reliable.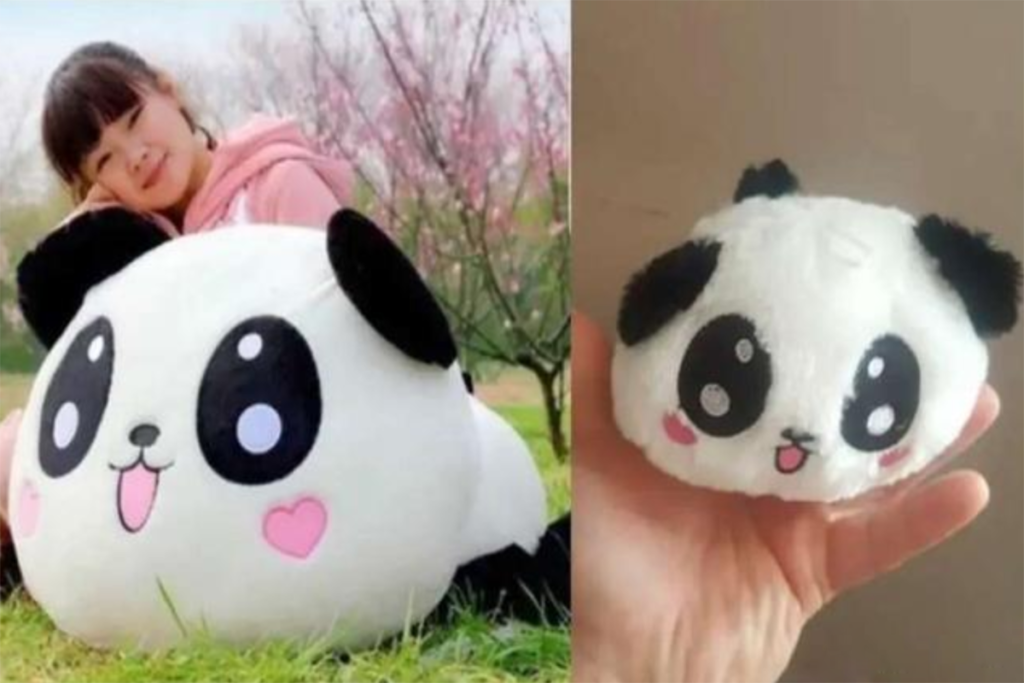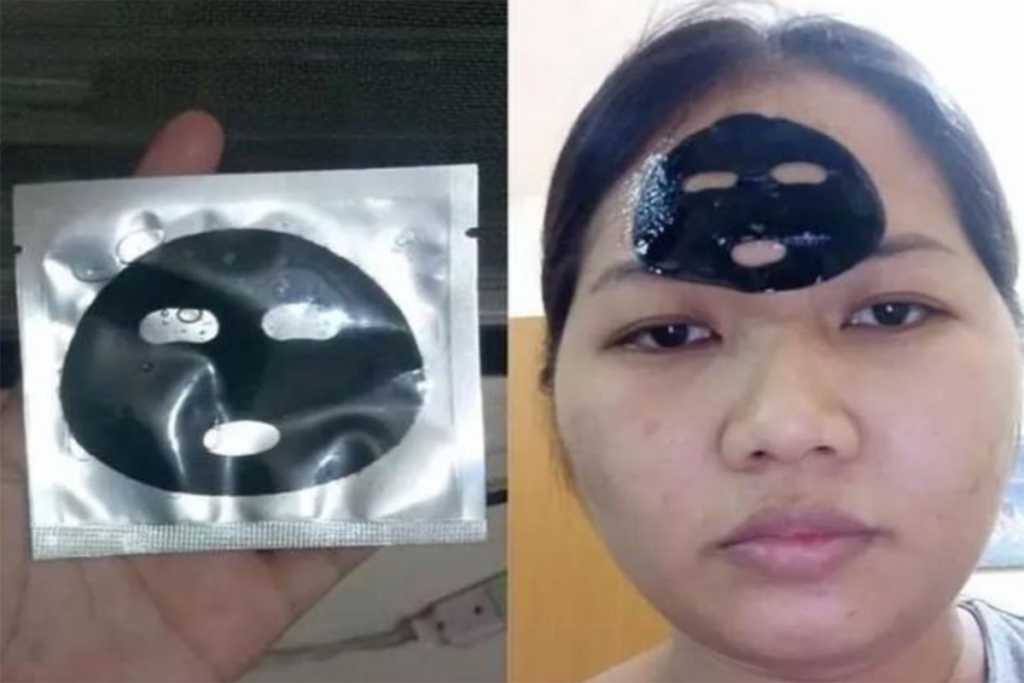 Some people receive faulty products or full container rocks. Yes, it's not a joke. See the picture below.
Case 3: Fake Shopping Websites
If you buy from an online shopping website the supplier recommends, and What's worse, you may not even receive your products after your payment. Last August, the FBI has seen a rise in online shopping scams. Most cases happened when victims purchased from "shopping" websites offering low prices.
It turned out that these "shopping" websites are fake ones. These websites used the Internet top-level domains ".club" and ".top." instead of ".com." And such websites used content copied from legitimate sites and shared the same contact information to confuse buyers.
After your payment, they won't send you the products or even just disappeared. Therefore, before you go shopping online, check the shopping website's authenticity and double-check the suppliers to ensure your shopping.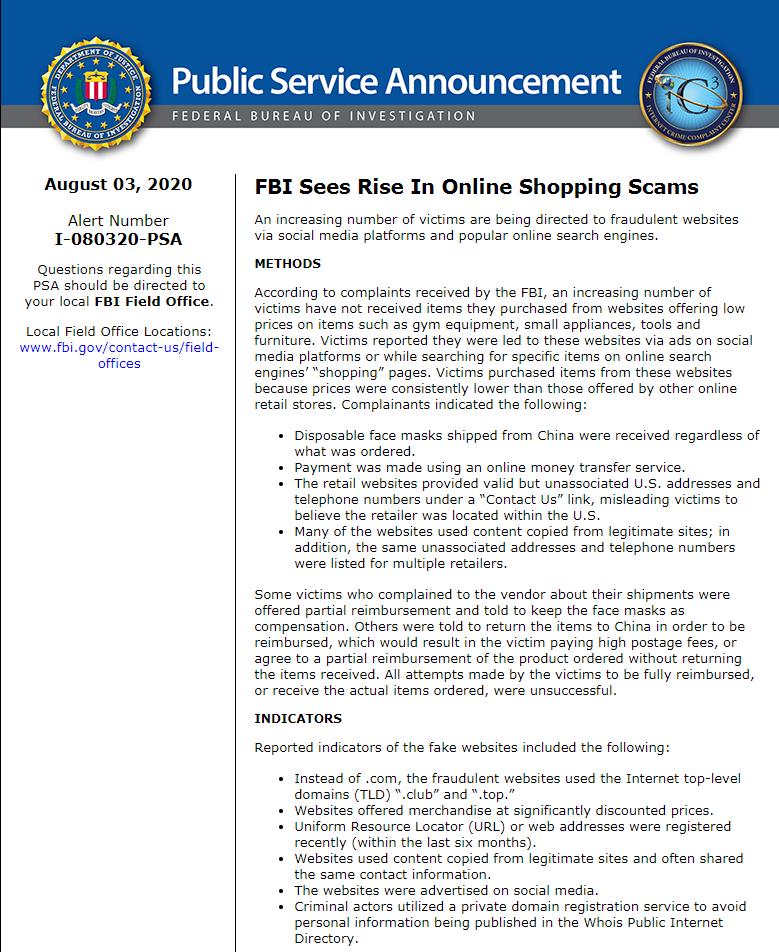 Case 4: Charge Extra Fees
After you have placed the order at a rather low price, some suppliers will charge you with extra fees, like customs fee, service fee and so on. As the order is on-going, you have to pay such fees to get your products. In this way, even you got the products at a favorable price, other extra fees add up your cost. Therefore, don't get tricked by the lower price. To avoid such situation, make all the cost clear before you place the order.
Case 5: Trick You on Samples
Usually, most suppliers are willing to send samples to buyers. But some suppliers will trick you on sample orders. If your order value is under $500 and you choose Sample Order when you place the order, then you need to be careful about the products received. The reason is that samples are allowed to be flawed, and you can't complain and dispute on the platform. Some suppliers will trick you in this way if you are a fresher. In short, to avoid such tricks, don't choose the Sample Order option.
Hope you find this article helpful on your purchasing on Alibaba. If you have any questions or suggestions, leave it on the comment down below. Thanks for supporting.