About sourcing from Yiwu China, I believe the most familiar way for some experienced dealers is to search suppliers on Alibaba, Google or other websites, similarly to personally join some exhibitions like Canton Fair and East China Fair in China.
How ever, we strongly recommend that you come to Yiwu. If you've been to the Canton Fair, you will have a general impression about Yiwu market. There are 25,000 suppliers in the Canton Fair, while there are 100,000 and more in Yiwu market, which is basically equivalent to a never-ending Canton Fair. Of course, this article contains many things you want to know and you don't want miss about the secrets of Yiwu market and its agents.
By the way, if you want to importing from China, we have another article for your reference. Just click here.
This article has 8 parts, which may takes about 10 minutes to finish. Here is category, you can collect it or send it to your mailbox.

Part 1: Where Is Yiwu and Yiwu Market?
Yiwu Market is located in Yiwu City, central Zhejiang Province. Every single year, nearly 500,000 foreign traders purchase in Yiwu. And more than 13,000 overseas merchants and 3,000 representative offices of foreign enterprises from over 100 countries and regions are resident in Yiwu, including more than 20 multinational retail groups such as Wal-Mart and Metro. Yiwu has not only more than 3,000 international and domestic logistics enterprises, but also 18 international shipping giants, 8 Central European and Central Asian liners, over 20 air routes and more than 400 urban freight dedicated lines.
1.1 Highlights of Yiwu Market
Yiwu market is a huge complex market in Yiwu China. There are 1.8 million items in the Yiwu market, with nearly 100,000 sellers, hundreds of thousands of producers and nearly one million purchasers, covering 219 countries and regions worldwide. If you stop by a booth for 3 minutes, then you will be stuck in this market for a whole year to visit all the booths.
Yiwu market is known as "the largest small commodity wholesale market in the world" by the United Nations, the World Bank and Morgan Stanley and other authoritative agencies. It is also known as "the starting point of the new Silk Road" by the mainstream international media such as the New York Times and the Times.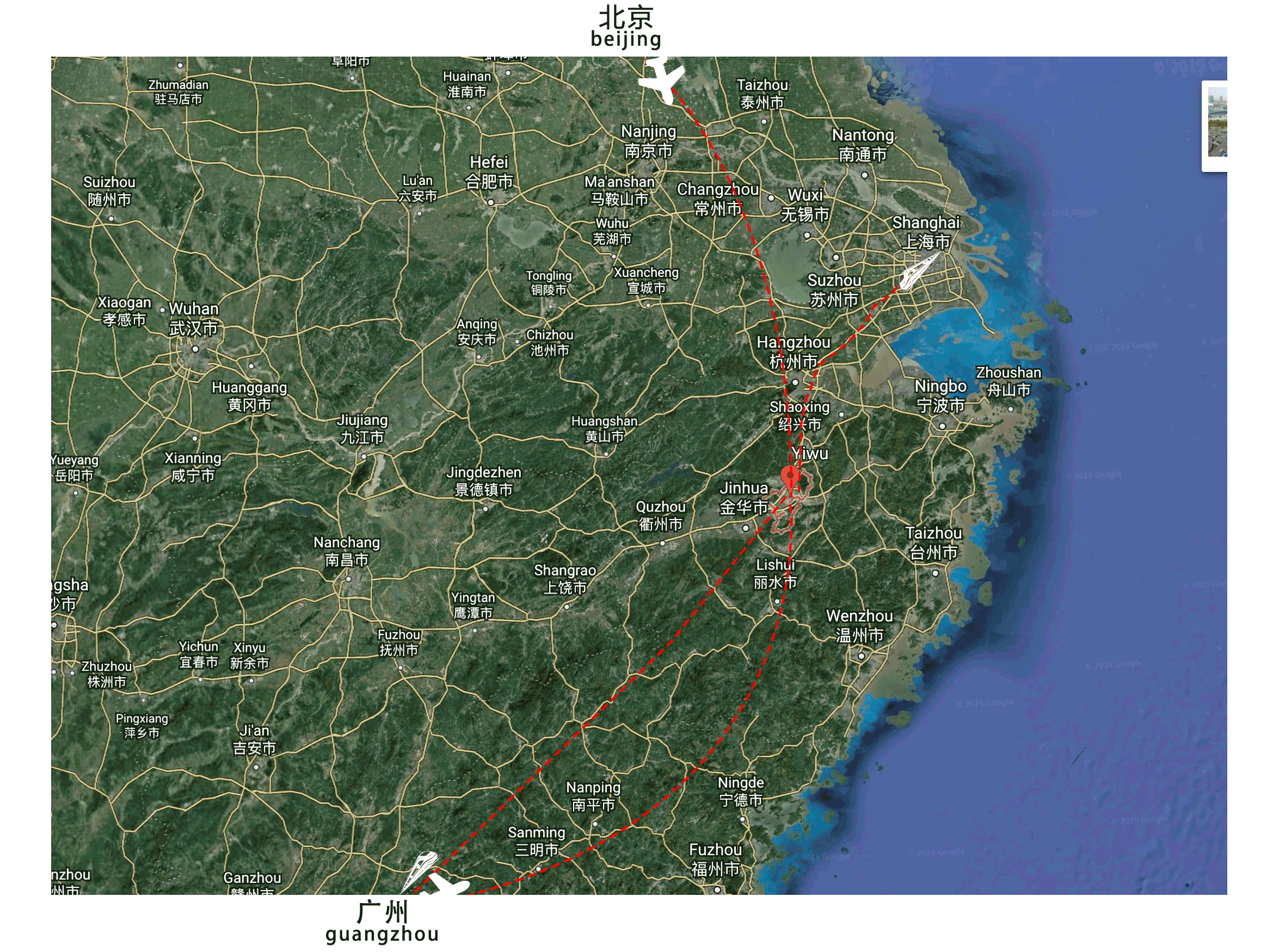 Yiwu has convenient transportation and is accessible in all directions. Yiwu is about 129 miles from Shanghai and 82 miles from Hangzhou. If you are in Shanghai or Hangzhou, you can take a speed train to Yiwu, which is really convenient. And some may fly to HongKong, Guangzhou or Beijing and then transfer to Yiwu (YIWU AIRPORT code: YIW).
Besides, if you are in Yiwu, whichever hotel you check-in, it's only about 30 minutes drive from the Yiwu market. We also have a specific GUIDE about how to go to Yiwu, including transportation, accommodation, food and entertainment.
Part 2: Product Categories of Yiwu Market(Futian Market)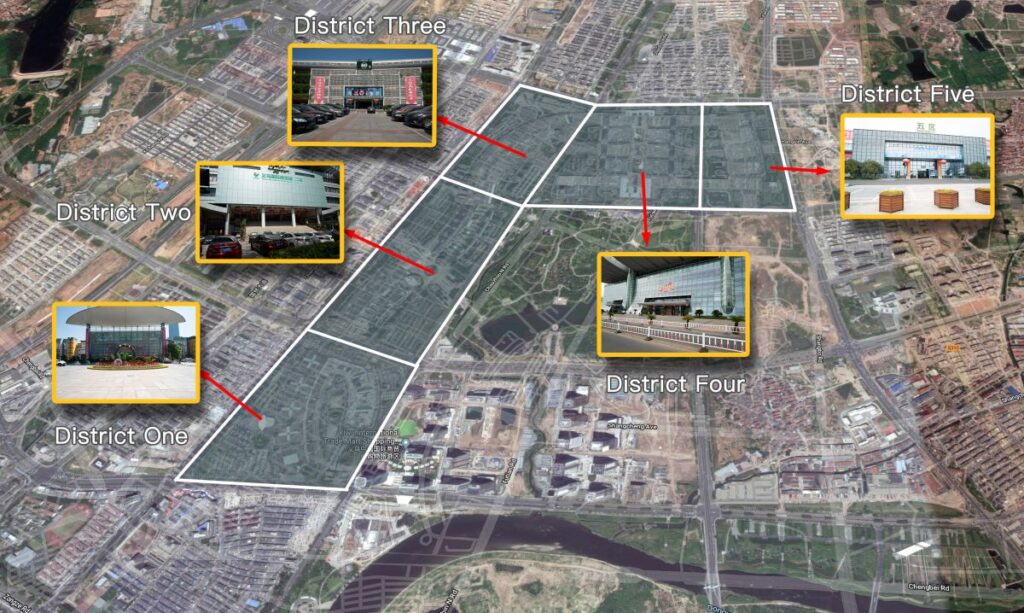 The Yiwu market is actually a general term. Usually, the Yiwu market is generally considered as Yiwu International Trade Mart, also known as Futian Market, official website Chinagoods.com. In fact, Yiwu is not just a single market, but a cluster of markets. It can be said that the whole city serves for market trade. You can see that there are many booths on the streets full of goods for wholesale.
Here is the main guide of Yiwu International Trade Mart (Futian Market)
The District 1 of Yiwu International Trade Mart is divided into five major business areas: main market, direct marketing center of production enterprises, commodity purchase center, warehousing centerand catering center. There are more than 10,000 booths and more than 10,500 suppliers. Flowers and toys are on the first floor; jewelry and ornaments on the second floor; crafts and gifts on the third floor; direct sales centers for small and medium-sized enterprises and Taiwanese shops on the fourth floor and procurement service centers for foreign trade enterprises on the east. To sum up, more details pls check categories below.
| Floor | Categories |
| --- | --- |
| 1F | Toy; Artificial Flower; Flower Accessories; Annex Building (Toy / Ornaments / Craft) |
| 2F | Hair Ornaments; Jewelry & Ornament; Annex Building (Ornament / Ornament Accessories) |
| 3F | Festival Craft; Decorative Craft; Tourism Craft; Ceramic & Crystal; Frame; Ornament Accessories; Annex Building (Ornaments / Craft / Accessories) |
| 4F | Taiwan Mall (Flower / Ornaments / Craft); Factory Outlets (Toy / Flower / Ornaments / Accessories) |
2.2 East of District 1 of Yiwu International Trade Mart(义乌国际商贸城一区-东)
The East of District 1 in Yiwu International Trade Mart covers 79100 square meters, with more than 2,500 booths. The first floor of the market mainly deals with jewelry accessories; the second floor deals with jewelry and accessories; the third floor deals with jewelry.
| Floor | Categories |
| --- | --- |
| 1F | Ornament Accessories |
| 2F | Ornament; Ornament Accessories |
| 3F | Ornament |
The District 2 of Yiwu International Trade Mart covers an area of 322,000 square meters, with more than 8,000 booths and over 10,000 suppliers. There are a tourist shopping center and a historical exhibition hall of the development of China's small commodity city in the central market hall on the second and third floors.
| Floor | Categories |
| --- | --- |
| 1F | Rain Wear & Pack; Umbrella; Fujian Mall (Umbrella); Suitcase & Bag |
| 2F | Electrical Products; Lock; Hardware Tools/Accessories; Vehicle |
| 3F | Kitchen & Sanitary Hardware; Small Home Appliance; Guangdong Nanhai Mall; Telecommunications; Electronic Appliances & Photographic Equipment; Battery/Lamp/Flash Light (Electronics); Clock & Watch |
| 4F | Anhui Mall; Yueqing Low-voltage Apparatus; Hongkong Mall; Sichuan Mall; Korean Mall; Suitcase & Bag; Electronics; Clock & Watch; Hardware & Electronics |
| 5F | Export Agencies; Featured Products |
The first floor of District 3 of Yiwu International Trade Mart deals with New Year pictures, calendars, glasses, pens, inks and paper products. Cultural and sports goods are on the second floor and cosmetics-related articles on the third floor, such as cosmetics accessories, beauty and hairdressing, etc. Besides, it also deals with zippers, buttons and other accessories. The fourth floor is factory outlets.
| Floor | Categories |
| --- | --- |
| 1F | Pen Paper Ink; Eyeglasses |
| 2F | Office & Study Stationery; Cultural & Sports Products; Outdoor Product |
| 3F | Cosmetics; Cosmetic Accessories; Beauty Products; Mirror & Comb; Button & Zipper; Accessories; Apparel Accessories |
| 4F | Factory Outlets-Cosmetics/Beauty Products; Factory Outlets-Cultural & Sports; Factory Outlets-Apparel Accessories |
District 4 of Yiwu International Trade Mart, is the sixth generation market of Yiwu Commodity City. Firstly, first floor is about stockings, secondly, the second floor is about general merchandise, gloves, hats, needles and cotton, the third floor is about shoes, ribbons, laces, ties, wool and towels; finally, the fourth floor is about bras, underwear, belts and scarves.
| Floor | Categories |
| --- | --- |
| 1F | Socks |
| 2F | Knitted Goods; Hat & Cap; Gloves; Daily Necessities; Earmuffs |
| 3F | Caddice; Tie; Lace; Towel; Thread & Tape; Shoes |
| 4F | Belt/Accessories; Bra & Underwear; Scarf |
| 5F | Tourism and Shopping Center; Garments; Shoes; Daily Necessities; Frame/Accessories |
The District 5 of Yiwu International Trade Mart mainly deals with imported commodities, bedding,textiles, knitting raw materials, automotive supplies and accessories. Firstly, the first floor is mainly about imported goods, with several exhibition halls for imported goods; secondly, the second floor is mainly for bedding and wedding supplies; the third floor is for textiles and knitting raw materials; the fourth floor is mainly for automobile and motorcycle accessories; finally, the fifth floor is for online business services, and the Yiwu E-commerce shopping center is built here.
| Floor | Categories |
| --- | --- |
| 1F | ICM-Foods/Healthy Products; ICM-Garments/Daily Consumable; ICM-Ornaments/Craft; African Products Exhibition & Trade Center; Other Imported Products |
| 2F | Bedding; Chinese Knot; DIY Handicraft |
| 3F | Curtain Cloth; Knitted Cloth; Knitted Fabric |
| 4F | Car Necessities; Car & Motorcycle Accessories; Commodity Distribution |
| 5F | Online Services |
Part 3: How to Efficiently Source Products in Yiwu Market and Deal with the Suppliers?
Searching from 75,000 booths, you may fail to find out what you want. Here are some proper ways that you can follow to do some investigation before getting lost in the Yiwu market or go with some suppliers.
3.1 How to Find Suppliers
If you come to the market in person, you should not miss the instruction signs and maps at each entrance. It is quite humane that almost all booths are displayed according to the broad categories, and the merchants are also clustered together. You can easily find the suppliers you want through the instructions.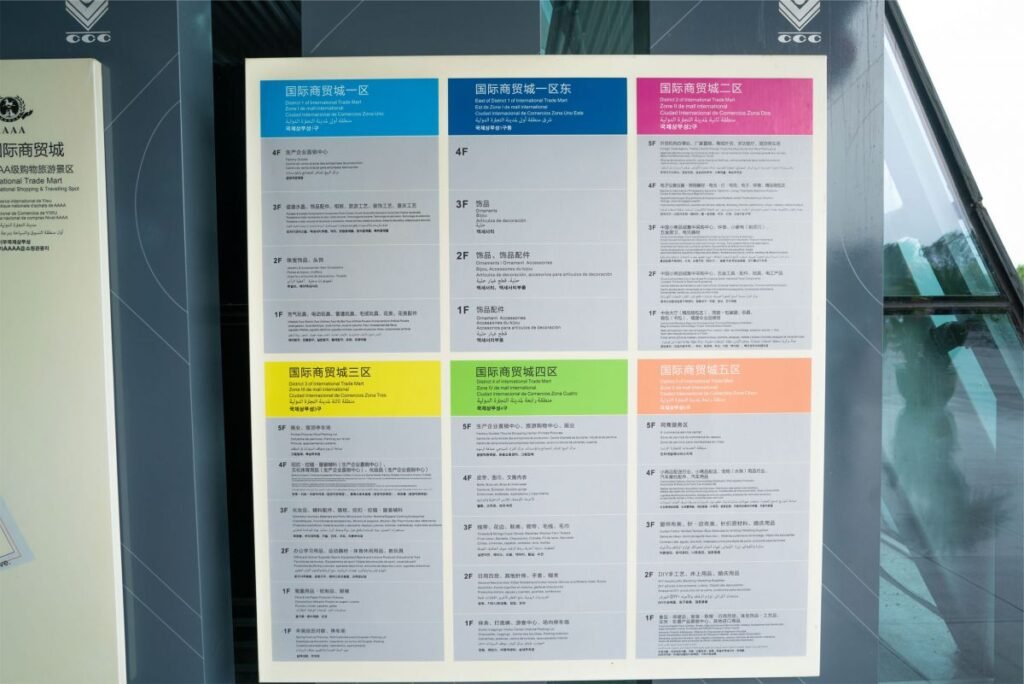 Before you go into the market, we recommend that you download a market navigation map (click here to download the map) with the product distribution of the whole market. So you would know which district to go, rather than blindly walking from District 1 to District 5, as they are miles away from each other.
Also, you can do some research online on Yiwugo or Chinagoods.com, searching for the products you want and locating the booths. There is a panorama for each booth on the website, but some may need the password from the suppliers. Remember the booth number you are interested in, which will save a lot of time.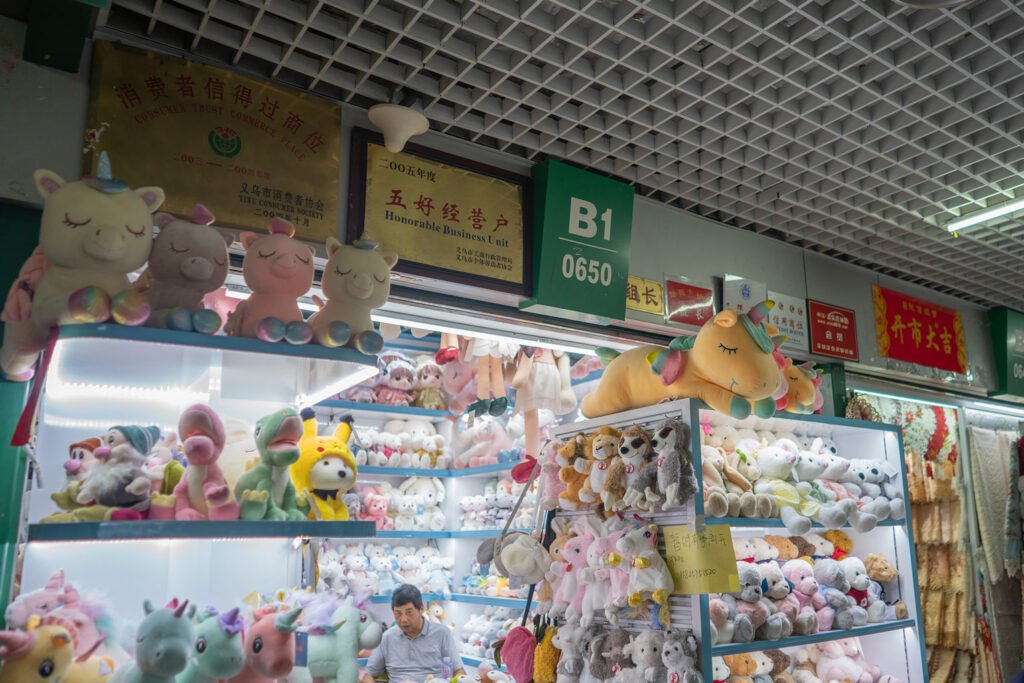 With the booth number, here is an easy way for fast location. Let's take C12345 for instance. C stands for C block. 1 stands for 1F, and 2345 is the booth number. If you want to go to D block, then you need to check the next booth number and choose the bigger one, which also means that B block is in the opposite direction.

3.2 How to Deal with the Suppliers
a. About Communication
Most Suppliers do not speak fluent English, but this does not hinder their enthusiasm for doing business. They will use simple numbers or translation pens. And usually, will quote you with a calculator and repeatedly saying "Yuan yuan, Yuan yuan, Yuan yuan…".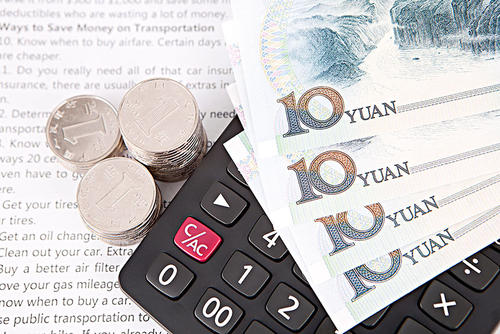 In this way, you can happily buy some spot goods and take them with you. But when it comes to ordering customization, such as color, packaging, label, and so on, you will need a translator. From English, Spanish, French to Russian, hiring a translator ranges from 200 to 500 RMB per day. And they only offer translation services. If you need more afterward services such as receiving, inspecting and shipping your goods, you may need to find an agent to help you integrate all these things (we will mention more below).
b. About Payment
If you are here for Shopping, do remember to take enough RMB with you, because when you pull out the colorful foreign currency, 99% of the suppliers will shake their heads with a smile and say to you: No, No, No. Yuan, Yuan Yuan Yuan only.
For Orders, suppliers usually charge a deposit of a certain amount and need to pay the balance before shipment to the designated warehouse. Of course, if you would like to pay cash 100% in the store, they may give you the best discount, if you don't mind taking a lot of cash with you.
Bank accounts frozen in Yiwu affects buyer and supplier both. Please note, this year a lot of businessman suffering from transactions RMB to suppliers in Yiwu Market, their account was suspended and lose money. To avoid disaster in 2022, please check this article: Many bank accounts are blocked in China.
c. About Quality
There's no such quality concern if you are buying on-site or the suppliers sending it directly to your hotel.
You may get all kinds of "surprises" when receiving your Orders. If you have time, it's better to pick up the goods yourself in the warehouse. You may find some problems that the packaging is broken, the product is broken, the color is wrong, the quantity is less or more, or you wait all day with no delivery of goods in your hand! These are not the worst part. Some suppliers will promise you to deliver them immediately. But it turns out that you can only silently watch the empty cubic container locked.
Don't get so nervous. Most of the time, the products you receive are what you see in the market, but quality problems will always exist. The best way to reduce the problem is to check more.
What you're interested in most–all the secrets–are on show. Don't miss it.
Part 4. Agents in Yiwu Market and Their Secrets (Hidden Rules)
There are tens of thousands of agents in the market. They are all the ties between suppliers and foreign traders, bringing convenience to both suppliers and their customers. But there are also some hidden secrets, which I will tell you in the next part.
4.1 How to Find a Reliable & Trustworthy Agent?
There is so much advertising on the Internet or in the markets. Most of you contact them through the website before you come to China. Website is just a window and made by beautiful words to attract you. "Top 1", "Best," "No. 1" are used in their advertisement.
Don't be confused by these words, and you need to know more about their service and experience it. Here are some tips for you.
a. Send an inquiry request to see how the suppliers respond.
You can tell if they are professional and experienced more or less through the emails. In short, sort out the ones you don't like and move on to the second step.
b.Visit them to learn about their service and all the terms.
If necessary, check their business licenses or do some investigation online. Surely, you do not want to work with a cheater.
c.Make a trial of their service, and ask them to guide you in the market for one day first.
You need one who can really work well with, instead of who has nothing but only a smart mouth. You can observe the person you are going to work with.
Does he/she understand your requirements?
Is it easy to communicate with?
Is he/she experienced and professional?
You can compare the rest agents in this way and select out your favorite one. Go back to the office again to sign a contract and get their business license copy.
4.2 What Services Can a Yiwu Agent Offer?
a. Regular Services
Yiwu Market Guide/Sourcing
Usually, there are one or two people who guide you in the market. They will take note of the items you want and take photos. And if you don't come to China in person, they can also source any items you need in the market.
Tracking Orders
They will place the order on your behalf. If you customize something, you can have a sample first and they will arrange the sample order.
After placing the order, they will follow up the production progress, find problems in time, negotiate solutions with the manufacturers, and have you informed of the whole process.
Shipment and Custom Documents
All the goods will be consolidation in their warehouse when finished. They will inspect the quality while consolidating.
You choose the best shipping way and they will arrange the shipment. They will make the Custom documents for you, such as Commercial Invoice, Packing list and any others you need.
You choose the best shipping way and they will arrange the shipment. They will make the Custom documents for you, such as Commercial Invoice, Packing list and any others you need.
b. Additional Services
Enhanced QC
In some cases, if you want to have a full inspection of all products, they will provide one by one inspection service, or they will do inspection during the production process, like pre-production, in-production and pre-factory inspection.
Warehouse
The agents in Yiwu typically provide free warehouses, ranging from 7 days to 2 months. Generally, one to two weeks is enough for stock procurement.
Labeling & Repacking
If you need to change the packing of the goods or want to add some special logo to promote your brand, they can help you in labeling, logo printing, carton customization, etc.
Product Development
Product development is a relatively difficult task, with a long process of designing, film opening, proofing, and sample confirmation and so on. It requires a lot of time and money. Only some experienced and powerful agents can do this service well.
FBA Logistic
Amazon sellers will need this service, which has been offered in the market in recent years. Of course, you need experienced agents. Otherwise, you will lose a lot if Amazon rejects it.
Reserve Hotels
There are hundreds of hotels in Yiwu that can accommodate foreigners. Since agents get an agreed price with the hotel, it may be cheaper than booking online.
Arrange Invitation Letters
Many countries need invitation letters to get a VISA to China, and almost all agents can help you with it. But some sensitive countries require government approval, which may be a bit more complicated.
Products' Photography Service
With the development of e-commerce, the service of products' photographing in Yiwu is well developed. Many customers choose to take products' photos before shipment. They can put them on shelves when goods are drifting on the sea and sell them when they arrive.
Airport Pick-up
Usually, it is more reasonable and comfortable if your agents provide transport services to Yiwu Airport, Hangzhou Airport or Shanghai Airport, than taking a taxi.
4.3 How They Charge You?
Typically, they charge a certain percentage of your order amount as a service fee. Other expenses, such as customs clearance, freight, etc., are not included in the service fee.
Theoretically speaking, such low commission can't support a company. But you'll see a lot of agents offer "2% commission", "1% commission", or even "0% commission".
As mentioned above, these low commissions are only to attract new customers. When working with these agents, notice if there are some hidden fees. In my experience, you will need more than 5% to support the regular operation of a company. Otherwise, it is unsustainable. That's why we are telling you the secrets underneath (so call the hidden rules).
4.4 The Hidden Rules between Suppliers and Agents
As mentioned above, the low commission can't support a company. Therefore some hidden rules still exist in the market, known between the suppliers and agents tacitly. Of course, we all hope that one day, there will be no more hidden rules, and the market can be more standardized and transparent.
a. Agent Ask Kickbacks from Supplier.
No reasonable profit, no good salary, and then no experienced and professional staff. Agents themselves will ask the hidden commission from the suppliers. The agent wants more profits and suppliers want more orders, so that's the deal!
b. Force Supplier to Cut the Price.
Some agent asks suppliers to cut prices to earn more profit. The supplier is concerned about losing the order, so they usually agree with a lower price. On the other hand, suppliers want the same goal, to earn more profit so that some suppliers would trade the products' quality for more profit. As a result, the goods you receive may not be what you see the first sight.
c. Agents May Change Suppliers.
If the operator is unwilling to make concessions, then the agent will find ways to change suppliers. For example, if you have a good view of a supplier's products in the market, they will change the order to a cheaper supplier instead, which is likely to cause quality problems.
Part 5. How to Ship to Your Country
Shipment is very convenient in Yiwu. Data shows that it has been trading with 219 countries. Here is a brief introduction of a few main shipment ways to help you quickly select the most economical one. For more detailed reference, we have another article for you: All you need to know about shipping from China to your country.
5.1 Express
Express is usually used when the time is limited, the goods are less and the requirement is high. But the cost is relatively high. Different express companies will have different rates. If you only consider the price, then you may face the loss of parcels, delayed receipt of parcels, extra charges in destination countries, and so on.
Therefore, when choosing express companies, we recommend those more formal and professional express companies. In addition, when referring express delivery fees, it is important to ask whether there are any additional fees in the destination country, whether you have to find your own clearance agent to clear the customs, pay customs duties and so on.
5.2 Air Freight
We often send goods by air (to the airport of the destination country) when there are two or three CBM. However, you need to pick up the goods at the destination airport by yourself. When making an inquiry in advance, you should make it clear whether your goods are declared separately or together with other people's goods. If you declare together with others, it happens that others' goods are dangerous ones, and then your goods are likely to be destroyed or even imposed a large fine.
5.3 Sea Freight
When there is a large quantity of goods, sea freight is the regular choice.
If your goods are less than 15 CBM, they are usually delivered in bulk. Then inquiring, you need to know the Inland fee, the sea freight, as well as the charging standard of the destination port.
And the volume of goods is relatively large, we will deliver them in a whole container. Usually, there are containers of 20GP (28m3), 40GP (58m3), 40HQ (68m3), and 45HQ (78m3). Notice that 45HQ only applies to a few countries. So before delivery, you should check out whether the destination country accepts 45HQ.
5.4 Rail Freight
When the time is limited and the requirement is high, rail freight can be chosen to transport goods in large quantities. Rail transportation is faster and safer than sea freight, and the price is higher than that, but it's 2/3 cheaper than air freight, which is an excellent choice for European customers.
Whatever shipment you choose, you must notice: you can't transport inflammable and explosive dangerous goods or harmful goods. You can't take chances; otherwise, you will face high fines that you can't afford, or even bear legal responsibility. Besides, delivery time should also avoid peak periods, such as before and after holidays, as all freight charges will rise substantially. It should also be noted that the invoice amount should not be too low. Otherwise, there will be a high fine waiting for you.
Part 6: Seven Must-Knows About Yiwu Market
6.1 Are all booths in Yiwu Market factories?
Some suppliers in the market are trade companies. They will have more powerful factory resources, or often buy some overstock products and change them into their brands for sale. And they also accept smaller orders, which can be quite flexible and competitive, compared with those factories who accept tens of thousands of MOQs.
Some are links to many small workshops because they work with them. And some assembly work is done in prisons or even in North Korea, so they usually offer a very competitive price.
And some are factory outlets, who come from Yiwu or cities all over the country, such as toys in Shantou, Guangdong, knives in Yangjiang, shoes in Fujian, etc. Relatively, their factories have large scales, and MOQ will be higher. And they may also accept orders in small batches of spot goods.
All stores will emphasize that they are factories. Sometimes it is even difficult for Chinese people to distinguish, let alone a foreigner who comes to Yiwu for the first time. Our suggestion is to find the right supplier according to your own needs. After all, big supermarkets like Wal-Mart and Metro are all doing procurement in Yiwu. I believe it won't disappoint you.
6.2 Some Say that Products in Yiwu Market Are of Poor Quality! Rumors!
Many people online say that products in Yiwu are of poor quality, which is undoubtedly a prejudice. Why? Because the goods in Yiwu market are not just made in Yiwu! Some of them come from Guangzhou, Shenzhen, and other cities all over the country, whose quality may be good or bad. 30 years since Yiwu market has been established the market environment has always been upgrading.
For example, many toys, electronic products and bags come from Guangdong. Likewise, the products produced locally in Yiwu, like jewelry, toys and Christmas products are also sale in Guangzhou and Shenzhen. Of course, the suppliers will tell you that they are all Cantonese goods with good quality, which is just their cover-up to blind your eyes.
By the way, whether the quality of Yiwu products is good or not, customers have their answers.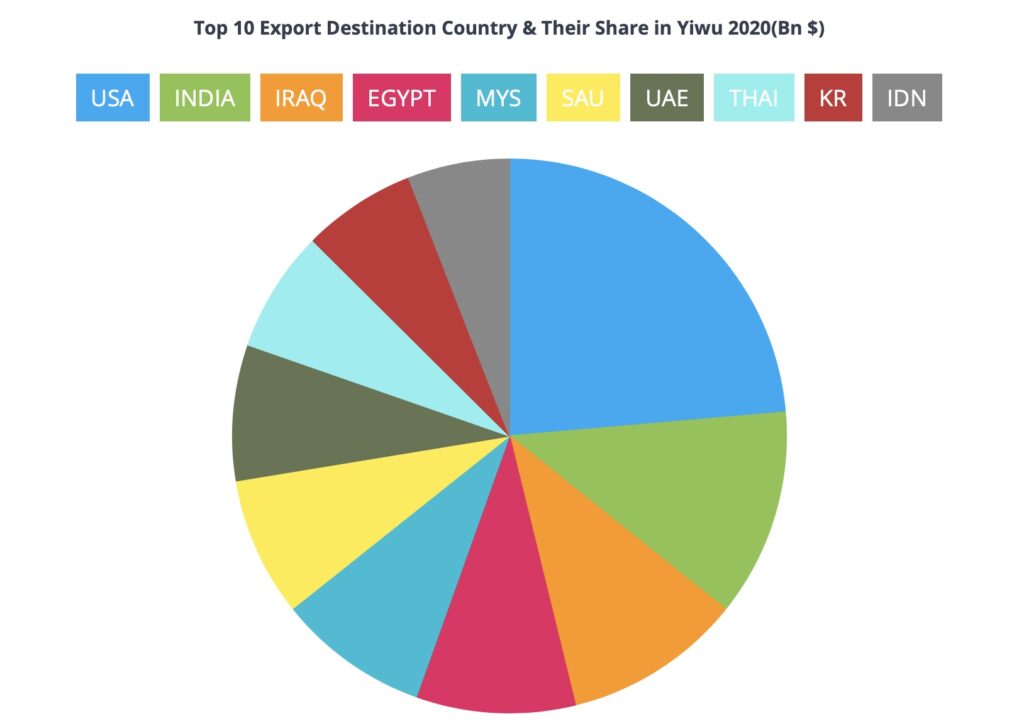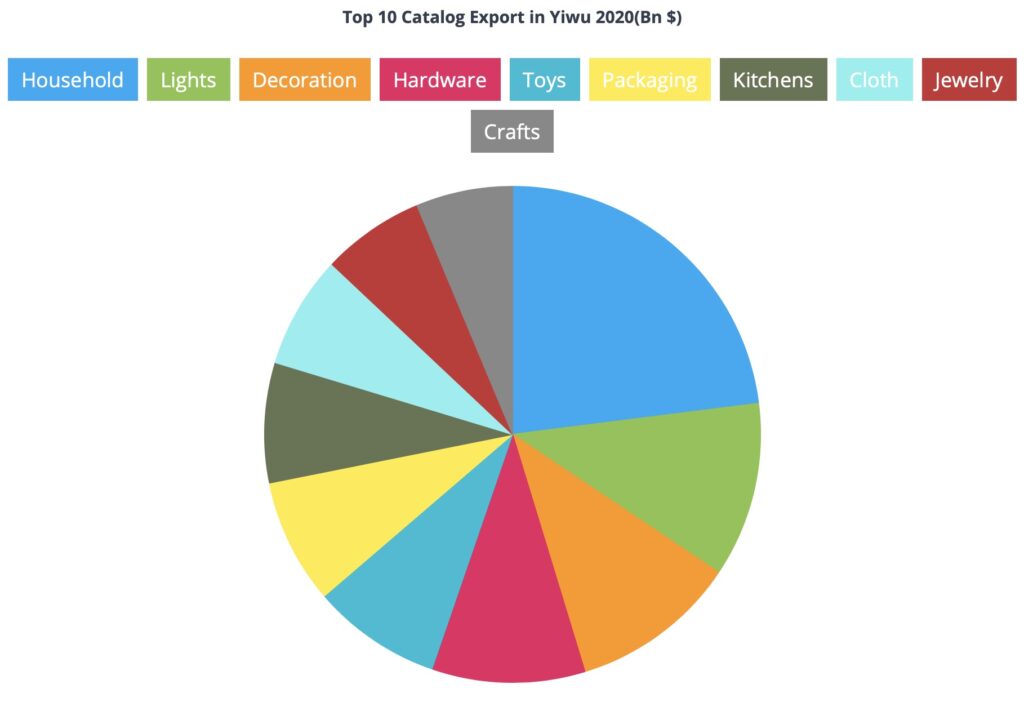 6.3 Is Yiwu Market Only Suitable for Small Business?
Yiwu market is very friendly to small business buyers. The market embodies a wide range of products. Suppliers not only accept initial orders with the little amount but also support you to do some changes to the design, which is really friendly to some startups and to some small batches. You can buy a box or even a dozen from hundreds of suppliers and then mix them in one container.
Certainly, some buyers would purchase several containers of one single product. So the Yiwu market is not only friendly to small businesses but also suitable for some large purchases.
For MOQ, it is essential to note that if you only order one box or less from spot goods, some suppliers will agree to deliver the goods but charge an additional freight fee. For those without stock, it is necessary to have a relatively high initial order. Do note that if you order from stock, there is no way to change the packaging, design, or meet your special requirements.
At the same time, the Yiwu market is very suitable for cross-board commerce, as its express delivery volume ranking second in China, right after Guangzhou. You can find products in the market, customize packaging, and then deliver them directly to the FBA warehouse, or you can put them in Yiwu's fulfillment warehouse. Some places with low time limits can save you lots of costs and tariffs.
6.4 Why Are Products in Yiwu Market in Low Prices?
China's mature supply chain makes it very easy to produce a single product. You don't need to set up a mould factory or produce those parts. You just need to make a phone call and all these parts can be debugged in your workshop. Earlier, Scotty Allen, an American, spent 2,000 yuan (about $297) in Shenzhen to buy all the components of an iPhone and assemble one himself. He videotaped his experience and uploaded it to YouTube, a video website, which became popular in an instant. While exclaiming Scotty Allen's practical ability, netizens also exclaimed that China was amazing. Behind this, it's China's complete and mature industrial system and supply chain that are supporting it.
Homogeneous competition is quite severe in the market. In Yiwu market, you will find dozens of suppliers selling the same products, who can only compete on cost and price at last. Surely, it is a good thing for buyers. You can easily get a reasonable price without worrying about being pitted. However, sometimes they will quote a very low price for a product that you pay special attention to, and then slowly add in the price of another product. This product is like their promotional product. So we recommend you to make more comparisons and there is always the right supplier for you.
Keeps moving on
With over 30 years' of development, Yiwu Market involves from the original road market into the present considerable wholesale market, thanks to these suppliers' inseparable contribution. In the beginning, most of them are workshops as the front working as stores and the back as factories. Through the changing business environment, they've trained themselves well. For example, as labor costs rising, some suppliers move their factories to the western region where labor costs are lower. And some even distribute the production process into several different areas. They produce accessories in Yiwu, put assemblies in remote cities, and then ship them back to Yiwu for sale. In recent ten years, some put the assembly work in prison, from the prison in Zhejiang to the prison in Inner Mongolia. And now they also put the assembly work in North Korea.
Generally, Yiwu market represents made-in-China. Everyone wants to buy the products with the lowest price and the best quality. However, in such a competitive market, the only way to avoid loss is to compare products in several booths.
6.5 What is the Difference between Yiwu, Shenzhen, Guangzhou and Shanghai?
Guangzhou is a major trading city. The Canton Fair was held more than 100 years ago. Shanghai and Shenzhen are also the preferred places for overseas companies to procurement. Since 2000, Yiwu has been gradually excavated by purchasers. But many years ago the Yiwu market has been their secret play because they could buy very cheap products and make considerable profits. Of course, they wouldn't tell their competitors.
Shanghai, Guangzhou, Shenzhen, Yiwu all have their own different advantages in the industrial chain, such as Guangzhou's clothing, Shenzhen's digital 3c, and Yiwu's small commodities. Markets in Guangzhou and Shenzhen are basically classified by industry, such as the Guangzhou garment market, footwear market, jewelry market, luggage market and so on, which scatter all around the city. But Yiwu put all product categories in one market, with relatively high concentration. Well, it is really quite big and easy to get lost.
Canton Fair in Guangzhou is the most famous, followed by East China Fair in Shanghai. Now there are Import Expo in Shanghai, Yiwu Fair in Yiwu, and many exhibitions in Shenzhen. Exhibitions are said to be a supplement to the market, which is convenient for buyers to find suppliers, as the merchants in the exhibition also come from all over China. However, there are fewer and fewer surprises now.
What's more, logistics is very convenient in these cities. In the first half of 2019, the ranking is Guangzhou, Shenzhen, Yiwu and Shanghai, calculating by express volume.
6.6 Is Yiwu Market Open on Weekend or Holidays?
Yiwu market is open all year round, except for the traditional Chinese Spring Festival, which usually starts in February every year and the holiday lasts about 15 days. The market usually starts at 8:30 a.m. Beijing time and closes at 6:00 p.m. But now some suppliers would rest on holidays. If possible, we recommend you avoid these festivals for a visit. Ordinary weekends are available for you, so you can go to the market at any time that is convenient for you.
6.7 Special Notice: Be Careful of Those Scalpers?
Buyers, especially new buyers, need to pay special attention to those scalpers in the market. Those scalpers usually call themselves "manufacturers" to introduce and promote their goods to you. They usually pull people to booths in the Fortune Building and sell their products by weight in the name of so-called "factory activities", which do attract you by giving you very favorable prices.
But there is no such thing as free lunch. After your payment, you will find that the products they pack and deliver are not what you want at all. In fact, what they deliver to you are actually some bad and outdated products. What's worse, it's not so easy to recover your loss. Some of the scalpers may still be there and you may recover some of the losses. But some just disappear after you pay the money, causing you heavy losses. So here we strongly remind buyers to be careful of those scalpers and avoid you from being cheated. Anyway, the better and easier way is to get an agent to help you.
7. Other Special Market and Street Market in Yiwu
In addition to Yiwu International Trade Mart, Yiwu also has many specialized markets for supplements. And some streets have gathered a large number of suppliers from a specific industry and become those professional streets. Since booths in Yiwu International Trade Mart are limited, they open their stores outside the market, which can also lower the cost. Well, naturally, their prices will be lower.
In all, the Yiwu Market is led by Yiwu International Trade Mart and supplemented by other specialized markets and professional streets, operating a specific category of products. Here we will introduce them one by one.
7.1 Some Special Markets in Yiwu
a. Yiwu Huangyuan Garment Market(义乌篁园服装市场)
Yiwu Huangyuan Garment Market is located in the Xiuhu business circle, the most bustling area in Yiwu. As a professional garment market, the market orients to be a professional apparel market, in line with the trend of internationalization, branding and diversification of the market, which is conducive to enhancing the competitiveness of Yiwu garment market and promoting its specialized and scaled development.
| Floor | Categories |
| --- | --- |
| 1F | Trousers; Jeans |
| 2F | Men's Wear |
| 3F | Women's Wear |
| 4F | Pajamas; Sweater; Sports Wear |
| 5F | Children's Wear |
| 7F | Imported Clothes from South Korea |
b. Yiwu International Production Material Market(义乌国际生产资料市场)
Yiwu International Production Material Market is located in the southwest of Yiwu Airport, about 8 kilometers away from Yiwu International Trade Mart, covering an area of 750,000 square meters. There are more than 4200 different types of booths in the market. At present, more than 2500 suppliers have been introduced into the market, with more than 3800 located booths, and the occupancy rate of booths is over 90%.
| Floor | Categories |
| --- | --- |
| 1F | Printing & Packing Machine; Industry Electrical Machine; Logistics Equipment; Artificial Flower Accessories |
| 2F | Food Processing Machine; Printing & Packing Machine; Engine & Generating Equipment; Ribbon Loom & Injection Machine; Measuring Tools & Knife |
| 3F | Home-decoration Light; Lighting Equipment; Festival Light; Engineering Light; Delicate Home Lightings Area |
| 4F | Leather |
c. Yiwu Furniture Market(义乌家具市场)
Yiwu Furniture Market is located in the core area of west Yiwu city. It's the only large-scale furniture market approved by the government, covering an area 160,000 square meters. At present, it's the largest single scale, the highest grade, the best environment, complete supporting facilities of the modern furniture market in the Zhejiang Province.
| Floor | Categories |
| --- | --- |
| -1F | Ordinary Civil & Office Furniture |
| 1F | Sofa; Rattan Art Crafts; Hardware & Glass Furniture |
| 2F | Modern Type & Children's Suite |
| 3F | European Style, Classical, Mahogany & Solid Wood Furniture |
| 4F | Plate Type; Solid Wood; European Style; Classical; Sofa; Hardware; Rattan Crafts |
| 5F | Cabinet; Bathroom Facility; Solar Energy; Outdoor Home Furnishing; Decorative Flowers; Carpets; Wallpaper; Curtains; Ceramics |
d. Yiwu Capital Goods Market(义乌物资资料市场)
Yiwu Capital Goods Market is located in No. 199, Huancheng West Road, Yiwu City. The market covers an area of 66,666 square meters, with 350 trading booths and 180 suppliers. The market was built and put into operation in November 1994. After careful cultivation, it has developed into a large-scale market of building decoration materials and a distribution center of aluminum, stone and ceramic products in central Zhejiang.
| Floor | Categories |
| --- | --- |
| 1F | Wall & Floor Tiles; Plumbing & Bathroom Facility; Mosaics; Aluminum; Doors & Windows; Stone, Jade & Carvings; Glass; Stainless Steel; Hardware; Lights; Wallpaper & Cabinets |
e. Yiwu Dongyang Redwood Furniture Market (义乌东阳红木家具市场)
Yiwu Dongyang Redwood Furniture Market, as a newly established mahogany furniture market, was founded in 2008, with a total business area of 120,000 square meters.
You can find some well-known brands like Hanlin Qing Dynasty, Annual Red, CITIC mahogany, Dupont mahogany, Dongyi mahogany and so on in the market. The market now has the classic style on the first floor, the popular style on the second floor, the exquisite style on the third floor and the original style on the fourth floor.
With years of development, there are four sub-markets in Yiwu Dongyang Redwood Furniture Market: Haide Market (Yiwu Dongyang Redwood Furniture Market), Wood Carving Market, Hengdian Redwood Furniture Center and Nanma Redwood Furniture Exhibition Center.
f. Yiwu Yongkang Hardware Market(义乌永康五金城)
Yiwu Yongkang Hardware Market is now the largest Hardware Market around the nation, covering an area of 1000,000 square meters, composed of two on-site markets—-Jincheng Market and Jindu Market, "Shangwujin" online market and international exhibition center. It operates 19 kinds of hardware and related products, including daily hardware, building hardware, tool hardware, and electro-mechanical equipment, metal materials, decorative building materials, etc.
| Jincheng Market | District |
| --- | --- |
| District 1 | Electric Motorcar; Tourism Products |
| District 2 &4 | Comprehensive Hardware Products |
| District 3 & 7 | Hardware Products |
| District 5 | Security Doors & Accessories |
| District 6 | Plumbing & Hardware; Kitchen & Bathroom Electrical Appliance |
| Jindu Market | Street |
| --- | --- |
| Street 1 | Measuring Tools |
| Street 2 & 3 | Mechanical and Electrical Hardware |
| Street 4 | Fasteners |
| Street 5 | Electric Tools & Accessories |
| Street 6 | Hardware Gift |
| Street 7 | Mechanical and Electrical Hardware; Hardware Gift |
| Street 8 | Electronic and Electrical Appliances; Wire and Electric Material |
| Street 9&10&11 | Vehicle & Accessories |
7.2 Professional Street Market in Yiwu
Product categories
Location of specialized streets
Overstock market(Clothing, suitcases & bags, toys, shoes, stationery, etc.)
Meihu Stock Street (梅湖库存专业街)
Address: North of Wuai Road (五爱路北)
Wuai Stock Street (五爱库存专业街)
Address: South of Wuai Road (五爱路南)
Ornaments and accessories
Changchun Ornament Street 1-7 (长春饰品专业街)
Address: Intersection of Mall Avenue and Gongren North Road (商城大道与工人北路交汇处)
Jinfuyuan (Xingzhong Jewelry Street) (兴中珠宝专业街)
Address: Intersection of Chengbei Road and Chouzhou North Road (城北路与稠州北路交叉口)
Scarf
Futian District 3 & 4 (福田三区围巾专业街)
Address: Intersection of Yinhai Road and Gongren North Road (银海路与工人北路交叉口)
Bra & Underwear
Chengxin District 2 (诚信二区内衣专业街)
Address: Intersection of Chengxin Road and Futian Road (诚信大道与福田路之间)
Furniture
Zhanqian Furniture Street (站前家具专业街)
Address: No.247, Chengzhong North Road (城中北路247号)
Culture, gifts, calendars, New Year pictures
Sunshine Community (阳光小区专业街)
Address: Intersection of Gongren North Road and Zongze Road (工人北路与宗泽路交叉口)
Photo frame, Ceramic, Cigarette set, Lighter, Oil painting, decorative painting
Zhaozhai Street (赵宅专业街)
Address: Near No.16, Zhaozhai Street 2(赵宅2街16号附近)
Zipper
Bingyang Zipper Street (宾王拉链专业街)
Address: Intersection of Chouzhou Road, Bingwang Road and Gongren Road (稠州路与宾王路工人路之间)
Leather
Chengxin District 1 (诚信一区专业街)
Address: Opposite to Gate 67, Yiwu International Trade Mart/ Chengxin Avenue (义乌国际商贸城67号门对面诚信大道)
Electro-mechanical
Datangxia Electro-mechanical Street (大塘下机电专业街)
Address: Intersection of Xicheng North Road and Zongze Road (西城北路与宗泽北路之间)
Christmas goods
Christmas Gift Street (稠州北路601号圣诞礼品专业街)
Address: No.601, Chouzhou North Road (稠州北路601号)
Christmas Street in Futian District 2 (福田二区圣诞礼品专业街)
Address: Near No.882, Gongren North Road (工人北路882号附近)
8. What is the best market in yiwu to source products from ?
As mentioned so many markets in Yiwu, still Yiwu Market(Yiwu International trade mart also named Futian market) is the best market to source product from. And the suplier keeps update the products to follow the trends, to make it easy for you to search products in Yiwu Market and save your time. In addition, here we've listed some of the hot sale products in each market. Let's get it started.
#District 1 of Yiwu International Trade Market
Fashion Jewelry
Toys
Art Crafts
#District 2 of Yiwu International Trade Market
Bags & Luggage Cases
Household Electronic Appliance
#District 3 of Yiwu International Trade Market
Glasses
Office Supply
Sports Products
Cosmetics
#District 4 of Yiwu International Trade Market
Daily Necessities
Leggings
Socks
Hats
#District 5 of Yiwu International Trade Market
Bedding
Hotel Products
Auto Parts
9. Yiwu Wholesale Market during the Pandemic
When the economy has fallen off a cliff, how does Yiwu achieves its "100 billion-level" economic success? This video reveals how Yiwu succeed during an economic slump from different perspectives.
So glad you've finished the whole article and thank you so much for your sweet support!
Follow us on YouTube / Facebook
Our team are committed to helping you import from China easier, faster and safer!
No matter you are experienced or starters, no matter which step you are at for your China importing, MySourcify's 5-step services plan can fully meet your needs.
During the whole importing process, MySourcify will assign a professional agent for you to handle everything A to Z until you well receive your goods. Meanwhile, you are welcome to consult any questions at anytime,We hope we deliver you excellent sourcing experience.
Check our website to know more who we are, what kind of service we offer, and learn tips import from China blog, we also help you to locate the China wholesale market from China mainland.
So what exactly are MySourcify's 5-step services? Click below to learn more now.
Email → info@mysourcify.com
WhatsApp → +8618057942317
Web → https://mysourcify.com
Youtube → https://www.youtube.com/c/mysourcify/
FB → https://www.facebook.com/Mysourcify/