RFQ, short for Request for Quotation, is quite an essential thing in your importing from China business. Generally speaking, a high-qualified RFQ file is your core to attract best-match suppliers. On Alibaba.com, there's an Alibaba RFQ to save your time on making such RFQ files. In this article, we will cover every step you need to know about using the RFQ function on Alibaba. Make sure you don't miss anything.
1. What is Alibaba RFQ function? And how does it work?
What is Alibaba RFQ?
Alibaba RFQ is a service provided by Alibaba, which you can simply use to attract trustful suppliers on Alibaba. On the RFQ service page, you can post your RFQ to get quotation and also manage all the quotation you've received according to your business plan. With this function, you won't be blindly searching for best-match suppliers and waiting for those suppliers who don't care about your RFQ and won't reply you. You also can download the RFQ Template by here.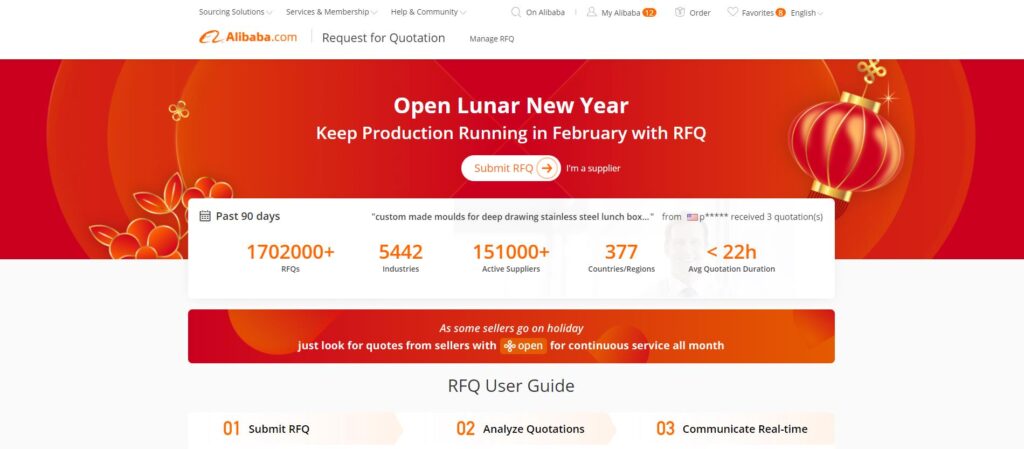 How does it work?
There are several ways to post your RFQ on Alibaba.
Go to the "Services" on home page and click on "Submit RFQ".
Go to "My Alibaba", and find "Submit RFQ".
Or simply click here to go to the Alibaba RFQ page.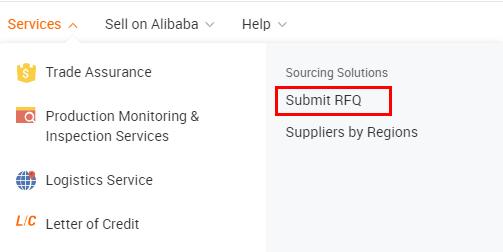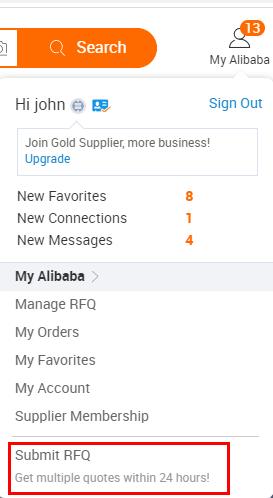 After you submit your RFQ, Alibaba will firstly go through your RFQ to make sure that your RFQ doesn't violate any of their rules. Then your RFQ goes to the market and suppliers that meet your request and have interest on your RFQ will contact you.
In this way, you don't have to wait for suppliers' reply on your RFQ hopelessly and Alibaba will do the work to sort out the most-match suppliers for you. Then all you need to do is to compare those suppliers and verify them, and at last select out the right one to move on to further cooperation.
Rules about using Alibaba RFQ function.
For Buyers
Once you submit your RFQ, you will receive no more than 10 quotations that Alibaba has screened out for you. You maybe get less quotation than 10.
You can also RESEND your RFQ to get more quotation. But note that make some change to your RFQ, otherwise, it will cause confusion and you may get the same quotation from the same suppliers again.
For Suppliers
Every supplier on Alibaba can reply 30 RFQs every month. Therefore, suppliers would be very careful to reply the most attractive RFQs.
2. Step guide on how to use Alibaba RFQ.
Generally, RFQ is rather important for both buyers and suppliers. Now let's move on to the step guide on how to fill out Alibaba RFQ and some strategic tips you can apply to.
Step 1: Go to the RFQ form page.
This step is quite simple and we've mentioned ways to go to the RFQ form page. You can check it here: "Submit RFQ".
Step 2: Fill out the RFQ form
After you go the the RFQ form page, you will see a form like below.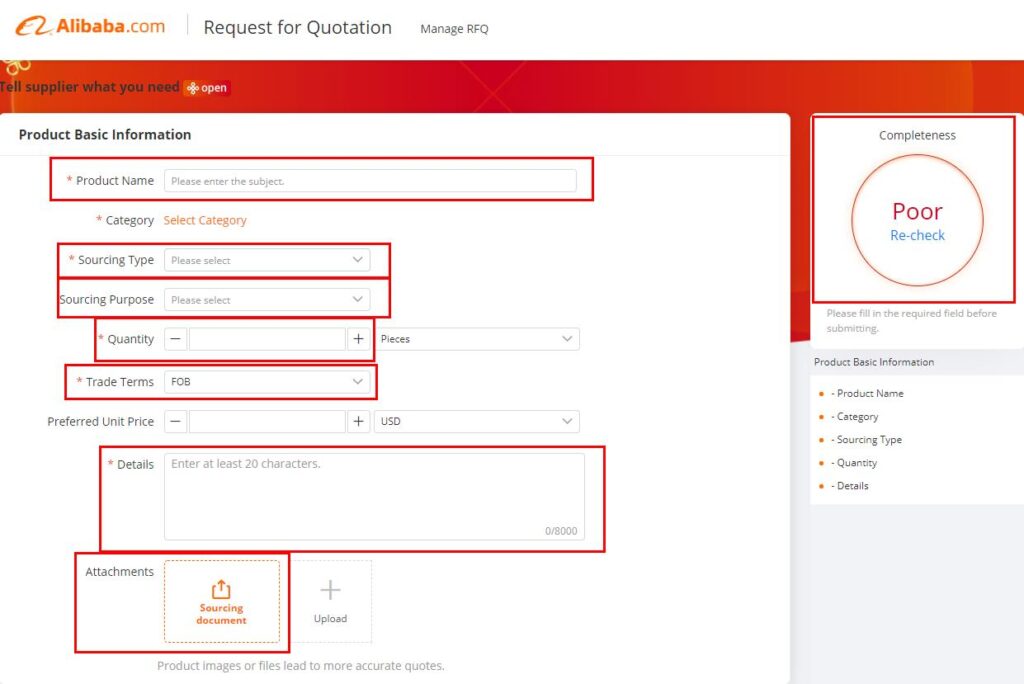 When filling out this form, be very cautious to lay your words on it. Let's go through this form one by one.
Product Name
Type on the specific name of the products your are looking for. Don't make it a wide range. For example, use "Baby play mat" or "Baby crawling mat" instead of "Baby products" or "Mat". Making it specific helps to get your the most-match suppliers.
Sourcing Type
Whether it is customized product, non-customized product, total solution, business service or others, this helps Alibaba to narrow down the range of suppliers you are looking for and also ensure that the suppliers it sorts out for you meet your requirements.
Sourcing Purpose
It's obvious to choose "wholesale". Even if you want it to retail, a wholesale price must be more competitive than a retail price.
Quantity
This is the tricky point. The number you type in here can't be too small that suppliers won't even take a look, or too large that suppliers may think you are lying. To make it proper and attractive, we have a tip for you down below.
Trade Terms
Normally, we will choose FOB, as the supplier covers all the cost before shipment, which is more commonly used by buyers. Note that, if you choose other trade terms, there are chances that suppliers will charge you extra fees, like the service fee and so on.
Preferred Unit Price
This is another tricky point to get your best-match suppliers. Remember that don't rush to fill in your ideal price at first. Why? Here go to tips down below.
Details
This is the most important part of the whole RFQ form. A professional details will help attract professional suppliers. And for this part, we will talk about it in details in the following article.
Attachments
Upload some products' pictures and Alibaba will have specific idea about what kind of suppliers you are looking for, which saves your time.
Supplier Capability
To make your RFQ more professional, list some certifications that is required for importing the product from China.

Step 3: Submit your RFQ and check quotations afterwards
After you submit your RFQ, then you can simply wait for suppliers' respond. There are plenty work to do after you receive quotations.
Click on "Manage RFQ" button and go to your RFQ page. You will see some quotations sent from suppliers. Then you will see a page like this.

If you have already confirmed the supplier you want to work with, you can change the RFQ status into "Close". Then, you won't receive more quotations. If you want to get more quotations, like we said above, make some change to your RFQ and re-post it to get more.
Step 4: Select out the best-match supplier
Here goes to another important part after receiving quotations from suppliers. This work is more about suppliers' research. You can refer to our article: Is Alibaba Safe? Tips on How to Avoid SCAMS on Alibaba. Or we have some useful tips on Part 4 in the following.
3. Practical Tips for filling your Alibaba RFQ
Tip 1: How to type in a proper and attractive quantity?
How to make it a proper and attractive? You may need some tools to help you analyse the average sales volume of this products per month. Then type in the number that is twice or three times larger.
Or you can simple refer to the MOQ of some suppliers when you are searching for the product. Make it twice or three times larger. Then suppliers are more likely to reply to your RFQ.
Tip 2: How to fill in a rather low preferred unit price?
As we've mentioned, don't rush to fill in your preferred unit price. You can leave it blank and get quotation at first. After you get some quotations, you will see the unit price that suppliers offer to you. Then by comparing their prices, take an average price or a bit higher or lower and re-post your RFQ. After that, you will get a list of new suppliers. Then you can negotiate with suppliers to get a lower price.
Tip 3: How to fill in Details properly?
A professional details is more like your requirements on product specification. Let's take Baby Play Mat as an example and here is a sample template.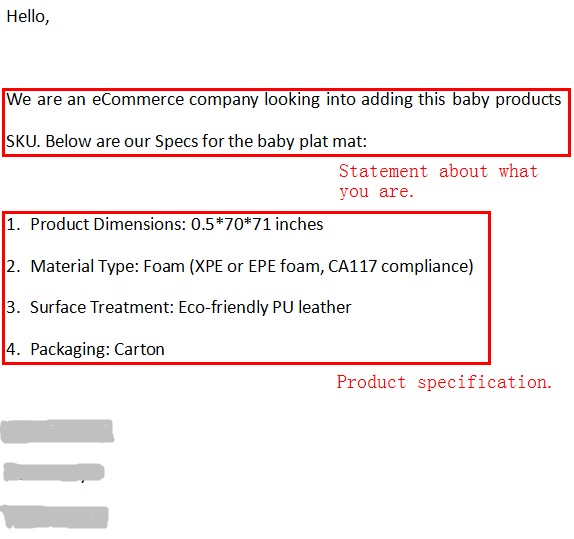 This sample is rather short, but it almost contains everything you need to write on your RFQ.
1. The first thing is to state who you are and what you are engaged in.
2. The second part is about the requirements on the products your want, more like product specification, like product dimensions, product materials, colors, packaging and etc. If you have a clear idea about your products, this is quite simple for you. If you don't know how to make it specific, you can refer to the product specification that suppliers show you on their page.
3. You can also add your e-mail, phone number, or WeChat number so suppliers can contact you more easily and respond to you more timely.
Anyway, an RFQ is to get you to the best-match suppliers. All the details are still negotiable in your further cooperation with the supplier.
4. Tips to sort out the best among all quoting suppliers.
By comparing the quotation you received, you will get the best-match supplier. But how to select out the best-match? Before we go into tips, let's take Baby Play Mat as an example.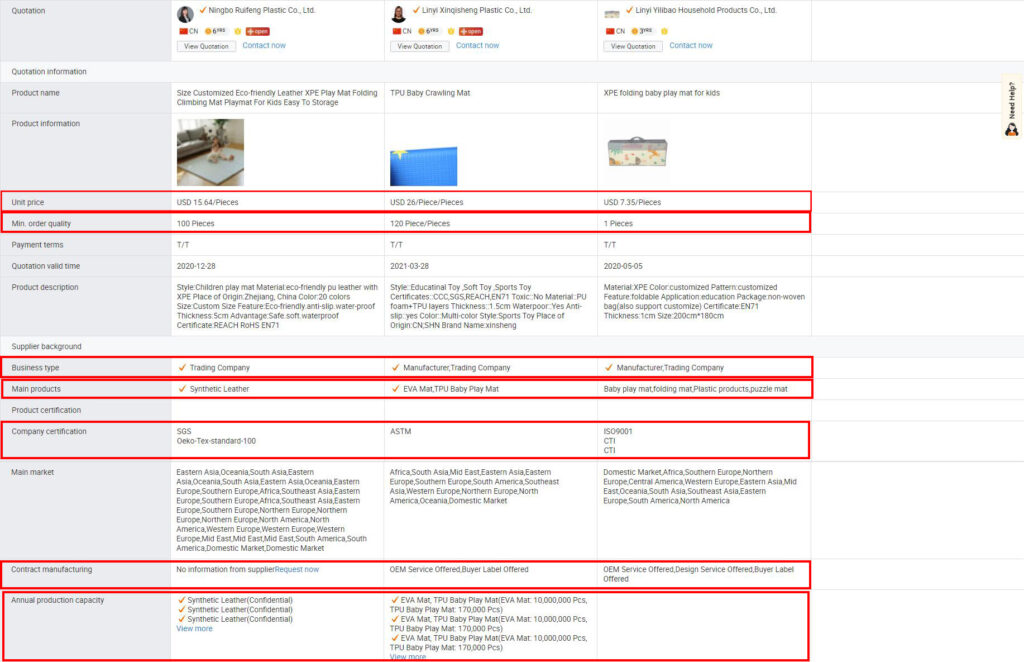 Tip 1: Check on the business type of suppliers
Choose Manufacturer over Trading Company. Manufacturer is more professional than trading company on production. It is more efficient to contact with manufacturers if you are customizing your products. What's more, manufacturers usually specialize on a certain products instead of engaging in a wide range of products like trading companies. In this way, working with manufacturers is a good way to guarantee your products' quality.
Tip 2: Choose experienced suppliers
Note that the most actively responding suppliers are those new-start trading companies. They will offer quite competitive prices. But the thing is: Are they trustworthy? Therefore, choose suppliers with years of experiences on Alibaba. And experienced suppliers will respond you in a more professional way. If you are a new starter on importing from China, working with experienced suppliers can not only help you avoid a lot of problems in between, but also save your time and money.
Tip 3: Go deep into companies' profiles
As we've mentioned on another article about Alibaba SCAMs, a company's profile really means something. You can see the rating and reviews, buyer's interactions, company capacity and other information. In this way, you can know whether this supplier is trustworthy.
5. Frequently asked Q & A
Q1: Is it free to use RFQ function on Alibaba?
A: Of course it's for free. But there are limits for free RFQ functions, like the limits on numbers of suppliers responding to your RFQ. There is also a Paid RFQ, which will get your more quotations from suppliers more timely. It's up to you to choose either a free RFQ or a paid RFQ.
Q2: Will Alibaba RFQ get you the most suitable suppliers?
A: There is no doubt that Alibaba sorts out the most suitable suppliers according to your RFQ. They may not be on the heading page of your products, but they are more suitable for you as for your quantity, preferred unit price and product requirements. Anyway, re-post your RFQ can get you more quotations for selection. Note not to re-post the same RFQ but to make some change to it.
If you have more questions and suggestions on Alibaba RFQ, feel free to comment below, and we will reach to you as soon as possible. Hope you find this article helpful. Thanks for supporting.