1. Is it time to come to China? Whether it is possible to come to China?
a. China has full confidence and capability to win the battle against the COVID-19.
The Chinese government has taken a series of strong measures since the outbreak of COVID-19. As President Xi Jinping stated, China has full confidence and capability to win the battle against the COVID-19 outbreak. At present, except for the lock-down of the exit channel of Wuhan ports, all port visa agencies are operating as usual. Visa-free transit policy for foreigners is still valid. All land, sea and air ports of China are functioning. Foreigners can enter or exit as usual with their valid international travel documents.
b. COVID-19 in China at current.
Except for Wuhan, almost all district of China is in increase within 10 of COVID-19 cases. There is a daily trend chart below. For example, most provinces have 0 increase case within 7 days in a row, and it can be said that COVID-19 has been well controlled. And now Wuhan is still in lock down state, which means the virus will not spread out of Wuhan again. The link below is a daily update of China's epidemic map. 2020 COVID-19 map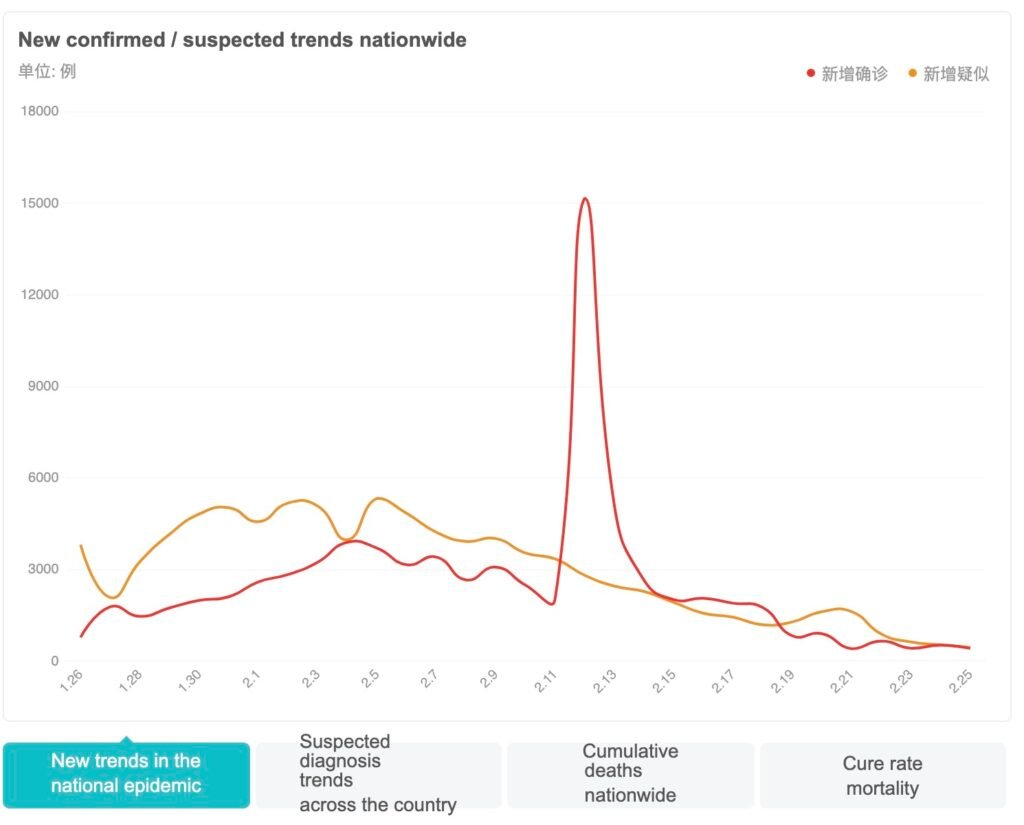 c. Things to know when cross border.
At present, it is helpful to the epidemic prevention and control by reducing cross border movements. Foreigners could make reasonable travel arrangements to China and stay or reside in China as usual. Due to entry restrictions adopted by some countries and regions, it is advised that foreigners, who need to exit from China, should learn in advance entry requirements of destination countries or regions to avoid financial and time losses in case of any entry refusals. Those who travel to countries or regions without entry restrictions are advised to arrive at exit ports well ahead of departure time for necessary checks. Foreigners having fever with symptoms of acute respiratory infection such as cough or breathing difficulties should avoid international travels and seek immediate medical treatment at the nearest hospitals. Information such as recent activities as well as close contacts should be provided to relevant authorities for any necessary control measures.
2. How to Come to China during the COVID-19?
a. The Entry and Exit Service Management in China.
a) How do foreigners apply for visas, stay, or residence permits during the period of epidemic prevention and control?
All Exit-Entry Administration authorities (EEA) in China will be in full service for extension and issuance of visas and stay or residence permits to ensure foreigners' legitimate stay in China. Urgent services for emergencies will also be provided. To avoid crowds gathering, the EEA authorities will make arrangements for services on appointments. Foreigners could make appointments in advance for any applications. For those institutions which host high numbers of foreigners, such as universities, scientific research institutes and business enterprises, the EEA authorities will allow additional agent service or provide other necessary conveniences depending upon the situation.
b) How to deal with the situation that a foreigner's visa, stay or residence permit expires during the epidemic prevention and control?
According to the Exit and Entry Administration Law of the PRC, foreigners should exit China or apply for an extension at the EEA authorities before the visa, stay or residence permit expires. In light of the relevant laws and regulations and current situation, those who are unable to exit as scheduled or extend the visas, stay or residence permits due to the reason of epidemic prevention and control shall be given a lighter or mitigated or be exempted from punishment by the EEA authorities depending upon circumstances.
c) What can foreigners do to cooperate during the epidemic prevention and control?
It is advised that foreign friends enhance the sense of self-protection, avoid crowded public places, and take effective preventive measures. It is strongly suggested to actively cooperating with local communities and inviting entities to take prevention measures, abiding by relevant laws and regulations and following instructions of public security organs, NIA authorities, hygiene & health authorities. In case of having a fever with symptoms of acute respiratory infection such as cough or breathing difficulties, foreigners should report to the local communities, NIA authorities or hygiene & health authorities and cooperate actively in medical treatment and epidemic control. NIA authorities at all levels will work closely with relevant departments for the epidemic prevention and control to provide consultancy to foreigners, assist in disease screening and diagnosis with medical departments as well as dealing with other difficulties and problems encountered by foreigners during their stay in China.
d) How to deal with the situation that travelers have suspicious symptoms?
If travelers have symptoms of acute respiratory infection, such as cough and breathing difficulties, they should suspend travels immediately, stay far away from the crowds and seek treatment at the nearest medical institutions. The NIA authorities will provide necessary assistance as well.
b. Something needs to notice when taking a flight to China during the COVID-19.
Do wear a mask for the sake of preventing COVID-19 as possible. Maintain good sanitary habits. Wash your hands frequently, using hand sanitizer or alcohol-based wipes; Do not spit, and cover your mouth and nose with a tissue or handkerchief when coughing or sneezing. Throw litter into dustbins. Please sort out the litter, including the waste mask, seal it and put it into different bins.
In case of cough, fever, sore throat and other symptoms, please immediately contact the on-site staff for medical help.
3. About Coming to Yiwu
a. The opening date of Yiwu Market.
a) District 1 and District 2 of Yiwu International Trade Mart are opened on February 18.
b) Districts 3, 4 and 5 of the International Trade Mart, the International Production Materials Market (Imported Commodities Trading Plaza on the 1st Floor and Leather Accessories Area on the 4th Floor), Yiwu International Furniture Market, Yiwu Flower Market, Yiwu Materials Market, Yiwu Auto Trading Center, Yiwu Building Materials Logistics Park, Yiwu Molding Mart are opened on February 24.
c) The International Production Materials Market (the 2nd and 3rd Floors), Huangyuan Clothing Market, Digital Products Mart, Binwang 158 Cultural Innovation PARK, Yiwu Wholesale Food Market, and Yiwu Timber Market will be opened on March 1. The night market on Santing Road will stay closed until further notice by Market Development Group, depending on the situation of the epidemic control.
b. The procedure of entering the market during the epidemic prevention period.
a) Apply to get QR Code via "义信购" App before visiting the market. Wait in line to have the body temperature check at the entrance.  You can use WeChat to scan the QR code below.
b) Identity verification. Purchasers who passed the temperature check shall read the Purchasers' Letter of Commitment carefully, and enter the market after QR Code and ID are checked and verified. Those who do not have the said QR Code are required to apply for it at the scene.
c. About the resumption of the market supporting services.
a) In terms of foreign trade service, on February 18, 500 foreign trade enterprises and 100 international freight enterprises have resumed operation, and the rest will resume gradually.
b) As for customs and ports, Yiwu Port, Railway Port, Bonded Logistics Center, International Mail Exchange Bureau, Aviation Port and other customs clearance businesses have been normalized on site. Vehicles of logistics and express in the city have been back to their track.
c) In terms of financial services, 30 banks around the market will resume operation, providing services such as domestic and foreign currency deposit and withdrawal, remittance, credit loan, cross-border foreign exchange reception and settlement.
d) In terms of catering facilities, 150 catering service points have been opened around Yiwu market, and more catering supporting services will be resumed in the future.
d. Some preferential policies for foreign buyers coming to Yiwu.
a) Friends from all over the world including buyers are welcomed in Yiwu to do business, work and live. The government will provide 3-day free accommodation for foreign first-time job seekers and entrepreneurs.
b) In order to facilitate your business and life in Yiwu, it is suggested that you apply for Foreign Citizen Card at the main entrances of the International Trade Mart, Yiwu Entry and Exit Administration Bureau and all the hotels that provide foreign-related services.
To better understand the details of these preferential policies, just click here. Or you could contact us on: info@mysourcify.com for more information. We'd like to help.