These days, some may have read the news about "Chinese Authority Freezes Thousands of Cryptocurrency Traders' Bank Accounts", "Beijing blocked my bank accounts", or something like this. People start asking if it is still safe or suitable to send money to China, especially for those who are in import and export business.
Things are that the Chinese authority does freeze some bank accounts for some reason, which we will illustrate in the following article in Chapter 1 & 2. However, you don't have to worry about it and there are ways to solve this problem.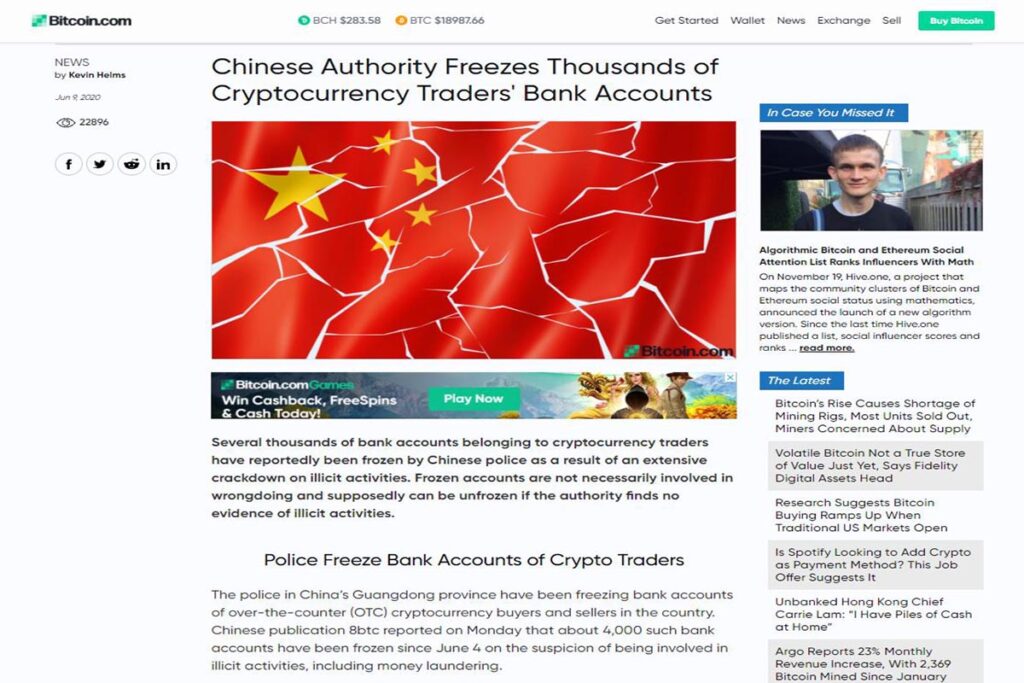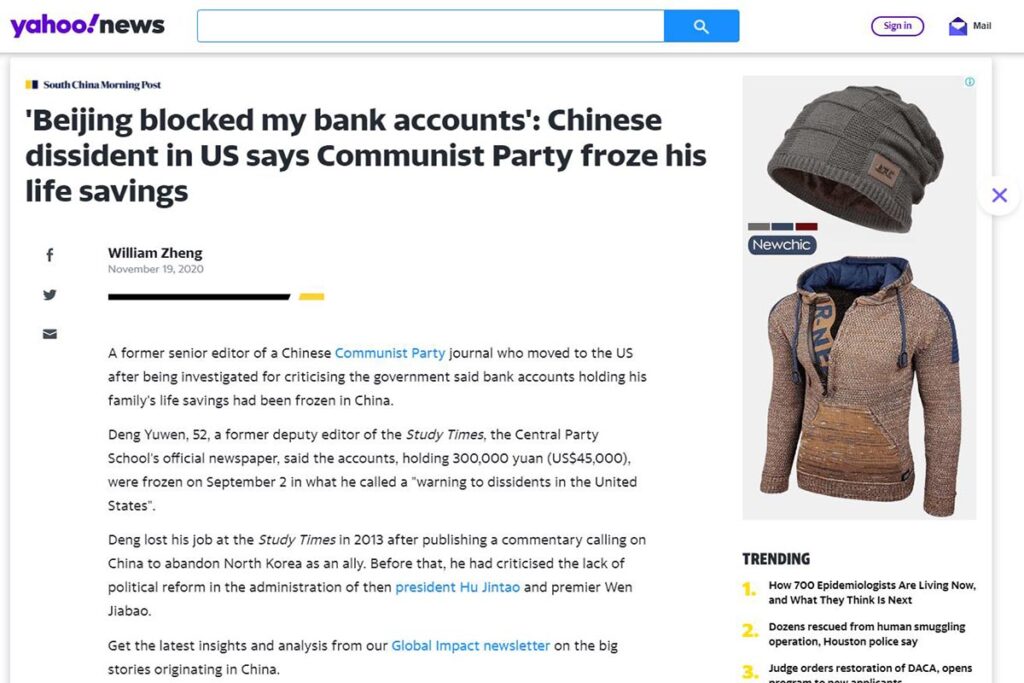 Chapter 1: Why are these bank accounts frozen?
1. China is cracking down on underground banks.
Learned from the State Administration of Foreign Exchange that after over four months' joint study and judgment with the public security organs, finally, they had solved three super large underground bank cases in Zhejiang Province. Police arrested a lot criminal gangs. These cases are typically complex cases in which underground banks and upstream crimes are involved.
In the first half of this year, the public security organs and the foreign exchange bureau jointly studied and judged that some enterprises in Zhejiang had abnormal business conditions. Among them, many domestic and foreign enterprises have irregular related transactions, and the records of import and export of goods are seriously unreasonable. Criminals use international trade payment channels to purchase foreign exchange from banks in the name of "paying for goods or import from bonded supervision sites." Hence, the payment after flowing layer by layer, the foreign exchange converted into false export payment.
Learned from the authority that in the early three quarters of this year, the State Administration of Foreign Exchange cooperated with public security organs to crack down on nearly 60 underground bank cases, with fines and confiscations exceeding 300 million yuan. In the investigation and handling of cases, the public security organs have made breakthroughs in cracking down on underground banks in many regions of the country. And investigated and dealt with several complex issues interwoven with upstream crimes such as tax rebate fraud and cross-border gambling.
2. Abnormal problems of corporate account transactions involving telecom fraud and other illegal and criminal acts.
The People's Bank of China's supervision has enhanced the crackdown on telecom fraud, money laundering, and other illegal and criminal acts. Commercial banks have cooperated with the public security department to check the telecom fraud accounts and comprehensively investigate all enterprises on their corporate accounts. Recently, the person in charge of an enterprise should pay attention to answering the bank's phone call. Refusing to answer or not answer will be considered as unable to contact, and the account will get frozen.
In May 2020, Hangzhou central sub-branch of the People's Bank of China held a promotion meeting on cracking down on new types of telecom network crimes and cross-border gambling among financial institutions across the province. The bank account back-checking and accountability of enterprises involved in new-type crimes and crimes in telecommunication networks. The bank account business of newly opened units in 4 banking outlets was suspended for 3 months. And that of newly opened corporate bank accounts of 18 banking outlets was suspended for 1 month.
Under the punishment, banks began to neglect the opening of small and medium-sized enterprises.
3. The Government Announcement about Bank Frozen in 7 Different Language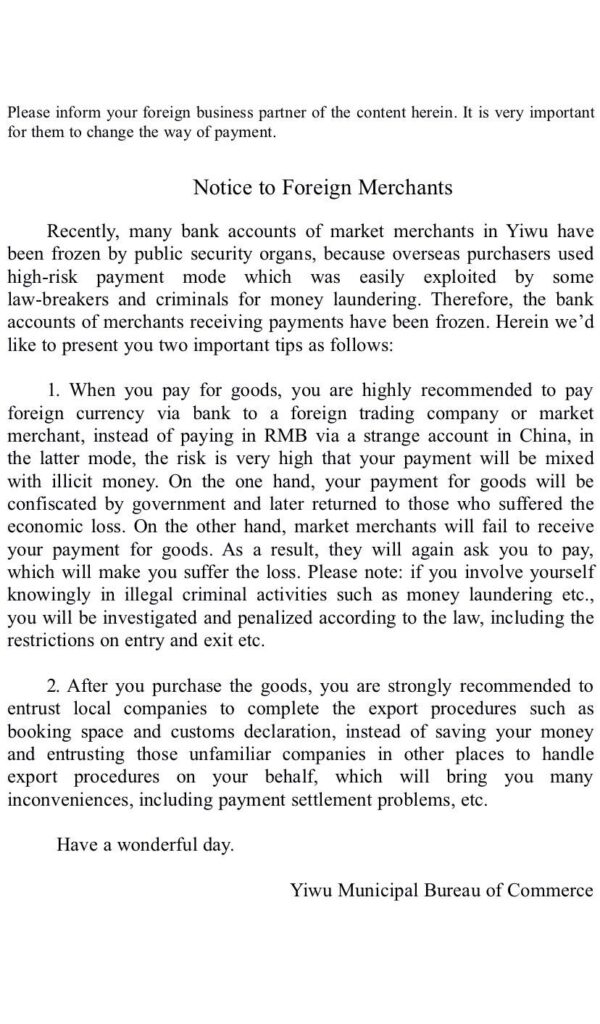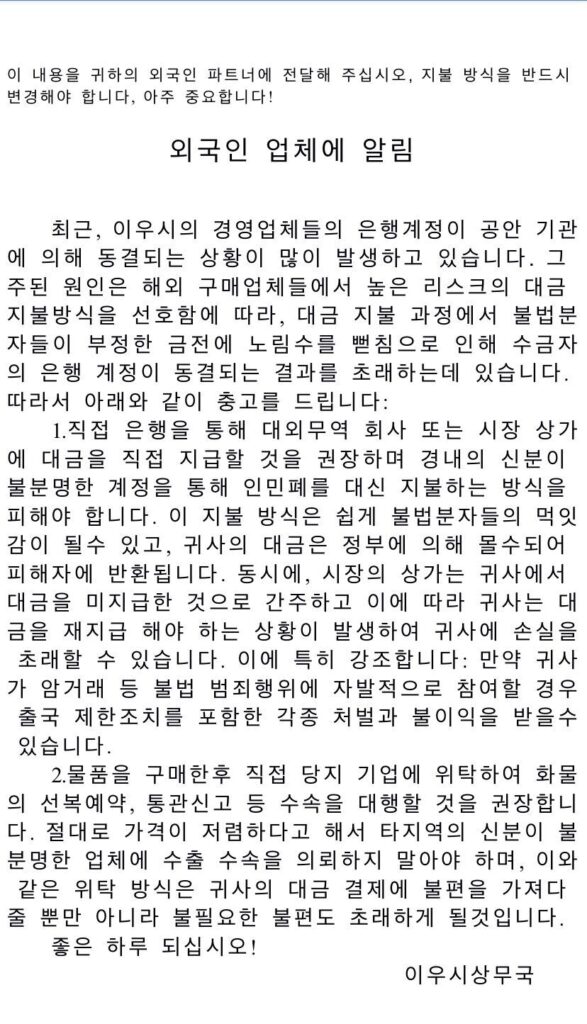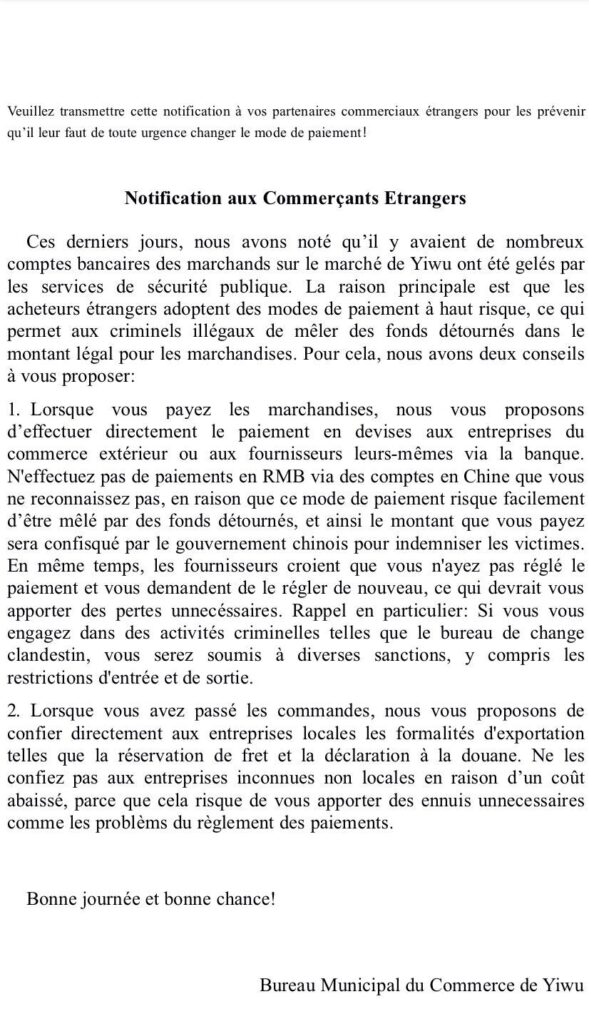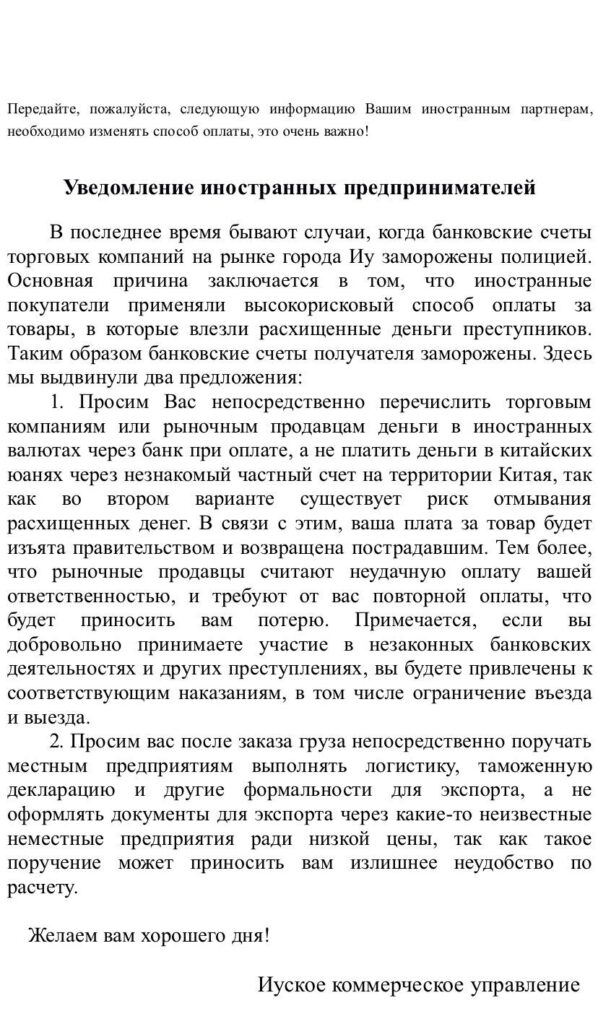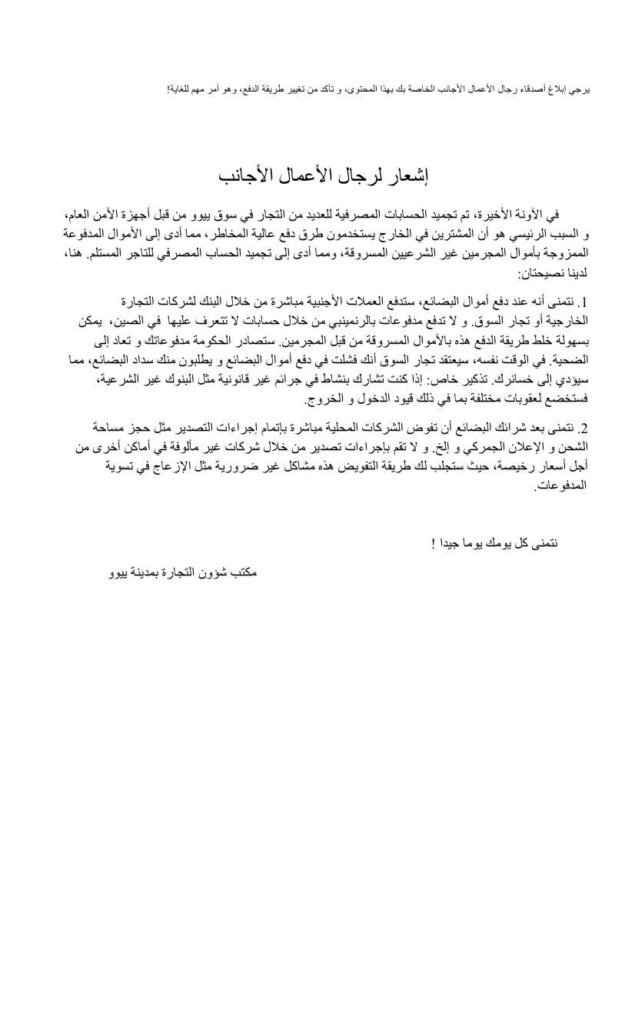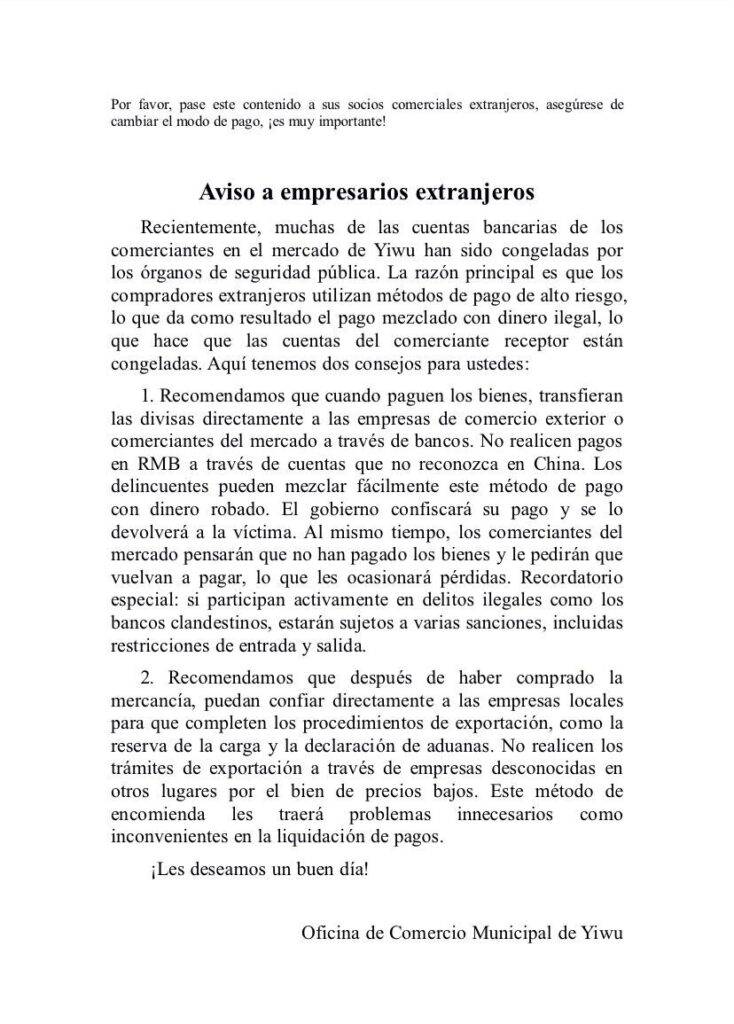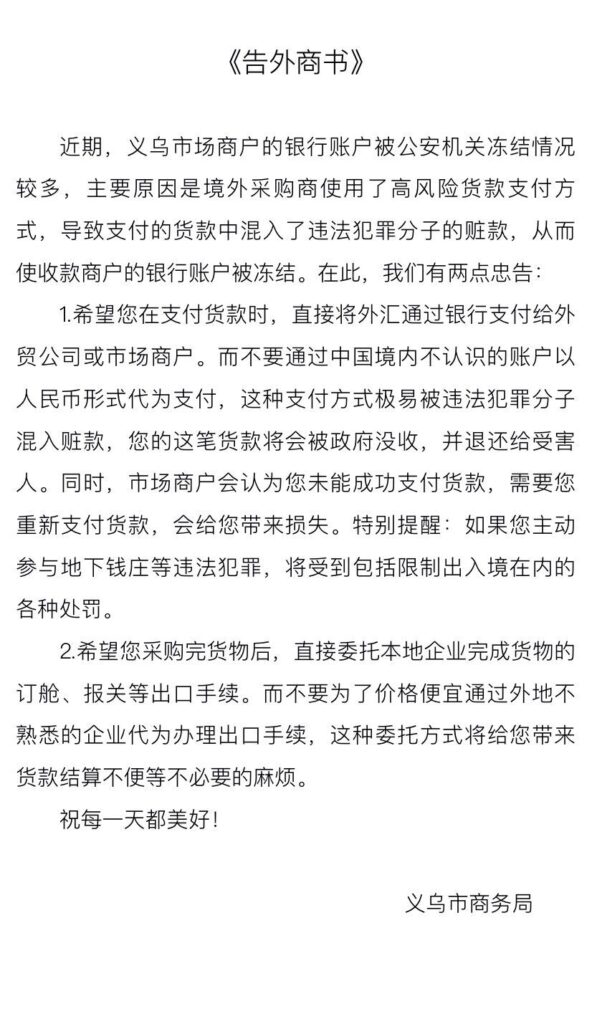 Chapter 2: How will this affect your money sending to China?
The direct reason for the freezing is that the market entities receive payment from suspected underground banks. Underground banks are often mixed with illegal and criminal funds, such as bank accounts directly or indirectly related to them, which are easy to be frozen by the public security organs.
Before we get deep into this, we are going to show you a picture.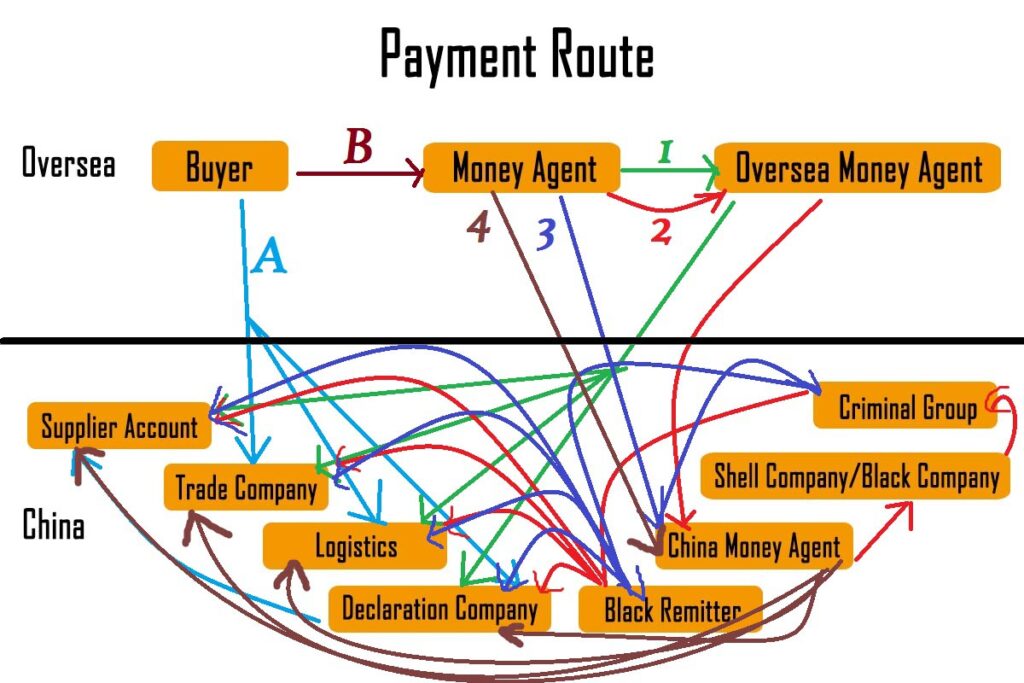 There are two ways of sending money to China: one is that you directly send money to China; the other is that you send money to your money agents and they will send money on your behalf. For the first money transaction, normally no problem will occur unless the bank account information needs to be double-checked. Problems occur when you are using money agents.
And also two ways how your money agents send money to China: one is they directly send money; the other is they will also get another Chinese money agents to send the money on their behalf. Your money can be surely clean. However, there can be a doubt whether the money your money agents send to China is clean or not. This is why some corporate accounts are frozen for receiving money that may come from suspected underground banks.
Chapter 3: How to solve this problem?
1. Yiwu government has set up Bank Account Freezing Aid Center.
Yiwu has set up a Bank Account Freezing Aid Center, which is mainly responsible for sorting and registering account freezing information, publicizing and guiding market entities to standardize the collection and payment behavior of foreign trade loans, providing consulting services for market entities to unfreeze, and assisting in communication with public security organs in other places.
Therefore, market entities should be alert to high-risk operations such as lending bank accounts and collecting and paying on behalf of others. And consciously standardize trade collection and payment behavior, and take preventive measures against freezing. In particular, it is necessary to retain the traces of communication information such as Wechat and QQ before payment. And keep the trade authenticity certificates such as contract agreement, transaction documents, and transaction flow.
If the bank account is found to be frozen, it is necessary to prepare the business license, business site photos, venue lease contract, and other entity authenticity certificates. Take the initiative to contact the local public security organ to understand the relevant situation, and timely consult the bank, lawyers, and relevant departments for opinions and suggestions. After making the preliminary preparation, go to the local public security organ to communicate and explain. If you are required to sign on the written documents such as the record, please check the relevant statements carefully.
2. Reliable ways to send money to China.
We've talked about Trustful Methods to Send Money to China and you can click the link to that article, which will give your more detailed information. If you still confused about payment, here we have another guide article about Payment. Anyway, if you choose the right way to send money to China, it is absolutely safe.
Hope this article answer your question about whether it is still safe to send money to China. And hope it helps you on your importing and exporting business. Leave your questions and suggestion below to let us know if we have further to improve. Thanks for supporting.