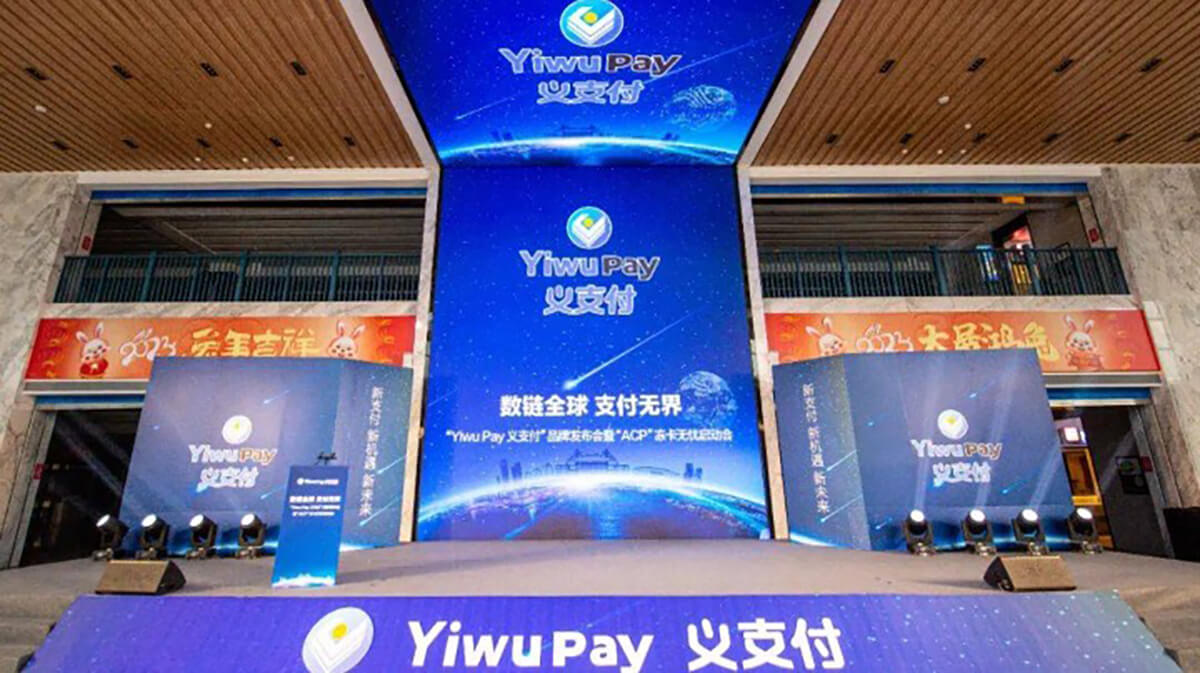 On 20th February, Yiwu Pay, developed by the Zhejiang China Commodities City Group Co .,LTD(the CCC Group), was launched on the first new energy products market in Yiwu. This means that the largest small commodities distribution center in the world owns its global payment platform. It will help over 900,000 market entities in Yiwu and 2,100,000 small, medium, and micro-sized enterprises along the supply chain with international fund transactions.
Yiwu government officials, the vice president of the Zhejiang Branch of Bank of China, some CCC Group staff, and representatives of market entities attended this press conference.
A financial service "Troika" in Yiwu Market
Yiwu Market is a "golden business card" of China's export-oriented economy and an active part of international trade. Market entities here have been involved in frequent fund transactions every day. But trade disputes still occur from time to time. Especially "frozen bank accounts"  incidents in recent years have had a direct impact on the foreign trade business of many merchants and caused economic losses.
Therefore, the CCC Group made their endeavor to get an Internet payment license. Last year, they acquired "QuickPay" and took the whole hold of this company. And they changed its brand to "Yiwu Pay". Then, a financial service "troika" of an Internet payment license, a credit reference license, and a factoring license, came into being. This "troika" will facilitate the Yiwu Market to extend to the full chain of trade services.
Yiwu Pay facilitates China-Arab trade and the internationalization of RMB
Payment is an important component of the trade digitization reform and international trade transactions. As an explorer and executor for Yiwu Market's innovative development, the CCC group is always committed to reducing costs, improving efficiency, empowering medium, small, and micro-sized entrepreneurs, and offering all-around trade and financial services.
Zhang Wenjing, the deputy general manager of Yiwu Pay, told us in an interview, that Yiwu Pay was powered by a leading risk control system. This system can monitor the whole transaction process in real-time and safeguard payments and transactions of market entities. And this payment channel helps the majority of exporters in Yiwu do better in the global industry structure adjustment and increasing trade competition.
Last December, Yiwu Pay played its crucial role in the success of the first China-Arab Summit. A business in the Yiwu Market received a cross-border payment in the currency of RMB from Saudi Arabian customers through Yiwu Pay. This signifies the cross-border RMB payment business between Yiwu and the Arab region got rolling. As a result, it will promote the China-Arab trade and boost the internationalization of RMB.
On 9 December, at the regular press conference of the Ministry of Foreign Affairs, the spokesperson Mao Ning showed her concern and appraisal of the first Sino-Arab cross-border RMB payment through Yiwu Pay. The Hangzhou Central Branch of the People's Bank of China also published an article about this transaction and made positive comments.
Yiwu Pay provides a compliant, safe, efficient payment solution to traders
In the whole year of 2022, there were 176 countries and regions involved in the cross-border RMB settlement with Yiwu. The total settlement amount was around 56.54 billion yuan, a year-on-year increase of 56.23%, playing an important role in Yiwu's over 430 billion yuan of foreign trade exports.
Yiwu Pay (义支付) was founded in 2012 with a registered capital of 180 million yuan. It is a licensed third-party payment platform owned by the CCC Group. At present, Yiwu Pay has been in cooperation with more than 400 banks from over 100 countries and regions. 16 currencies are supported for international receipts and payments through this payment platform. Therefore, Yiwu Pay has almost cleared obstacles for cross-border RMB payments. It will provide a compliant, safe, efficient all-in-one payment solution to traders in the Yiwu Market. Moreover, the release of this payment gateway will unleash the vitality of the market, boost its prosperity, and make "Yiwu's goods are sold worldwide with smooth payments" come true.
According to an official from the Yiwu Market Management Bureau, next, they will focus on digital settlement, leverage the advantages of integrating third-party payment licenses and market trade scenarios, and popularize the "Yiwu Pay" brand. The key is to do well in three aspects:
Cross-border payment Continue to scale cross-border RMB business, actively apply for cross-border foreign exchange qualifications, extend the business of Yiwu to every corner of the world, and become the first choice for global cross-border trade in professional markets.
Domestic payment Further strengthen the ability and improve the level of digital intelligence finance to empower domestic market trades.
Digital RMB payment on cross-border trades Create standards for digital RMB application in the domestic and overseas, online and offline scenarios.