How to handle your first-time product shipping from Alibaba?
Considering your first time order would most probably be some samples or small volume goods, the best way for shipping the first order from Alibaba or China is to ask the supplier to arrange the shipping and add the cost to your invoice. Inform your supplier of the address, and your goods would most probably be shipped by air, which will arrive soon and not much to worry about.
The goods may be shipped via Special line, FedEx, UPS, or DHL, and the amount of Purchase Order under 800USD will be duty-free for USA buyers.
What are the shipping ways from Alibaba?
In general, there are 3 ways of shipping goods from Alibaba. Which is the best?
To answer this question, you should first know that everything about shipping is about cost and efficiency. The faster you want to get it, the higher price it costs.
Here is a reference for Shipping time and price:
Time consumption:
Air express< Air freight <Train< Sea freight
Cost:
Sea freight>Train >Air freight > Air express
The most expensive shipping way from Alibaba is by Air express such as DHL/FedEx/TNT/UPS, while the cheapest way is by sea freight. Before we start, you should inquire your supplier about the Length, Width, and Height(LWH), as well as the total weight of your goods. These factors would largely affect your shipping methodology.
So when it comes to the shipping strategy from Alibaba, FIRST you should decide when is the deadline to get the goods.
THEN you can inquire your suppliers on Alibaba which way they suggest, or if they have a special shipping method for you.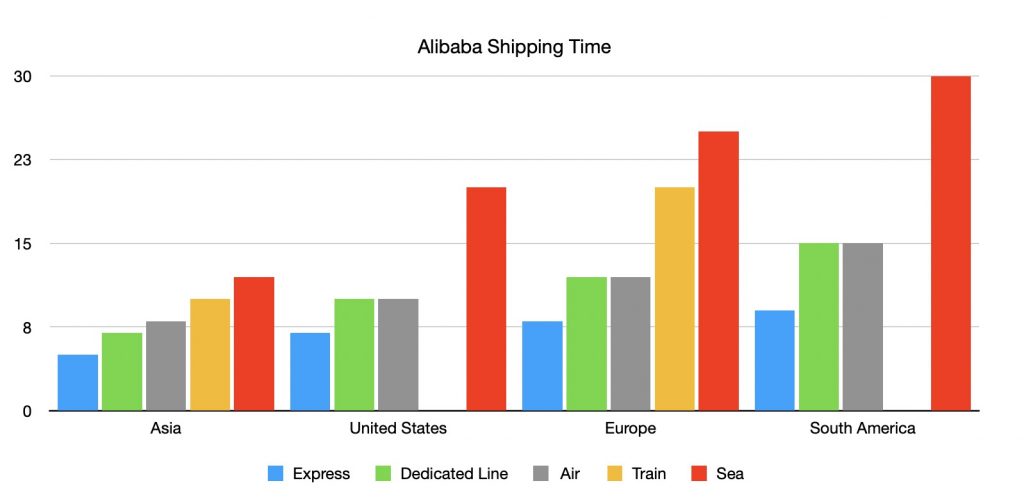 You may see another way of shipping here called ePacket, which is only used when the parcel weighs only 5-10 lbs(usually documents or small items), this can be cheap though it takes relatively much time. Find out more about this in later parts. And another emerging way is so called Special line(Dedicated express line) run by Chinese cargo company, its cost efficiency with a roughly shipping time at 5 to 15 work days.
How about your samples shipping from Alibaba?
In general, small volume items lighter than or equal to 200 lbs should be shipped by air. In this way, the average Alibaba shipping costs can be somewhere between $6-$15 per pound. However, if your samples are heavier, they would usually be shipped in air or sea freight according to their volume. Though shipping by freight could save your cost, it would also require more information and needs calculations. We would try to explain it in brief, and you can find out how it works in the next part.
Why your shipping cost is so high to purchase from Alibaba?
Consider the distance from China to the US or Europe, traveling over half of the earth would definitely be costly, whether for persons or goods. Shipping for samples around 10 lbs in ePacket would cost about 10-20USD/lbs, with a minimum of 80USD.
Generally, the large bulk of goods are shipped by air or sea freights for your products bought from Alibaba, and next we will find out how the expenses are calculated.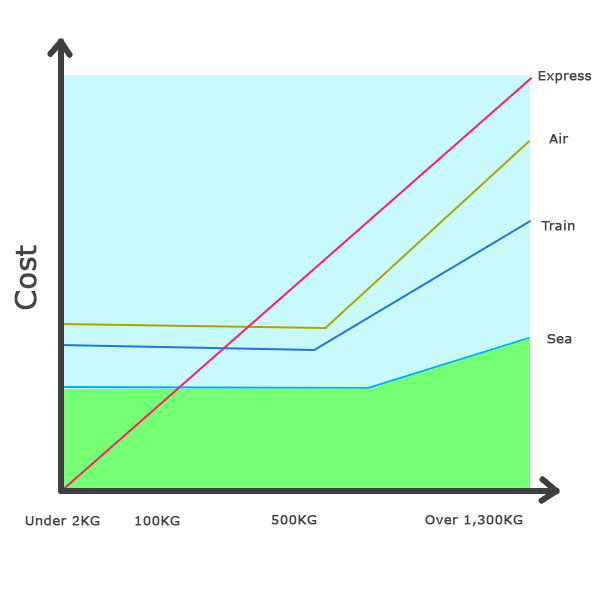 Does Alibaba ship to your country?
Most countries around the globe could be reached, however, if you want to make sure your goods would arrive, you may visit Alibaba.com, or ask us here to check with your courier supplier for shipping options and quotations that meet your budget. Again, check carefully with your supplier agent for all the information, as the shipping method may vary according to the volume and weight of your goods.
How much does it cost for Alibaba to shipping from China to your country?
Now it comes to how we work it out: apart from the shipping method, which affects when your goods arrive, the shipping cost would also depend on the Dimensional Weight or the Actual Weight.
Dimensional Weight vs. Actual Weight
For buyers and sellers, the cost would always be one of the most important factors that affect whether your business is applicable. So the calculation of the shipping price can be critical for you to find out how much you can earn.
If you have decided to use air or sea freight for shipping of your goods, it is critical to understand 2 different concepts of weight.
1. Actual Weight, which is exactly how much your goods weight including all packing.
2. Dimensional Weight, which is more relevant to the volume of your package. To calculate this value, measure the package Length, Width, and Height, then multiply them one by one, then divide by 5000 or 6000 according to a specific shipping method.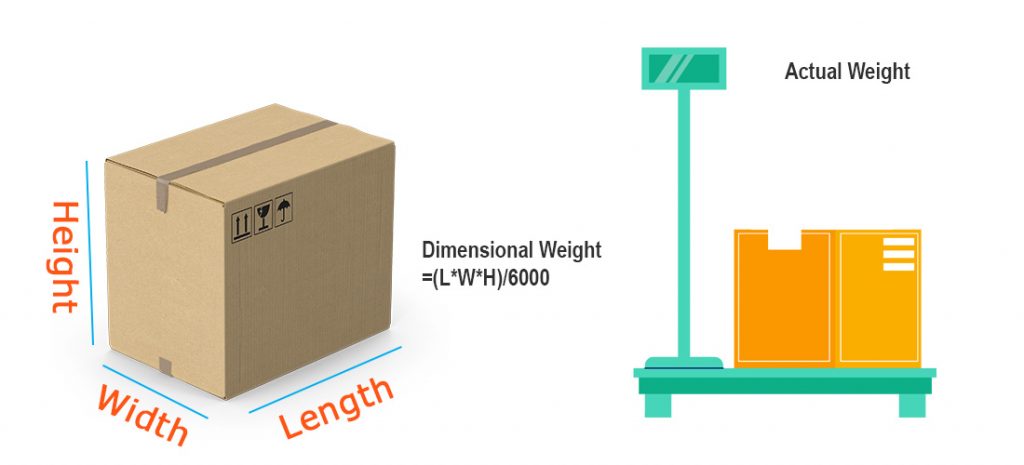 For sea freight, dimensional weight = L*W*H/6000,
while for air freight, dimensional weight = L*W*H/5000.
Then the shipment agency would take either one with greater value to calculate the final shipping rate for you. This rule is because freight volume is limited, and courier suppliers will have to do measurements upon arranging all the goods.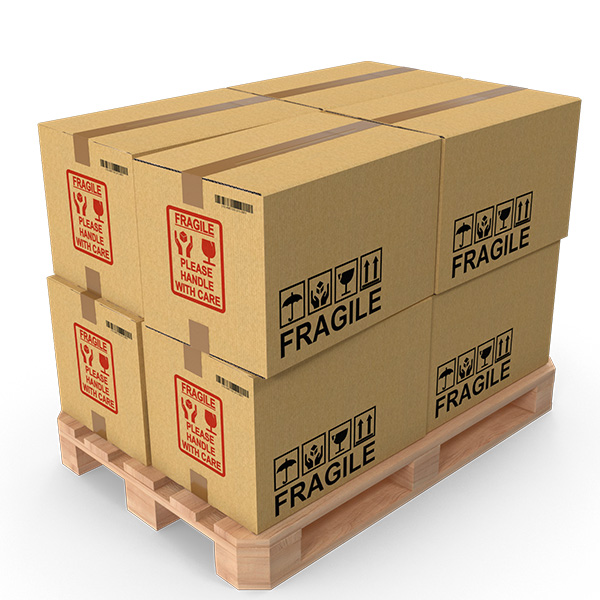 Knowing this rule, you may find out one of the ways of saving your shipping expenses: make your package as small as possible while keeping it reasonable for your goods. After your first order, if you decide to keep on trading with your supplier, you may work together to check out how they may help you reduce the package size, thus saving your shipping expenses.
How to manage your shipping from Alibaba?
Shipping from Alibaba can be managed in 4 different ways, depending on your business level, and also your customers.
1. Leave the shipping management to your supplier
Leave all the shipping work to your supplier is common among inexperienced store owners. It saves you much time to tell them to ship the cargo as CIF, ie. 'Port of destination' or DAP, ie.'Your facility address', and let them handle everything before it arrives.
To do it this way, however, means you allow your supplier to take advantage, and your cost may increase. What's more, you still have to take care of your own warehouses and storage, as well as local transportation.
2. Handle everything all by yourself
This way works for large business owners, as they trade in such large amounts that the profit gap can be so large to allow hiring professionals to do this work.
Not recommended for small and medium business owners.
3. Find an agency in your country for collaboration.
This way is also common and convenient for small and medium business owners, even for some experienced owners. The agency would take charge of all transportation work, and offer you door-to-door service.
To do it this way, it will still take your energy to find a professional agency, trying to negotiate expenses, and uncertain accidents may happen to increase your cost.
4. Work with a dropshipping provider in China
A most friendly and economic way for small and medium business owners.
Sourcing and listing from a dropshipping provider to your own store, simply by clicking and chatting with customer service, and you can acquire the lowest price for shipping, as well as the convenience of local professionals handling everything for you.
Once your customers place their order in your store, the supplier in China would work with a dropshipping supplier to get everything done, and also keep you posted.
What are the commonly used shipping methods of Alibaba?
The cost and time consumption differ largely for different shipping ways. As a buyer and seller, you will always consider comprehensive factors, and try to find out which one is the most suitable for your business. It takes around 3-10 days for your air parcel to arrive, while sea freight may arrive after 30-45 days.
Be sure to check out the most commonly used 4 shipping ways of Alibaba, and find out the most efficient and saving one for your business.
1. Regular Post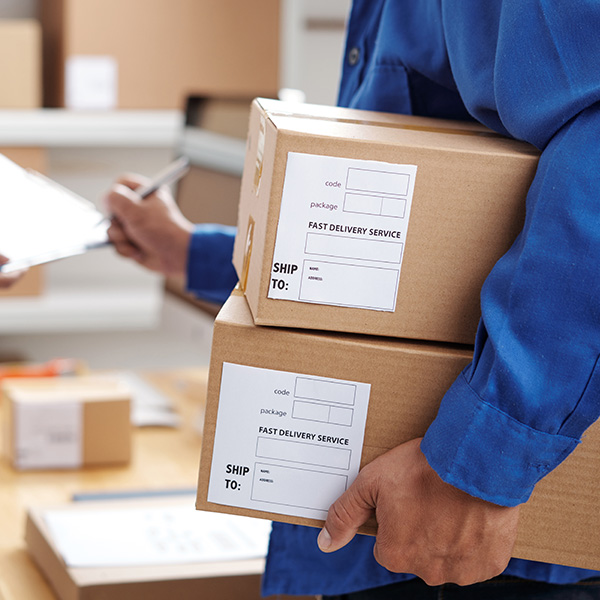 This is an official China Post (or Hong Kong Post) shipping method, and the parcel may arrive at anytime between 15~35 days after the order takes place. This is the most money-saving way for several samples and small parcels. Online trace is available for this shipping service, while lags may happen for information renewal.
This is not usually recommended, as the time consumption can be very unstable, however, if you are acquiring samples from various suppliers in China, you may try this way to save your cost.
2. Air Express
International air express companies like DHL, UPS, and FedEx provide delivery services in China, and new buyers can use this way to reduce the uncertainty that long time consumption brings. It is believed that air express can deliver your parcel to a designated address within 3-7 business days, while at the same time you can easily track it online at their websites.
Shipping through international air express, accidents can be avoided in a large percentage. After you get the tracking number of your parcel, you can simply lay back and wait for its arrival in 1 week. Though assurance is still recommended for problem-solving.
And Expect the DHL, UPS and FedEx there a lot Chinese company dive in, they're emerging power of Air Express, we'll write a article go through this later, they are cheaper than DHL but a bit slower.
The 2 main reasons for people NOT choosing this shipping method, is the high shipping cost, and limit of goods weight.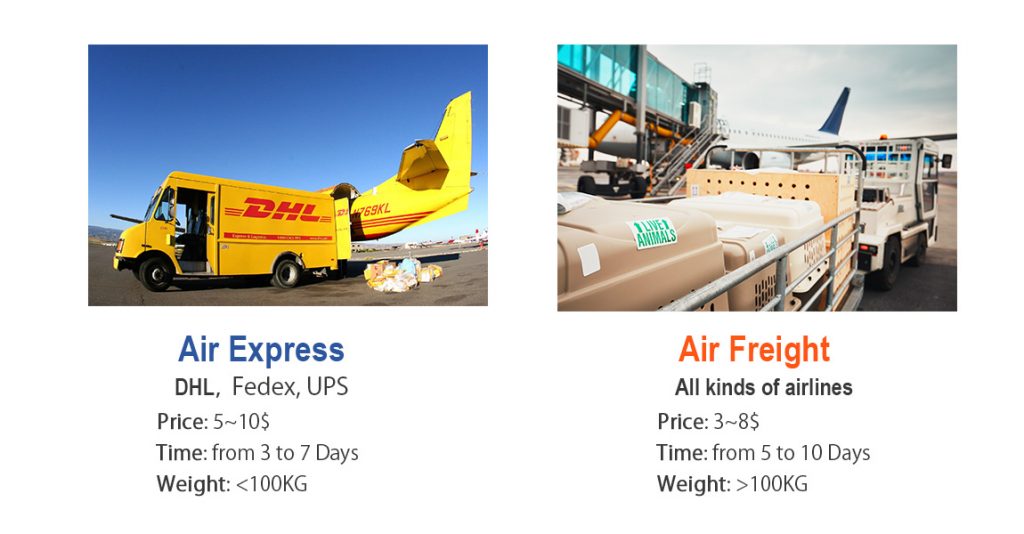 3. Airfreight
Upon shipping a relatively large bulk of goods, air freight shipping can be more friendly. By choosing this method, you can expect a relatively lower cost than air express shipping.
Large weight cargo is more suitable for air freight shipping, though it will take a little longer than air express, which may be around 5-10 business days, still a reasonable margin, and most of all cost is more friendly.
We must remind you, that the air freight is shipped in cargo, and the minimum weight must be met. Also, air freight is still relatively high, for example, air express on average costs you 5-10USD/kg while the air freight is 4 -8USD/kg, you can see the price difference is not that large.
Another example you can check out is the chart below that shows how the shipping cost of air freight and air express changes upon weight for shipping from China to the United Kingdom. You can see the air express price advantage on small weight parcels, while at the point near 100kg, air freight becomes more cost-effective.
Airfreight is strictly restrained on time table and security, in order to secure safety as well as efficiency. So if your supplier is not so sure about when your goods can be ready, be careful to choose this shipping method.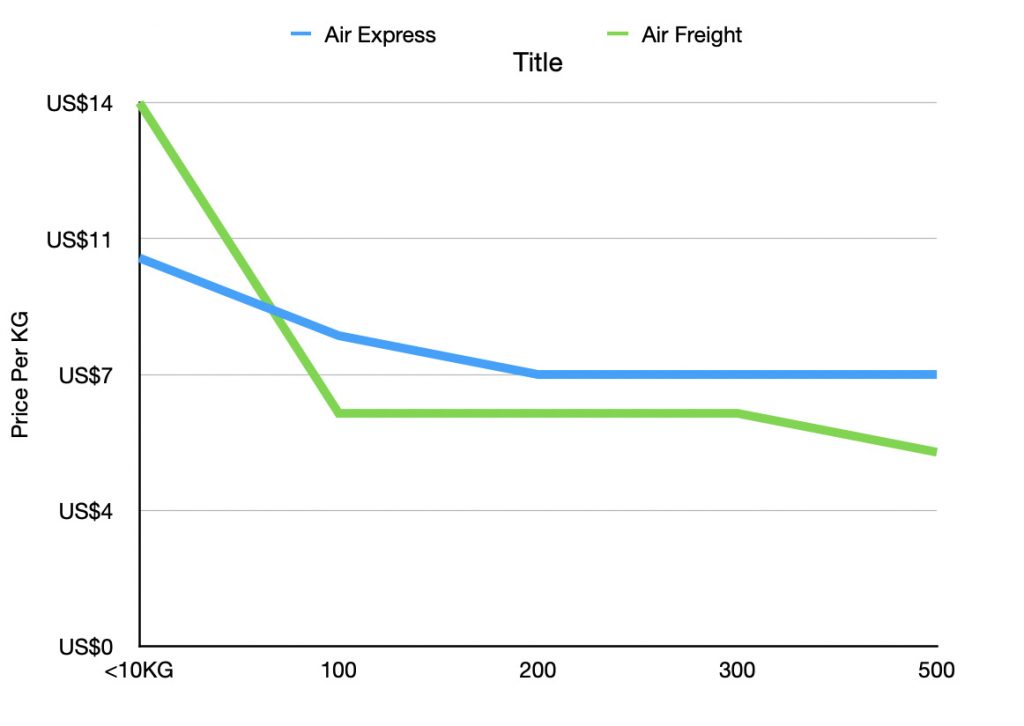 4. Sea freight
This is actually the most commonly used transportation method for international business and trade, due to its cost-effective advantage, and also capable of carrying massive bulk cargo. Although it may take much time, often around 30-60 days, depending on the location and distance from the departure place.
This shipping method is more friendly for the experienced and large bulk international traders, as this will reduce their average shipping cost per unit, and takes less energy to handle in long term.
When it comes to shipping through oceans, 2 sorts of container loading arrangements can be chosen from. The ways are called FCL and LCL, which are about how you would like the freight to be loaded. Choosing a different way means different costs, as well as changes in freight size.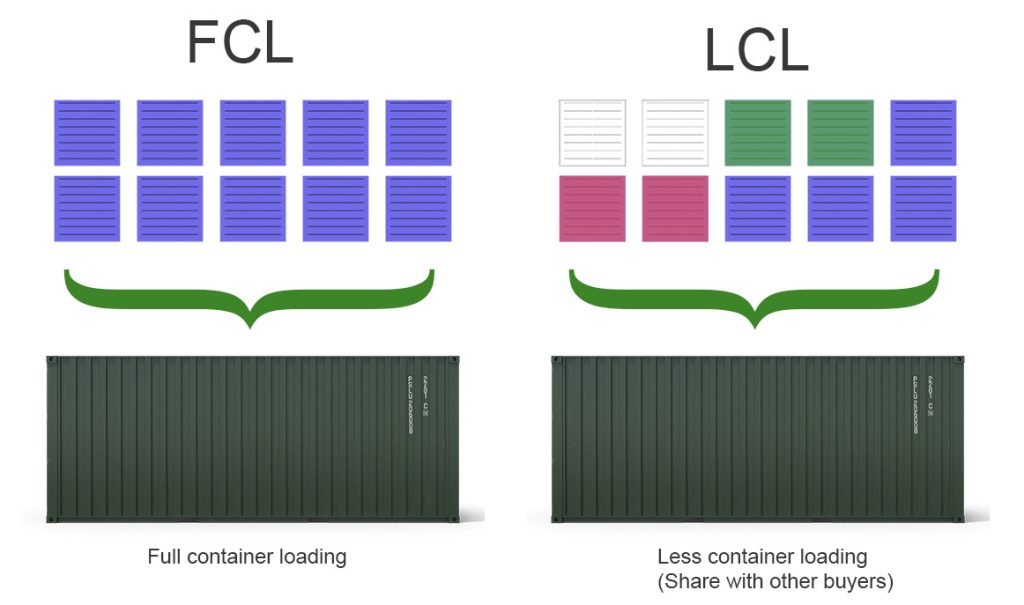 FCL = Full Container Load
LCL = Less (than) Container Load
There are typically 4 different sizes of sea freight containers. You can make your choice based on the quantity of your goods, as well as your budget.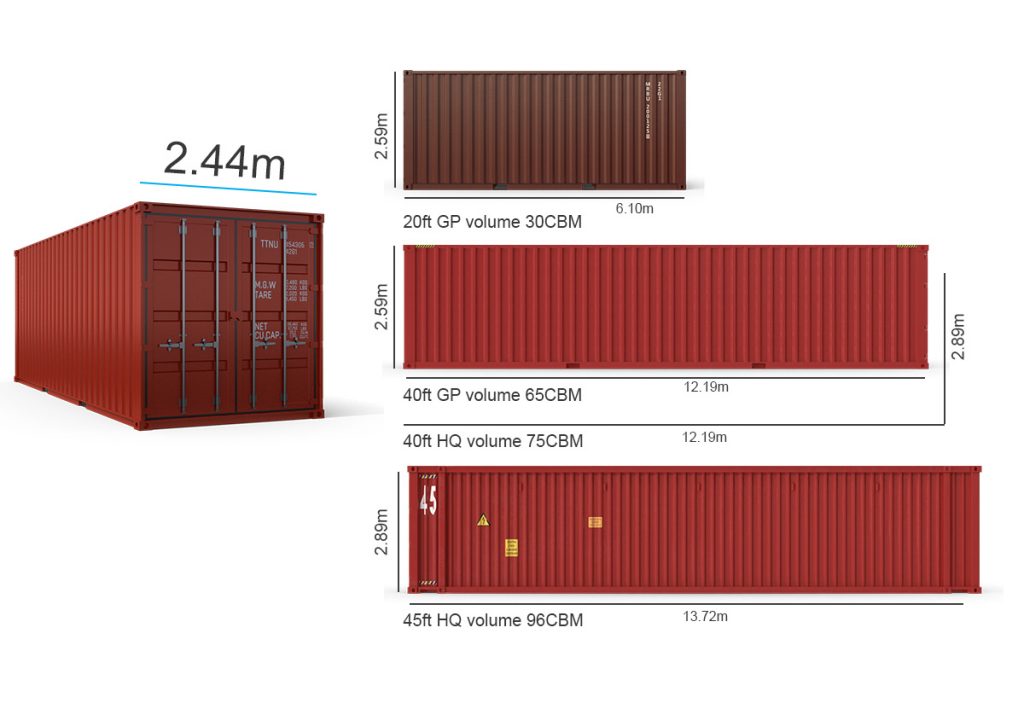 To decide which size of containers, and which way of loading is no easy task. You have to take full consideration of the total volume of your goods, and also the type of merchants, as well as your budget.
We suggest you either consult with your supplier or your freight agent.
What is LCL vs FCL?
To understand these 2 ways easier, take carpool as an example: FCL is more like a whole family visiting a friend's house in one taxi, while LCL is like only yourself taking carpool to do so.
Easy to figure out then, that FCL could be:
FASTER, as your goods are traveling directly spot to spot, and no need to wait for other goods to get in the container.
SAFER, as everything inside belongs to you, and no worries for damaging or taken out by others.
CHEAPER PER UNIT, as mostly shipping by sea freight is large bulk goods, and taking a full load of container will be more cost-effective.
and EASY TO TRACK, as a whole container in the service system of the shipping company.
Although there are so many advantages stated, if the volume of your goods is too small to choose FCL, LCL would be your only choice. Here are some hints for you to make a decision:
LCL as 1st choice: cargo size under 8 cbm;
Consult your supplier or agent: cargo size at 8-15 cbm;
FCL as 1st choice: cargo size over 15 cbm.
Which is the best shipping method for your goods from Alibaba?
When you have done your sourcing and confirmed your purchase order with suppliers on Alibaba, finally the time comes for you to choose your way of shipping.
Before we start, be sure to check the Customs Clearance Policy of your destination country, whether it is where your warehouses are located, or the place of your office. Some countries like Russia, Brazil, or Indonesia, it may take much time and long process for Customs Clearance, and EMS service is suggested as a better choice. If you find it time-consuming and takes too much energy, try to consult with a pro such as freight agent or dropshipping supplier to work the best way out.
Regarding all shipping methods stated above, the shipping expenses can be divided into 2 main parts: Base cost and Variable cost. Base cost is generally solid for each shipping method, and an upper limit for shipping is given. If your goods for shipping from Alibaba exceeds the limit, variable cost is applied according to the over-limit weight. The lower the base cost, the higher the variable cost can be. Faster services usually charge with small amount of base cost, also small in weight, while variable cost goes up scarcely with over-limit weight.
Here is a comparison chart of costs for different shipping methods. This chart is based on shipping costs from suppliers in China for certain goods and is only shown for reference and for better understanding. Please DO NOT take the figures as calculate basis.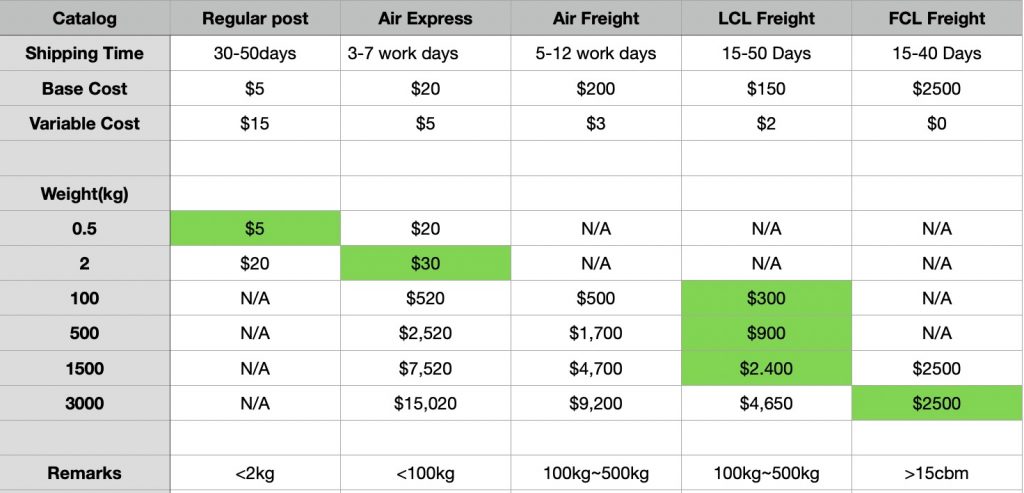 The green squares show which mode is cheapest for each shipment. As you can see, if you have a larger shipping weight, like over 100kg, sea freight LCL can save you some money, and FCL is the most economical way for a really large shipping weight.
Here we are only talking about costs, while in actual situations, time is a much more important factor, especially for small and medium-sized business owners. As the supplying flow is not so stable and regular, plus the amount for purchasing each time cannot load a full container, the shipping method has to be smartly picked, not to say the start-up sellers that take dropshipping as their way of supplying.
Some strategies can be taken, such as shipping your goods separately with different weights and methods to balance time and cost, while working with drop-shipping suppliers is suggested for start-up sellers to save time and energy. Most Sellers just shipping 30 pcs per item to FBA by air for test, when it works they'll ship buck by Sea.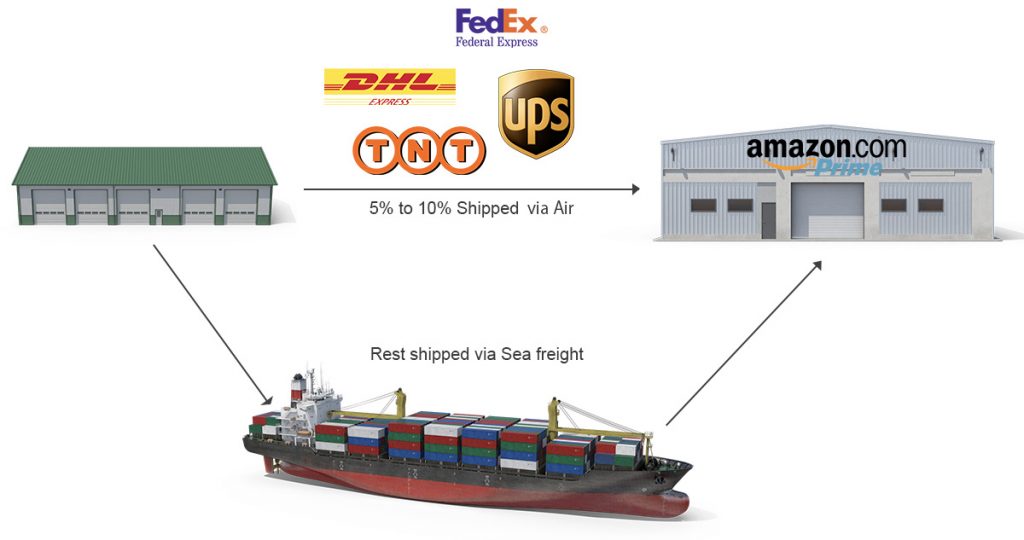 How to work with a freight forwarder for shipping from Alibaba?
If you are to work with a freight forwarder to handle your shipping of goods, you have to prepare for it carefully, and get all the information that your agent needs.
The information a freight forwarder need to quote for you includes:
Incoterm: FOB, EXW, CIF, DDP
Shipping method: Air/Sea
Total Cargo Volume (cbm)/Total Weight (kgs)
Each Carton of weight and Dim
Freight Term: EXW Factory or FOB
Pick address: factory address or port name
Delivery address
Insurance (Yes / No)
Please note that the quote you receive from the agent is only an estimation that does NOT include Duty & Tax, while accident charges may happen during the transportation process. The final amount of the shipping charge may only be known when the whole process is finished and Paying Bill is sent from the agency.
What else should I know to work with a freight forwarder?
Other than all the information above that you must get for your freight forwarder, you have to prepare some other documents for transportation or customs clearance, including:
Commercial Invoice
Packing List
Certification
Bill of Lading for the carrier/ Airway bill
Other optional documents for the Customs such as POA, etc.
*Please be aware that you could only get the Bill of Lading for the carrier/ Airway bill when you make full payment for your supplier.
Why do you need shipping insurance for shipping from Alibaba?
Considering the distance for international transportation, it is definitely suggested to purchase cargo insurance for your goods. Shipping insurance is cost-effective comparing to the risk of transportation it covers, as typically it will only cost you around 50-100USD each order.
Here is a formula for your reference that you can quickly check your insurance expenses:
Value of goods* 0.11-0.33%= Insurance cost of Shipping
Be aware that the result is only a reference for you to check upon calculating your total cost, while the final expense is decided on transportation method, route, cargo sorts, and other factors. Again you could only confirm it when your agent sends you the paying bill.
What should you check when your Alibaba shipment arrives?
After all the above work done with transportation, and spending much time and energy on checking shipment status from time to time, finally when you receive your shipment from Alibaba supplier, it is critical to check the following status of your goods. This is not only to make sure your first step of the start-up business is stable on the ground but also determines if your supplier is professional and trustful, and worth cooperating all along.
Packaging of your shipment: experienced suppliers will pack everything right with also consideration of your continuing selling.
Instructions of usage: Open one box of your product and check if there be any instructions inside, as a professional supplier will definitely make sure of this.
Quality of the product: Checking the quality of your product is not only about seeing and touching at the point of receiving your shipment, you should pick randomly a sample, and use it to check if it could last for days and weeks. Quality Control is the most important ability of a professional supplier, and it determines whether they are worth your trust and orders.
Top 9 ways to save Alibaba shipping costs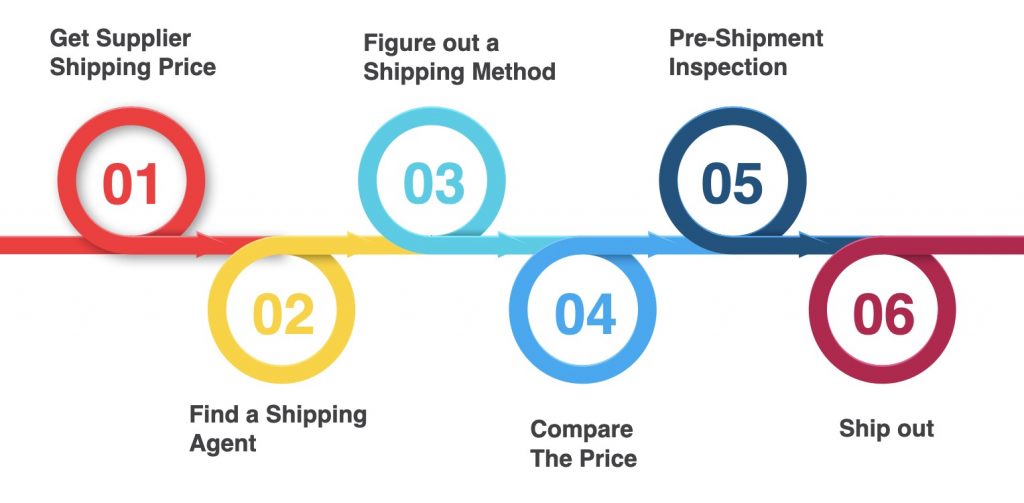 Last but not least, let's check out how to save your cost for Alibaba shipping.
1. Sourcing better types of product
Everything starts from the kind of product that you sell. If you keep careful upon sourcing for your products and avoid types that may violate rules and regulations of some nations, that will definitely save you much money, as shipping cost and risk will both rise to transport these products.
Always bear in mind that compliance comes first of all. If you are not so sure of this, please feel free to check with professionals like My Sourcify customer-service.
2. Purchasing in proper quantity
As an experienced buyer, you may have to consider the quantity of purchasing even before you confirm the order with Alibaba suppliers, therefore making the purchase flexible for shipping. If you are not so familiar with the packaging and volume of your goods, you may try to get a suggestion from your supplier.
3. Improve your package resolution
For your Alibaba suppliers, they would try their best upon packaging to avoid any accidents in the shipping process, or they may get fined or punished at store ranks.
That is to say, your supplier may sacrifice shipping cost-efficiency to ensure shipment safety, which may in turn increase your Alibaba shipping cost. If you can afford to take some risk on this, you may work with your supplier to find out a better solution for packaging.
4. Find the proper method of shipping
Once you confirm your order, time to check everything and choose carefully according to the kind, volume, and weight of your goods from the methods of shipping.
The most important factor is no doubt when you expect your Alibaba shipping to arrive, while if you would like to save the shipping cost, a proper method can be critical. If you are not much experienced, try to consult with a shipping professional like My Sourcify.
5. Choose a good shipping route
The cost of Alibaba shipping can be varied according to the route of shipping, not only for sea freight but also for shipping airlines. 
For example, if your shipping goes from China to the US east coast, one way is to travel through the Pacific Ocean and the Panama Canal, or to the west coast and change to on-land shipping. The shipping cost is largely different.
Once again, if you are not willing or experienced, it will never be too late for turning to a professional for help.
6. Check with third-party tools
If you are not so sure about how much you would pay for your Alibaba shipping, online calculating tools are available, and be sure to use the ones run by third-party institutes, rather than shipping companies or freight forwarders. 
7. Compare between different shipping agencies for the best price
After getting the reference quotation from the online calculator, you may check with different agencies to compare their shipping cost from Alibaba. Be sure to check with the same condition of shipping, and sometimes letting them know each others' quotations may help you find a better margin.
8. Work with suppliers with a local warehouse in your destination country
Apart from all stated above, if your supplier is a brand company large enough, they may possess warehouses in your country, which could save you much cost on Alibaba shipping, as you may get the products directly from their local warehouses, and only pay for domestic shipping expenses.
9. Find a One-stop supplier for your Alibaba shipping management
Having learned so much on shipping from Alibaba, if you are still confused, and find it too hard for you as a small business owner, why not try to work with a professional dropshipping provider, and leave all this cost-saving work to them?
My Sourcify offers you all transparent prices and listing from Alibaba suppliers direct to your store. We will handle all shipping work for you, and all you need to do is listing and leaving us with your information.
Conclusion of shipping from Alibaba
Although handling everything in the whole shipping process may save professional international traders certain costs, considering the time consumption for new start-up store owners, as well as the volume limit, or MoQ of most saving strategies, dropshipping suppliers may offer the BEST and most professional shipping cost service for small and medium sellers.
The My Sourcify can be responsible for managing everything before the products arrive at your door. Our team is made up of professionals in international trade and transportation. We offer you a convenient search engine with both text and graphics that helps you with sourcing compliance products, we also have decades of experience in handling the whole shipping process, not to say the free usage of warehouses worldwide. From all of the above characteristics can we offer you the best saving strategy for Alibaba shipping costs.