When importing from China on Chinese wholesale websites, there are some famous and helpful sites that most importers tend to choose, like Alibaba.com, AliExpress.com, and DHgate. And we are going to do a series of articles guiding you to importing from China on Chinese wholesale websites. And this article focuses on how DHgate works and how to avoid DHgate "SCAMS". Let's get it started.
Chapter 1: Is DHgate Legit?
Before we go deep into how DHgate works, there are always doubts about DHgate: Is DHgate safe? Is DHgate legit?. Before we answer these questions, we need to know what is DHgate and how it works. Then we will have a clear idea whether this website is trustworthy.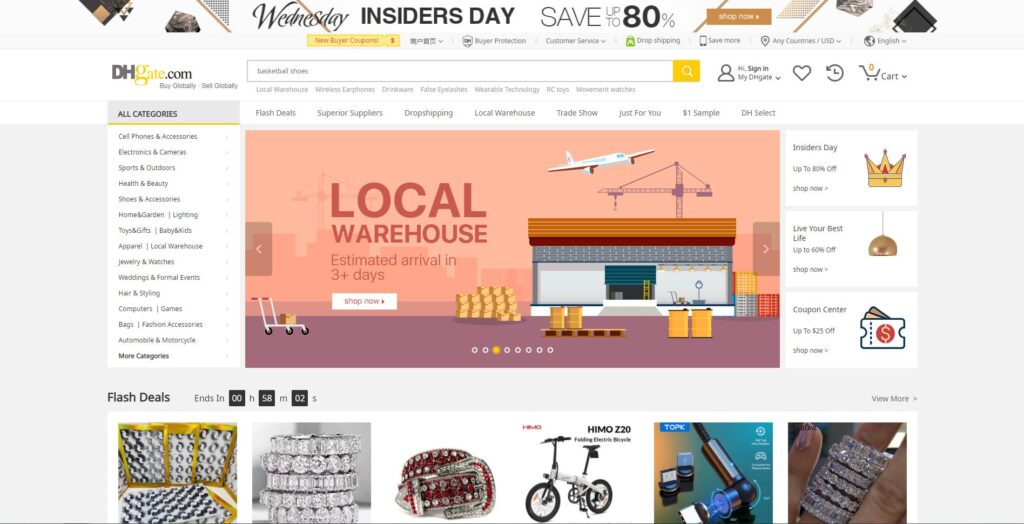 1. What is DHgate?
DHgate is a B2B Chinese wholesale website established as early as in 2004, which covers more than 30 million products in a wide range of category, quite the same as Alibaba. While unlike Alibaba, DHgate focuses more on small wholesale. If you are starting your importing business from China, DHgate can be a good choice for trial orders.
2. How DHgate Works?
One thing that buyers need to know is that DHgate itself doesn't sell anything. DHgate serves more as a platform for both buyers and sellers, which means it only creates a place where buyers directly talk to seller and DHgate is not the third party in between.
Operating your orders in DHgate is quite simple. Buyers select what they want and contact the seller. As all negotiation is complete. Orders will be shipped to buyers' location directly from seller.
And DHgate helps withhold your money until you receive your products. Therefore, DHgate is rather safe and legit to buy from.
However, there are still voices saying "DHgate is not safe" or "DHgate is a scam".
3. Why people think "DHgate is not safe"?
When buying from online wholesale website, you need to keep one thing in mind that there are chances that you may get cheated on such wholesale websites. However, these wholesale websites themselves are safe and legit. It is those awful sellers that make it like a "scam". Thus, what we must know is how to identify good sellers from bad ones and how to protect our rights. It only depends on how you use it that you won't get cheated.
Chapter 2: Reasons why people think DHgate is a "SCAM"
1. Products' quality is not satisfied
One of the major reason that people think they are getting cheated is that the products they received are of bad quality. That is because of the cheap price.
There are products on DHgate whose prices are incredibly low to buy from any other wholesale websites. And the fact behind low price is that sellers may use low quality materials to make profit. What you expect can be high fashion gold earrings. While what you get can be badly gilt metal earrings, like down below.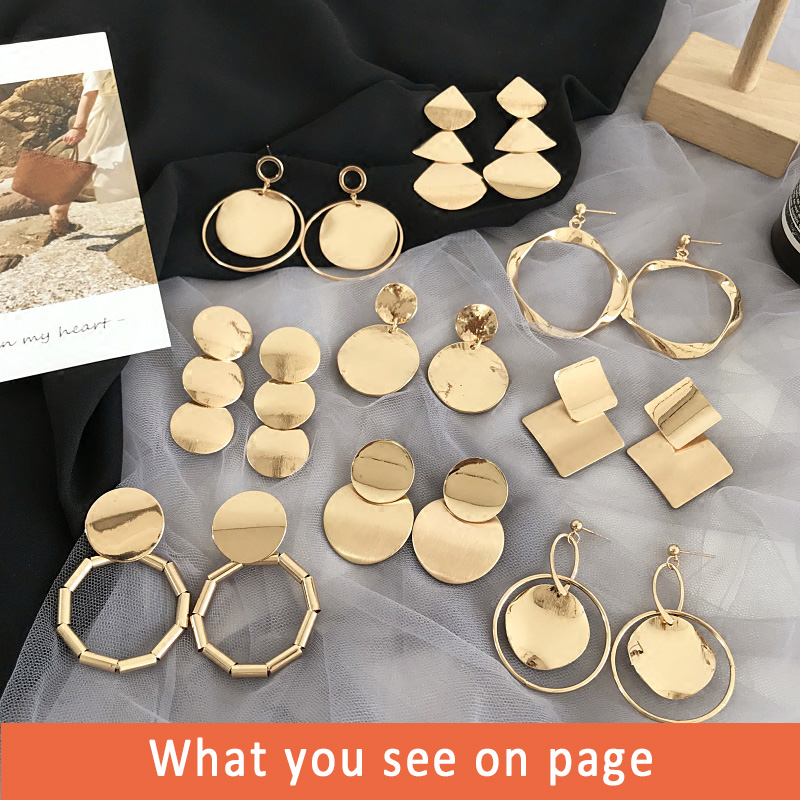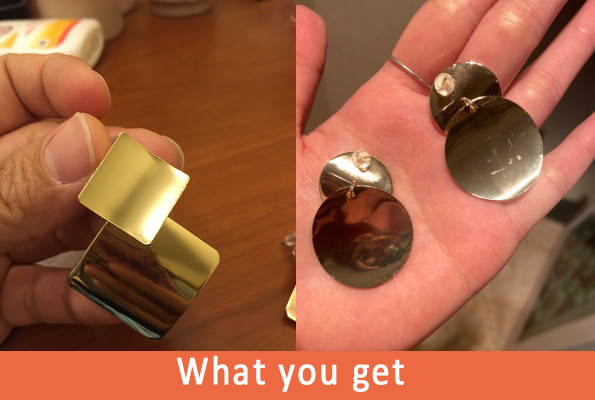 However, not all low price equals bad quality. It depends on the seller you choose. And in the following chapter 3, we will tell you how to verify sellers in details.
2. Not receiving any products

There are quite a number of buyers claim that they never received what they order from the seller. Reasons behind this problem is complex. It can be the sellers' side of not even manage shipping of your order. Or it can be the problem of the delivery company, like the missing or lost package, or damaged package.
Once you place your order, you need to follow up your order. Contact the seller and get the tracking number of your package. If you don't receive your package, go to the custom service and get refund.
3. Long time of delivery

Normally, it usually takes 5-12 days if you choose commercial delivery, like UPS, DHL, FedEx. If you place a small order, like 1-2 pieces with low value, they would probably ship through economic shipping ways, like ePacket. And for economic shipping ways, delivery can take a long time.
Due to the epidemic of COVID-19, the delivery time can be even longer than what is used to be. Therefore, you may receive your package beyond the promised time. And if you find the product unsatisfied, it's not easy for you to get your refund.
4. Difficulty in getting refund

When receiving such defective products or not even receiving what you bought, you would probably ask the seller to solve the problem, like resend the product, or refund the money.
Generally, honest and responsible sellers will refund you directly to avoid bad reviews, which means a lot for them. If the product is of high value, you would need to ship back the products to the seller, then they will give you the refund.
However, there are sellers on DHgate who only want to make quick money. Then it's hard to get refund from them, especially when you buy something cheap. Tricky sellers would ask you to ship back the low-valued defective products back. However, the refund can not even cover the cost of the shipping. This is what dishonest and irresponsible sellers will do to not refund you.
5. Custom service helps little
DHgate serves as a platform where buyers and sellers can freely communicate with each other. Besides, DHgate provides secured purchasing services and custom services to help buyers and sellers to settle their problems.
The thing is that when turning to custom service and ask for their refund, it's quite hard for custom service to judge which party should be responsible if the evidence provided by buyers are not sufficient. Then buyers would think that custom services can't help them to protect their right.
With years of experience on dealing with suppliers, here we are going to share some tips with you on how to retain useful and sufficient evidence.
A video speaks louder than pictures. Shooting every details of the product you've received and even the package details.
When taking pictures of the defective products, make sure you shoot all aspect of it. Don't miss any part.
Keep the record of the conversation between you and the seller.
The more sufficient your evidence proves your statement, the more likely custom service will take your side. Therefore, when purchasing online, keep the three tips in mind.
6. Shipping fee charges on "Free Shipping"
When click on "Free Shipping", you would be thinking that these products should be free on shipping. However, there are some tricky sellers whose "Free Shipping" is just a trick to attract you.
When you go to the shipping page, you will see, there are free shipping and paid shipping. Normally, free shipping is provided as ePacket or other economic shipping ways. You will find that, they do provide free shipping. It's just the free shipping is unavailable. So you have to choose paid shipping ways.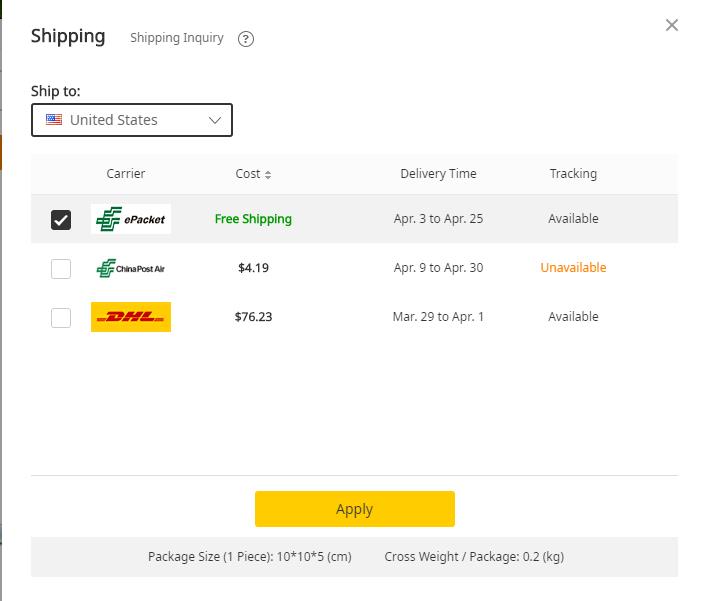 As we've mentioned above, economic shipping ways usually takes more time than commercial shipping ways. It's depend on your choice to choose either way of shipping.
Chapter 3: How to Avoid Such "SCAMS"?
There really are responsible and irresponsible, honest and dishonest sellers on DHgate. And there truly are some sellers who just want to make quick money. Thus, you need to be extremely careful when purchasing on online wholesale websites.
But you don't have to be so worried. In the following part, we are going to show you how to verify if the seller is trustworthy. Now, let's go deep into it.
1. Check the products that the seller is selling
Better choose focused sellers rather than a wide-ranged seller. By focused sellers, it means the seller is concentrated on a certain products. And by a wide-ranged seller, they probably sells a lot of products of different categories.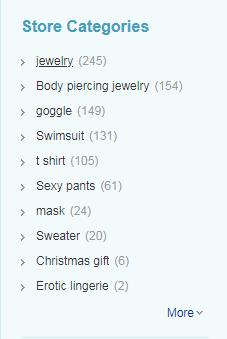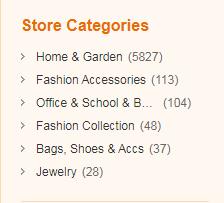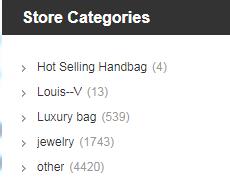 A focused seller provides products of higher quality. And you won't get cheated. But with a wide-ranged seller, it's really hard for them to control the quality of every product. For example, in a wide-ranged fashion shop, you may find his earrings of good quality, but his sunglasses not so good. You can't definitely say that this seller is bad. Therefore, choose a focused seller over wide-ranged ones and save yourself from defective products.
What's more, a focused seller knows better about the products and their services can be better.
2. Check the rating and reviews of the seller
The rating and reviews can really mean something. When buying from the seller, check what other buyers say about their products and services. Based on their rating and reviews, you can judge whether this seller is trustworthy.
You will see there are positive, neutral and negative reviews. Pay special attention to negative reviews. You will have a clear idea what the seller isn't good at. Besides, there are reviews about their service details: Item as described, Communication, Delivery time and Shipping charges.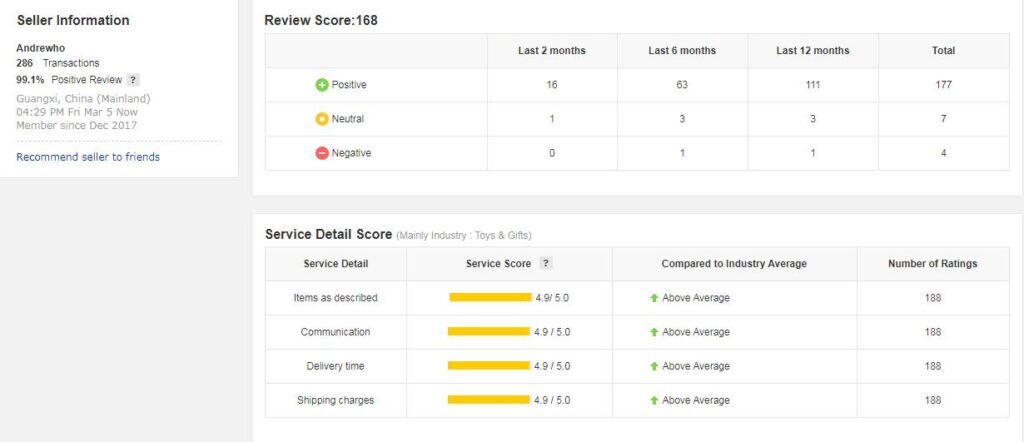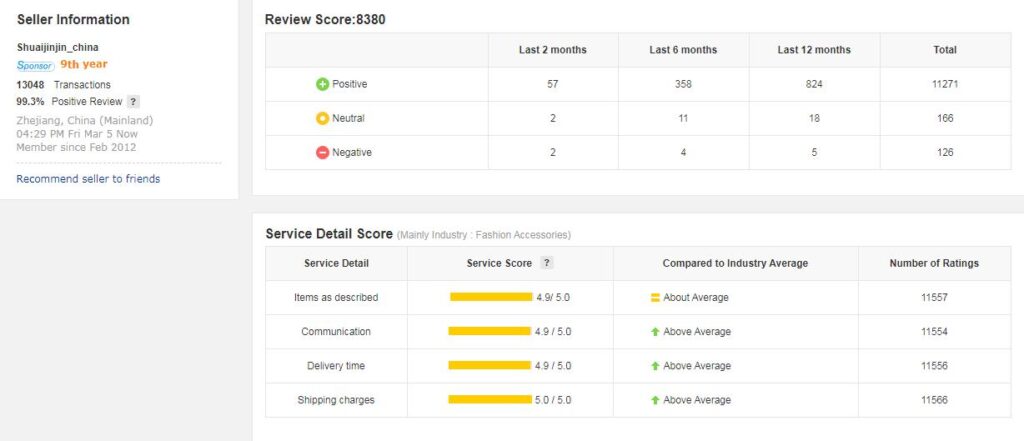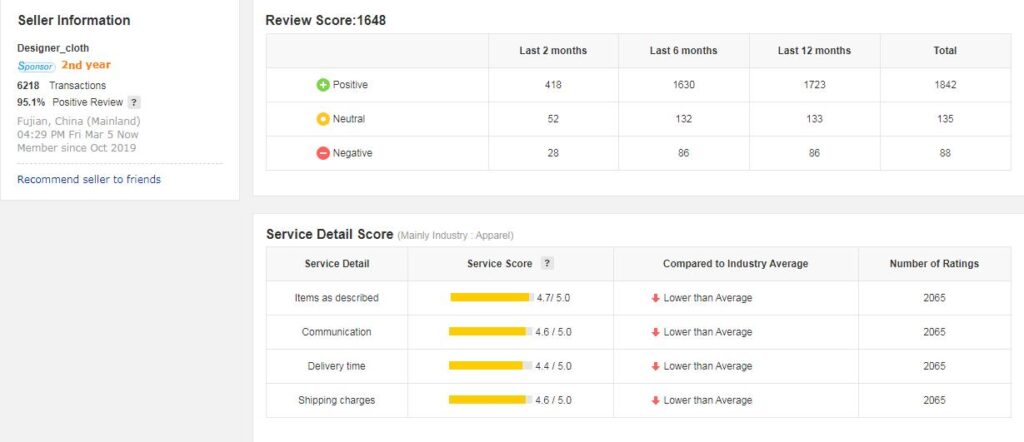 Another point is to check the number of his reviews. If there are only a several transactions and submitted reviews. There is no doubt his rating can be higher. Thus don't get cheated by the "High Rating". Double check their rating and reviews.
3. Check if the seller has warehouse in your country
If sellers have warehouse in your country, it will save you a lot of problems. For one thing, a seller with oversea warehouse is aiming at long-term business and they would be trustful. For another, if the seller ask you to ship back the products, your shipping cost can be lower by shipping back to their oversea warehouse.
4. Ask the seller for natural picture of the products
Ask the seller to give you natural pictures of the product instead of the fine and exquisite pictures showed on the page. Or you can go the reviews and check the picture shot by buyers, which is more real. With a real picture, you will have a better idea about the products the seller is providing you. And by asking the seller for products' picture, you can see how the seller is responding you.
5. Choose secured payment methods
DHgate provides buyers with secured payment. They help withhold your money until you have received your products. Don't choose any other option of payment offered by suppliers. There are chances that you encounter some honest and responsible sellers the first time. But you can't count on luckiness on it. Thus, better choose official payment methods provided by DHgate.
6. Don't buy any branded products on DHgate
Branded products are always asked if they are available on such wholesale websites. The answer is don't buy any branded products unless the seller or you get the authorization of the official company. If you find branded products on DHgate pages, they are more likely to be high imitation products or defective products. And the quality of such products can't be promised. Therefore, to avoid such situation, just don't buy it.
Hope you find this article helpful on your purchasing on DHgate. If you have any questions or suggestions, leave it down on comment. And we are ready to get better. Thanks for supporting.