Product research has been an quite important step in importing from China. But how to do product research and what tools can you turn to? In this article, we've listed 23 useful product research tools for your reference.
What is product research?
Product research is the very first step to take before you start importing from China. As for product research, you need to determine whether this product is hot in the market or will be popular in the market. Moreover, it would be best if you compared to suppliers who can offer you the most favorable pricing. There are so many things to do on product research.
A winning product is one that is obtainable, profitable, ship-able, and marketable. Ultimately, it's a product that enhances, not hampers your success. So you need to pay attention to the following tips:
Price — A lower price means a giant profitable gap in between, and anything too expensive means a high cost to get started.
Supply — How you can easily and quickly obtain the products you want with the global sources of suppliers.
Demand — Whether there's a current or future need for the product.
Competition — You are the first to enter the market whether or not to compete with those experienced sellers.
Shipping — How much the products ship to your front door.
Growth — The product's development potential in the future.
Seasonality — Ideally, your products will bring in year-round sales.
Take full use of Product Research Tools
Product research allows one to collect credible information concerning consumer preferences with regard to the proposed offer.
Analyze Your Competition with Ease
Online product research tools help you scan through thousands of products in order to find out which ones are widely available, popular, and actually selling. These insights help you avoid sinking a lot of your capital into products that will sit on your shelves.
Clearly Defined Profit and Expenses
Another important feature of a product research tool is the snapshot it provides of your estimated profit and expenses.
Scan Multiple Marketplaces
Being able to scan foreign marketplaces can help you find new product ideas to try and sell within your own market.
They may bring you breakthrough ideas and the creation of innovative products. Also, they may become an important source of inspiration on how to prolong the product's life.
23 Useful Product Research Tools
We have done some research on products research tools and down below we've listed 23 the most useful products research tools for your reference.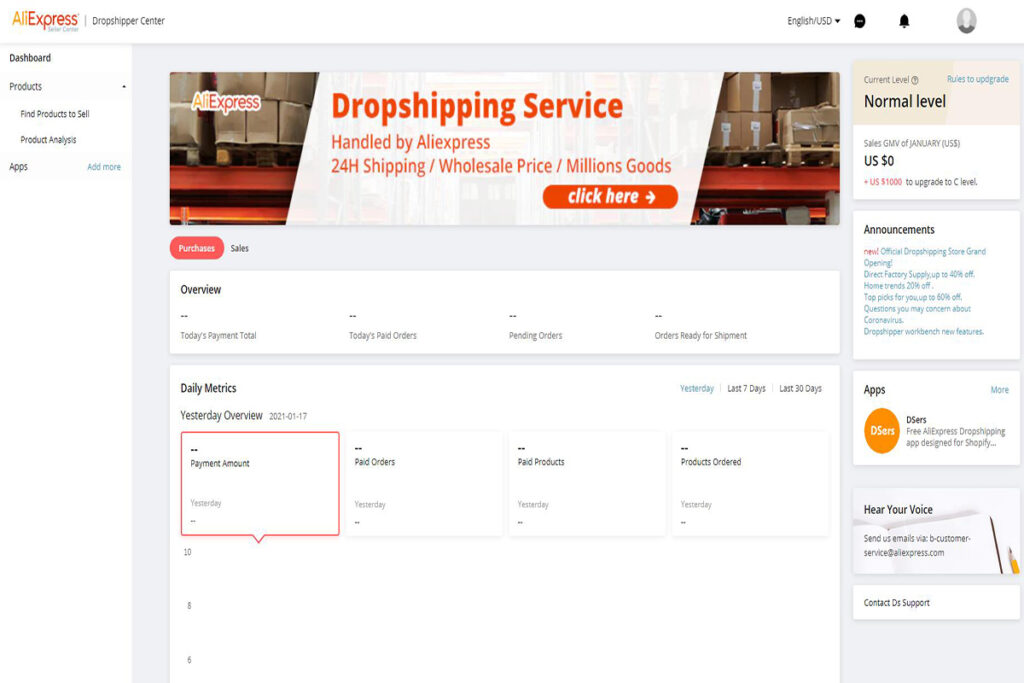 AliExpress dropshipping center is a tool that AliExpress provides to make dropshipping with AliExpress easier. Its main function is to help you find hot selling products, analyze it and help you find suppliers for your store.
In AliExpress dropshipping center, there are two buttons that help you analyze products: "Find Products to Sell" and "Product Analysis".
In "Find Products to Sell", you can see quite a lot of pins you can choose to select your ideal products. You can find the best match or simply filter the products with the different keywords you want. It will list out the top ranking of products for you. And you can analyze the products simply by clicking on the "Analyze" button.
Another is the "Product Analysis". This tool is quite easy to operate. All you need to do is to paste the web link to the blank and simply click on "Analyze". And it will show you the trending of the products for your reference, which is vivid and convenient.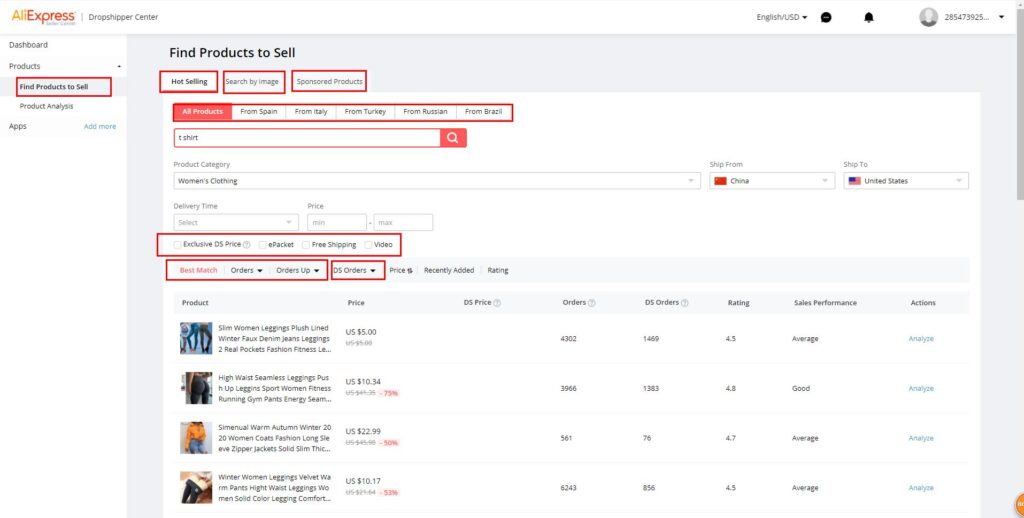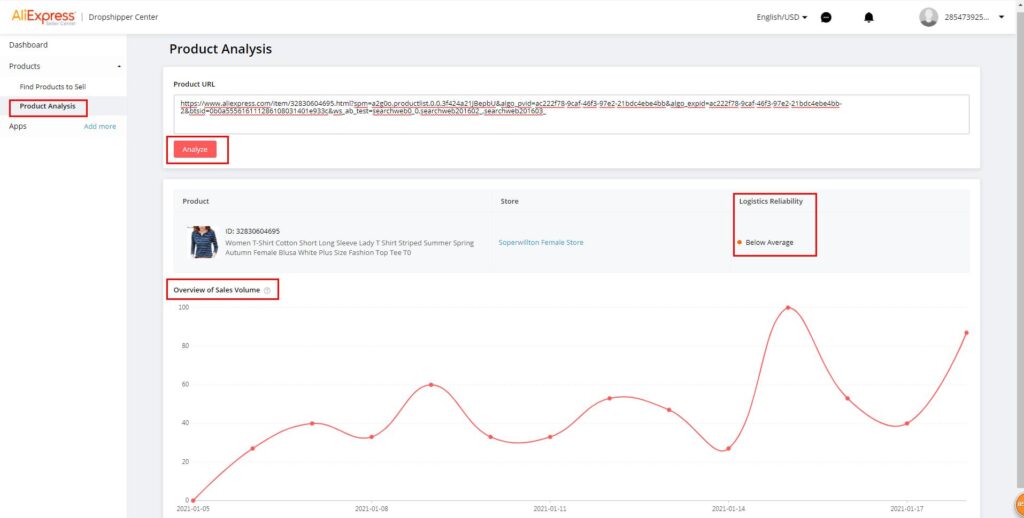 Alishark is a high-quality winning product analyzing tool on the market that many people rave about. From my point, it's a great product searching tool for people that want a lot of filter options. I'm sure you will get lots of inspiration from this tool.
The best characteristics of it is they offer 2 days trail for only $1. If you don't like it, then you can cancel it directly without any extra costs! That's so nice for new.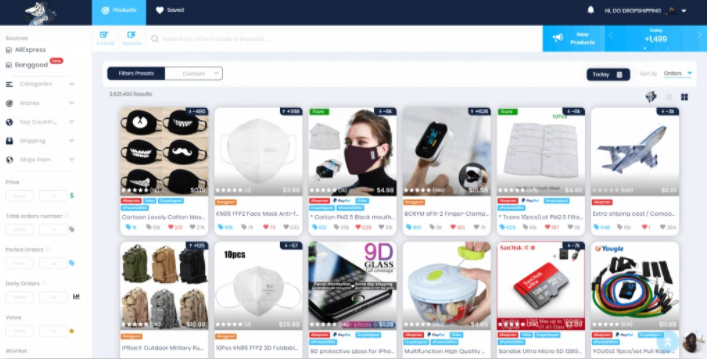 Firstly, let's have a look at screenshot below. The great thing of AliShark is that you can use all these filter options together. They will not limit you, you can do as many at the same time as you want.
How to use
Filter by categories: These are just product categories. If you don't want any category, then you can uncheck that one.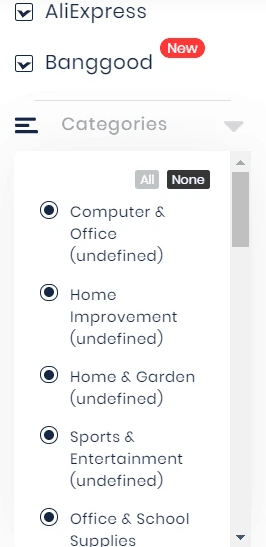 Filter by niches: You can select the niche that you want to filter by. But please remember that the default setting is that there will be no niche selected at all.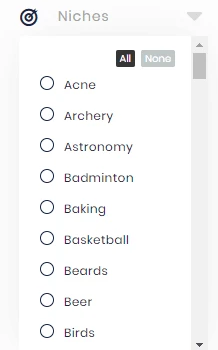 Filter by top countries: This filter option lets you filter by the countries you choose. For example, choose US, then it will show you products that are popular in this country.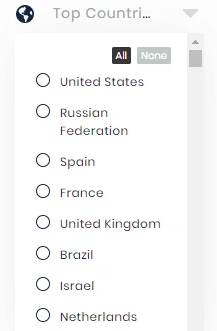 Filter by shipping methods: With this filter option, you can only see products that have ePacket or AliExpress Standard shipping as a shipping method.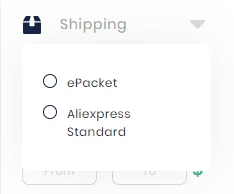 Filter by ships from: If you only want to see products that are shipped from a different country than China, this one is great.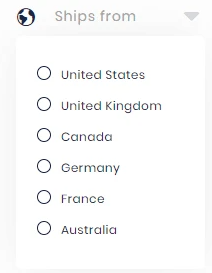 There are also other filter options : Filter by price, Filter by the total number of orders, Filter by period orders, Filter by daily orders, Filter by votes, Filter by wishlist, Filter by when the product was added to AliShark, Filter by video, Filter by if the product is being dropshipped, Filter by PayPal, Filter by saved only, Filter by time, Filter by keywords…You can go through any option to find the result you want.
Intelligyence has many years of history and is mainly about winning products on Shopify shops.
The software gives you access to all the information about any particular shop. All you have to do is type in "Shopify Store Search". You will find the people who visit the page, the social media pages for that particular shop, the average regular sales, and the best selling products for that shop.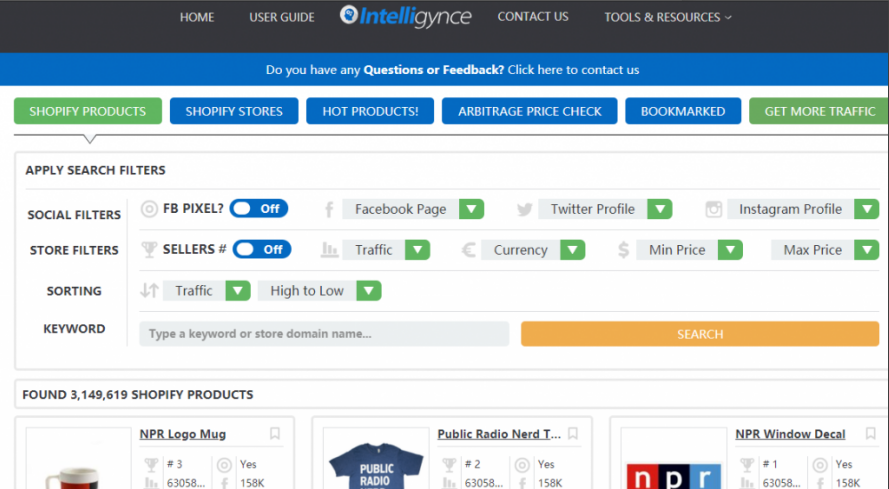 The first thing I noticed when I see the website was how perfect the entire application is.Obviously they have used the data from a company to crawl every Shopify store. Then you can sort by a wide range of filters and tools.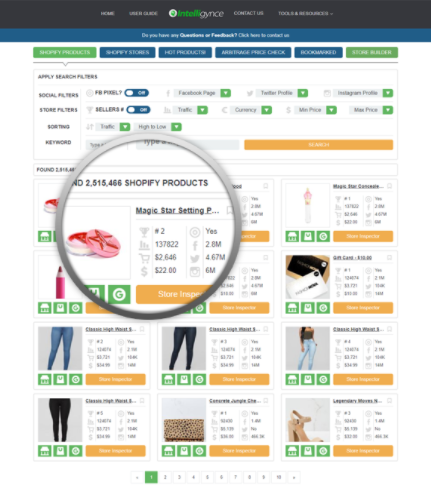 You can easily find stores using the Facebook pixel and then link to their Facebook page or other social media profiles. It also displays the best sellers and what their estimated daily visitors.
As you can see, the filter options are in four basic categories:
Social filters
Store filters
Sorting
Keywords
Under the social filter, you have the option of turning "ON" or "OFF" the Facebook pixel. The Facebook pixel can list stores that are well optimized for Facebook ads.
With Seller's filter, you can filter stores based on their monthly traffic, currency, minimum price, and maximum price.
For Sorting, you have monthly traffic and listing order as options.
Finally, the keyword allows you to find products based on the keyword of the product or store.
Thieve is a tool dedicated to analyze Aliexpress. It will give you a lot of inspiration for your product research. They show you some pretty awesome products from AliExpress. Furthermore, you can even sort the products by a category, so you can see products inside your niche.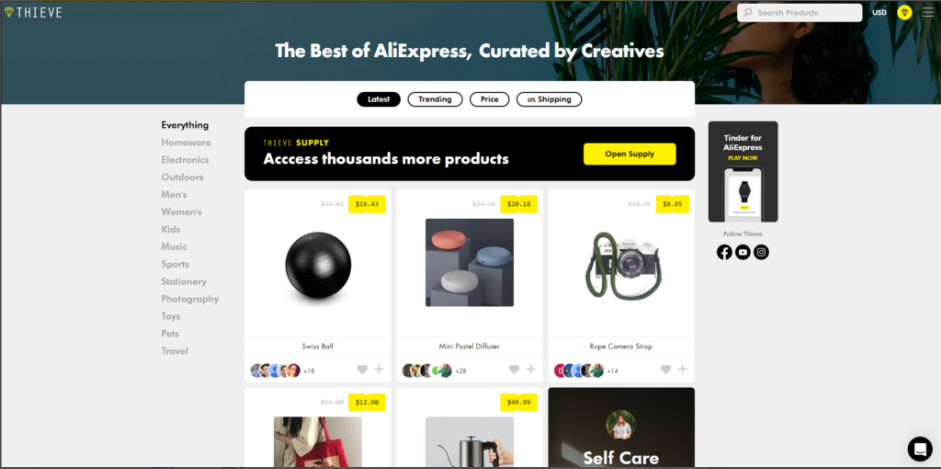 As you can see, the whole interface is very clean, clear and well-organized. Categories include Homeware, Electronics, Outdoors, Men's, Women's, Kids, Music, Sports, Stationary, Photography, Toys, Pets, Travel.
As you can see above, you can not only search by category, but also analyze by latest, trends, price, shipping. It's very convenient and fast.
It is the e-commerce software that helps you find hot winning products in your online shop. It simplifies product research strategies and provides you with multiple hot products that are selling like crazy in the marketplace every day. The platform also offers multiple tools to help you have the edge over your competitors.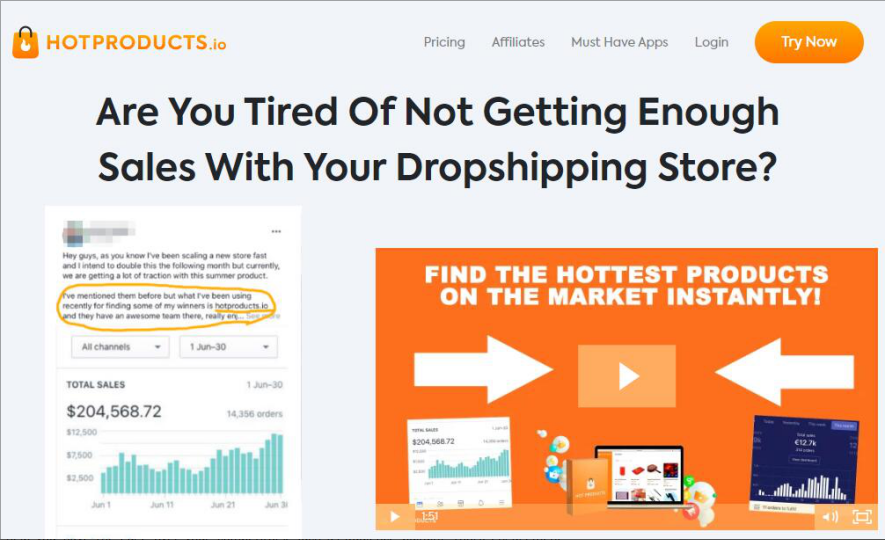 HotProduct.io is just like the rest of the winning product tool. It is a product curator tool that helps you with winning products on a daily basis.

Basically, they focus on the following:
Hot Products:
They curate hot products for their customers including winner products and high-performance products.
Warm Products:
Warm product is considered a potentially hot product. If you're in a really competitive market, selling warm products is a good choice.
Facebook Video Ads Generator:
This a unique tool that helps you create your own nice and unique Facebook ads video. This can help you if you want your Facebook video ads stand-out.
Rewards:
The reward is meant to keep its customer from leaving. It comes in the form of course training for their loyal customers.
Niche Scraper is another web-based platform that helps you find winning products using a powerful niche research bot. The platform is very simple and it is clear and easy to use.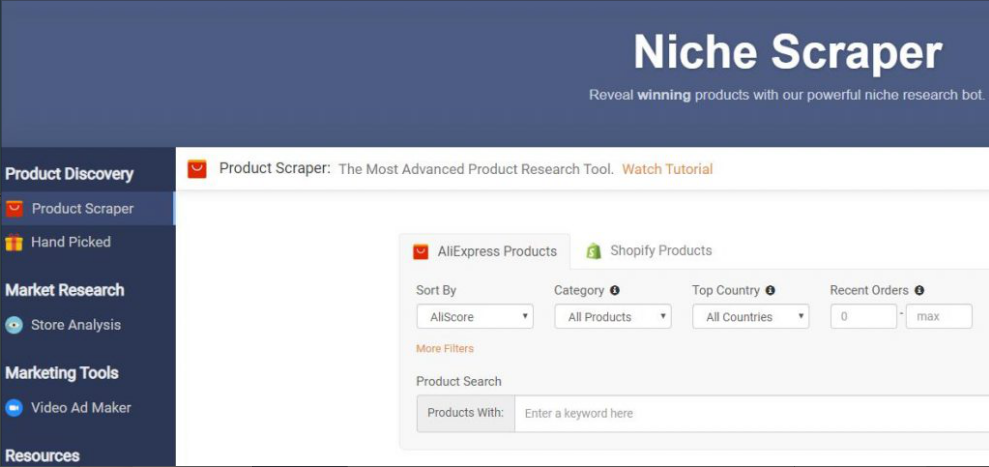 Niche Scraper's features are split into four categories:
Product discovery
Market research
Marketing tools
Resources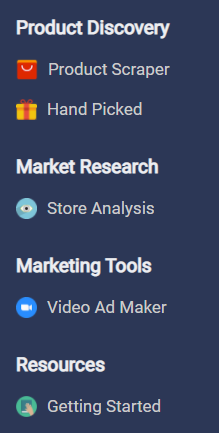 You can filter products by niche, how they're selling, who else is selling it, and potential profits. There's also an automated product scraper that operates in real-time to find the best selling products on AliExpress. It's not only a product research tool, but also a market research tool.
Niche Scraper's most stand out feature is its marketing tools, something a lot of its competitors just aren't offering. Here you can generate a Facebook video ad with royalty-free music and images to enhance your products.
Simply speaking, Commerce Inspector is one of the most optimal e-Commerce tools that can be installed in browsers as an extension or a spy hunt tool to help you with your business analytics. Commerce Inspector collects data from different public sources then analyzes them to come up with possible product insights for a particular store.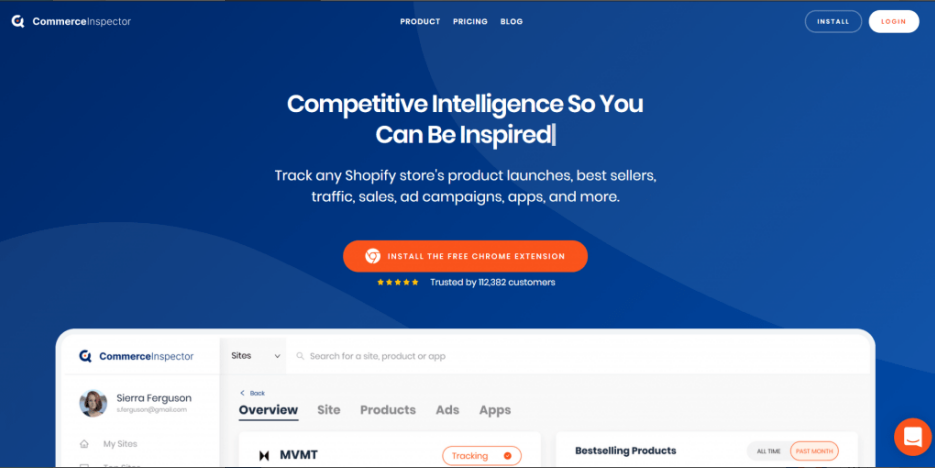 Let's have a look at the main features and benefits of Commerce Inspector:
Easily analyze the best-selling and newest products in a store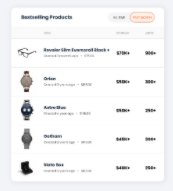 Which are the best-selling products in a competing store? Which new products have been added recently? Commerce Inspector gives you answers. Even the free Commerce Inspector Chrome can show you new product launches and the best-selling products in any given store.
Analyze sales figures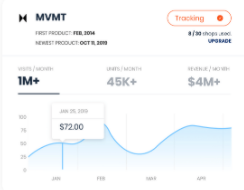 You can find out the number of units sold per month and the revenue generated. While such in-depth sales analysis is not available on the free browser extension, extensive features are available on the premium paid versions.
Analyze which apps a store is using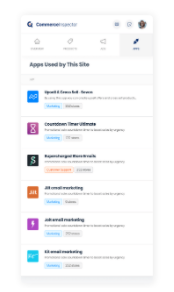 In many ways, a Shopify store is only as good as the apps that it uses. The Shopify platform is the best around but your success is greatly influenced by your ability to identify and employ the best apps to enhance the user experience and grow sales.
Commerce Inspector will crawl competitors' websites and identify which apps are currently in use by competing stores so that you can go off and investigate whether they're right for yours.
Advanced search tools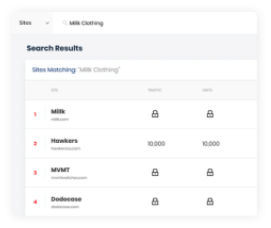 The premium paid versions of Commerce Inspector have advanced search features, such as the ability to search products across shops, search apps across shops, etc.
In fact, E-Sniper not only sells itself as a tool to find winning products, but more like a dropshipper's toolbox.
There are currently 4 features that I will present in the following article, but to make it simple with E-Sniper, you will be able to find high potential products, influencers and spy on your competitors.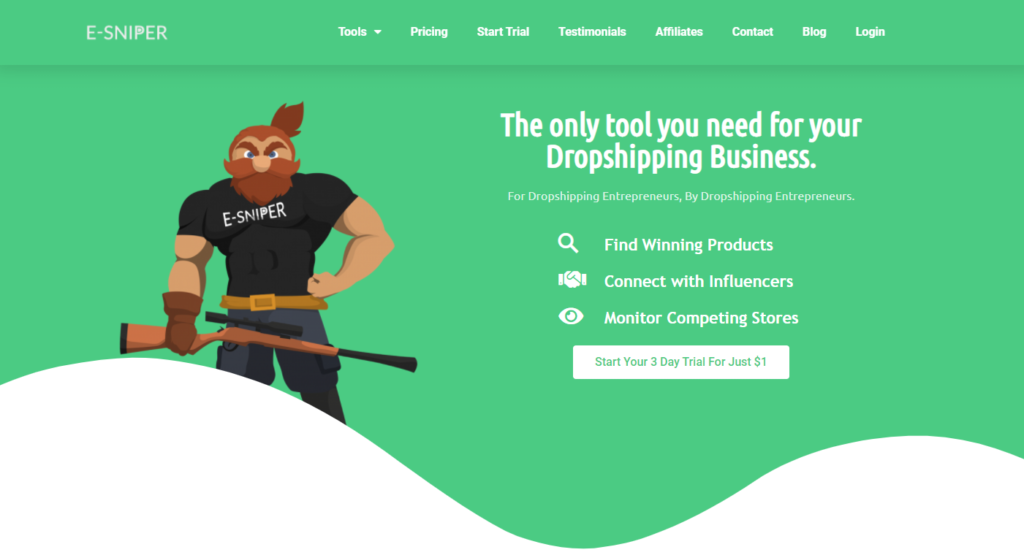 E-sniper is a new platform that includes tools such as AliSniper, ViralSniper, InstaSniper, and ShopSniper.

AliSniper is a niche-based, daily sales ratings to find successful products. You can now find Untapped Winning Products for every Niche based on Aliexpress daily sales, ratings and Import it directly to your Shopify store with one click!

ShopSniper allows you to find popular new products in each Shopify shop and discover new products with less competition. With this feature, you can readily access the new and hot selling product on all dropshipping stores. It is beneficial in analyzing products, to ascertain which products have the highest and lowest competition at any given time.

ViralSniper allows you to find hot new products that convert well. You'll get demographics and marketing strategies. ViralSniper gives a detailed statistical analysis of the best the market has to offer as a trendy product. So the goal is to find viral products with demographics, targeting for Facebook Ads and good branding strategies.

InstaSniper allows you to find the most relevant influencers based on niche, location, and engagement so you can get in touch with them. InstaSniper is very useful in helping you access to high influencers in your desired Niche, with relevant information of their location, and how best to reach out to them, through the engagement rate analysis.
AdSpy is apowerful Facebook and Social Media Spy Tool. PPC by itself is highly dynamic and competitive. Add that to typical Fb Ad Spying and you got a conundrum.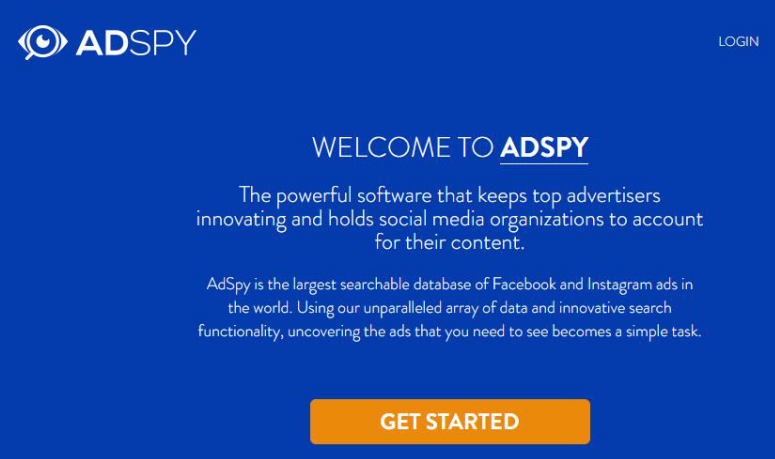 AdSpy Features as follows:
1. Enhanced Search
AdSpy's Enhanced Basic Search feature is legendary. You can search for virtually any Ad using their Advanced Filters to narrow your results.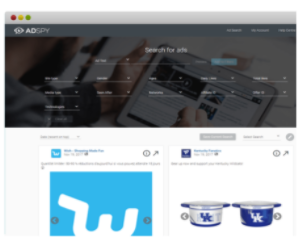 2. Extensive Data
The Massive Ad Database is AdSpy's biggest selling feature. AdSpy tracks over 12 million advertisers every day. When Facebook ads get expensive every day, so it's better to spy profitable ads and products via Adspy.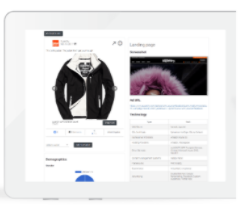 3. By Affiliates for Affiliates
It is no secret that AdSpy is created to appeal to Affiliates. Affiliates are the largest market for Spy Tools and AdSpy tries to address their concerns.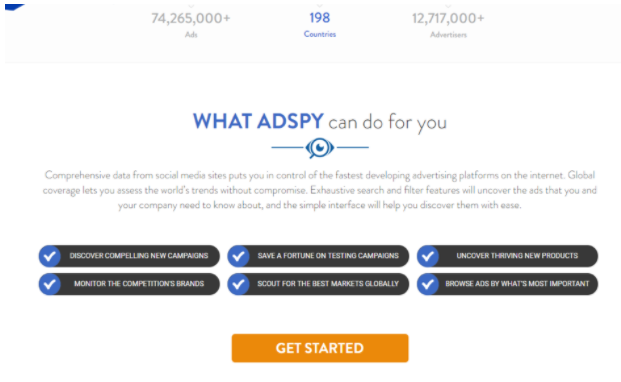 4. AdSpy Pricing + AdSpy Coupon Code
The good news is, AdSpy is not the priciest Ad Spy Tool in the market. For $149 a month, you can enjoy all the goodies that come with this powerful Spy Tool.

Sell the Trend is a new dropshipping product research tool that helps you to find winning products with its various tools. One of its biggest feature is that it contains almost product research tools covering the most popular wholesale websites.
NexusThis is a powerful product research tool inside Sell the Trend. It shows the Hot Products, Trending Products, On the Rise, New Products and All Products.
Dropship Product ExplorerIt filters products that are sold on High Traffic Dropshipping stores today. You can filter by niche or keyword and discover Trending, Hot and Recently published products.
Shopify Store ExplorerCall by its name, it helps quickly research the hot and trending products for you that are sold on Shopify stores with ranking. They are ranked by how successful they are at picking Hot selling trending products.
Facebook AD ExplorerThis tool helps select the trending products that are showing on Facebook.
AliExpress Trend ExplorerIt's plain to see that this tool is to analyze products on AliExpress. It shows the real sales trends that you can rely on to filter products.
Amazon Trend ExplorerThis tool will show you the hot products, hidden gems , and new stars on Amazon at the moment. And it will show you the trend points of each products, which is more vivid and simple.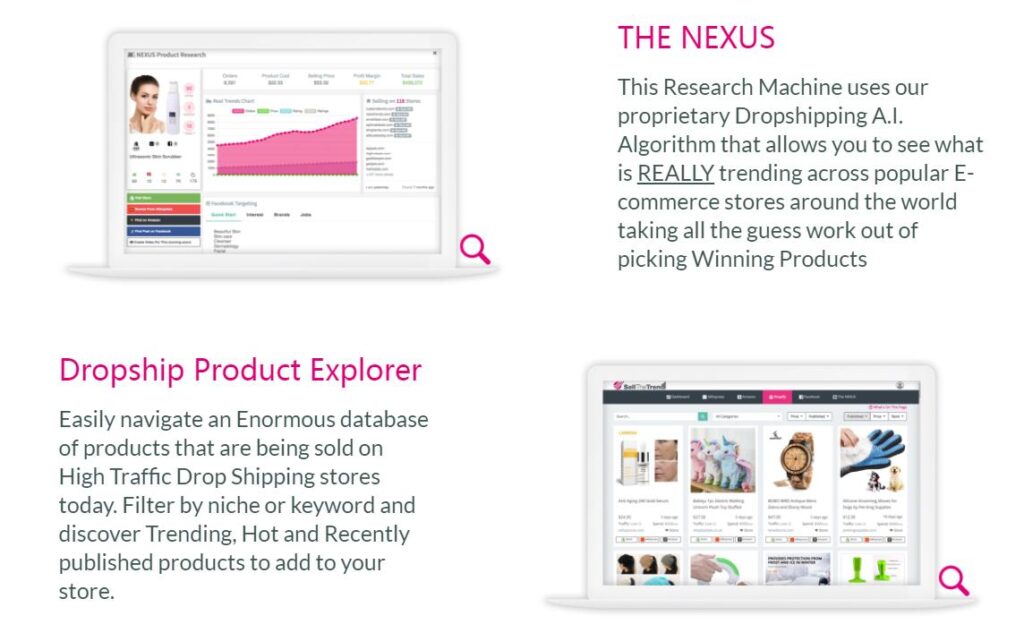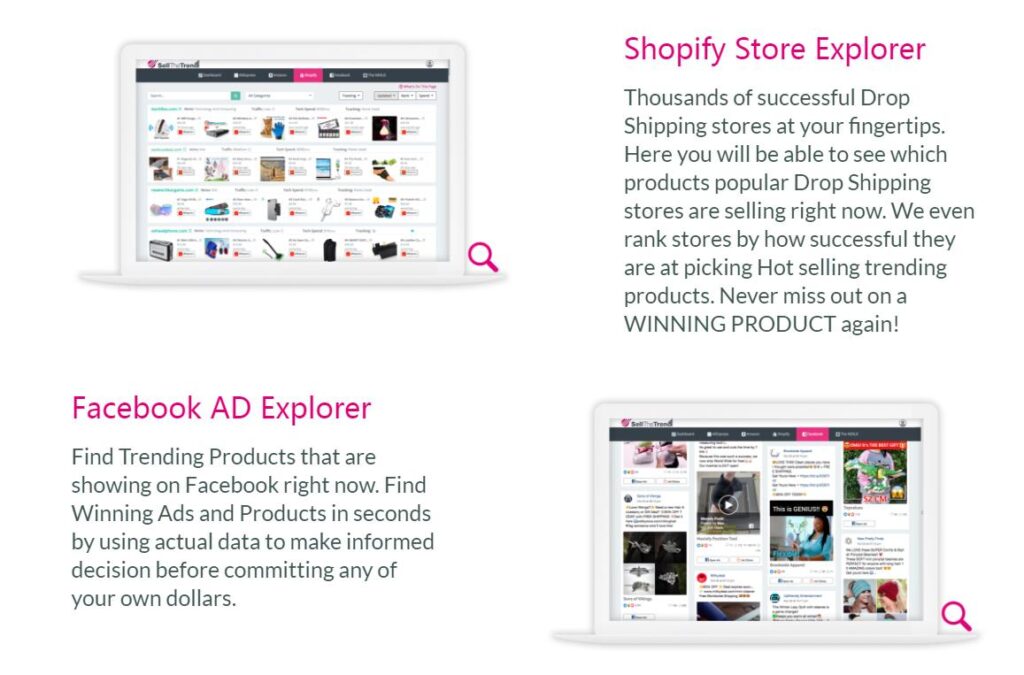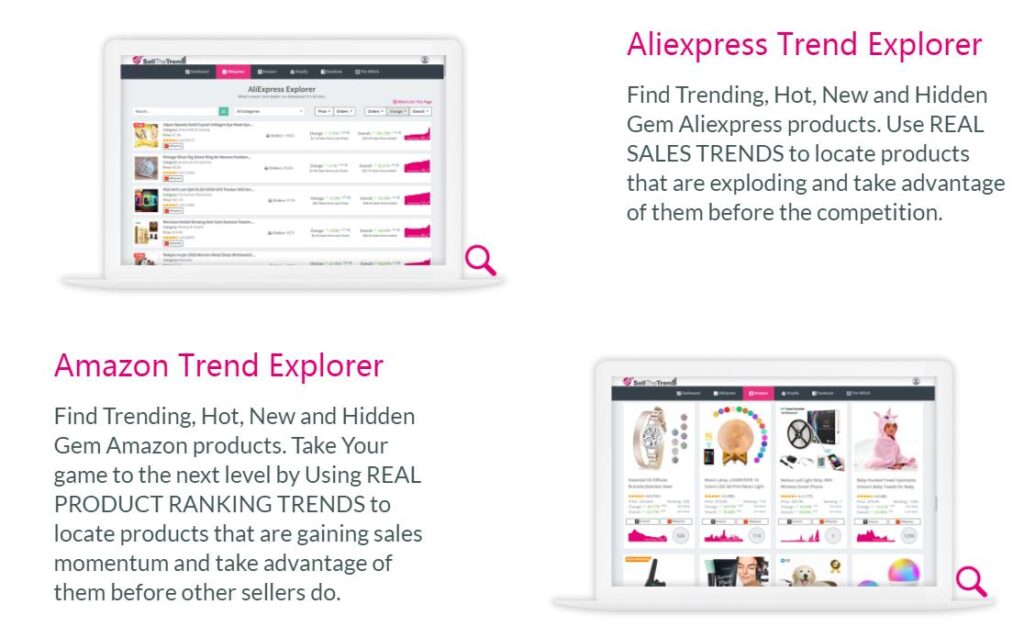 Ecomhunt is quite friendly to new beginners with dropshipping, which will add new winning products each day with suggested selling price, video ad, targeting and other information. This tool helps you with various things which is related to the product you want to sell.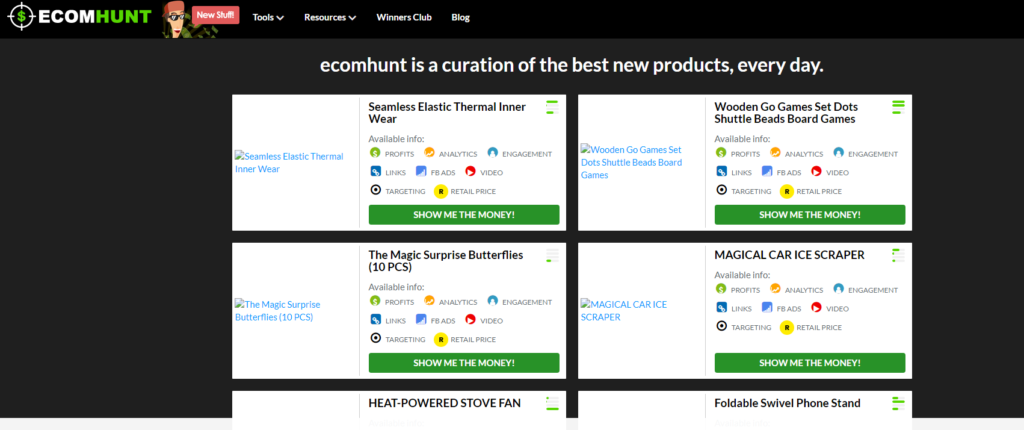 There are four tools in this websites which will offer you different services.
Ecomhunt ClassicThis one is a traditional hand pick research on winning products.
Ecomhunt LiveThis one is to find the trending products that they are updating in real time.
Ecomhunt LuckyIf you are not sure what to start with your career, this one will help discover the winning products under radar based algo.
Ecomhunt TrackerThis one will track the performance over time and monitor sales to find the next big opportunities.
As mentioned above, Ecomhunt is available to tell you a lot of information about the products you are interested in, like your profit and cost on the products, total stores selling the products, its further analysis and more.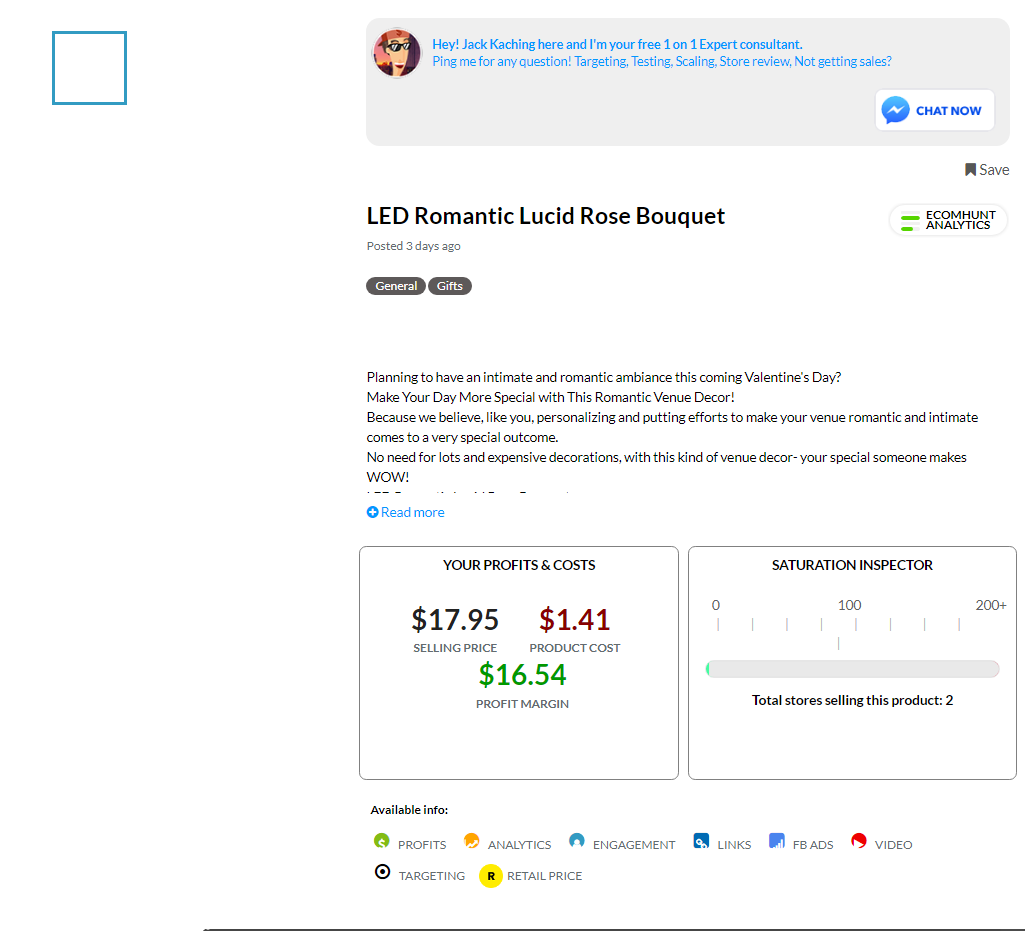 FindNiche is a tool that gives you a list of best winning dropshipping niches. And it mostly focuses on AliExpress and Shopify. It provides you with the most profitable dropshipping niches in a daily basis. It helps analyze the products on AliExpress and Shopify and helps compare stores selling the same products.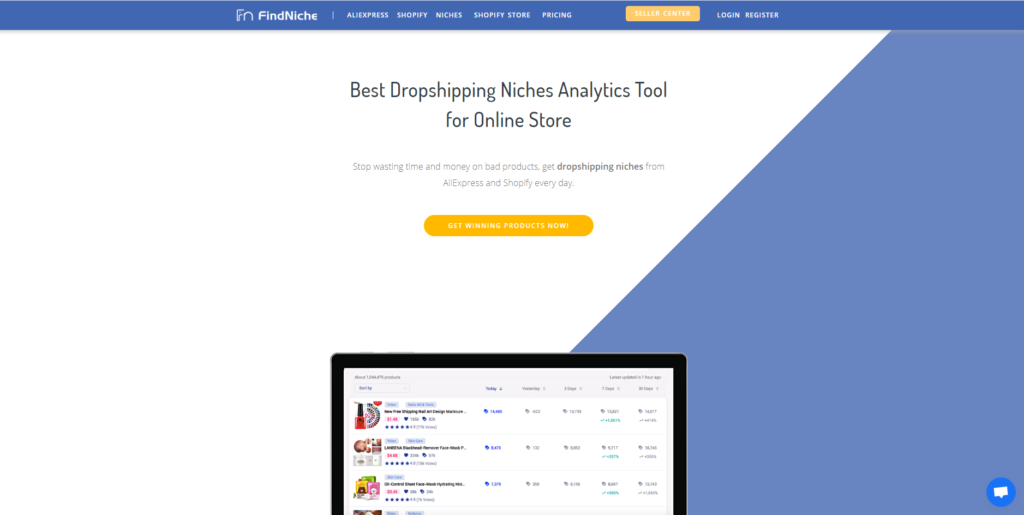 You can choose to find your winning products with your own demands.
On AliExpress, it is commonly filtered with categories, top country, total order, order 7 days growth. And you can choose more tags for further comparison, like if it is sold on Shopify, if it is with a video, if it receives payment through PayPal and etc.
It is much less on Shopify, with only basic filter about categories, top countries, ship from, 7 days order, price and competitiveness, as well as tags that is similar with AliExpress.

You can also search the top ranking Shopify Stores selling the products that you are interested in. It will show you its target country and the trending about ads in 30 days.
Unlike the other product research tools, D-Nicheur is special for its testing on products. It helps test products for you as well as provide you with the winning products that has ready-to-use video ads and other data you need about the products.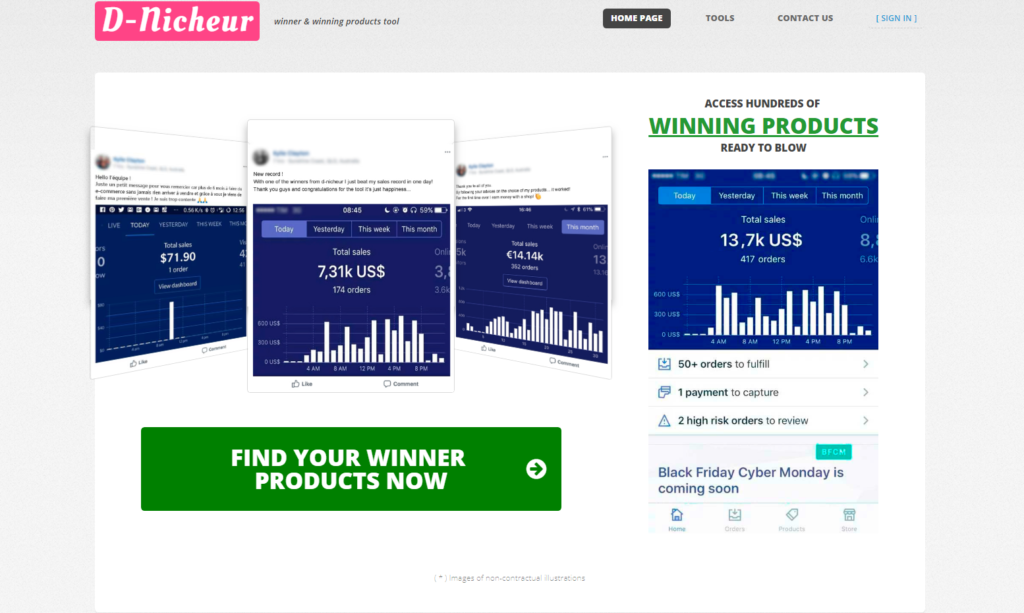 You can choose to search your products with its "Free Google Research Tool" or the "Search AE product by image". And it will analyze the product for you.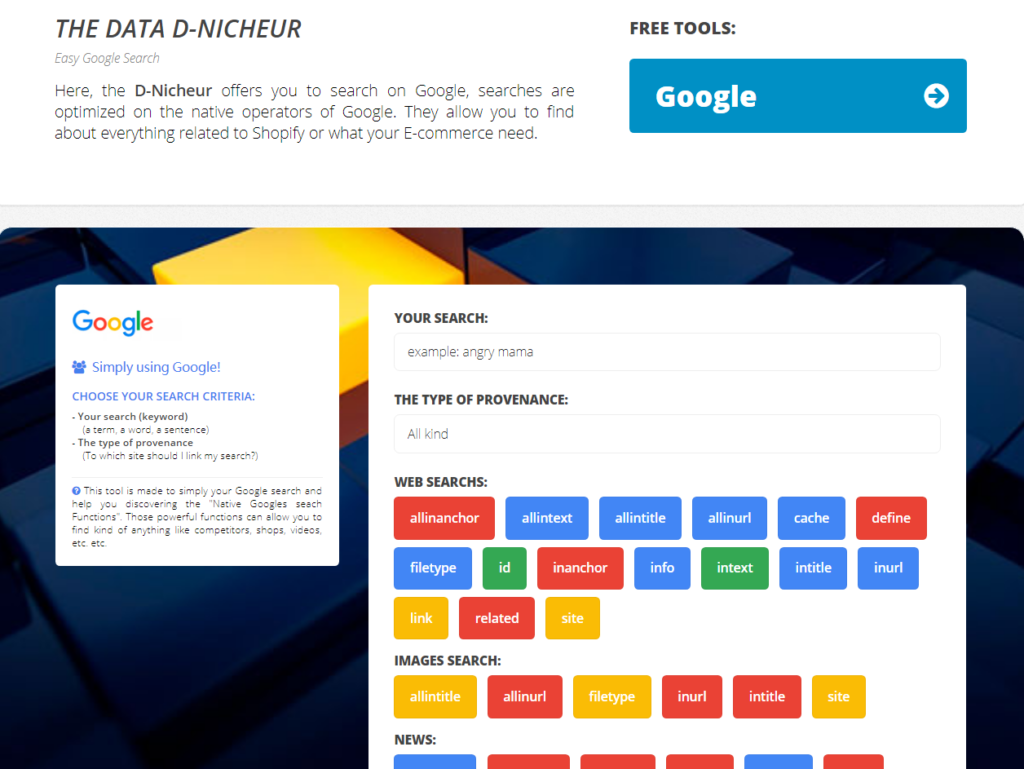 ProfitBusters is a research tool about Print on Demand, which reveals top-selling designs from POD stores. It shows you the latest and greatest designs that are currently selling successfully and helps implement similar concepts on your products.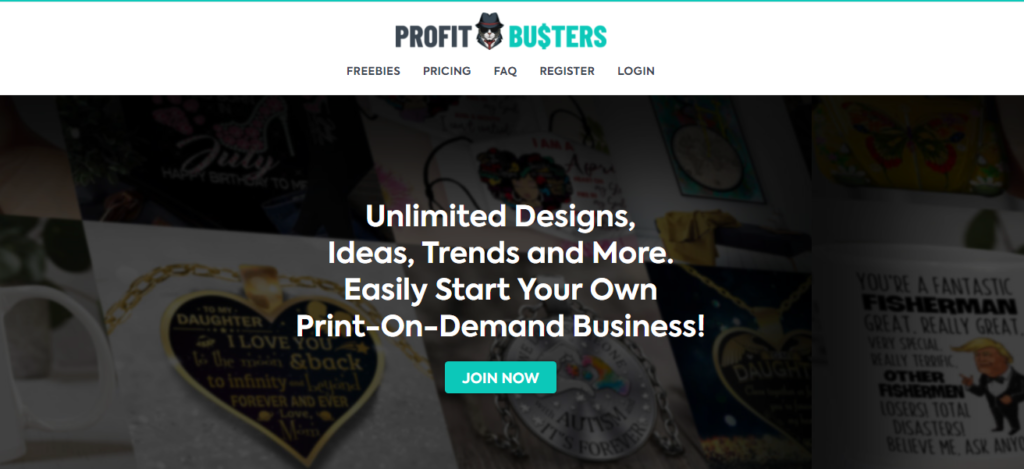 It helps analyze the product design, gives you product links, shows you the google trend about the product, offers you an estimated pricing and gives you some facebook targeting suggestions. If you are about to build up your own brand or interested in Print on Demand, ProfitBusters will help you a lot.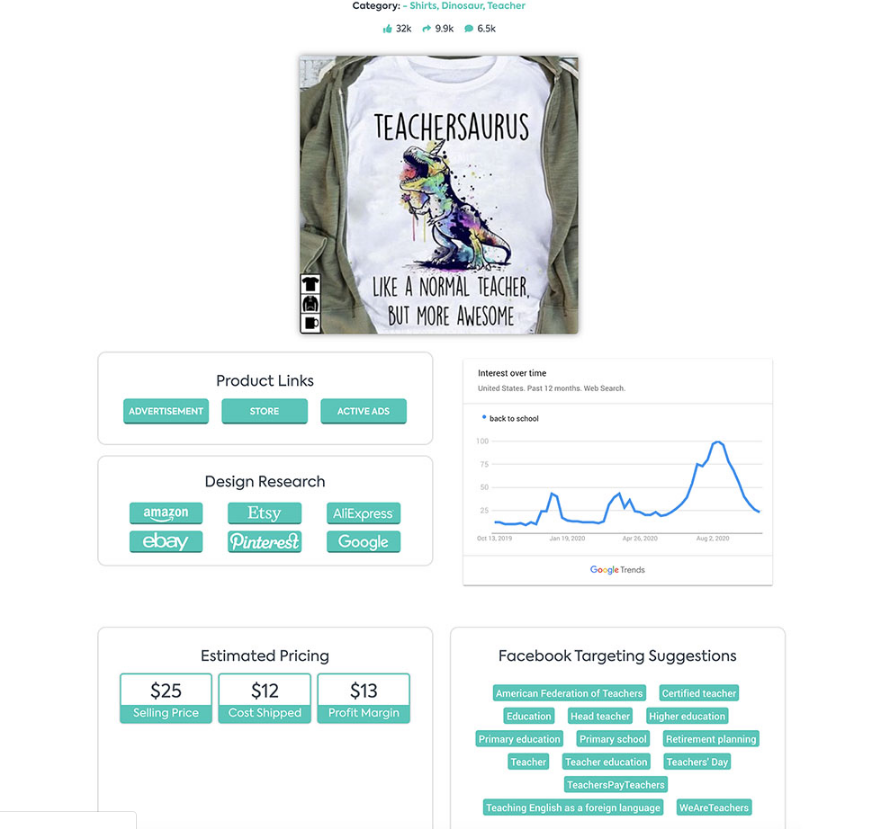 Pexda is one of the oldest tools on the market for getting winning products, and you can use their winning products list to find pop-ups. They offer Facebook ad copy. You can also discover the right target audience for each product.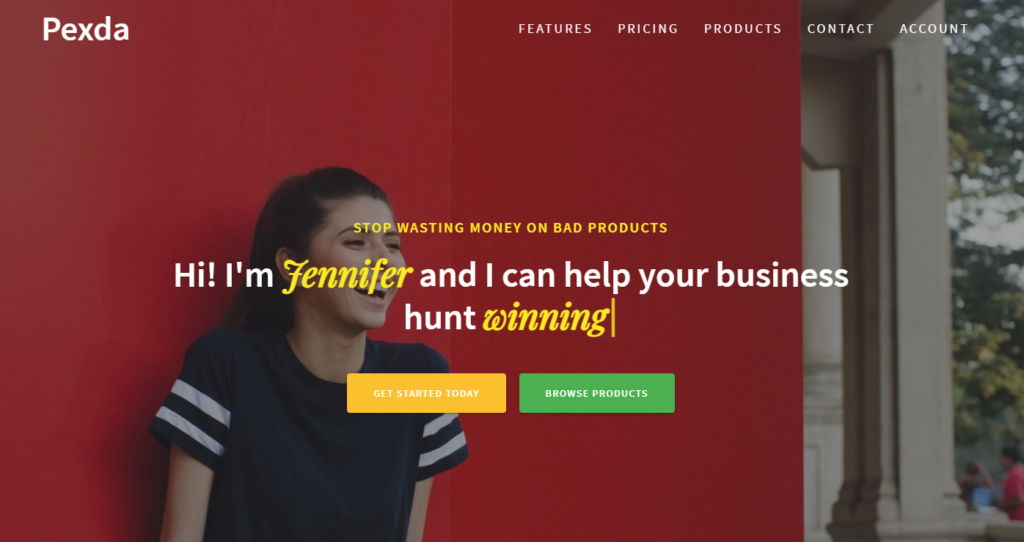 Actually, Pexda is a new way to look for the products you want to sell on your Shopify store or on Amazon. You can hunt winning products simply by using Pexda and earn good revenue form that products easily along with rocking in the market.
Features: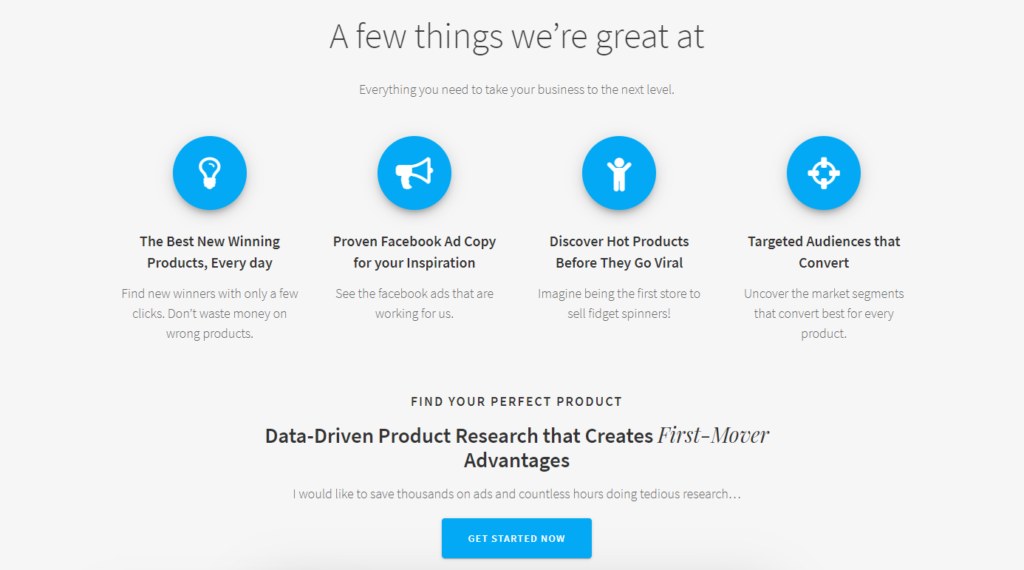 The Best New Winning Products
It just takes few time to find new winners with only a few clicks.
Proven Facebook Ad Copy for your Inspiration
You can see the facebook ads that are working for us.
Targeted Audiences that Convert
Uncover the market segments that convert best for every product.
Discover Hot Products Before They Go Viral
Before other store find the hot products, you can be the first store to sell fidget spinners!
Products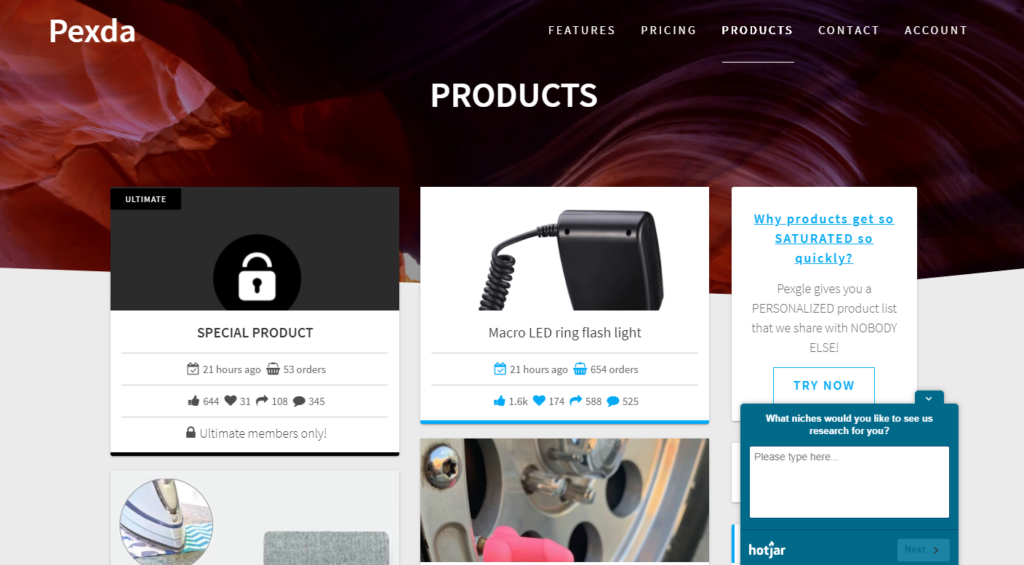 No doubt starting you own dropshipping store and don't know what to sell is really a haunting dream! So with this platform, Pexda they will provide you products that might be the winning products. And the best thing is that they also have the product that has already tested and is also getting engagement.
Now let's take you closer to efficiently using this tool in our Pexda review. You can see the Niches in the right panel of the page once you land on Pexda . This is updated regularly by their team and you keep on getting the new products. So, it's easy to use and quite intuitive.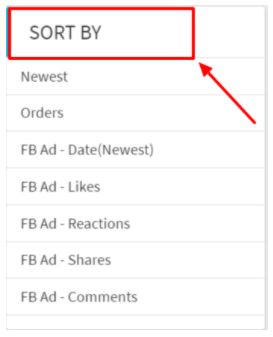 You can even sort the products on the basis of number of orders, newest added in the list and more and engagement by other marketers on Facebook.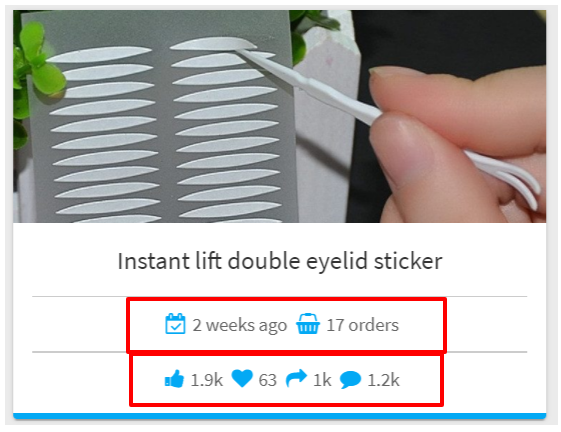 In this picture you can see that the details of products including the number of times it has been ordered to, , number of likes, comments and the time when it was uploaded. This helps you select the right and potential product.
Pricing
Basically, they come up with three plans and these plans are listed below: Standard,Premium and Ultimate.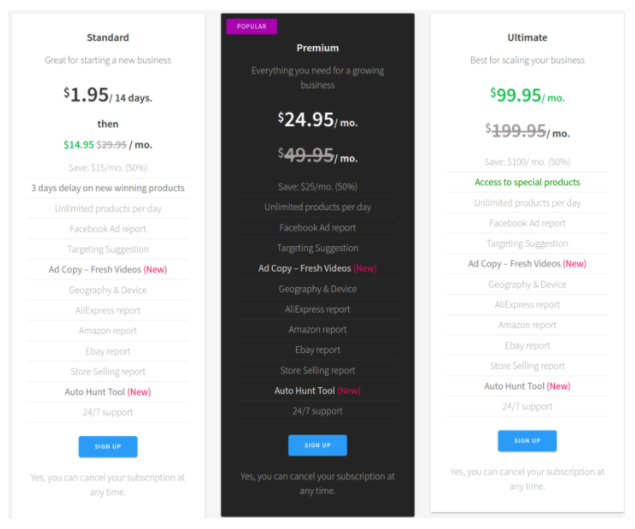 Pexgle is a recently launched product by Pexda that provides you with information on the hottest and most popular products you can use in your business. To start with Pexgle, you just need to copy the web link and paste to Pexgle. Then it will analyze the post for you.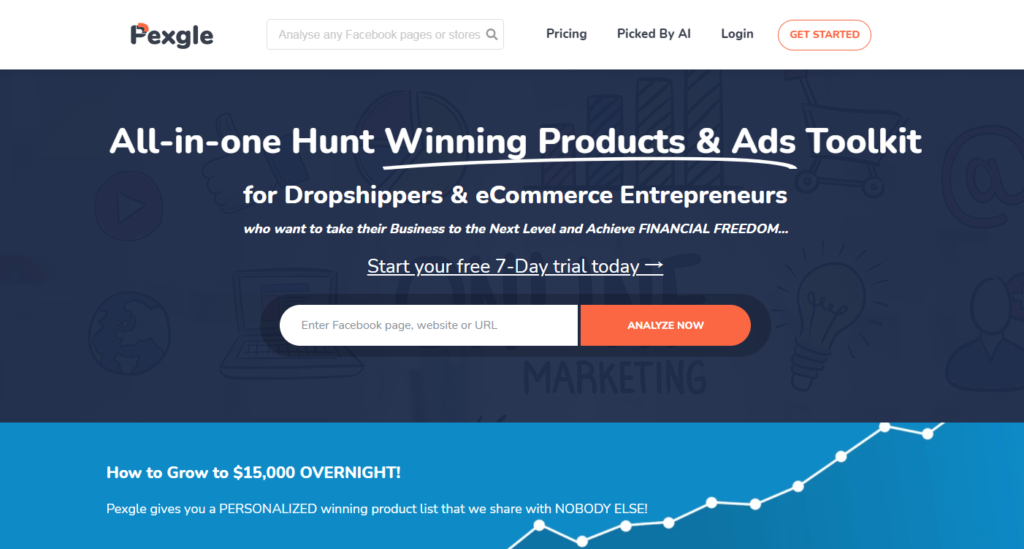 After you finding the winner and by that time every store owner would have started promoting the product and that product would have saturated in the market.
The only solution for this is to find the right winner at a right time. After analyzing over Million Stores, Pexgle has the largest data of drop shipping stores around the globe. Let's see what Pexgle does.
Three things which will make you achieve your 6 to 7 figure income is Winning Product Research, Top Performing Ads Research & Social Media Monitoring of top drop shipping stores or your competitor. This can be done easily via Pexgle.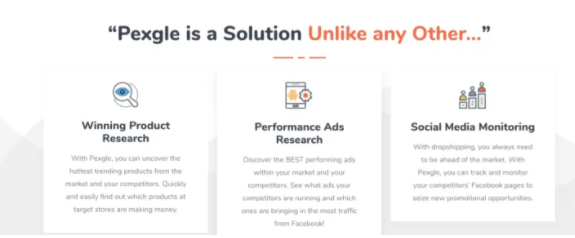 Pexgle Dashboard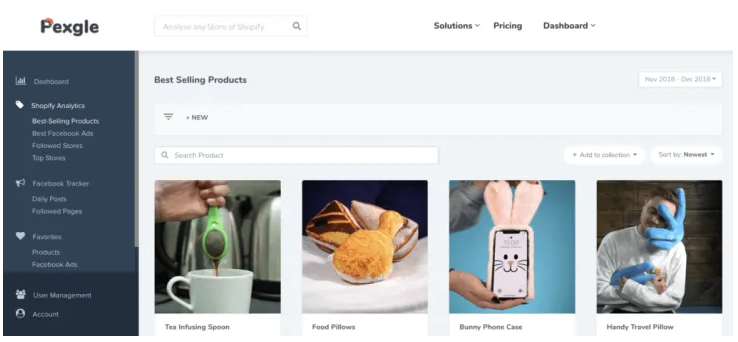 This is how the dashboard of Pexgle looks. After creating your FREE Pexgle Account, Log in to your dashboard and it will ask you to add your favourite Shopify store or your competitor store.

If you don't have any favorite Shopify store, Don't worry. Here is a list of 100+ Top Shopify store for you. Pick your favorite and add them to the dashboard.
Pexgle also have a top store section: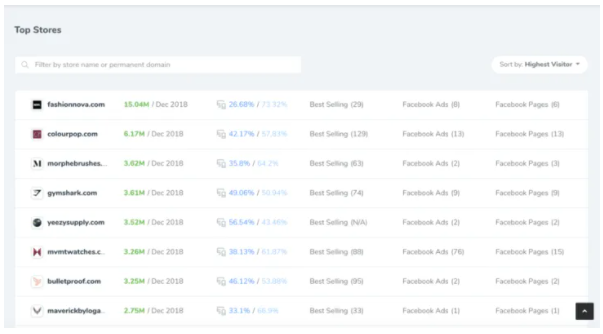 Once you finish adding the store, Pexgle will start fetching all the details about the store. Sounds cool right? They will get all their Facebook Insights, Product Insights in a cool report.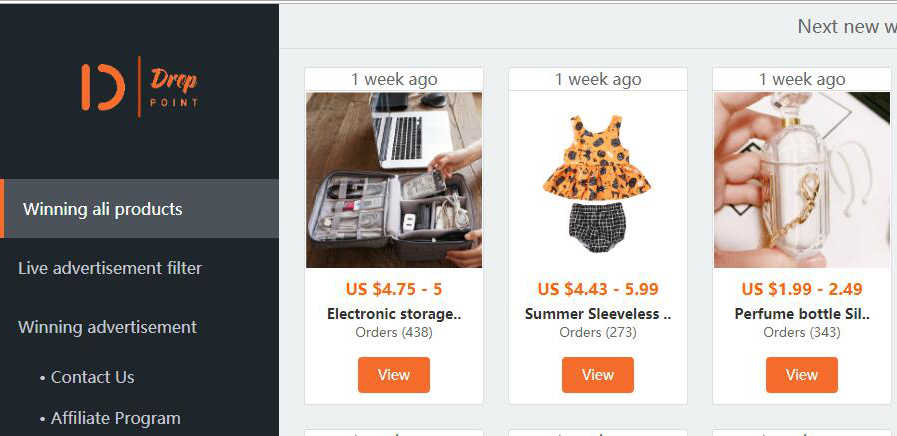 Drop Point directly displays the advertisement about AliExpress winning products and winning ads. Type in the keywords, page name, and then choose "order by value" and "order by ratio". Get all the details you need, it will filter out the winning products you favored.
All Factor is an e-commerce competitive analytics platform where it aggregates billions of valuable e-commerce data from Shopify, Amazon, Walmart, Etsy, and many other channels. They provide millions of data insights to help you understand the entire market. Till now, it is monitoring over 1,300,000 top Shopify shops.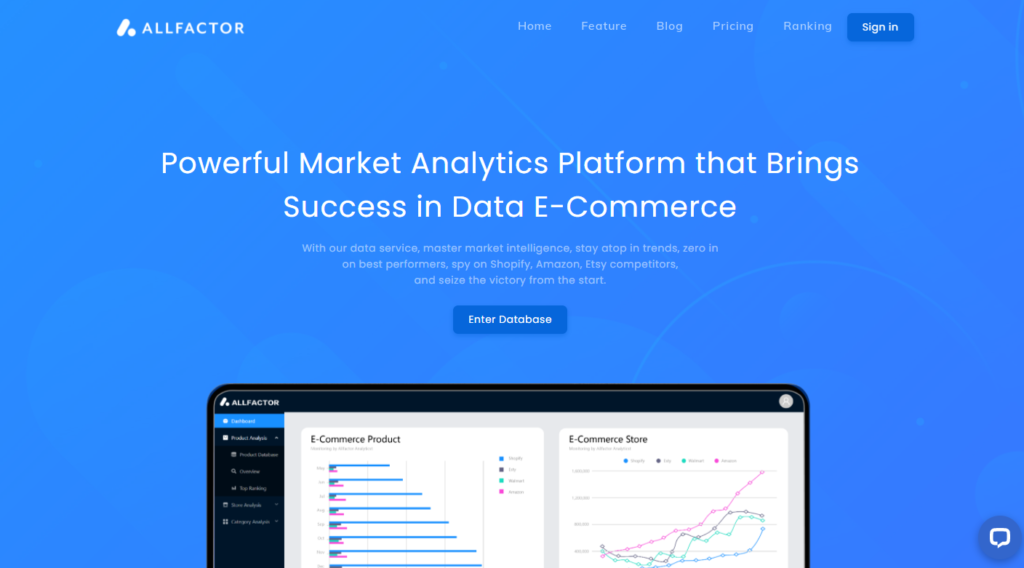 Let's see what he can do for us.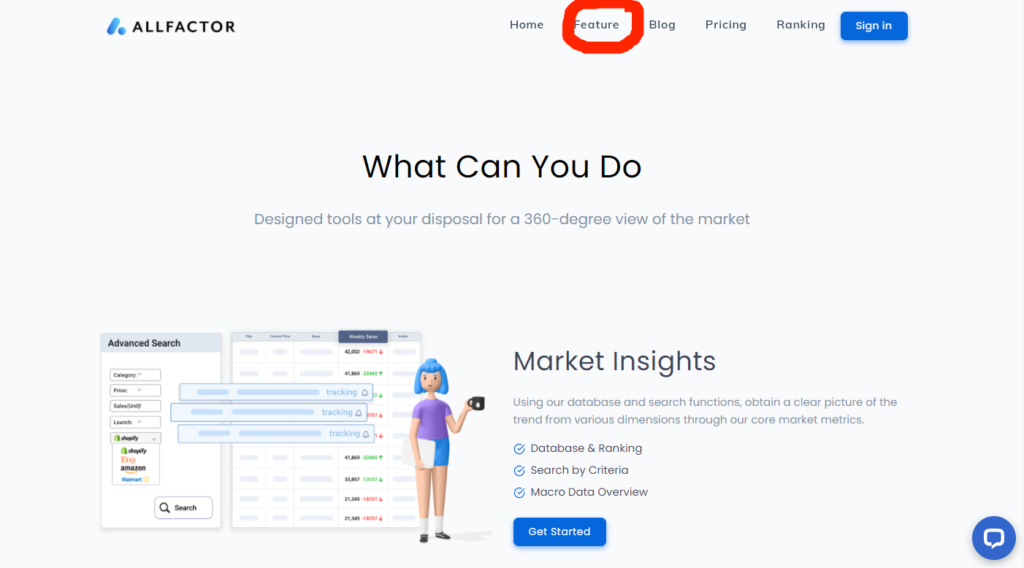 Market Insights
Using database and search functions, obtain a clear picture of the trend from various dimensions through core market metrics.

Advanced Analytics
Take a deep dive to gain a profound grasp of the market aided by graphs, tabulations, comparisons, and trend lines.

Real-time Tracking
Enabled by proprietary algorithms, you can closely monitor the changes in your selected variables overtime, with just a few simple steps.

Exploding Topics is a new piece of software. The aim of the software is to provide you with ideas for content based on topics that are, or are about to become more popular. It scans a variety of sources for new information and picks up on current trends. You can then create content around these trends, ideally being one of the first to do so. It's super convenient for creating SEO and social media content.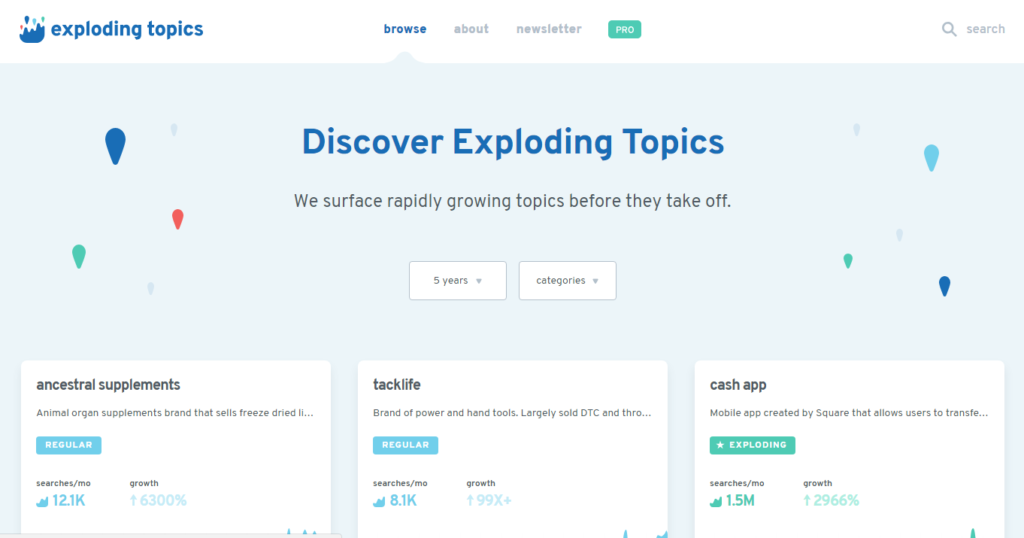 How to use Exploding Topics
Exploding Topics put each topic into one of three categories.
Exploding – the topic is hot at that moment in time.
Regular – this topic has gained good traction over a period of time
Peaked – topic seems to have reached it's height and is in decline
It also provides you with a graph of its performance over a selected period of time.
Filter by period of time, subject category or both. If you want to know about marketing topics that are potentially going to blow up, pick the marketing category. If you want to know about business, choose business. You can see just how explosive it is becoming via the change in searches per month.
Hashtagsforlikes curates popular hashtags in different categories. While their specialty is Instagram, you can use the hashtags curated to search on other social media sites. You can either search for a hashtag using the search box or go with the drop-down on the home page. Alternatively, you can go directly to the categories. You will get a list of popular hashtags in each category here.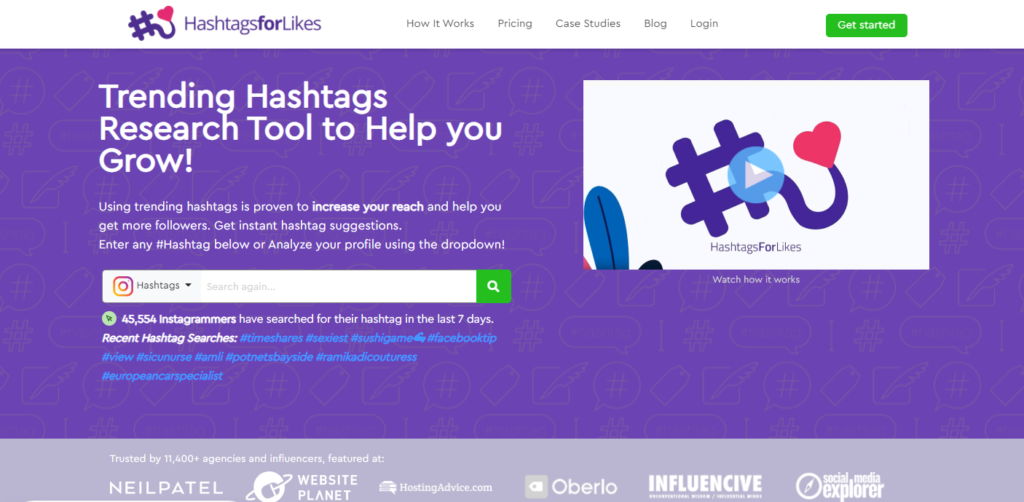 How it works
Target your audience
Search Instagram competitors, influencers and hashtags you'd like to target. Using built-in analytic features, it make it easy to identify statistically compatible tags to use that are going to give you the biggest exposure.

Track, measure and curate
Tracking your Instagram profile to measure results based on your used hashtags allow you to see what's working. With curate feature you can create test groups, and save hashtag sets. This increases your exposure to new and real users daily.
Grow your profile organically
By using unique hashtags that are tailored to your profile or post, you will set a precedent that will allow other users to find you easier, increasing your exposure.
Watch Count is the number of viewers or 'watchers' of the product. This helps you discover products that have attracted the most interest. From the most 'watched' products, you can get ideas on how to expand on your initial product. Make a list of popular products and those you think you can combine into one product.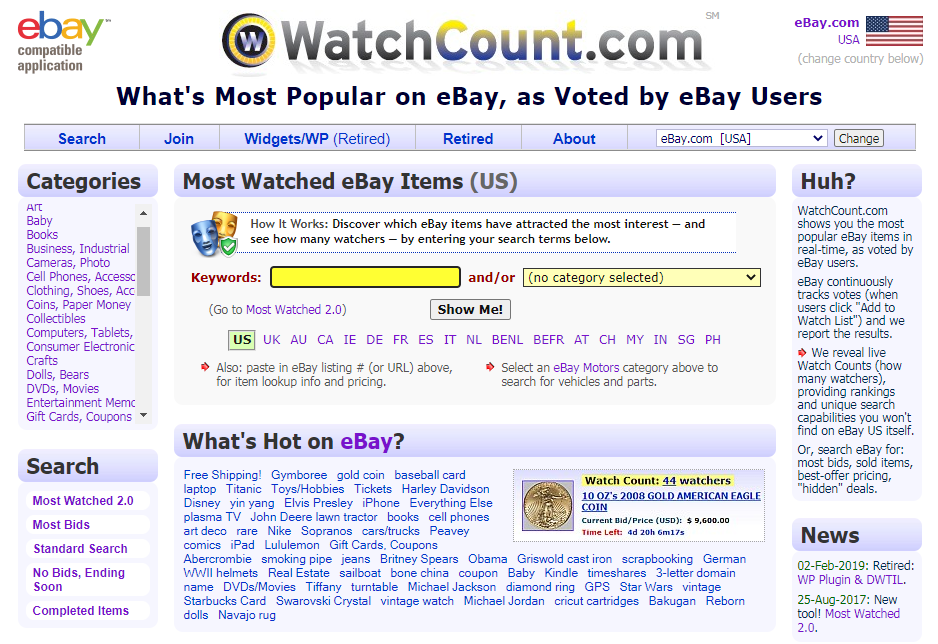 WatchCount's website isn't complex, divided into Categories, Search, Most watched eBay items, What's hot on eBay. You can look up not only by category, but also by country.

Jungle Scout is the number one tool I recommend for Amazon product research. Before you can use Jungle Scout, you need an account. When you have set that up, click on Keyword Scout on your member menu. Type in your product idea. You can specify a category if you want. The 'exact match search volume' is the search volume of your product. This shows you how many people are looking to buy it. You'd also see similar product ideas below with search volume for each of them.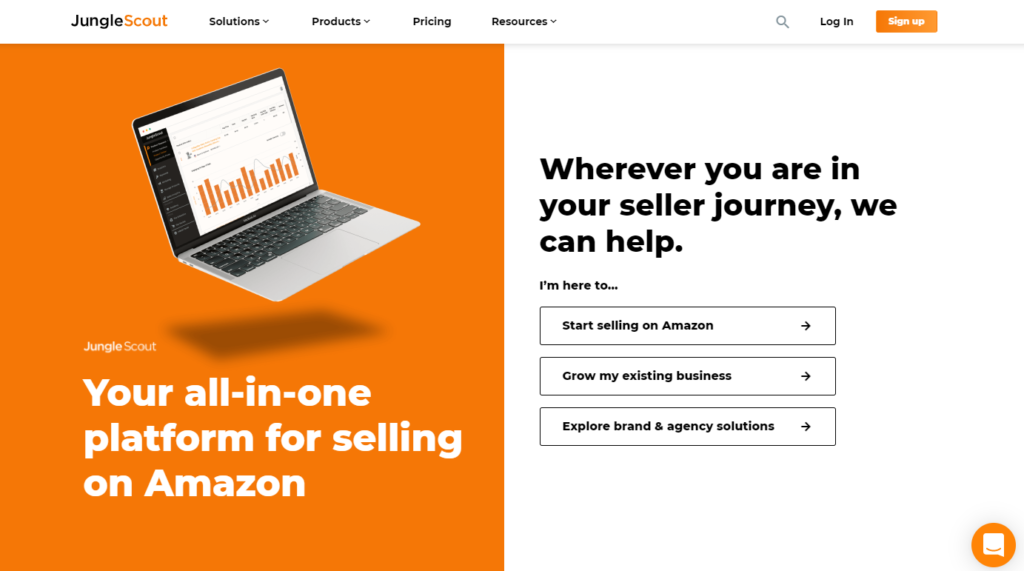 What kind of seller is Jungle Scout for?
Whether you are a new seller or an experienced seller, you should use Jungle Scout. Jungle Scout is the best product research tool for Amazon FBA sellers.
What functions does it have?
Product database
The product database is one of the best features of this tool. Using this feature, you can choose any one or more of the 31 categories for research.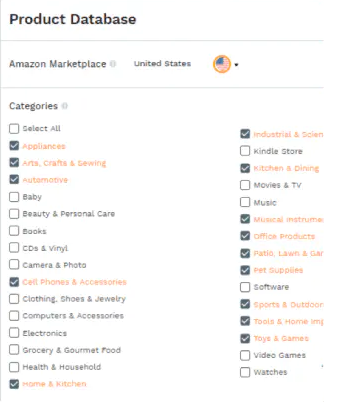 Product tracker
After completing the initial product identification above, you can add these Amazon products to your Product Tracker list. The data that you add to the tracking product is presented in a graph that looks very intuitive. You can track sales data for any product over a period of 7 to 60 days.

Opportunity finder
Opportunity Finder helps you explore more blue ocean markets. It's a must-have in finding hot style.
Niche Hunter
Niche Hunter is one of the most powerful features of Jungle Scout. Once you know what Niche Hunter is, you'll be able to set your own filter in less than 5 seconds.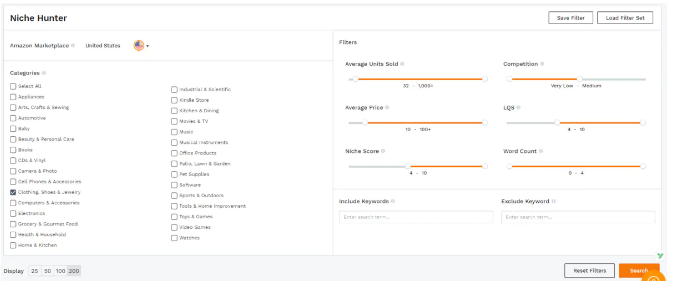 Google can sometimes feel like a black box. You put money in, results come out, but you don't always know what's happening behind the scenes. That's why mid-market and enterprise brands are turning to search intelligence platforms like Adthena. If you find numbers like these impressive and you'd like to start dominating your market landscape, contact Adthena to see what Adthena can do for your business.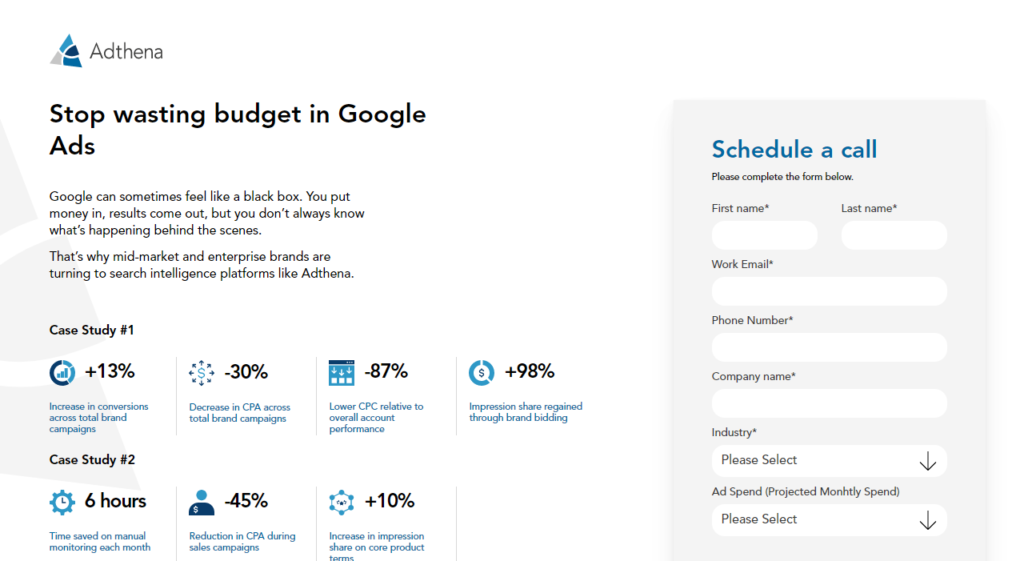 Drive better value from paid search
As the market leader in search intelligence, it go far beyond what Google Ads tells you. Partner with Adthena to see every market shift and competitor move, then shape your strategy for success.

Local View technology
New market-leading technology shows you what your audiences are searching for by location, so you can stay ahead of competitors, maximize ROI and acquire customers at a local level.

Market-leading technology and Human understanding
Through a unique combo of unmatched automation technology and world-class expertise, Adthena help you drive more value from your PPC budget, from maximizing ROI to reaching your brand potential. And they love seeing that happen because your success is success of Adthena.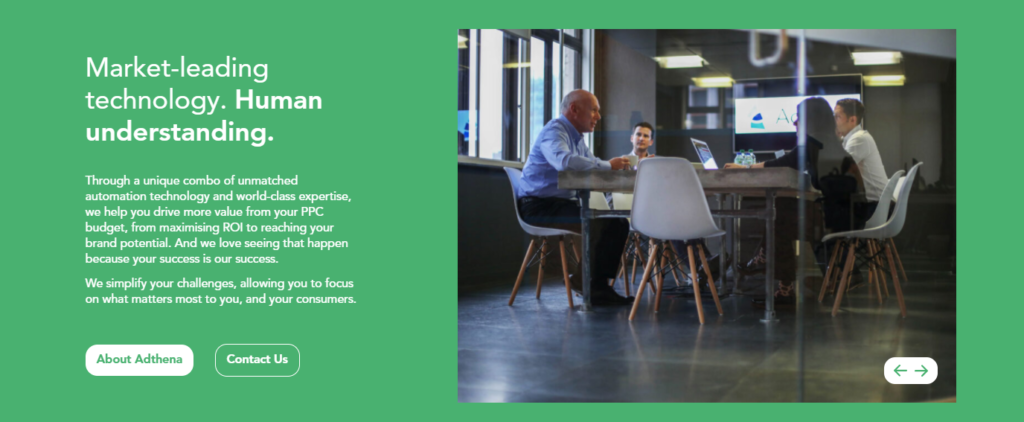 Hope you find our article helpful for your importing from China. If you have any questions about product research tools or any suggestions, just leave on the comment. Thank you for supporting.