Due to the COVID-19 Pandemic, dropshipping business has been on the rise. While numerous sellers crowd into this market, most of them are selling without considering long-term results and benefits. But to the readers of this article, you have definitely surpassed most of your counterparts, and let's talk about how to make your business grow, with a brand.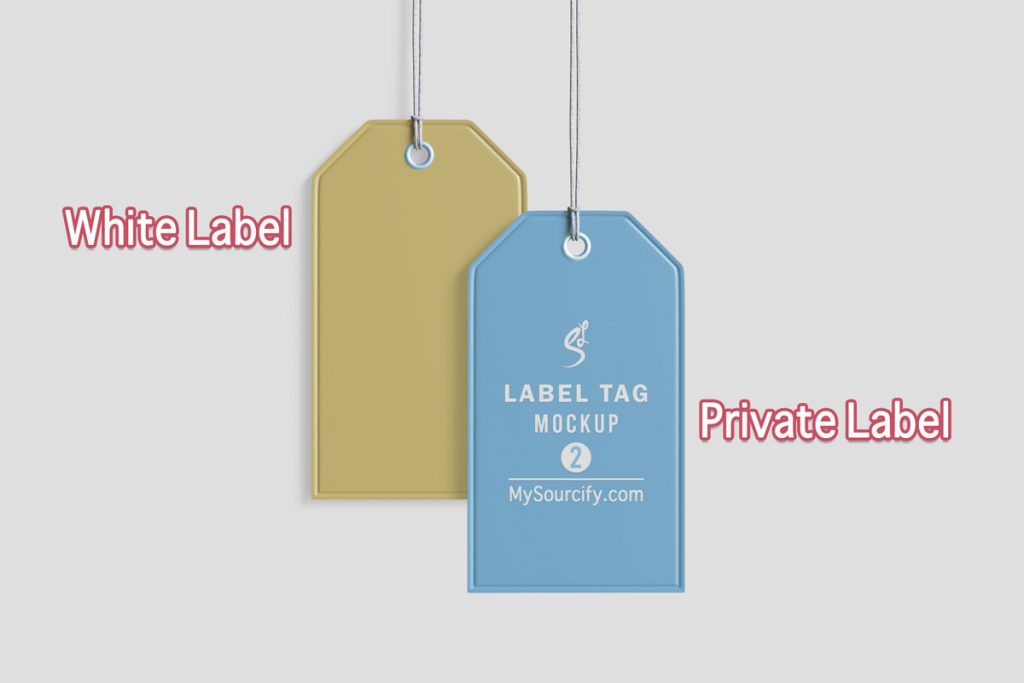 Before we start, ask yourself a question: are you ready for this? Are you ready to make your own brand? The reason why I am asking you this question is that branding is not just about a label. For new dropshippers, you can do branding by just printing a self-designed logo onto your product label, but to sellers who want to promote their own brand, this is definitely not enough.
What is White Label and What is Private Label?
In short, the "white label" refers to products with no label, and the "private label" refers to products with your own label. White label products are manufactured in general forms and provided to retailers to easily put their logo on them. Private label products are more like Print On Demand products, which means factories manufacture the product in your requested configuration.
Let's take bottled water as an example. You may have seen bottled water labeled with the logo of a supermarket or convenience store, which seems pretty much alike, and those are actually white label products. Whereas water from maybe the same plant, can be customized on taste and mineral ingredients, and they are labeled with a well-known brand.
What are the differences?
White label products are most likely to be:
Pre-manufactured in the default configuration
Retailers cannot make changes to the product itself, but can customize the labels
Private label products are most likely to be:
Manufactured only when the brand owner places orders
Manufactured according to brand owners requests
What are the Pros and Cons?
From the above characteristics of white label and private label, it is easy to find out.
White label
Pros:
Easy to find manufacturer and product
No worries about shortage of goods
Fast adaptable, only need a logo or label
Cons:
Cannot shift the goods design or configuration
Products more generic and may not be exclusive among your competitors
Private label
Pros:
Products are totally manufactured according to your demand
Setting up your own brand in the long term
Cons:
May be time-consuming to find a satisfying manufacturer
Usually require a large MoQ to start manufacturing
May take longer time to process
May experience shortage upon fast scaling
When to Start White Label or Private Label?
In most cases, dropshipping products include no branding and manufacturer information, and customers may only see product information when they get it. Whenever you have aroused awareness of establishing your own brand, it is time for you to start white label dropshipping. As it is easy to get in and find manufacturers doing white label, you only need to design your brand name and logo to get started, which is very friendly to new dropshippers.
For private labeling, I would personally suggest you consider it only when you have scaled to at least 100 orders per day for your top seller. Private labeling is actually the second step toward brand establishing, as it will require you to focus more on the product, and how to make your brand different.
Other Tips on White Label and Private Label Dropshipping
1. Check the Quality
Same as your first time working with a new supplier, always be careful to check the quality of your manufactured white or private label product. The priority will always be product quality checking, and after that, you also need to check if it is made according to your requests.
Other than the product itself, shipping packaging is also one of the most popular customization methods. So if you have made any alterings on the package, you need to check if it is safe, complete, and looks good to your customers.
2. Check the Shipping
Before you put the product on your store shelf, you need to make more than one test order. It is important to make shipping with fixed shipping suppliers, so as to guarantee a stable arrival time. You may call on some of your friends in different countries around the world and let them help you check the test orders. Other ways may include reaching out to your loyal customers and having them help you try with the new product, or hiring professionals for assistance.
3. Check the Cost
It is best if your long-term supplier could apply to your white or private label needs, or you will need to find a new supplier for this request. This way, you need to take test orders to check the cost. Some suppliers may charge higher fees on shipping fees to some of the remoted countries, and some may not cover Tariffs at Customs Clearance. Take these into consideration, and find yourself the best supplier with lowest cost.
Conclusion
White label and private label products can be the essential way of building up your own brand. At your starting period, you may find white label products easy to access, while later when you scale up, private labeling will become your only choice. Choose your supplier carefully and take test orders to check the product quality, shipping, and cost.
If you would like to start white label or private label dropshipping, contact Sup Dropshipping right now, and our dedicated professional agent will help you solve every concern you may have!