Jiangmen City is another well-known city in Guangdong Province. It is a representative city of Cantonese culture. It is a central city of the west of the Pearl River Delta, adjacent to Zhongshan and Zhuhai in the east, Foshan and Yunfu in the north, Yangjiang in the west, and Nanhai in the south.
It has jurisdiction over 9,505 square kilometers and governs three districts, including Pengjiang, Jianghai, Xinhui, and four county-level cities, including Taishan, Kaiping, Heshan, and Enping. Jiangmen has a permanent population of 4.6303 million at the end of 2019. With a large population of overseas Chinese compatriots distributed worldwide, it has the reputation of "China's No. 1 Hometown for Overseas Chinese".
Many top brands in China originated and developed in Jiangmen City. And today, let's get to know them better.
Top Brands for Industrial Paint
Founded in 1999, Carpoly is a well-known provider of coatings and coating solutions. It's an enterprise focusing on the R&D, production and sales of architectural coatings and wood coatings.
With more than 20 years of professional experience in the coatings industry, Carpoly has always adhered to the concept of "making home beautiful," insisting on achieving a healthy home for consumers with low-carbon, environmental products. Carpoly has become one of the most popular paint brands among consumers.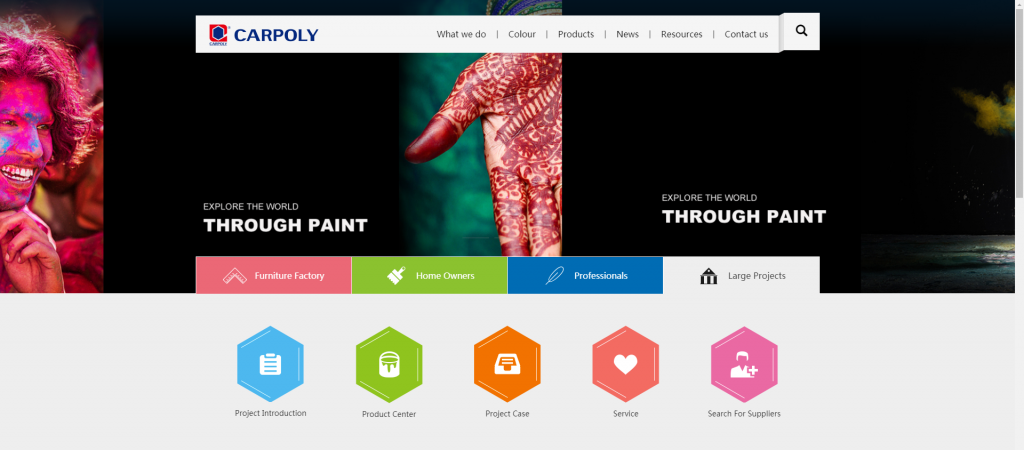 Founded in 1996, Flower King Waterpaint is a well-known brand in the domestic water paint industry. It's a subsidiary of Bardez Group, a modern industrial enterprise specializing in the research and development, production, and sales of building materials such as interior wall water paint and white latex.
Its products use twice-purified pure flavor emulsions, pure flavor additives, and related pure flavor materials as raw materials. The second purification is purer and has a safer quality and environmental protection.
The product series include interior wall water paint, exterior wall water paint, artistic water paint, wood water paint (water-based wood paint), waterproof substrate, and industrial water paint, meeting the needs of decoration users for wall decoration materials, and industrial construction for metal Anti-corrosion and anti-rust requirements.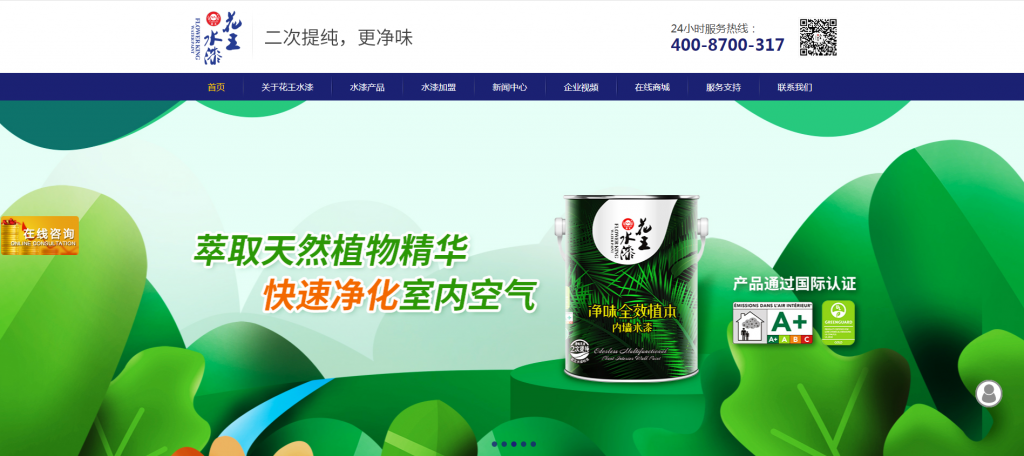 Bokang Coatings has focused on the research and development, and manufacturing of chemical coatings. It has maintained cooperation and frequent business contacts with many international chemical raw material suppliers.
To cooperate with the growth of the Chinese market, Bokang Coatings has five production bases, a sales company, two directly affiliated coating companies, and many coating branches. It forms a business model integrating R&D, manufacturing, sales, construction, supervision, and service of architectural coatings.
Jiangmen Yaguo Architectural Coating Co., Ltd. is a large-scale enterprise specializing in the research, development, and production of various architectural coatings.
Founded in Jiangmen City in 1996, VIT Paint focuses on the R&D, production, and sales of architectural coatings and wood coatings.
Cooperated with domestic and foreign operators, VIT Paint has established more than 1,300 business outlets all around the world. It is committed to providing low-carbon, environmentally friendly, safe, Reliable quality products, services, and solutions.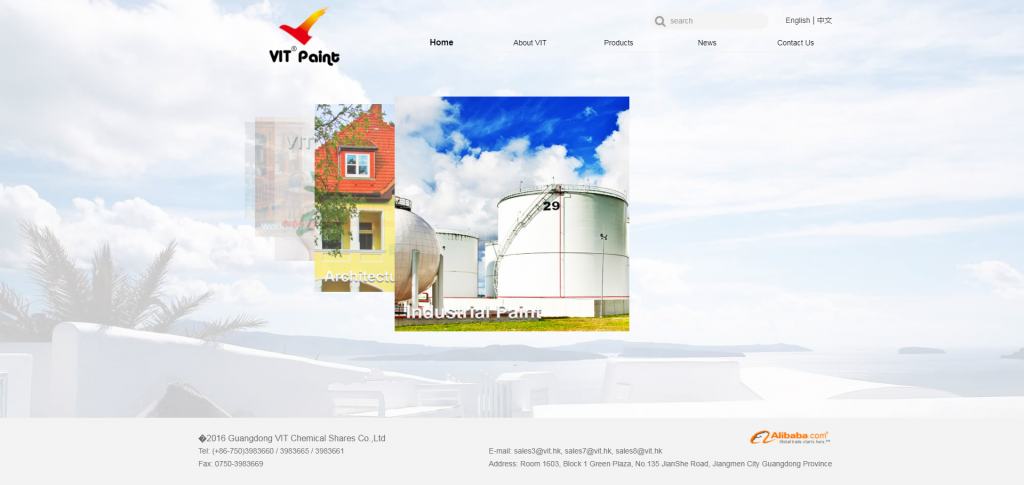 Top Brands for Latex Paint
Founded in 1998, Fortress is developing into a diversified enterprise integrating R&D, production, operation, and sales. It mainly produces architectural coatings, furniture paints, and industrial coatings.
Its research and development products cover artistic coatings, coil coatings, heavy-duty anti-corrosion coatings, floor coatings, runway coatings, etc., and the introduction of foreign technology, including military series, Tutewei products, Functional coatings such as polyurea. There are more than 60 series and more than 2000 varieties of products.
Fortress is known as the Chinese healthy paint brand. A relatively complete operation, sales, and service system has been established in the domestic market. The product sales network is spread all over the country. It has more than 500 distribution outlets and successfully developed overseas markets such as Hong Kong, Macau, Vietnam, Malaysia, and Africa.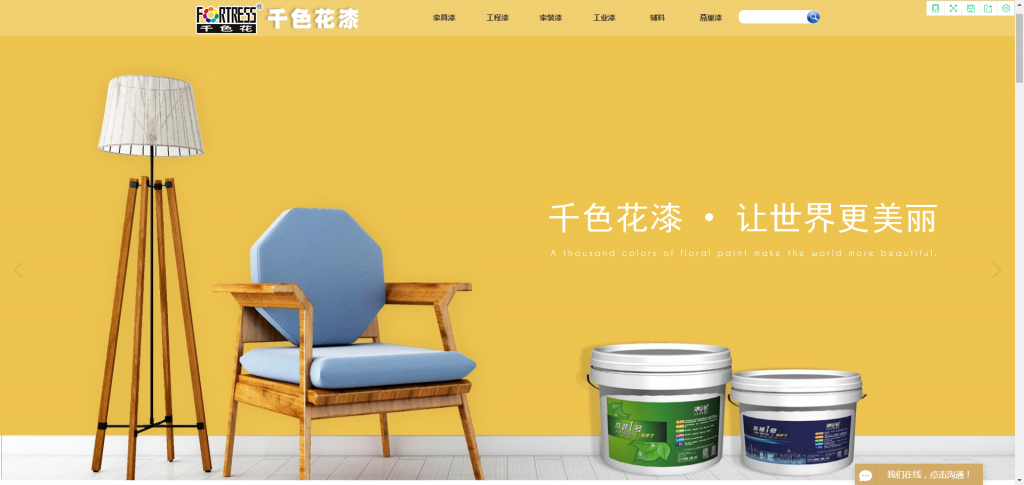 Shang Shang Paint is the top product of Guangdong Jinzhanhong New Material Co., Ltd., a professional coating company integrating R&D, production, and sales. The company's main products include decoration paint, furniture paint, architectural paint, artistic paint, etc. Since its establishment, the company has been growing rapidly for many years.
So far, companies and production bases have been established in Foshan, Guangdong, and Jiangmen, Guangdong. The sales network covers the national market and is exported to Southeast Asia, Africa, and many other countries and regions.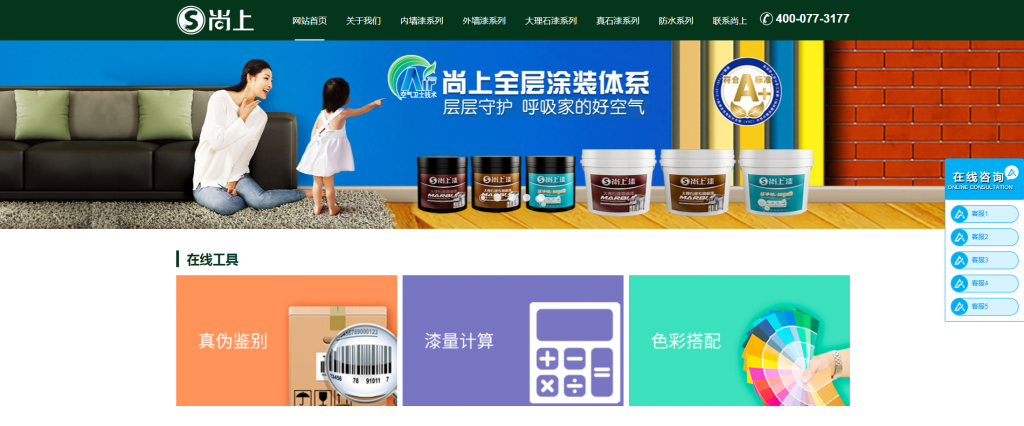 Founded in 1999, Mickey Paint is a modern enterprise integrating paint R&D, production, sales, technical support, and painting services. The company takes professional children's paint as its core.
Its products cover home improvement paint, furniture paint, art Coatings, and engineering architectural coatings committed to the concentrated scientific research of green environmental protection coatings technology innovation.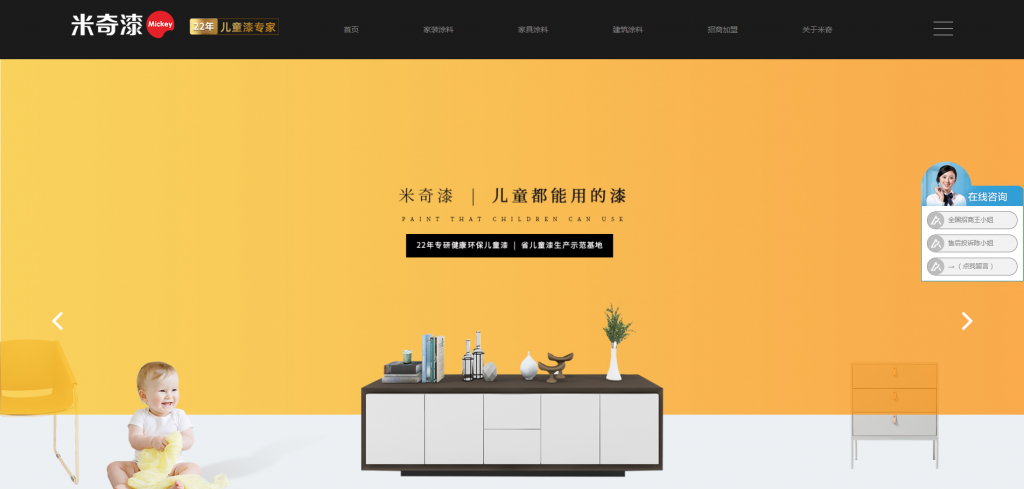 Tupei Paint was established in 2009, aiming to provide domestic customers with professional and high-quality coating chemical products and services.
Nowadays, Tupei Paint has a rich product line, covering: water-based interior and exterior wall paint, wood paint, Furniture paint, natural stone paint, water-based metallic paint, fluorocarbon paint, floor paint, special industrial paint, artistic paint, waterproof paint, etc., can meet various daily coating needs.
Top Brands for Sanitary Ware
Founded in 1992, Chaoyang Sanitary Ware is a large-scale high-tech sanitary ware enterprise integrating R&D, manufacturing, and sales. Products include advanced ceramic sanitary ware, intelligent sanitary ware, induction sanitary ware, bathroom cabinets, faucets, showers and bathroom accessories, etc.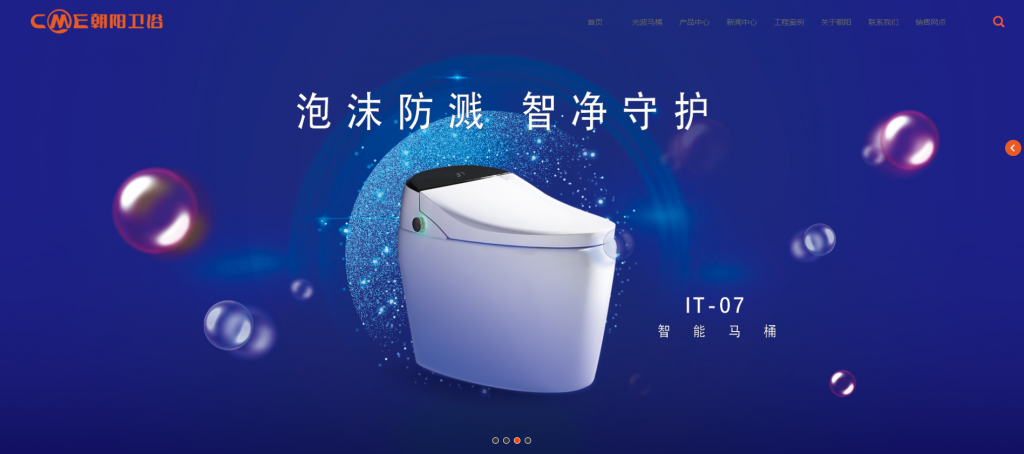 Founded in 1991, Huayi Faucet is a large-scale plumbing and sanitary manufacturer. It specializes in sanitary hardware, bathroom furniture, ceramic sanitary ware, and other kitchen and bathroom products. Huayi Faucet is committed to providing users with overall bathroom solutions, covering ceramic sanitary ware, bathroom furniture, bathroom hardware, shower rooms, etc.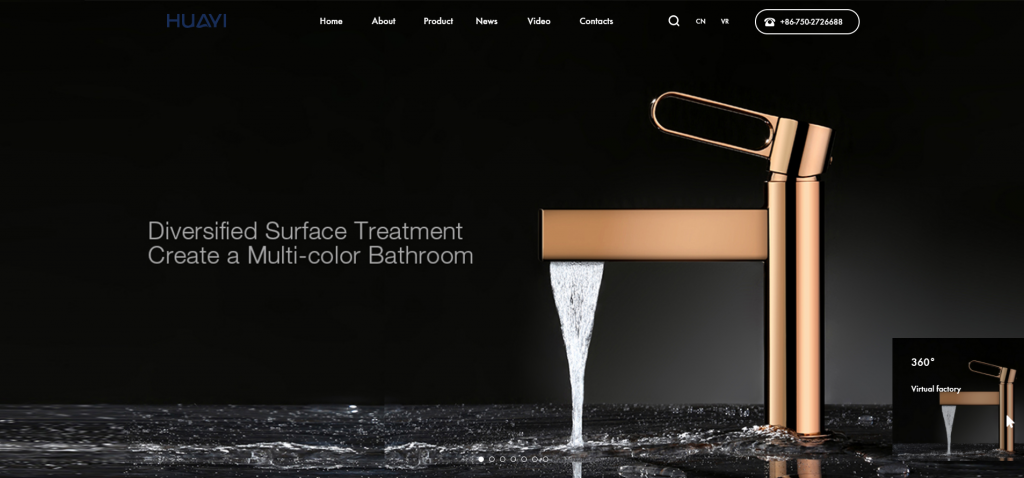 China Gold Sanitary Ware started in 1999, is a domestic sanitary ware brand with complete product categories, large scale, specialization, and humanity.
China Gold Sanitary Ware focuses on the R&D concept of quality and details to create high-quality sanitary products. Its strong production strength, superb technology, and craftsmanship have jointly cast the excellent quality of the gold medal bathroom.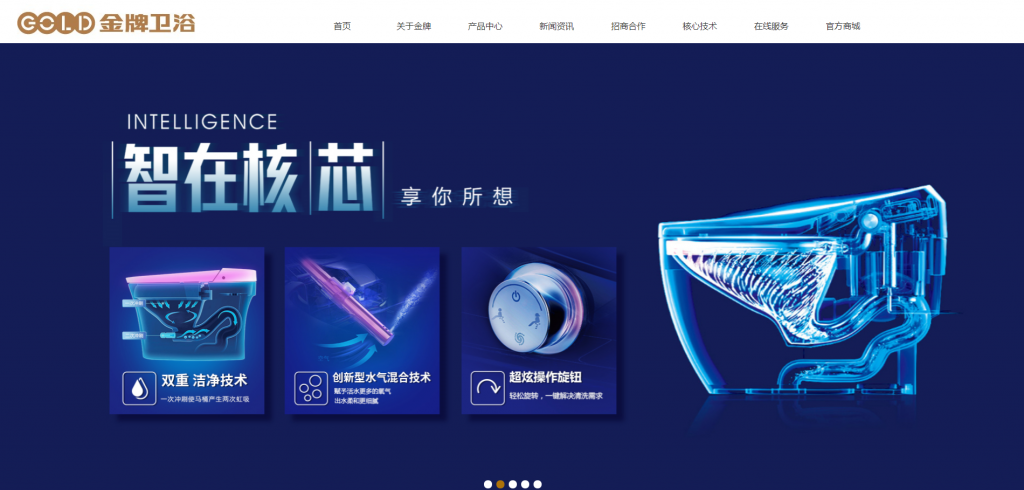 Aosman was founded in 2001. The "Seamless, Double Crystal Bright Clean Glaze" one-time molding toilet and water-saving toilet sensationalized the entire industry. It is a high-tech enterprise integrating R&D, design, production, sales of sanitary products.
Ausman Sanitary Ware has two production bases in Guangdong. The products cover ceramic sanitary ware, leisure sanitary ware, bathroom furniture, hardware faucet, bathroom accessories, and other sanitary ware fields.
HIMARK is a professional and comprehensive manufacturing enterprise focusing on developing, producing, and selling high- and mid-range sanitary ware and supporting products.
HIMARK mainly produces high-end thermostatic faucets, kitchen and bathroom faucets, bathroom accessories, and other products. As an ODM/OEM supplier of sanitary products, it has provided international sanitary ware companies with quality and price-quality services. Its products have won the affirmation of the market and customers with their sophisticated design, excellent quality, and considerate service.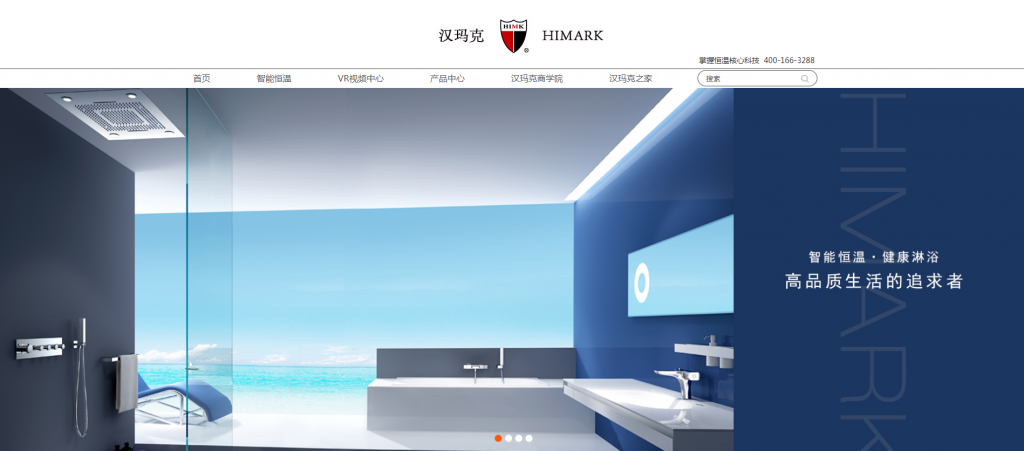 CAE was founded in 1989. It specializes in producing ceramic sealing faucets for basins, kitchens, bathtubs, and showers.
Its products are spread all over the country, not only popular in the domestic market, but also exported to more than 80 countries and regions in Europe, America, the Middle East, Eastern Europe, Africa, etc. It is favored and trusted by consumers at home and abroad. The market has certain brand awareness.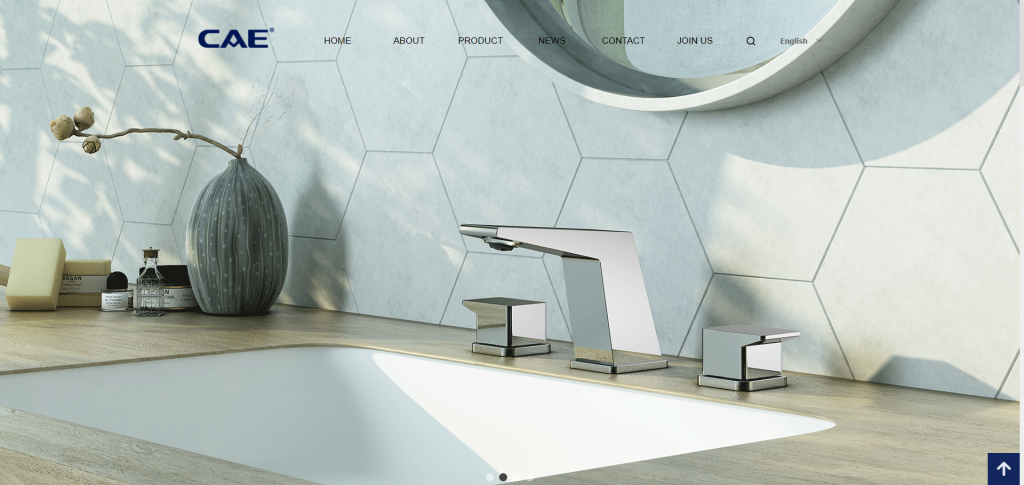 Sum up
Top brands are the key factor for the development of a city. With these top brands in Jiangmen and other famous foreign brands here, it is going to embrace its economy flourishing.