Dropshipping is kind of a familiar word to global importers. And we've written some articles about dropshipping, what it is and how it works. And today we are going to tell you more details about dropshipping on AliExpress.
AliExpress has launched a tool specially for dropshippers, which is AliEpress Dropshipping Center. This tool helps dropshippers to find those winning products and to analyse your product, which greatly lower your risks on dropshipping.
Now let's go deep into how it works.
Step 1: Create your account
Obviously, you need an AliExpress account to start all the process of dropshipping. The only thing you need to pay attention on this step is don't create a seller's account. Make sure you create a buyer's account.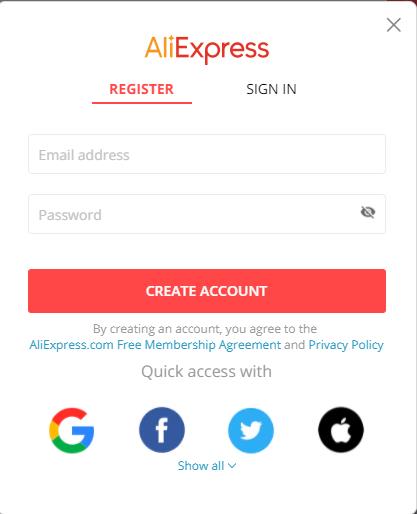 Follow its instructions, and then you have your AliExpress account. However, having an AliExpress account doesn't mean that you are able to dropship right away.
You will need to activate dropshpping center to your AliExpress account. There are two ways to activate it.
Place enough orders so that AliExpress automatically open up the Dropshipping Center tab for you.
Directly go to the Dropshipping Center by this link: https://home.aliexpress.com/dropshipper/ds_center.htm. Here you will need to log in to your AliExpress account again. After logging in, you will see a page like below.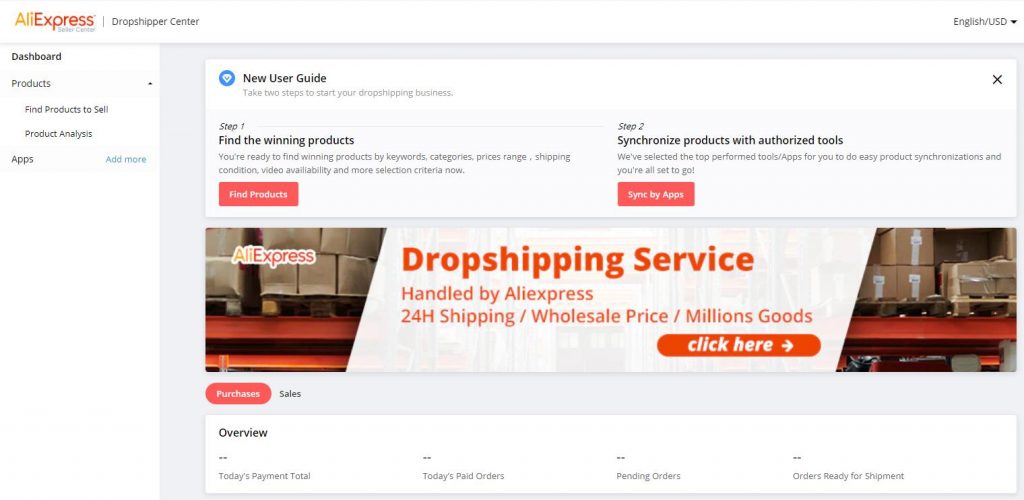 Step 2: Use tools to make big sales
AliExpress Dropshipping Center provides you with helpful tools to get you more close to profitable products.
Find Products to Sell
Product Analyse
With these two tools, you can analyse whether such product will bring you profit and how the market trends goes.
Find Products to Sell
There are several options you can choose to filter your ideal products. You can choose "Hot Selling", "Search by image" or "Sponsored Products". After you type in the product name and choose product category, you will see a list of Best-Match products.
Take "yoga mat" as an example. You can see how many orders people place, how many dropshipping orders, products rating and its sales performance. Through comparison, you would know which supplier to work with better. If you want to see more details about product analysis, just click on the "Analyze" on the last row. It will give you the status of its logistics reliability and the overview of recent sales volume.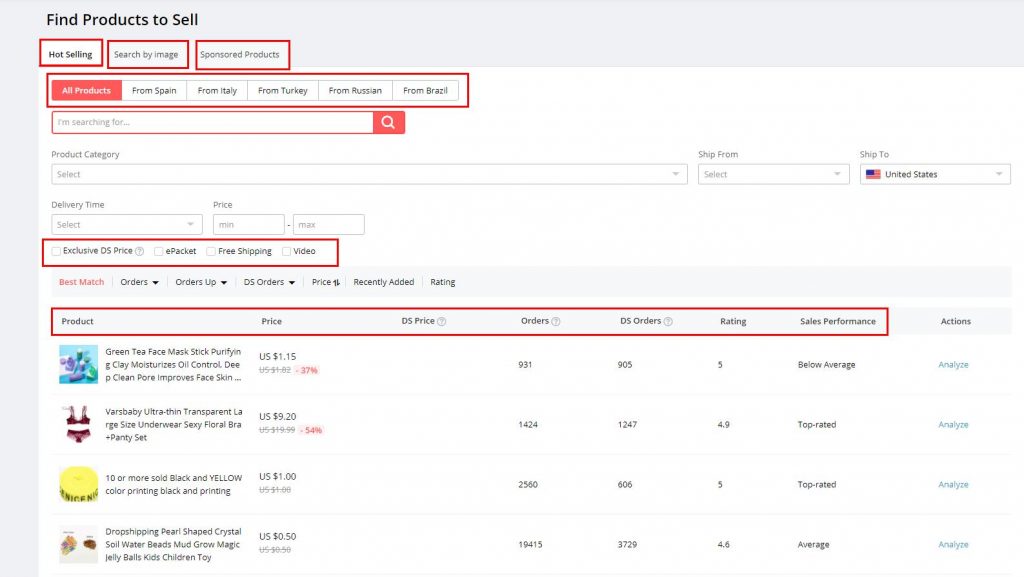 You can see clearly how the market trend goes and decide whether to source such products, which is rather convenient and simple.
Product Analysis
Product Analysis is to search product and analyze product through given product URL. It works simple as a product analysis tool, which shows you its logistics reliability and the overview of sales volume. If you have the web link of certain product and you wanna analyze its market potential, this is a good choice. Another thing about this tool is that it only analyze products from AliExpress.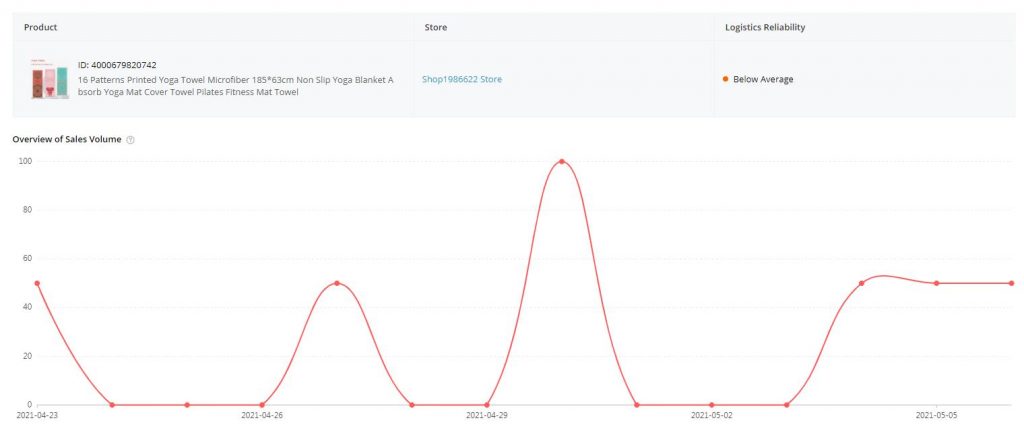 Step 3: Choose the best-match supplier
A good supplier is rather important in the whole process of dropshipping. As it can be, a good supplier can bring you profit. There are several factors that you need to pay attention when judging a supplier to work with.
Products category
Experienced supplier or starter
Seller Feedback
Rating and reviews
For more details about how to judge whether a supplier is trustworthy or not, we have so many articles you can turn to, like How to buy from Alibaba: Ultimate Guide (2021), and Is Alibaba Safe? Tips on How to Avoid SCAMS on Alibaba.
Step 4: Build your own store
Having selected your ideal products and suppliers to work with, you are now ready to open up your own dropshipping store. AliExpress provides you with some templates and guides you to set up your own store. You can go to the guide page by this link: https://alidropship.com/.
You store will start with normal level, which means no exclusive discount. As your turnover grows, your level grows as well, which means you get more discount. This is rather attracting for dropshippers.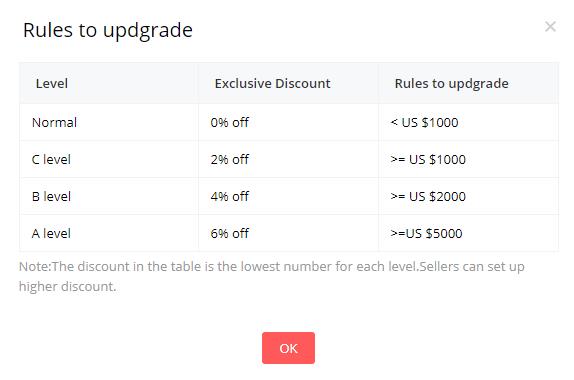 Step 5: Add products to your list
Once you fill your store with products, you are ready for dropshipping. By adding products to your store, we highly recommend you add those products with plenty of stocking and high rating. Therefore, you don't have to worry if your products is out of stock and products' quality.
Then set your shipping methods and payment terms. Use reliable ones, like PayPal, Western Union, which can save you from troubles. Set up proper prices, promote your store and wait to receive orders. There are ways to promote your store:
Facebook Advertizing
Social Media Marketing, like Instagram, Twitter, Youtube and other social media.
Sharing images or videos about your products helps better promote your store and earn you profits.