Not long before the "reform and opening up" in 1978, farmers from 18 households in Xiaogang Village, Fengyang, and Anhui, agreed on and created the Household Contract Responsibility System. This contributed to the subsequent increase in agricultural production and farmers' income.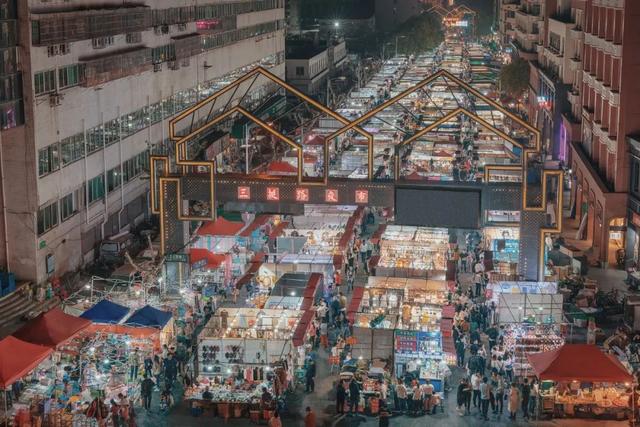 Yiwu was not a place suitable for farming due to the lack of natural resources and farmland. Therefore, in 1982, the leaders of the county party committee carried forward the traditional business culture of "Trading Feathers for Sugar" in Yiwu, firstly proposed the development strategy "Grow The Business and Build The County", and established the earliest commodity trading marketplace.
Several generations spent 40 years transforming Yiwu from a "road market" into a "world supermarket". After multiple times of relocations and expansions, Yiwu has become an international "Mysterious City of the Orient" from a small town. The Yiwu market is a powerful part of "Made in China" in the global market. Moreover, it has been a marketplace e-commerce giants such as Alibaba, JD.com, and Pinduoduo contest to take up. However, challenges and changes have always been the main theme of the development of the Yiwu market.
"Over 70% of sellers would fail if there is no change taking place."
A boss who has been in business in Yiwu for more than 30 years frankly said. Under the great effect of the Internet, the digital economy has become the mainstream, and the way of traditional commerce and trade have changed, such as the upgrade of quality and brand, the de-intermediation of transactions, the construction of an integrated digital supply chain, and the transformation of the consumption concept of the Z generation.
These market changes have had a great impact on the strategy "Selling goods on multiple channels" of Yiwu. To a large extent, Yiwu goods arouse a complicated feeling of people. On one hand, these goods are at a low price and in various categories. On the other hand, their quality is inconsistent, and it is not easy to find a good product quickly and precisely in such a big market. Besides that, these Yiwu goods labeled as " Low quality, low price, low technology" would be in more severe challenges with the sudden changes in the macro market environment at home and abroad.
In fact, Yiwu is not endowed with unique advantages, so both the local government and the leaders in the commodity city always look to make changes with a "consciousness of crisis". When we dive deep into every stage of Yiwu, we can see there is always a group of Yiwu businessmen who make a joint effort to promote the continuous transformation and upgrading of "Selling goods on multiple channels" in their way. The exploration of the reform of the supply chain in Yiwu cannot process without exploring the effect of these people in the specific environment at that time.
The first decade: from 1982 to 1992: Exploration in chaos
-Material scarcity, selling goods for money
At the beginning of the "reform and opening up", the development of the market economy was still limited by some misconceptions although it was clearly stated that economic construction is the focus. The radicalization in the commodity economy in Yiwu and the aggressiveness of the agricultural production methods in Fengyang's Xiaogang Village were both explored in "chaos". Fortunately, they have been verified by the market and recognized by society.
The public didn't see a figure of the rich in the first challenging ten years of Yiwu, but to some extent, these years injected vitality into the individual economy and paved a way for common prosperity. It seems a lucky ten years because the favorite at that time paid a lot.
Nian Guangjiu, who is known as "China's No. 1 Trader", is one of them. This "post-30s" started from a street stall and founded the first brand of roasted foods "Fool Guazi", which could be the "originator" of "Qia Qia" and "Three Squirrels" originating from the Anhui province. In 1980, as an illiterate businessman, Nian had achieved an income of one million yuan. Because his business was too busy, he hired 12 people in his small workshop, which was against the regulation of fewer than 9 people. As a result, Nian was criticized and labeled as one "capitalist" and a "bloodsucker".
By coincidence, Mou Zhongli, the first person who exchanged canned food for planes co-founded the "Wanxian City Sino-German Store" in his hometown of Chongqing in 1982. Mou acted as an agent across regions in the four fields, that is purchasing, sales, organization, and shipping. In the first year, he made a profit of nearly 80,000 yuan, but in the following year, he was sentenced to prison for the crime of "speculation and profiteering".
In those years, television was not yet prevalent, and there was no access to the program "Win in China" that encouraged entrepreneurs to start a business to make money. Also, there was no concept of "entrepreneur". Therefore, the stories of Nian Guangjiu and Mou Zhonghua were only talked about by the public, and people's opinions are different. Out of the lack of information, everyone believed that "seeing is believing" and was influenced by the people or things around them.
Wu Jinhong, a native of Xitang Village, Yiwu, has been curious about the deed of his parents walking from Quzhou to Jiangxi for exchanging chicken feather for sugar since he was a child. Wu recalled, "Every time my father packed chicken feathers in every corner of the house and bundled them up, I sat with him on his wheelbarrow carrying a full box of chicken feathers to sell at the supply and marketing agency." And he said, "In 1988, after graduating from my junior high school, I wanted to do business instead of continuing my lessons. So I started to follow my father to markets all over the country."
The first destination of Wu Jinhong was Zhuzhou city in the Hunan Province. He carried his Yiwu goods on his hands and shoulders, squeezed into the green-skin train, and arrived at the station after two days and one night. At first, he sold commodities along the streets and alleys of Zhuzhou. He went back and forth between Yiwu and Zhuzhou. Later, he rented a store in Zhuzhou and began to wholesale Yiwu commodities in the local market. And then the shipping department for merchants to import goods came into being. Goods of several sellers were transported at one time, usually every three days. Later, the Yiwu government built the Southern Alliance and the Northern Alliance and established the management rules of logistics, which is the base of Yiwu's logistics industry.
Wu Jinhong was not used to comfortably staying in a place, so two years later, he closed his store in Zhuzhou and chose to be one of the first "Beijing Drifters". In 1900, he opened a store in Beijing "Tianwaitian Small Commodity Market" (the market was closed in 2004), mainly selling socks and clothing, but after only two years, he still chose to return to Yiwu Market to run a pawnshop.
Wu Jinhong said, "In that era of extreme material scarcity, you are given the bonus. As long as you get the goods from Yiwu and sell them in the market, you can make money. Except for Tibet and Xinjiang, I basically do my business across the rest of the country. "In the first ten years of the establishment of the Yiwu market, it was just because of Yiwu businessmen like Wu Jinhong that the initial effect of the industrial cluster was formed. These businessmen were brave to bring Yiwu commodities to the whole country and take goods from other provinces to the Yiwu market by selling in a local market at an age of lack of information.
Merchants who took the Yiwu commodity trade as a link have begun to establish local business circles all over the country. Everyone shared information and resources and even locally promoted the establishment of the Yiwu market.
Since 1986, the development of the Yiwu market has led to the rise of family workshops, forming the phenomenon of "front shop and back factory" and "professional village". For example, there were more than 50 self-employed industrial and commercial households in Rufu Village, Gansanli, Yiwu, Zhejiang, and 60% of the farmers run factories and made a professional village for plastic toy processing. In addition, Zhengshantou Village, the first professional "headwear" village in Yiwu, emerged.
The second decade: from 1993 to 2002, Infancy of Branding Awareness
Focus on the increase in the order amount and realize it is a mistake after access to the Internet
In 1990, when Wu Jinhong started his trial as a Beijing drifter, Chen Fei, a young man in his early 20s, came to Yiwu. Chen rented a booth in the market on Huangyuan Road, purchased goods from a toy factory in Shanghai, and wholesaled them in Yiwu. In this process, he found that electric shavers were still high-end luxury goods in China, and they were sold through the main retail channels from state-owned enterprise supply and marketing cooperatives, so he considered beginning this product line.
In 1992, Jack Ma has been an English teacher for 4 years in Hangzhou Institute of Electronic Technology after he graduated from Hangzhou Normal University. He was already well-known in his field. He often took some translations for "private work", so later he founded Haibo Translation Agency, but it is not easy to start a part-time business. The money he earned was not enough to pay wages to employees. Thus, Ma Yun had to go to Yiwu with a sack on his back to buy gifts and flowers and then went back to sell them to subsidize expenses.
The greatest fortune the Haibo agency brought to Jack Ma was the task to be a translator in the United States in 1994. There he accessed the Internet for the first time and instantly opened the door for the second entrepreneurship. He founded the "China Yellow Pages" with the unanimous opposition of his 23 relatives and friends. When he went to Beijing to visit customers for his dream of "China's information superhighway" without an appointment, he repeatedly hit a wall. Although the "China Yellow Pages" was unsuccessful, everyone knows the story of Alibaba.
During the millennium, Ma Yun's prediction of the advent of the Internet era was proved when NetEase, Sina, and Sohu came into the market one after another. But the pace of e-commerce was at least "half a beat" slower. At that time, the small commodity market represented by Yiwu played an irreplaceable role offline. Feng Jianguo (pseudonym)said, who was born in the 1970s and just entered the logistics industry, "on-site, cash, and spot" were the main features of commerce in that era. Merchants and commodities were highly concentrated in Yiwu and then separated, but there was no concept of "warehousing".
In Hangzhou city besides Yiwu, the other two future richest men in China, Zong Qinghou and Zhong Suisui taught those engaged in the Gold Rush a lesson with "two buckets of water" (Wahaha, Nongfu Spring) ,"For the supply chain of brands, the channel is king. " This rose from Zhong Suisui, becoming a businessman from a reporter. He failed on growing mushrooms, raising shrimp, and setting up a street stall, and tasted the sweetness of the products of Zong in Hainan as an agent. After being beaten by Zong, he started the "revenge" mode.
"It's a pity that I realized it later because, before 2003, I made some money, but I didn't dare to invest in setting up a factory or building my brand, so I missed an opportunity." Wu Jinhong told me. Since he returned to Yiwu from Beijing in 1992, he wholesaled cosmetics in the H area of the Commodity City. Like most Yiwu traders, he was still stuck in the misconception of "earning a thinner profit but selling more", and unconscious of the control over the supply chain and branding.
Perhaps this is also the main factor for Yiwu goods caught in the tide of the low price without a bottom line. In a summary of what an e-commerce entrepreneur said to me, Yiwu goods are so cheap that you doubt if it is true! So it can be understood why Hangzhou-style consumer goods and Yiwu commodities developed in two completely different models with "two buckets of water" as the representative. The answer is obvious.
Fade Chen wholesaled razors after getting them from the factory. Only as a middleman, he found out in 1995 that some downstream dealers had skipped him and went directly to the factory for wholesale. He felt the challenge when the information was easy to access with the popularization of the Internet and its penetration into the industry.
It didn't take long for him to get involved in the Asian financial crisis in 1997, so he firmly took a step in transformation without hesitation, building his brand "Kemei" and finding a factory to do OEM. Chen Fei firmly believes that "There are only companies that are eliminated, not industries after every crisis." After the establishment of its own brand line, Kemei actively expanded overseas markets, covering South Korea, Vietnam, and other Southeast Asian countries. The products were popular in the local market.
In 1998, the Yiwu Commodity City became the first professional market in Zhejiang Province to be granted import and export rights, and the import and export trade of commodities began to grow wildly. In this ten years, the cluster effect of Yiwu's industrial belt had been further enlarged, showing the mainstream characteristics of "front store, back warehouse", "front store and back workshop", and "front store and back factory".
In this period, China's express delivery industry still relied on postal EMS as the backbone, and the reform of the private express delivery industry was relaxed. Consequently, SF Express and Shentong were launched in 1993. They initially took the Pearl River Delta and the Yangtze River Delta as the opportunity for township enterprises to become overseas supply chain factories and entered into the field of developing customs declaration delivery.
Particularly, Shentong, which was founded in Tonglu County, Hangzhou, played an important role in the export from Shanghai Port on the Yiwu and Ningbo foreign trade in the early days. And then when the e-commerce era came, the "three links and one delivery" Tonglu logistics gang brought by Shentong became a non-negligible force in the history of Chinese logistics. Their growth also benefited from the gathering "business flow" in Yiwu.
The third decade: from 2003 to 2012 "Diving out of the sea"
——The rise of cross-border trade and e-commerce has accelerated the transformation of flexible supply chains.
In 2001, China joined the WTO, driving the third "carriage" of economic growth —— export, to the fast lane. Yiwu market seized this opportunity and set up offices in Germany, Japan, and other countries to build an external bridge for Yiwu commodities and attract more foreign customers to Yiwu. After the share reform, Yiwu Small Commodity City Group was listed on the A-share market, and the first district market of the International Trade City opened.
In the same year, Taobao was born, challenging the "foreign invader" eBay, and the curtain of domestic e-commerce was opened. Three years ago, a "72-hour network survival test" conducted simultaneously in Beijing, Shanghai and Guangzhou caused a great disturbance. This public event, promoted by the Ministry of Information Industry of China and jointly promoted by several media such as People's Daily and BTV, verifies that the era of the consumer Internet is coming, and the follow-up facts also prove that "Chinese netizens cannot live without the Internet, just as Western countries cannot live without Jerusalem."
The opportunity of "Double circulation of domestic and foreign trade" enables Yiwu to complete the transformation from "road market" to "world supermarket". Another group of local merchants with a keen sense of Yiwu began to involve e-commerce (including cross-border), and Yiwu Yankun E-commerce Co., Ltd. was the representative of cross-border in 2004. Domestic e-commerce is still in the stage of obscure development. The early self-employed people who opened Taobao shops are laying the foundation for the formation of the subsequent e-commerce industry clusters around Yiwu.
Wu Jinhong recalled, "Taobao has improved in 2008, and the way of acquiring customers in trade has also changed a lot. There were even those who did Baidu search placement, but we couldn't complete all the orders at that time, still 'Party A' mentality. We did not improve R&D capabilities, IP marketing, brand quality, combined with user needs to cultivate, it is a pity to miss the PC Internet dividend."
Affected by the impact of developing the brand budding in the past ten years, Wu Jinhong always wanted to enter the game, but he was unable to start. Until 2004, he met a business partner who is doing chain investment promotion for girls' ornaments in Beijing. She strongly encouraged Wu Jinhong to make his own brand in Yiwu. The former is responsible for market expansion and the latter is responsible for supply chain inventory.
At this time, Ye Guofu's "10-yuan store" from Hubei, Aiyaya (the former life of MINISO) just started, but the follow-up ended without a hitch. In contrast, Lang Sha Socks, which began to expand offline stores during the same period, became a rare category head brand in Yiwu and began to top.
In 2004, in the same year that Wu Jinhong transformed into his own brand, the generation after 80s, Tao Juying and his wife also came to the Yiwu market to start their business. After doing domestic trade for a period of time, they found that there were more opportunities for foreign trade, so they turned around and started from the foreign trade agency business of hardware and sanitary ware. In her words, "No matter what foreign customers need, we will arrange what kind of goods for them, and provide a series of customs declaration and shipping services."
This year, Li Dengke, another generation after 80s, gave up his job as a civil servant in his hometown in Shaanxi. As a fresh graduate of Yiwu's early "talent introduction", he entered a socks company as an assistant to the president. In 2008, he came out to start a business in the gym industry. Due to the immaturity of the industry at the time, he quit within a year.
After China acceded to the WTO, Chen Fei's razor's foreign trade business increased sharply, and at this time he encountered a new problem: the trademark was registered overseas. Stimulated by this, he took out more than 2 million yuan to find professional institutions for trademark registration in the global market. At the same time, Tao Juying, who is doing foreign trade agency business, feels that if she is only doing these services, she can only get a 5% net profit after a busy year.
Tao Juying told me, "I was impressed that there was a foreign customer. Because of the price difference of three cents for a faucet, he spent three days in the Yiwu Small Commodity Market. Although each item was only three cents lower, the amount is very large, and the total price is more than hundreds of thousands, so the price will be pushed to a limit. At this time, I also reflect that the space value of my model is too small."
Especially in 2008, when Tao Juying was exhibiting abroad, she heard some customers say rudely, "Chinese (Yiwu) products are garbage", which deeply hurt Tao Juying. She secretly made up her mind that she must be her own brand of hardware and sanitary ware so that overseas users can be recognized.
It was also during the global financial crisis that foreign trade also slumped. Chen Fei realized, "There is no easy business, it's just that your business is harder to do." He decisively carried out a second transformation, established his own export company, and found authorized agents in overseas markets and other places, instead of transferring to customers through freight forwarding companies as in the past.
Similarly, Tao Juying launched her own brand FIRMER for bathroom hardware in 2012 after four years of potential energy reserves. However, she did not promote it on a large scale at the beginning but was using old business to support new business. From serving overseas customers in the past, a group of young people, who have credibility, strong financial strength, and recognize the FIRMER brand concept have been screened out and developed into overseas authorized agents to "raise" the brand together.
In fact, when the PC Internet wave swept across the country, Yiwu Small Commodity City also knew to embrace this changing trend and established an information department in 1998. In 2007, Ying (pseudonym) from Quzhou resigned from "Maopu", a well-known Internet company in Beijing at that time, and returned to Zhejiang and joined the Information Department of Yiwu Small Commodity City. According to her recollection, during this period, the company realized that it could not rely on the offline trading market to continue to expand. After all, the business format was essentially a "real estate rent collection" model, and the growth space was foreseeable.
Be vigilant in times of peace, Yiwu Small Commodity City launched the earliest e-commerce project "ON CCC", but the development was not smooth. After 4 years, it was spun off and derived into "Yiwu Go", which is similar to the B2B model of Ali 1688, but only moves offline merchants to online sales. After being transferred from Informatization Department, Ying rotates through multiple businesses in the company, and now she is mainly engaged in the supply chain-related work of Yiwu Small Commodity City.
In 2010, Qingyan Liucun in the suburbs of Yiwu judged that to do e-commerce, relying on the local supply chain resources would definitely have an inside track, so the village decisively spent 500,000 yuan to cooperate with Telecom, and put "4 Mbps optical fiber" broadband into the home. The basic facilities with the fastest internet speed at that time made this small village with less than 1,800 people become the "first village of China's online shop", attracting more than 20,000 e-commerce practitioners, and farmers built their own houses and then upgraded to the e-commerce industrial parks. By 2018, the village's e-commerce annual sales exceeded 6 billion yuan, and the order volume reached 120,000/day.
In the follow-up, an e-commerce village based on Qingyan Liucun will fully bloom around Yiwu. Yiwu has become the second largest city after Guangzhou in terms of express delivery and registered e-commerce companies. One person shopped for goods in Yiwu Small Commodity Market, and the other person stayed in front of the computer in the rental room and returned customer messages, which became the prototype of the initial "grassroots team" of the e-commerce business.
The rise of the e-commerce market has brought new challenges to the fragmentation and flexibility of the Yiwu supply chain. The cluster effect of warehousing and logistics began to form at this stage. Unexpectedly, "Jiangsu, Zhejiang, and Shanghai" free shipping service will evolve into "national free shipping" in the next decade, and it will evolve into several price wars in the express delivery industry.
The fourth decade: from 2013 to 2022 "A Way Out"
——Overcapacity, industrial chain transfer, and break through branding overseas.
With the increasingly complete online and offline, domestic and foreign trade circulation systems, as well as the cost advantages it took China only 30 years to go through more than 100 years of "industrialization" in Western countries, and established the most complete supply chain system in the world. It has long said goodbye to the era of material scarcity.
However, the problem of overcapacity also broke out immediately, especially the inventory crisis in the footwear and apparel industry in 2013. According to incomplete statistics, the inventory value of 81 listed footwear and apparel companies in the first three quarters of the year was nearly 80 billion yuan. The performance of the companies has declined, and there are many well-known brands such as Septwolves, Semir, Metersbonwe, Anta, and Li Ning.
"Because of the large influx of orders from Asian, African, and Latin American countries in the past ten years, the orders in these regions (backward and lack of material) have a characteristic. As long as the price is cheap and the quality is not pursued, there are constantly returning orders, which has caused false prosperity. A batch of perfume stinks before it arrives at the port. Such examples are everywhere. A large amount of 'industrial waste' is imported into the world, which later ruins the reputation of Yiwu." Wu Jinhong complained so.
Yiwu Small Commodity Market is aware of the seriousness of this problem. In 2016, it issued an initiative to build a "Yiwu Good Stuff" alliance to encourage the upgrading of foreign trade, that is, to encourage the upgrading of the supply chain of goods. It turns out that many small workshops in Yiwu will be eliminated due to unstable quality control and unstable quality. In 2012, Tao Juying, which was transformed into its own brand, had no product standards at first, and then every small screw, spring, and even the sealing of the box established its own standards to ensure the stable operation of the product line. And last year, it acquired a bathroom hardware factory in Fujian and began to expand its production capacity. Chen Fei established his own factory and Independent R & D team in 2015, some of which meet the supply chain needs of his own razor brand; the other part opens up production capacity and receives external orders to provide product customization business.
In 2015, Kuaidi Taxi, invested by Ali, and Didi Taxi, invested by Tencent died down. The two sides merged hand in hand, and after a year of spending money on subsidies, the two have consumed a total of 2.4 billion yuan, pushing the development of the mobile Internet after the fierce competition to a climax, and inspiring the birth of Pinduoduo's tens of billions of subsidies. During this period, overseas online shopping and Wechat purchasing agents became popular.
Li Dengke, who got out of the gym industry, started a second business in the gift customization industry. It just got better but hit the "eight regulations". Confused, Li Dengke found that doing the Wechat business is profitable, so he tried to create multiple "Wechat-brands" with the help of Yiwu's local supply chain resources.
But what really made him draw benefit was getting the sub-category e-commerce agents of Dong Ejiao and Yunnan Baiyao, using national trend IP as new product packaging, and unexpectedly harvesting popular items. This also opened the "skylight" for his fourth transformation of entrepreneurship, and the IP empowerment of Yiwu Good Stuff. Ying also recognizes that IP will bring the premium ability to Yiwu products.
To find out its cause, it was the arrival of the import wave in 2015. The leaders of Yiwu Small Commodities City asked Ying to take charge of an "Imported Commodity Expo", which received strong support from Yiwu local customs, overseas Chinese, and embassies of many countries. There was a huge response that year, and the meeting was held for five consecutive sessions until the outbreak of the epidemic at the end of 2019 and it was suspended. The Shanghai International Import Expo, which is larger and more far-reaching, has just begun in 2018.
Just as Tesla's entry into the Chinese market stimulates the transformation and upgrading of the domestic new energy vehicle industry, Yiwu Small Commodity City also hopes to exert the "catfish effect" through import trade and activate the innovation and upgrading of domestic supply chain brands. Therefore, on the one hand, the "Comprehensive Bonded Area" was established, and the local government used a series of preferential policies to attract import traders; on the other hand, it established its own brand ICMall, which mainly focuses on daily necessities, and combined with imported FMCG to create a mini KKV offline collection store model, focusing on the sinking market.
Among them, ICMall's boutique strategy combined with IP empowerment, hoping to jump out of the price "involution" of Yiwu small commodities, and break through the differentiated market. Fashion stationery is one of the main categories. After a period of exploration, it was found that the cost of attracting traffic is too high, whether online or offline. In 2021, Ying clarified the strategy of "one plate of good stuff": to empower domestic products with national trend IP, and combine them with imported popular items, while the overall SKU of the supply chain is controlled within 4,000, and dynamic sales maintain more than 20% of new product updates every year.
In 2021, Li Dengke and his partners got the IP of Disney, Mogao Grottoes in Dunhuang, and other animation and national trends. This year, the "Yiwu IP Industry Association" was established to try to use the combination model of "shares after free rights protection for the entire IP network + category IP authorization + core supply chain output" creates a brand premium for local products in Yiwu. For example, if an IP authorization of 3 million in the past year is allocated to 10 member units, each of which costs only 300,000 yuan per year. Ornaments and toys are the main breakthroughs, and category segmentation can form category combinations.
Li Dengke's entrepreneurial model is still in the verification period. In the first half of the year, it mainly started from the ornament association, covering categories such as toys, home textiles, and clothing. Currently, there are more than 330 customers in IP authorization cooperation. Bing Dwen Dwen was in short supply for the Beijing Winter Olympics in the first half of the year, and many netizens also counted on Yiwu to make a rescue, but they did not. This is an obvious signal that the Yiwu government has attached great importance to the protection of intellectual property rights. In the past two years, it has convened executives and business representatives of Commodity City, held many meetings, and gave clear intellectual property protection measures, just to tear off the labels of "copycat" and "piracy" on Yiwu small commodities.
Data from the customs show that in the first half of this year, Yiwu exported 151.93 billion yuan through market procurement trade, a year-on-year increase of 21.0%; general trade imports and exports were 60.61 billion yuan, a year-on-year increase of 57.2%. It seems that the miracle of counter-attack growth is still going on. When Bizwhale surveyed Yiwu foreign trade merchants, they clearly felt that they had anxiety and labor pains during the epidemic.
"When the epidemic hit in 2020, foreign customers could not enter the country, traditional trade forms could not work, and overseas orders were almost gone. Our strategy has been shrinking, and orders began to recover in May and June this year." Wu Jinhong said. And his solution is to expand new customer sources through channels such as YouTube and Facebook to save himself.
Chen Fei pointed out the same problem, "The traditional market has been greatly impacted by online e-commerce. Before the epidemic, our online revenue accounted for 10-20%; when the epidemic came, our online share reached 90%, offline accounts for only 10%." He is very regretful. In 2013, he had the opportunity to use the e-commerce platform to make a domestic trade brand, but he didn't pay enough attention to it at that time, and it stopped abruptly after testing the water.
Tao Juying said bluntly, "The epidemic has had a big impact on us, raw materials have suddenly skyrocketed, and some countries have their own problems, such as Sri Lanka's bankruptcy, and some containers have suddenly disappeared without warning before." During this period, on the one hand, she focused on products, and on the other hand, she helped the children of overseas customers to study in China for free, indirectly doing the export of Chinese culture, and strengthening the trust relationship between customers and Chinese brands.
Feng Jianguo, who has been engaged in warehousing and logistics in Yiwu for more than 30 years, pointed out, "There have been significant changes in the past two years. 40-50% of foreign trade merchants in our market do not need warehouses. After receiving the orders, manufacturers directly send customs declarations and set out to sea, and stay in the turnover warehouse around the port for two or three days at most."
Therefore, Yiwu's small commodity market has to change and adjust itself to the role of a service integrator for international trade. In 2020, the Chinagoods digital trade platform has been launched, integrating offline merchant supply chain resources to provide cross-border customers with international warehousing, logistics, payment, booking, and other trade services.
Domestic and foreign trade are carried out jointly, combined with the implementation of the supply chain strategy of "one plate of good stuff" in the Yiwu Small Commodity Market, Chinagoods held the "vote for the favorite Chinese small commodities of global buyers" to explore the projects that can represent the brand upgrading of Yiwu in addition to the ICMall, and to hone the new power of domestic products in domestic and overseas markets.
Outlook: Future of Yiwu
Over the past 40 years, Yiwu has become the world market from a wilderness under endeavour of several generations, and paving its own way to an international trading center. Yiwu took the chance of Reform and opening up in 1978, and became the leader in the traditional trading times. Nowadays, Yiwu has grown into a complete supply chain consisting of all-around industries.
Frankly speaking, Yiwu missed some of the opportunities from the development of PC and mobile economic, because of various reasons. But as the retailing business getting back to the essence of products, and getting rid of the traffic-leading thoughts, Yiwu will get more chance to upgrade its manufacturing abilities with the requests for better suppliers.
All consumers expect better products, so it is worth expecting if Yiwu can shift its road from traditional e-commerce to digital trading with supply networks.
Meantime, there are more challenges from uncertain factors to influence the future of Yiwu. These may include pandemic overflow, warfare in Europe, confrontations in Asia-pacific, and also supply chain migration trend to Southeast-Asia. So what to do next?
According to Nassim Nicholas Taleb in his famous book Antifragile: Things That Gain from Disorder, it may be a good solution to embrace the changes.With resilience or robustness, find the certainties in uncertainty and randomness, and make use of the advantages to become a convexity.
So back to this case, traffic is actually certainty, and other certainties include team, products and supply chain system. In discussion of the traders in Yiwu, I found out these thoughts from them.
First, they think upgrading supply chain is not only about product appearance, quality and brands.It is more crucial to set the industry standards, and get out of the swirls of price competition.
Second, they realized that traditional commercial concepts are way out of times, and it is time to make a change. They should let go the products not hot-selling, and focus on more vertical categories.
Third, they believe building brands is the best way to sell Yiwu products overseas. They should make technical innovations to upgrade product quality, and all categories need brands from Yiwu.
Fourth, as the delivery amount breaking through 27 million in Yiwu, some of the logistics providers like Chinagoods are providing storage services to factories and live-broadcast sellers, helping them to build digital supplying system.
Last, younger generations may not likely to accept the family business from their parents, and a good solution can be making these enterprises more public and professional. With VC and incubators,it is more likely that these supply chain resources can be open and grow faster.
In the end, I want to say that over the last 40 years, Yiwu had made numerous effort according to the change of times, and this post can only cover a corner of an iceberg. In the future 10 years and more of Yiwu, all the business traders will be still paving their way to success.