Chapter 1: "Christmas Village" in the world
It's been a cold winter this year, with snow flurries in the windows of Macy's in the USA and fantastic decorations in red and green, decorating the most lively Christmas atmosphere.
On the back of 500 stalls, there are more than 600 Christmas factories and family workshops hidden in the surrounding towns and villages of Yiwu.
The most famous place in Yiwu is the Yiwu International Trade City, which is divided into five districts and the District 1 is known as China's "Christmas Village".
Dense stalls, both inside and out, with all the Christmas items you can think of are in the commercial and residential buildings in Yiwu, such as Christmas trees, baubles, simulated snow, Santa hats, moose, and LED lights. Another thing to mention is that Christmas music is played here all year round.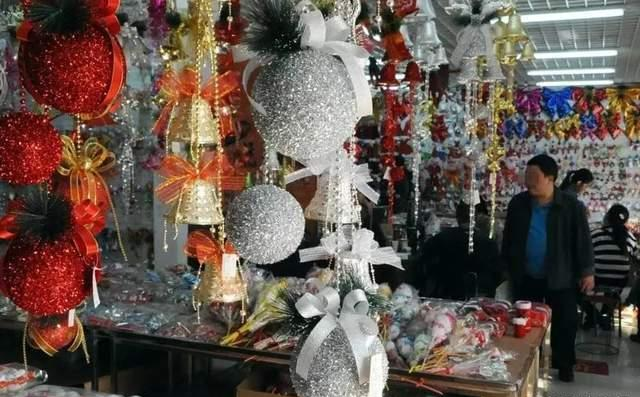 Towards the end of the year, these kinds of stalls close much earlier each day than their counterparts who selling tourist goods on the account that the busiest time of the year has gone past.
Christmas village in Yiwu
Most North American customers come to Yiwu in the summer due to sea transportation, and the foreign trade business in Christmas Village is basically over by end of September. After that time, most of those who come are Korean and Japanese.
For foreign businessmen, Christmas Village is a shrine of gold-washing.
The Canadian guy, Jack will come to Yiwu for a pilgrimage in the hottest time of the year. And he earned his first bucket of gold by selling Christmas hats for the first year here.
Europeans are more fortunate than North Americans because of the contribution from the "Belt and Road" strategy and the opening of the "YiXinOu" railroad. the shipping cost of one container was reduced from the original 40 days with 1500 U.S. dollars to 15 days 500 U.S. dollars by rail transport.
Low cost is the key
At the same time, the Chinese businessmen in the Christmas village have gradually figured out the consumption characteristics of people from different countries.
"Europeans not have a taste for unadorned but pay attention to environmental protection; Australians are more pristine and usually go outside to cut a tree at random; For sale in South America, you need a green tree with red streamers red, preferably with some purple lights "
Of course, these foreign businessmen have one character in common: they focus on the cost performance of Yiwu.
Yiwu businessman doing Christmas business for more than a decade, said, "the sample needs to see a minute and the price needs to talk about a week in the process of business with foreigners, sometimes they will go to Southeast Asia to find similar sources, but there is no doubt that the price from Yiwu is certainly the most competitive in the world."
Chapter 2: Over 600 Christmas Factories in Yiwu
There were only a few Christmas merchandise stores in Yiwu before the millennium, by contrast, there are more than 500 Christmas merchants here now.
On the back of 500 stalls, there are more than 600 Christmas factories and family workshops hidden in the surrounding towns and villages of Yiwu.
This is a business based on the season. The workers' monthly salary is only 2,000 to 3,000 yuan in the slack season, however, sometimes there is no one we can recruit with a salary of more than 6,000 yuan in the peak season.
When a big order for tens of thousands of Christmas trees comes in, the workers will work 12-hour shifts every day to deliver the trees within one month. If the big factory can't finish it on time, it will be allocated to the small factories. By the way, if the small factory couldn't finish it, it would be distributed to private individuals.
Low labor cost, worker's from Guizhou
Old Wei 38 years old, young Wei 19 years old, The father is 38 and the son is 19 who are in a common family and come from Guizhou and whose duties include putting a plastic snowflake in the glue soaked for 3 seconds, and then sprayed with red powder. In order to avoid inhaling too much dust, they have to change 10 pairs of masks every day.
They can do such gadgets 5000 a day to earn 3000 yuan a month. The father hopes to earn enough money to marry his daughter-in-law early, and then go home together.
Every summer, workers from Anhui, Henan, Jiangxi, Guizhou, local rural women in Yiwu, and unemployed youth gathered into an army of Christmas, who produce more than 80% Christmas items in the assembly line for the global people.
Yiwu Christmas item export to worldwide
Cai Qinliang, secretary-general of the Yiwu Christmas productions industry association, said: "Any country or region where Christmas is celebrated is their customer."
The Washington Post has publicly stated that the global Christmas can not be separated from Yiwu. In January this year, a Swedish director even came to Yiwu to filmed a Christmas-themed documentary.
Interestingly, U.S. importers have tried to obstruct Yiwu's business in the impact of the trade war.
In 2018, several containers of Christmas supplies have entered the port, the product infringement was suddenly questioned by other sides, making huge claims.
However, after two weeks of stalling, the goods eventually entered the U.S. market without incident.
Cai Qinliang said, "What Trump does is none of our business, we don't do Christmas, we only produce Christmas productions, the US relies on Chinese manufacturers, and eventually the U.S. tariffs will be passed on to the American consumers."
Chapter 3: Fit-Trees in the USA
Beth is the owner of a farm in Pennsylvania in the USA, where she planted tens of thousands of Douglas fir-trees.
In the United States, there are 15,000 similar farms, which grow more than 10 different kinds of Christmas trees, a total of 350 million trees.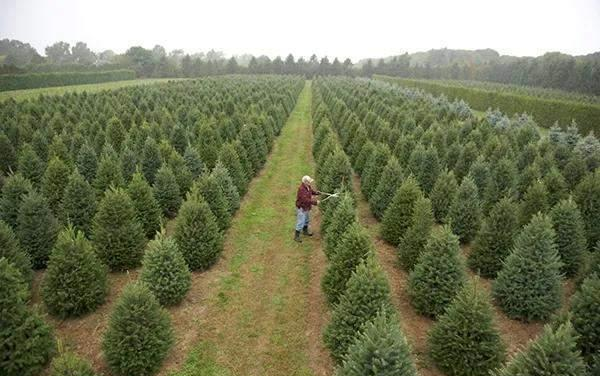 But every year, only 25 million of them will go to the market, accounting for only 20% of the total Christmas tree market.
The reason for this is simple: it's different than a Christmas tree's growth cycle is quite long compared with other crops, on average, it takes 8 to 10 years to grow to the extent that it can be sold, only 2 meters in height.
The long growth cycle has become a financial issue for the farmer.
In the 1990s, U.S. farmers planted too many Christmas trees to exceed the demand. And caused their prices to hit rock bottom throughout the early 2000s, resulting in many farms went out of business.
But during the economic crisis of 2008, so few Christmas trees were planted caused a situation that the price of real Christmas trees in the US has skyrocketed since 2016.
According to the American Christmas Tree Association, the average selling price of a real Christmas tree in 2019 is $75 per tree, while an artificial Christmas tree is $107.
Although the artificial trees sell for more, buying a real tree every year is not cost-effective by comparison, considering that high-quality artificial trees can be recycled for 10 years.
Big demand on artificial trees
The growth cycle of a real tree takes 8 to 10 years, but in the factory in Yiwu, China, the assembly line workers on full power only need 2 minutes to make 1500 artificial trees.
Meanwhile, there are two main ways to sell real Christmas trees in the U.S. Either by customers to cut their trees at home, which usually sells for more, or by wholesale to supermarkets, which usually sells for less than $35, with more of the profit being made by retailers.
Overall, it is calculated that by growing Christmas trees, American farmers typically make a gross profit of only 25-30%, or $8 to $10 a tree. Further averaged out over each year, the profit can be quite meager.
Some American farmers believe that the "Made in China" is stealing their business, and it is impossible to disprove that the "Made in China" is indeed competitive in the face of the general trend of globalization.
It should be noted, however, that the basis of this competitiveness springs from the country's huge cheap labor force. And the intensity of workers working 12 hours in two-shift work matches with low pay.
Chapter 4: Merry Christmas, Yiwu
—-Documentary by Kladen kovačević
On December 14, the first snow of 2020 is coming into Yiwu and we arrived at the "Factory of the World" in the duration of this winner.
A huge Christmas tree stood in the snow drifting in the wind outside the Jin Fuyuan Christmas Market, giving it a very Christmas atmosphere. Although every shop was decorated with red and green Christmas decorations, there were hardly any customers of the whole floor in the crisis of the epidemic, while you are entering the market.
We asked the shop owners if they remembered that one foreigner had come here to make a documentary two years ago, and someone who immediately recalled, "Yes, they went to almost every shop at that time and asked around if they were willing to join it, and also came to my factory ".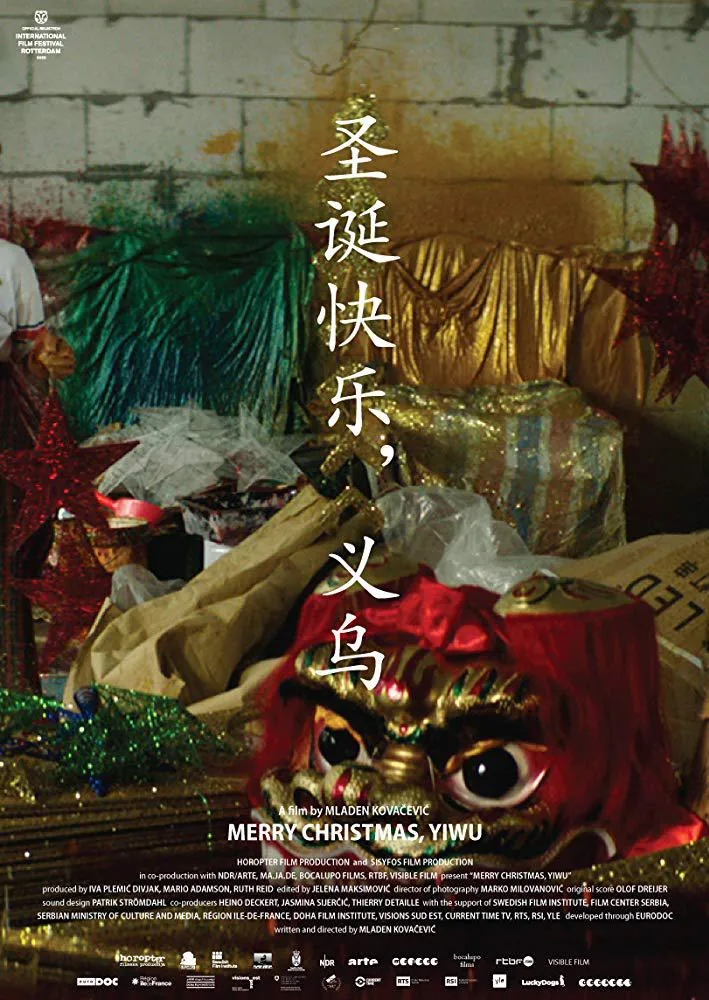 Merry Christmas,Yiwu
The story of "Merry Christmas, Yiwu" begins with two girls coloring Christmas balls while talking about whether to go back home for the holidays. the documentary described the daily lives of five groups of families in an hour and a half.
A middle-aged couple who used to be farmers now works in a factory making Christmas items to pay for their son's university education in the future.
A young couple starts a handicraft workshop for Christmas hats. They have to outsource the work to nearby villagers in the short of labor.
An older family of three opened a Christmas production factory. Although a great success was made in the business, they still lived in the staff quarters. The father is working hard to make the factory more stable and hopes to provide his daughter with the life she wants in the future.
A slightly younger family of four whose couple are from Wenling and now settle down in Yiwu. The new factory where can produce Christmas balls is about to be built, and the mother has decided not to run the business anymore and want to be a chaperone for her two sons who are going to primary school.
Family in factory
A twin, the older sister is away at school and the younger sister stays at home in Yiwu to learn the business. The older sister returns to Yiwu only during the school holiday and after that, the twin will work in the Christmas goods factory together.
In addition, the film also photographs a group of young people working in a factory, worrying about their relationships while feeling confused about their future ……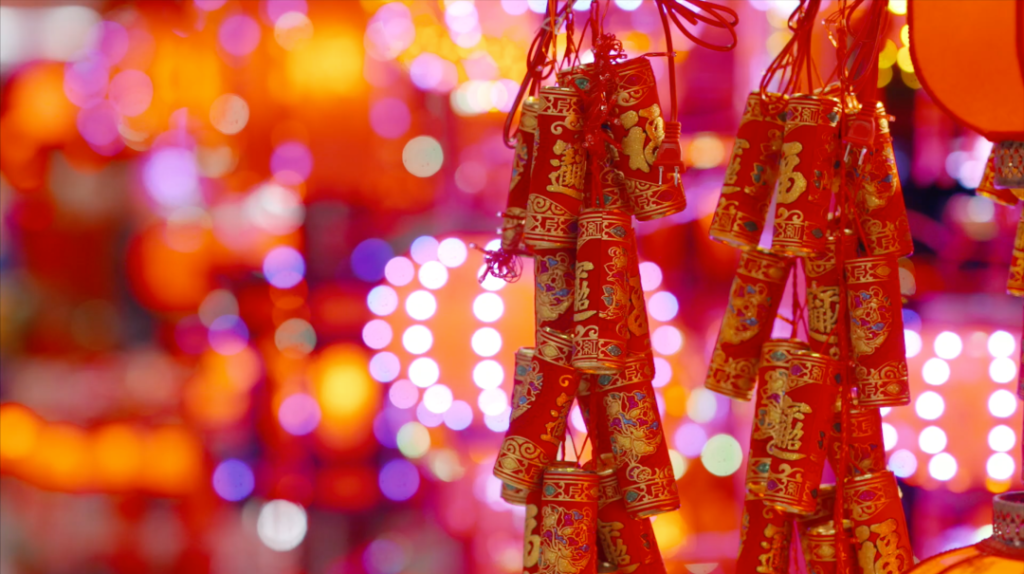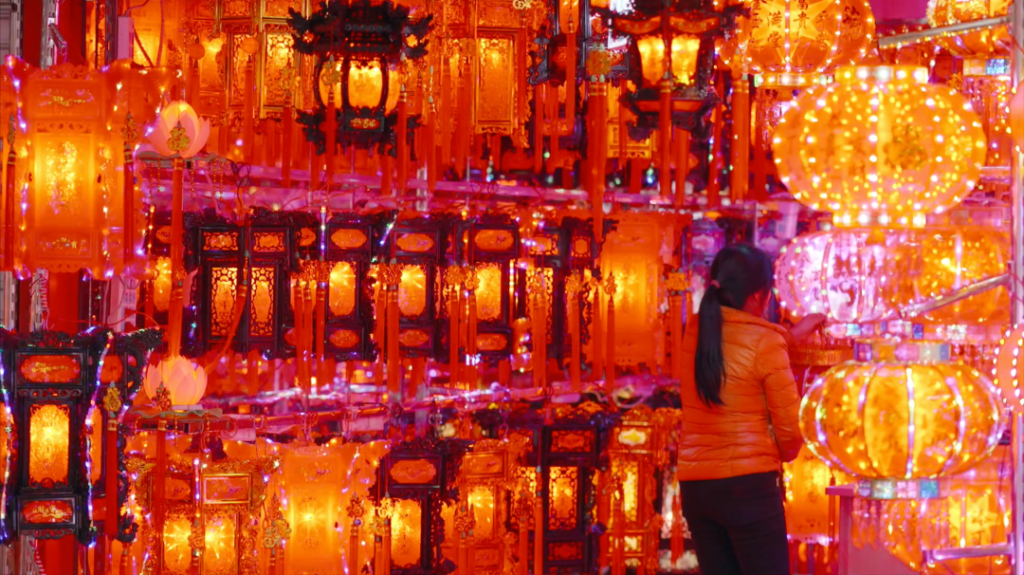 These people have different intimate relations with each other, like parents, husbands and wives, sisters, friends, colleagues, and show several issues of housing, children's education, relationships and marriage, inter-generational conflicts, etc, which attract more attention of Chinese.
Director Mladen shot documentary films
Director Mladen from Belgrade, the capital of Serbia, run around the US, Serbia, the UK, South Africa, and Australia in his whole school life and he used to be an action film director before moving on to documentary films.
Since making two documentaries focusing on his native land, he set his sights on the distant land. Mladen has an innate affinity with China on account of his birth in a former socialist country. "Things that Westerners find strange are familiar to me, and I also wore a red scarf in my childhood."
He had a professional production team in China, which took the responsibility of most communication with the subjects. During the shoot, besides him and the cameraman, the rest of the team were also Chinese.
The Speed of China
Yang Yi, the producer, who was with the team throughout the shooting, told us that apart from the preliminary research, they also conducted 4-5 days' research before every official shoot, which was summarized into a thick document and sent to Mladen. He even followed his interviewees back home to Anhui Province for the sake of researching more deeply.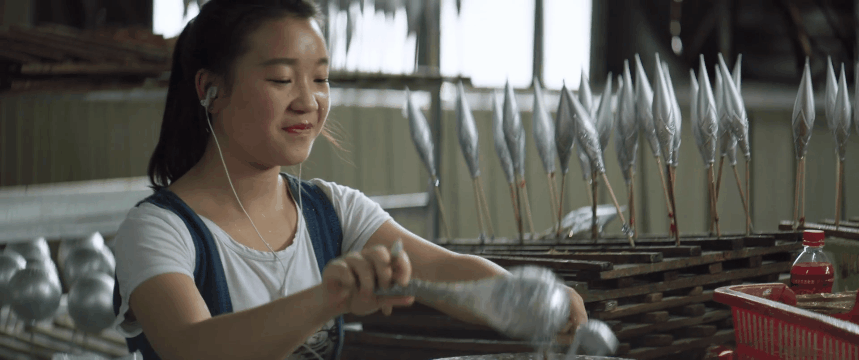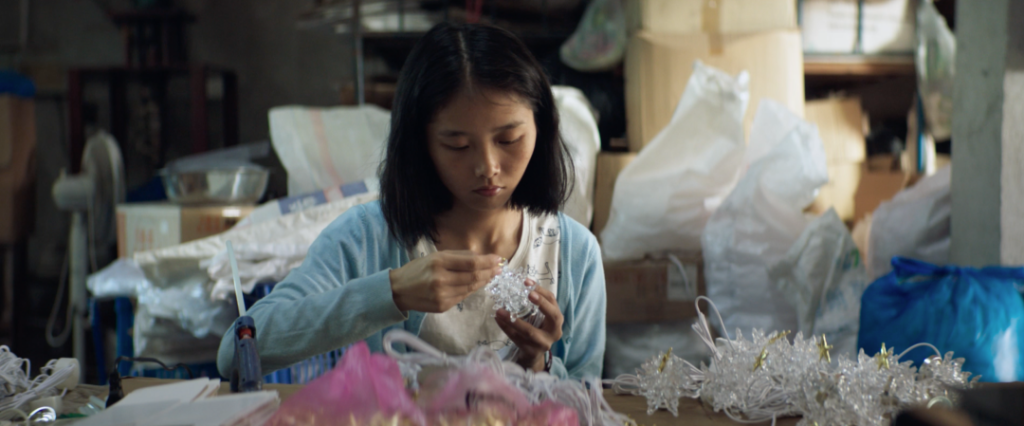 "There are a total of 35 characters appearing in the film, but the number of actual filming was at least twice of that." Director Mladen told us.
We obtained the contact details of part of the interviewees at the time with help of Yangyi, calling them back one by one. Some of them had changed their phone, some had left Yiwu after the factories had been demolished, and most had remained in the markets of the time, whose lives had no misfortune.
Mladen was astonished at the 'speed of China' in his sight. "The process of making this documentary was actually a course of exploring and understanding contemporary China for me."
The following is Mladen's own account:
I've always wanted to make a documentary about China, which can not show the real life of Chinese people, but resonate with Westerners at the same time, Christmas was a perfect entry point.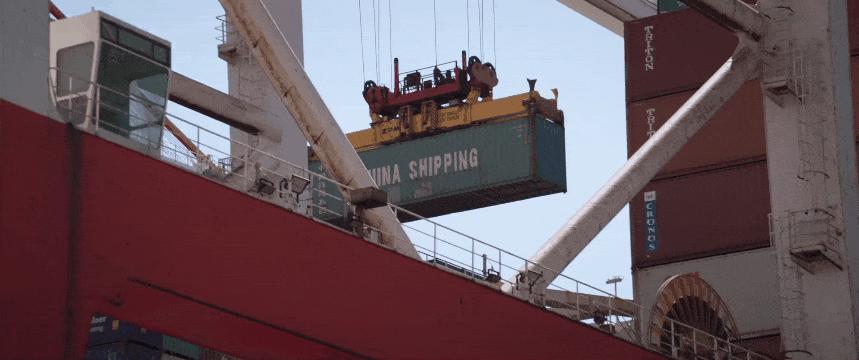 Christmas is the most important holiday in the West. Though China does not have a traditional custom to celebrate Christmas, it is the largest exporter of Christmas goods. All these Christmas items come from a county-level city in Zhejiang province: Yiwu.
Around 80% of Christmas productions all over the world come from Yiwu, but most Westerners have never heard of this place. I felt it was my duty to describe the story of Yiwu.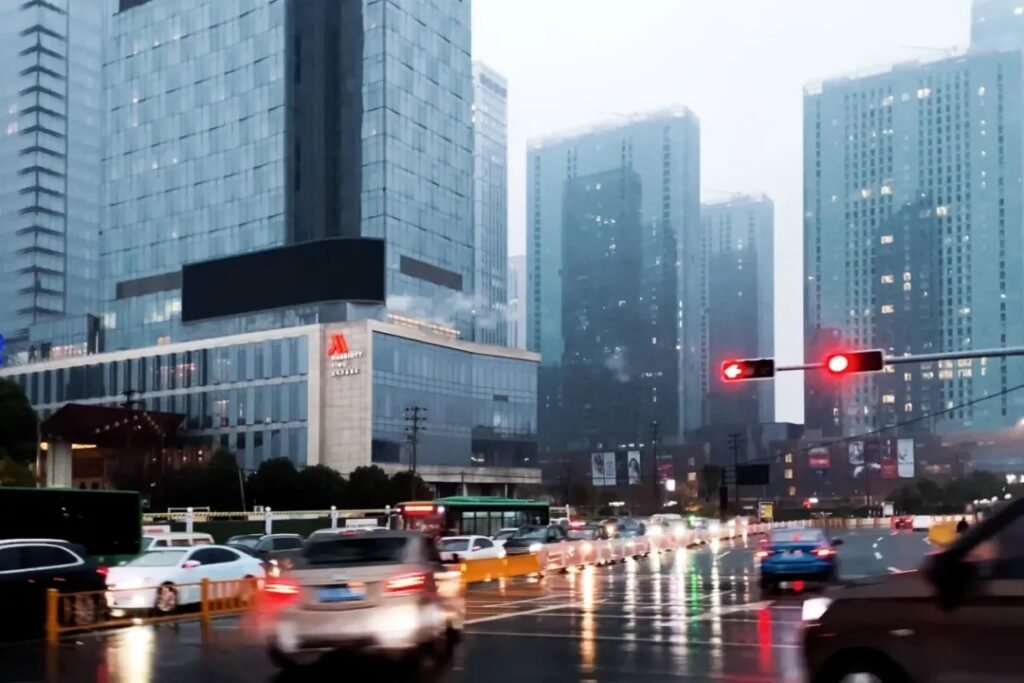 I have never seen so many luxury cars in my life
In 2017, it was my first time to travel to China to do preliminary research for 《Merry Christmas, Yiwu》。
While waiting for the traffic lights at the Yiwu street junction, we were in a humble van surrounded by Maseratis, Ferraris, Mercedes, and Rolls-Royces ……What a surprise. I had never seen so many luxury cars in my life and it felt like that it's a scene you would only see in The Fast and the Furious.
I even saw a restaurant in traditional Bosnia and Herzegovina style on the streets of Yiwu, with Sarajevo's picture on the wall. There are few places in the world where you can find Bosnia and Herzegovina cuisine – Bosnia and Herzegovina is a very small country, a neighbor of Serbia – but yet you can enjoy Bosnia and Herzegovina food in Yiwu.
Then I realized that Yiwu is a real "international metropolitan". There are 13 international rail lines between China and Europe, with freight trains can go directly to cities like London and Madrid.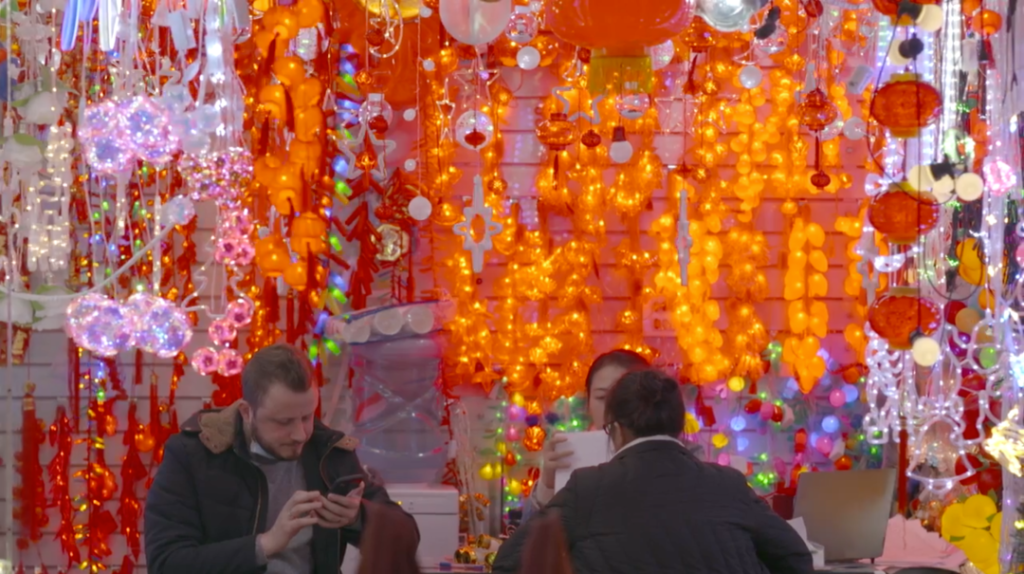 The population of Yiwu is 1.8 million with 300,000 foreigners, a significant proportion of whom live in Yiwu for a long term, providing various of services to foreign businessmen who come here for a short period of time to do business, for example, running nightclubs, hotels, and all kinds of foreign restaurants.
The world's largest market for small commodities belongs to Yiwu. People would like to describe the range of it by saying, "If you want to hang out around for eight hours a day and stay for three minutes in each shop, it would cost you a year and five months to walk through the whole trade city".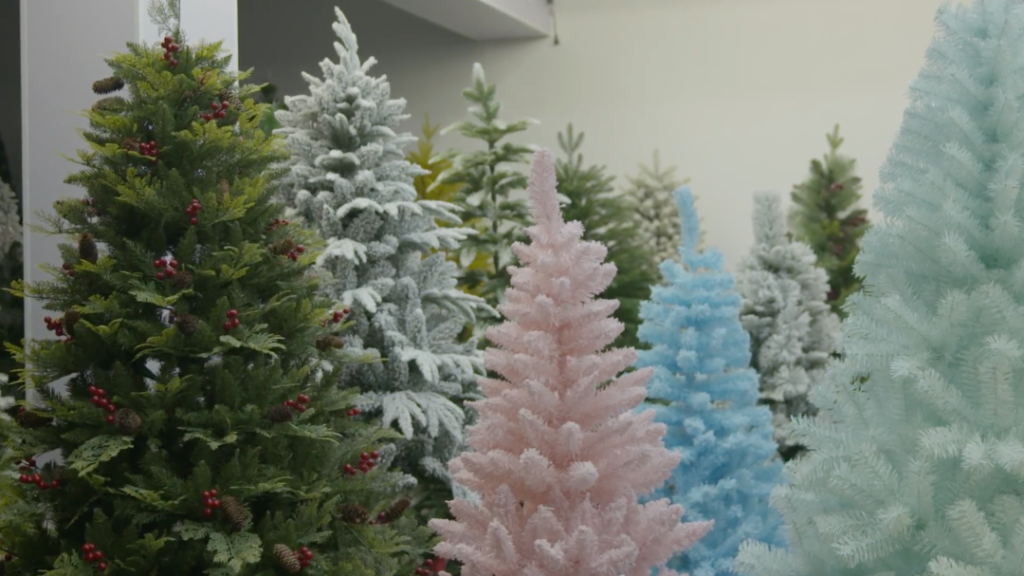 Christmas market
The good news is that the Christmas area is not so big, there is only one area on the fifth floor of the market related to Christmas, so to find a suitable subject, we went around every Christmas shop in the market and asked if we could go to their factories.
Most of them agreed with happiness and we ended up with a selection of over ten factories. The official shoot of the documentary began in 2018 and spanned the whole summer from May to October, which is the busiest season of the year for making Christmas items in Yiwu.
Because I didn't understand Chinese and it's also difficult for my translator to understand their dialect, I would make the camera running for a long time to let them talk freely. I would then go back to select representative characters and episodic dialogue sequences after all the shots were taken.
Entertainment
I photograph two young men playing billiards while talking about their relationship experiences. Their previous relationships had both failed, one because of personality differences and the other of cheat by the other. The conclusion for them is that they should be careful in their next relationships and not be "too honest" with girls.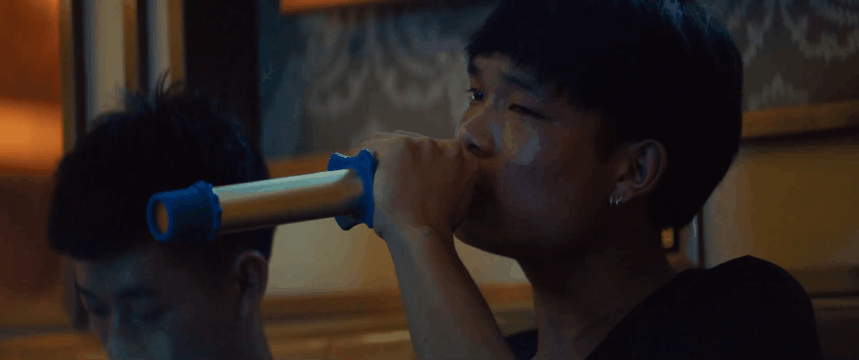 They go to a karaoke bar after playing billiards, where a young man who has just been crossed in love sings a love song while secretly wiping his tears. A bridge like this is very funny and It's a very interesting scene that can show the character of these young guys.
In fact, they rarely go to KTV, maybe once or twice a year, and most of the time, they basically rest in the staff dormitory at night. It was for the sake of the documentary that we asked them to go to KTV to record their occasional entertainment life.
No more "cheap labor" in China
I saw a job posting outside the gate of a factory on my first day in Yiwu and was shocked by the salary levels of the workers. Their general salary was several times that of Serbian workers.
The young workers I saw in the factory almost had one of the latest Apple phones, which is impossible in Serbia and other Eastern European countries.
The so-called "cheap labor" in China is no "cheap" anymore. After that, I have realized that most Westerners had an outdated thought of China.
New generations are different
We went to Yiwu four times in a half year to make this film, and almost every time we encountered some "issue": some workers may still there last time, but the next time they quit and went back home; some factories were running well before, but a few months later they moved to another place.
This astonished me a lot. I knew that in big cities like Beijing and Shanghai with development at a fast pace, all kinds of things happen every day, but I couldn't imagine that such a small place like Yiwu could develop so quickly.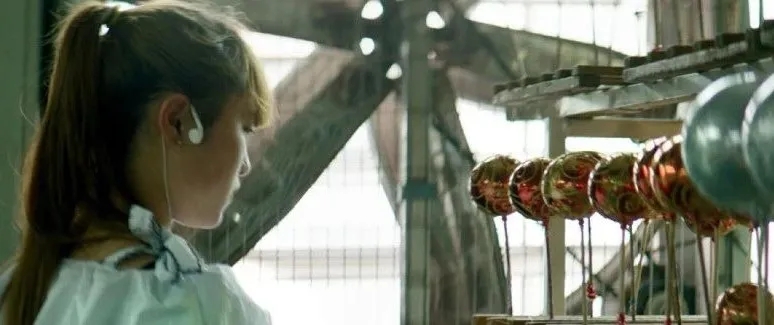 Young people have different thoughts from their parents. In my film I photographed a young man, chatting with his older colleagues over a barbecue. He complains that he is angry and earns little in the factory, and he plans to quit to start his own milk tea shop.
The older ones had already started a family and become parents, so they were looking forward to more peace and quiet.
We met a middle-aged couple who run a factory in Yiwu and have become very successful in business, yet they still live in humble staff quarters. Basically, Their income is enough for them to buy a house of their own, but saving money is very important in the traditional Chinese mindset, especially as they have a daughter who is studying.
Worrys on yong generation education
They want to make the factory bigger and earn more money so that they can have a stable and good life in the future. But the daughter feels that this concept of her parents is out of date and thinks that they will get old by the time they can have a good life and it is more important to be happy now.
There is a younger couple, who all work in the hospital. The man studied medicine at the expectation of his family but found that there were too many constraints in his first year of practice and was very unhappy in his job. On the other hand, the woman had to give up her previous job due to her injured hand. So they came from Wenling to Yiwu, opened a factory to start their own business, which was hard work but they could not be constrained by others anymore.
The thing he worried about most is the study of his two sons. The man felt that if the children's studies were not good, it would be useless for them to earn more money. So the woman makes a decision of stopping working in the factory to go back home to be a chaperone for her sons until they went to primary school.
It's my personal experience why it is said that Chinese parents are the most concerned about their children in the world during my contact with them.