Print-on-demand, abbreviated as POD, is an inventive evolution for customer merchandise. Tens of thousands of copies of a customized feature like the brands' logos, slogans or pictures are printed mechanically onto demanded products, like a bag, a T-shirt, a notebook, a mug and so on. The style is fixed and designed beforehand, and the final delivery is also settled. So, with little to no waste, these printed products are precisely sent to the clients just right after order placement. Quick! Convenience! Success! All these merits, you simply name it.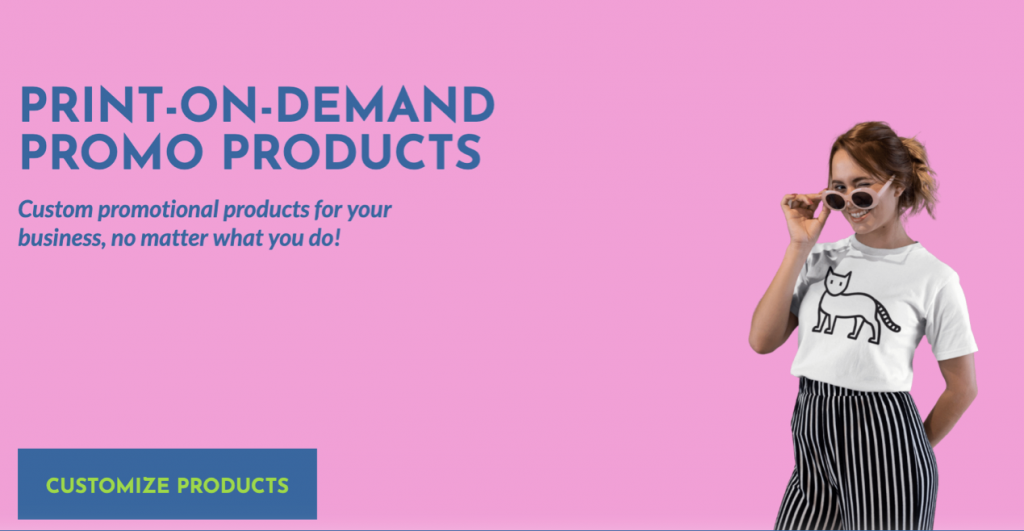 Terrible headaches like minimum order quantities, holding inventory or logistical problems were ancient old stories left behind. Today's manufacturing process is in a brand-new era for merchandisers. As always, an aspiring range of products continues growing in 2023. To be honest, so many things can be used in POD production, from small as clothes buttons to big as shower curtains. Yet, the most popular ones recently fall into no more than the categories of clothes, accessories, and housewares.
Are you ready for a giant leap in profit by making the right choice? Start with the 11 ideas in this article now!
Numerous successful cases have shown clothes are excellent products to choose from when conducting print-on-demand promotion. Everyone needs and will need all kinds of outfits every day in their life. And the ever-changing fashion is leading people to buy new ones that fit the current styles all the time.
T-shirts
Believe it or not, a print-on-demand T-shirt is by far the most common type and easiest to start with. Worn by everybody of both sexes, young and old, T-shirts are necessities in summer closets.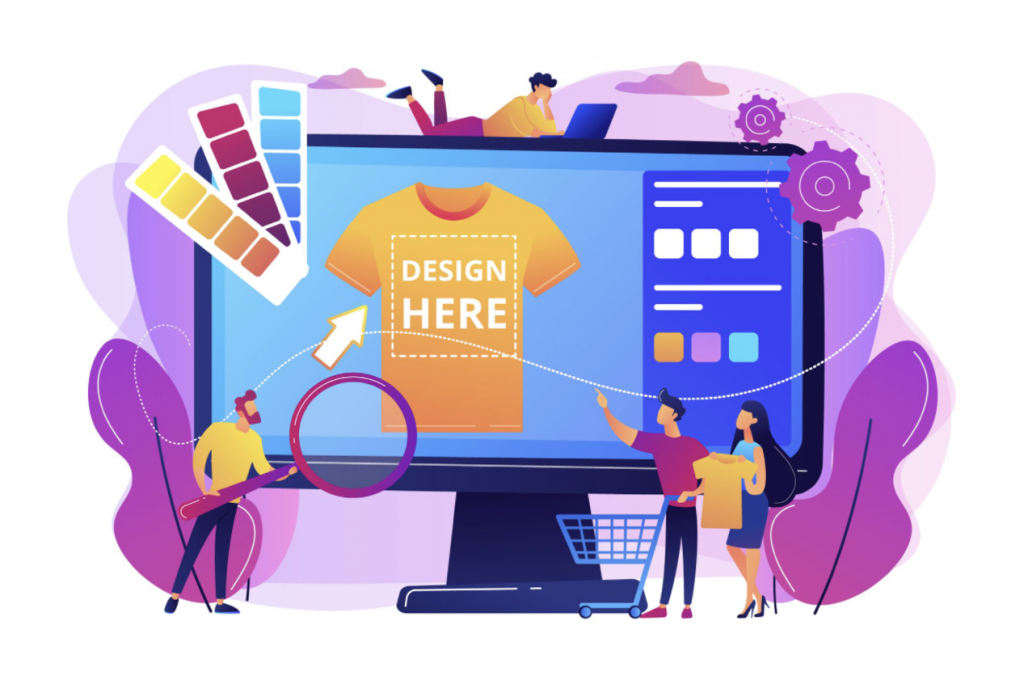 Shorts
The same also goes for the unisex shorts. No one would deny that a vividly printed T-shirt with matched shorts is the best choice for a bright summer day.
Dresses
The other kinds like dresses stick unique to the women's apparel. If you're targeting a female consumer audience, they will surely stand out. No matter what ages women are in, a modern, eye-striking printed dress will always catch their attention quickly.
Hoodies
When it comes to male groups, bold and original prints in hoodies certainly seem like a perfect way to go. Today they have been a staple companion to bring snugness for both men and women, gym-goers and couch potatoes.
Anyway, those wardrobe basics for every person, regardless of sex and age, have the broadest customer base. In contrast, some other types have restrictions on occasions, like activewear for the gym and hoodies for daily casualness. What to choose should be closely related to your client's expectations and your thoughts. Lastly, the manufacturing cost cannot be forgotten. Getting a customized pattern printed on a T-shirt is a lot easier than done on a sweater, isn't it?

The miscellaneous accessories include a wide range of items not only for wear but also for use. To give a vague impression first, phone cases, caps, masks and so on. Today's small entrepreneurs are already making a living by selling intricate accessories.
Phone cases
Modern people are addicted to electronic devices, and their cell phones are almost glued to their hands. Smartphones with uniquely designed cases establish parts of their owner's identity, whether using a precious photo, a motive slogan, or a funny cartoon. Who will resist a beautifully printed protective "coat" for their baby phones then?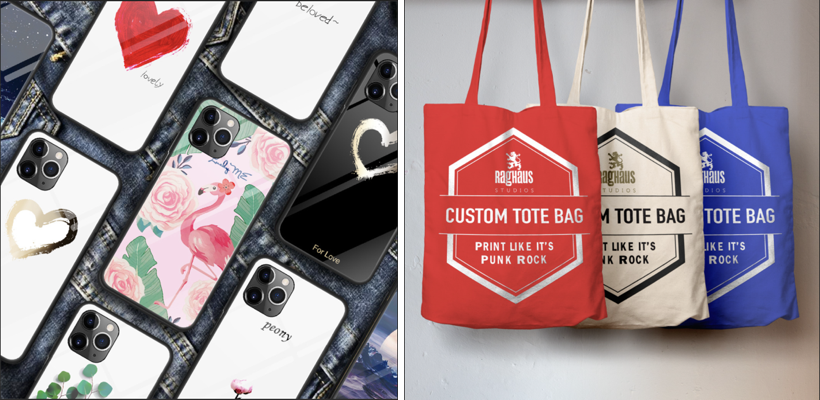 Tote bags
We are not discussing printing those sophisticated embroidery patterns of a Christian Dior Tote Bag worth thousands of dollars here. We'd better focus on the most ordinary things for daily use. Yes, just those cloth canvas bags, usually light and colourful. They are made 100% reusable from recycled materials and save our planet. What a bonus, aha?
Baseball caps
Being somewhat narrower use doesn't mean lost appeal. Baseball caps offer perfect places to print creative designs, particularly logos. You can tell from what many famous sports brands typically will do to commercialize the product's values at maximum. If not, well, look at those hot-selling MLB baseball caps!

Facemasks
Perhaps nobody would give this little greeny-blue stuff much thought in years before the pandemic arrived. It wasn't until the coronavirus outbreak that facial masks made their appearances everywhere. Duty and urgency compelled people to wear masks in public spaces. Despite the situation having calmed down now, the habit has been kept ever since. The Winter Olympic Games in 2022 have seen reddish facial masks with Chinese national flags printed on them as symbols of patriotism. Maybe you will come up afterwards with some more ideas about print-on-demand masks?
Finally, miniature furniture with fine arts prints enjoys rapidly growing popularity in consumers nowadays. Those shelve rows filled with delicate household products on each side in IKEA may be a dream hangout to drop by. Strolling down the big aisles to relax while picking up a couple of cute items to bring home seems to make a perfect leisure weekend.
Mugs
These large cylindrical cups with a handle are among the top candidates favoured by the POD market. You can never imagine what funny and fancy designs are adored by people who like to have their coffee cups printed.

Placemats
Since there are cups, how can they go without their matched placemats? On your dining table, this mug-and-mat pair will stay noticeable and give warm feelings with a cup of morning coffee every day.
Towels
It's easy to forget that piece of cloth used every day in washrooms can be raw material to make print-on-demand products. The towel's versatility contributes to its values in merchandise. They're more used in gyms, workout classes and homes as well. Today fitness is the trend. So sporty types, don't forget to get your brands out there in towels.
Coming for 2023
Suffice to say that the global tread of mixing affordable yet pleasant art prints with clothes, accessories and housewares had set off long before you noticed it. Well, want to catch up and surpass your competitors? It's time to give the above tricks a try!