Fashion jewelry is a never-ended heating item of all categories. Speaking of fashion jewelry, there are so many kinds of it, gold, silver, metal, stainless steel, beads, fabric and so on. Stainless Steel jewelry counts for a big part of fashion jewelry wholesaling, as it is durable and resists corrosion and oxidation. In this article, we are going to tell you something you need to know about wholesaling stainless steel jewelry from China. Now, let's get it started.
Part 1: Why Stainless Steel Jewelry?
#1 Why Stainless Steel Jewelry so popular?
When saying about stainless steel, most of people would think about cookware, daily supplies, instruments or anything else but fashion jewelry. But now, fashion jewelry made of stainless steel is taking a massive market share in fashion jewelry industry.
Why does Stainless Steel Jewelry become popular these days? The reason is simple and we've mentioned it above. It is easy to shape and retain its shape better than gold and silver. It is also resistant to oxidation, which means it won't turn dark as gold and silver jewelry does.
Another thing is that it is rather cheap and changeable as the fashion updates all the time. You can catch up with fashion at the least cost. Therefore, stainless steel jewelry becomes so popular.
#2 Why wholesale from China?
The answer is rather obvious that China owns one of the largest market in the world. We not only produce all kinds of fashion jewelries, but also export large volumes of fashion jewelry every year. What's more:
Low cost. You can purchase amounts of fashion jewelry in China at a rather attracting price. It's incredibly cheap.
High quality. Made-in China no longer stands for poor quality products. Instead, it is building itself as high-quality manufacturer. And the quality of products can be promised.
Part 2: Wholesale Stainless Steel Jewelry from China
There are two ways to wholesale Stainless Steel Jewelry from China: online and offline. Here we list some offline wholesale markets about stainless steel jewelry and online wholesale websites about it. Now, let's move on.
Wholesale Markets about Stainless Steel Jewelry in China
Wholesale market is where you see all kinds of ideal products and meet the supplier face to face. By visiting those wholesale market, you will have a clear idea of the quality of products and saves your time on sample confirmation through shipping. Down below are the three most famous wholesale market for stainless steel jewelry in China.
#1 District 1 of Yiwu International Trade Mart
Yiwu International Trade Mart includes almost all categories of products, while District 1 and East of District 1 of Yiwu International Trade Mart is specially for fashion jewelry. Here you will get dizzy seeing all these stunning fashion jewelries of all kinds of designs and styles.
And here also gather lots of suppliers all over China. It's very convenient to source fashion jewelries here as the wholesale market is just like a huge fair. Therefore, if you are coming to purchase stainless steel jewelry, Yiwu International Trade Mart is a good choice.
#2 Guangzhou Hualin International Jewelry Market
There are bunches of wholesale markets in Guangzhou. And as for stainless steel jewelry, Guangzhou Hualin International Jewelry Market is the place to go. You will see middle and high ended fashion jewelry here.
#3 Qingdao Jimolu Small Commodities Market
Qingdao Market is famous for its metal jewelry, especially the Jimolu Small Commodities Market. And most fashion jewelry in Qingdao Market are in Korean style. If you are establishing your own brands, the suppliers here also provide semi-manufacturing service, which means you just need to provide your design and suppliers will make it into real products.
Wholesale Websites for Stainless Steel Jewelry
As for wholesale websites, most of them deals with various categories of products, making Stainless Steel Jewelry only part of it. While there are some focusing on fashion jewelries as well.
Alibaba is what we are rather familiar with. It is growing to be a leading wholesaler for high-quality jewelry. And the service on Alibaba make it rather easy for global importers to purchase stainless steel jewelry in a secured way.
AliExpress is another China-based wholesale websites. If you are dropshipping on stainless steel jewelry, AliExpress is a good choice. Another attracting feature about AliExpress is its discounts, which can lower your cost.
As its name goes, Made-In-China focuses on high-quality Chinese products of all categories. If you are looking for high-quality stainless steel jewelry, make sure you don't miss this one.
SOQ Jewelry is a platform where you can meet numbers of fashion wholesalers and manufacturers located in China. Here you can find unique, high-quality fashion jewelry at competitive prices. It also has its online store on AliExpress, called Yiwu SOQ Jewelry Factory. If you are looking for up-to-date fashion jewelry, take a look at this online store.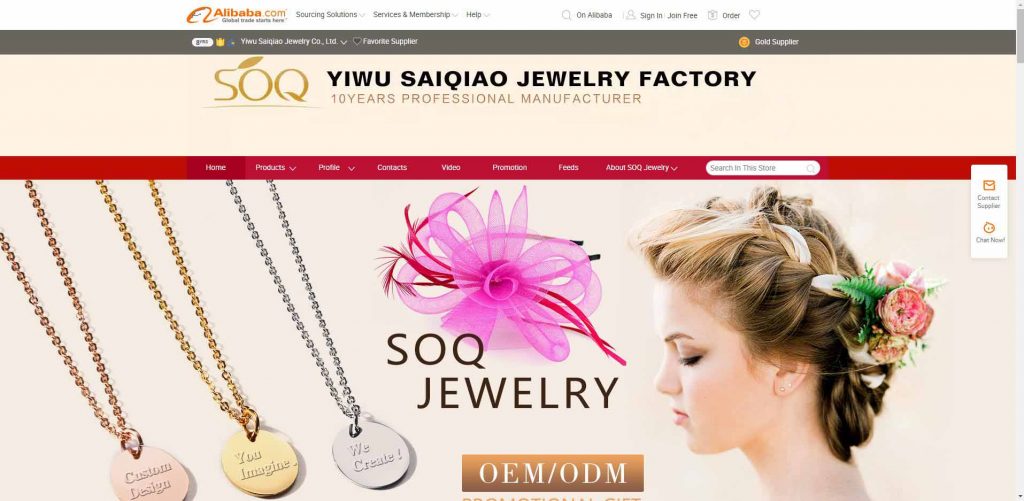 Jewelry Bund gathers many of manufacturers on fashion jewelry and ships jewelry accessories across the world. It mainly offers fashion jewelry in Korean and western style. If you are looking for stainless steel jewelry of these styles, check it on Jewelry Bund.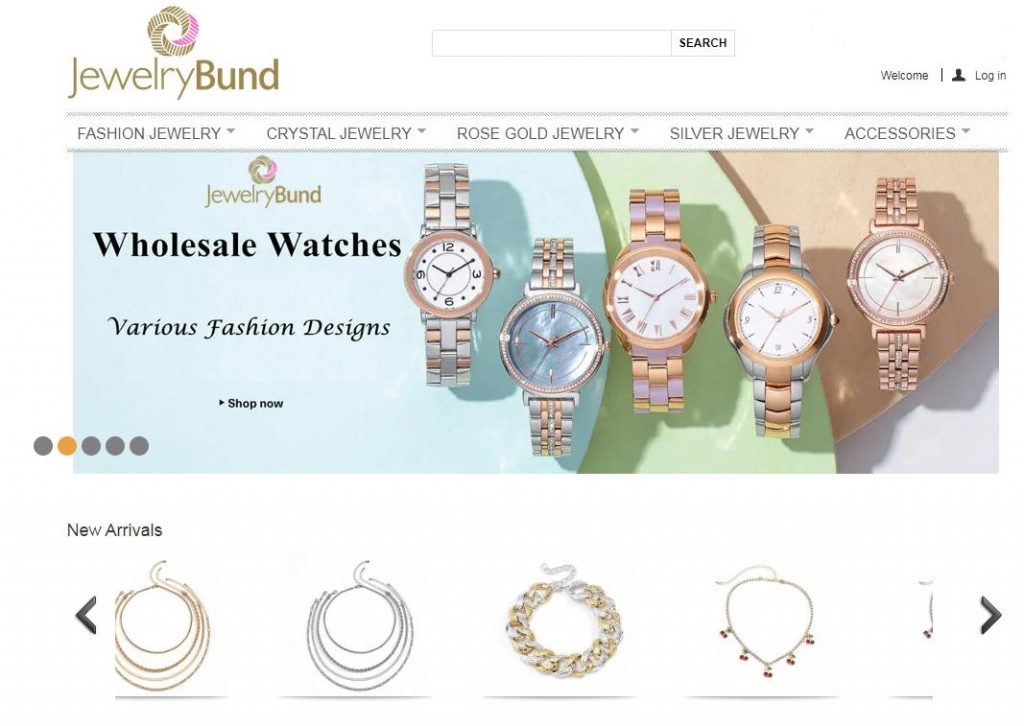 #6 Nihao Jewelry
Nihao Jewelry provides not only fashion jewelry products, but also customization services. You can have fashion jewelry designed in your own way, and Nihao Jewelry will handle the raw materials, production and shipment for you.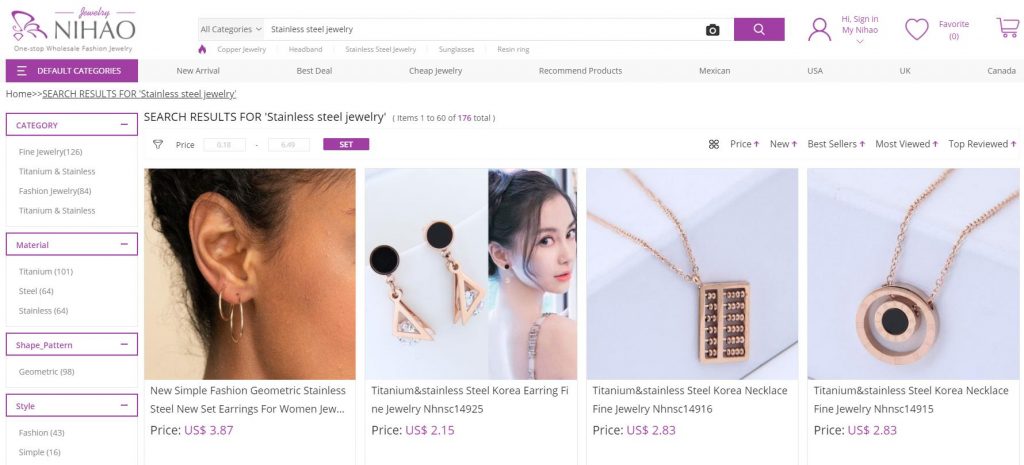 Gets have bunches of professional manufacturers dealing with beads jewelry, rhinestone jewelry, pearls jewelry, gemstones jewelry and so on. It also offers customization services. With years of experiences, suppliers on Gets are rather reliable and produce high-quality products.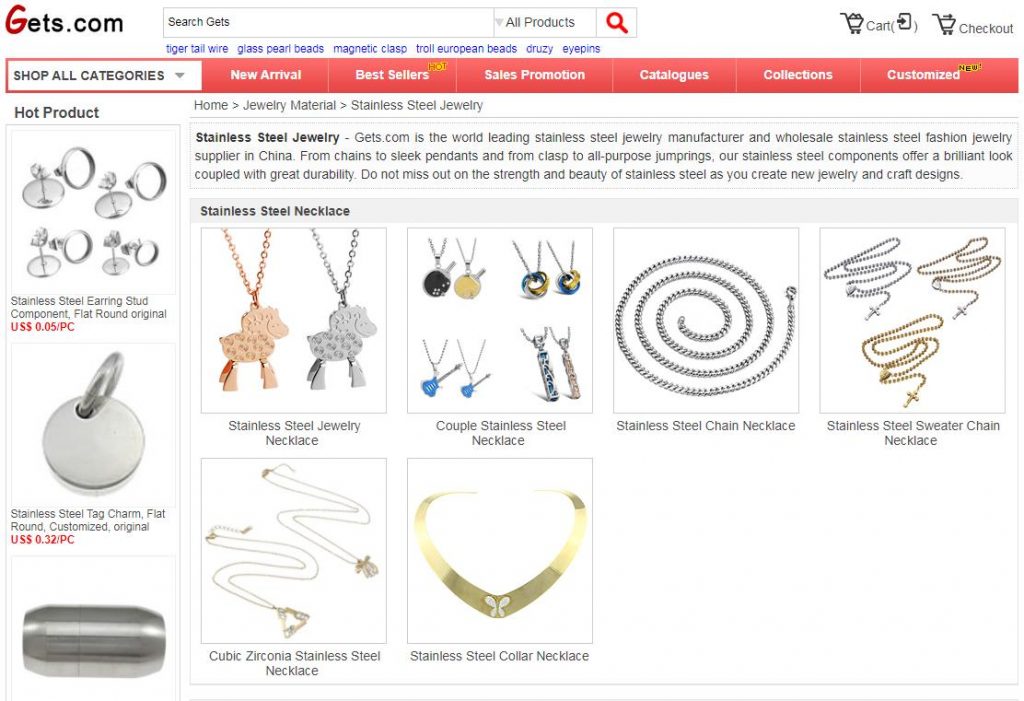 Part 3: Tips for Stainless Steel Jewelry Cleaning
Jewelry care is a big lesson to learn. Here we have some tricks to keep your stainless steel jewelry as stunning as always.
#1 Vinegar
Vinegar is a wonderful cleaner for stainless steel jewelry. Just put your stainless steel jewelry into the mixture of vinegar and water for a couple of minutes, the dirty simply goes away. And then, you can wipe your jewelry with soft towel to avoid scratches on its surface.
#2 Baking Soda
Baking soda is an amazing cleaner for all kinds of stuffs. Mix it with water and use a toothbrush to clean your stainless steel jewelry. Remember to use soft toothbrush to avoid scratches. And make it complete dry. Then you will get your clean stainless steel jewelry.